Eating clean is mummy influencer BELLA KOH's mantra when it comes to feeding her daughter. Here, she shares some easy recipes you can replicate at home.
Eating clean is mummy influencer BELLA KOH's mantra when it comes to feeding her daughter. Here, she shares some easy recipes you can replicate at home.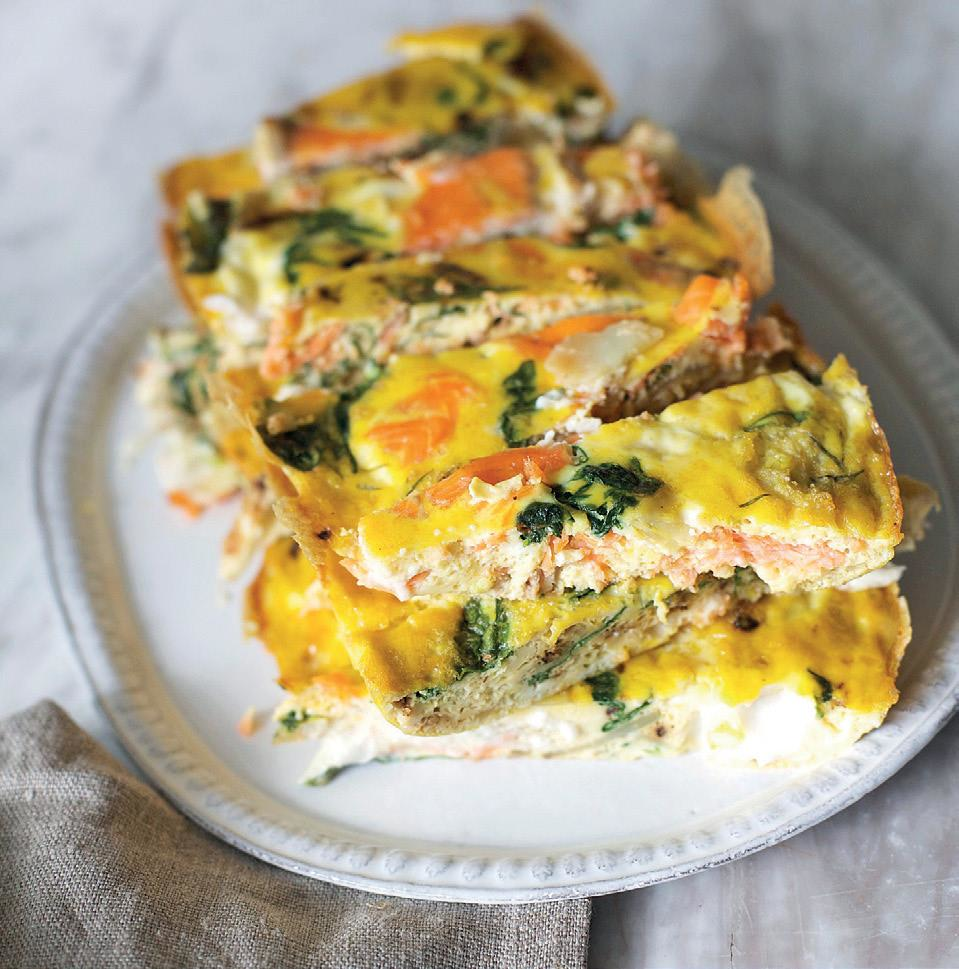 Smoked salmon frittata 
Makes 12 servings
Ingredients 
12 free-range eggs, beaten 
1½ cup coconut yogurt 
½ cup smoked salmon 
1 cup organic spinach 
¼ cup organic dill, chopped 
½ tsp pink Himalayan salt 
½ tsp freshly ground black pepper 1 tbsp extra virgin olive oil 
3 organic leeks, sliced thinly 
1 cup potatoes, sliced 
1 Heat oven to 180 deg C. Combine eggs, yogurt, smoked salmon, spinach, dill, salt and pepper in a bowl. Set aside. 
2 On medium heat, add oil to pan. Add leeks and saute until slightly brown. 
3 Add potatoes and cook for 5 minutes. Reduce heat to medium low. Add egg mixture to leeks and potatoes. Once it sets, turn off the heat and bake in oven for 20 to 30 minutes. 
4 Transfer from oven and let cool for 5 minutes before dishing out with a spatula and placing on plate. Cut into 12 wedges and serve. 
Claypot brown rice with scallops 
Serves 4
Ingredients 
3 cups Kinmemai brown rice 3 cups dashi stock 
3 tbsp mirin 
2 tbsp sake 
2 tbsp pink Himalayan salt 
3 tbsp tamari (Japanese wheat-free soya sauce) 
1 stalk Japanese leek, cut into 
2.5cm lengths 
10 sustainably sourced scallops 1 bunch mizuna (Japanese mustard greens) 
1 tsp organic white sesame seeds 
1 Pour the rice into a donabe claypot (or rice cooker) and cover with dashi stock. 
2 Add mirin, sake, salt, tamari and leeks, then stir. Cover and cook over medium heat for 20 minutes.
3 Add scallops, cover lid and steam for another 5 to 7 minutes, until cooked. 
4 Turn off heat, add mizuna, and sprinkle with sesame seeds. Serve hot. 
Hormone-free chicken stew with organic jasmine rice
Serves 1 to 2
Ingredients 
1 tbsp coconut oil 
1 clove organic garlic, minced 
2 pieces organic leeks, cut into 2.5cm lengths 
1 cup organic carrot, cubed 
1 cup shiitake mushrooms, quartered 
1 cup baby potatoes, halved 1 cup hormone-free chicken fillets, cut into 2.5cm pieces and marinated in dashi sauce and arrowroot starch 
1 tbsp sake 
1 tbsp mirin 
1 tbsp dashi sauce 
1 tsp non-GMO sesame oil 
¾ cup dashi broth 
½ tsp pink Himalayan salt Dash of pepper 
½ cup organic jasmine rice, steamed 
1 cup organic mizuna (Japanese mustard greens) 
1 Place coconut oil in a large pan and heat over high heat.
2 Add garlic, leeks and saute till brown. Then add carrots, mushrooms and potatoes to the pan. Cook for 5 minutes.
3 Add chicken and fry till browned. Add sake, mirin, dashi sauce, sesame oil and, lastly, broth. 
4 Cover and cook until vegetables are tender. 
5 Season with salt and pepper to taste. Turn off heat and serve with steamed rice on the side, garnished with mizuna. 
No-bake cacao and almond butter tart
Makes 1 tart
Ingredients 
Top layer 
135g coconut oil 
100g raw cacao powder 
75g almond butter 
60g raw honey 
60g coconut sugar 
Second layer 
150g almond butter 
Base 
200g organic oats 
40g coconut oil, melted 
30g almond butter 
30g raw honey 
Garnish 
Slivered almonds 
Dried fruits and nuts 
1 First, make the top layer by popping all the ingredients in a medium pan and melting together over low heat. Make sure it doesn't burn and it'll turn into a glossy mixture. Set aside to cool. 
2 For the base, blend the oats in a food processor. Then add the rest of the ingredients and blend again. 
3 Press the base mixture into a 12 by 8-inch rectangular tart pan, or a 10-inch round tart pan. 
4 For the second layer of the tart, spread almond butter over the base and leave it in the freezer for 30 minutes or until hardened. 
5 Lastly, pour the cacao mixture to create the top layer, and spread it out evenly. Garnish with slivered almonds or your preferred dried fruits and nuts. 
6 Store in the freezer for 2 to 3 hours before serving. 
Bella Koh of @catslavery fame on Instagram contributed these recipes. The mother of a two-year-old founded www.theslowhouse.co, which offers workshops, recipes and products to help you live consciously.