Non-alcoholic wine alternatives are the toast of fine dining venues here as more diners acquire a taste for them. More good news: you can get them outside, too.
The idea of non-alcoholic beverages in food pairings has been extensively explored in the past few years, with some of Singapore's more progressive restaurants offering unique blends of juices and tisanes to complement multi-course tasting menus. The teetotaller's pairing, however, has so far eluded those who rarely eat out, as these beverages are usually created for specific dine-in experiences.
Enter Non: a series of wine alternatives designed to mimic the complexities of the alcoholic beverage made for centuries with fermented grapes and often drunk with breakfast in their countries of origin, and achieved with delicious potions containing fruits, herbs and spices.
Behind the Melbourne-based Non's flavours is Australian chef William Wade. Through his experience at Noma Copenhagen as well as at some of the hottest tables in New South Wales, Wade has created a series of bottled wine inspired flavours labelled Non 1 to Non 5.
The lightly carbonated, salted raspberry and chamomile of Non 1 offers a fresh, fruit-forward experience similar to a petillant naturel (French for natural sparkling wine). Of course, there are also bolder flavours, too. Non 2, a mix of caramelised pear, kombu, olive brine and spices pairs well with aged and blue cheeses.
Making each Non is not as simple as picking and combining ingredients. A fair amount of culinary alchemy goes into getting the flavour profiles right. Also, every bottle of Non features a base of verjus or the pressed, sour juice of unripened grapes, water and, occasionally, cane sugar, to which the other flavours are introduced. This is mostly done by dehydrating ingredients and then infusing them in water. Other techniques used include creating a distillate with cinnamon and cooking a mix of, say, hibiscus, lemongrass and lemon myrtle into marmalade to concentrate the flavours.
Do they taste like wine? Not explicitly. The goal isn't to create a simulacrum but to provide the non-drinker with the same benefits wine has in terms of food pairing: acidity to cut richness and complexity to keep things interesting.
Some of the most progressive restaurants here like Cicheti, Appetite and Cheek Bistro, are already in on it, stocking 750ml bottles of the different Non flavours.
"They offer more sophisticated and complex flavour profiles. And they are great to pair with food, specifically Non 4 with its vegetal, savoury and peppery components (roasted beetroot, sansho and black peppers, tamari, bay leaves and jalapeno). We now serve them at all our outlets as they are operationally convenient as well as tasty," says Ronald Kamiyama, sommelierpartner of the Cicheti restaurant group.
The Non series is available at Temple Cellars and plan-b.asia.
01 Founders of Non, Aaron Trotman (left) and William Wade.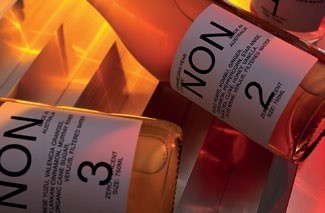 02 Production of Non is very limited, with each batch comprising a maximum of 500 bottles.