For well-heeled travellers, lavish decor, five-star service and luxury amenities set a hotel apart and the options are endless. With so many offering their own take on opulence, it now takes something extra to attract the upscale wanderlust. More than just comfort and style, today it's all about whimsical escapism.
For well-heeled travellers, lavish decor, five-star service and luxury amenities set a hotel apart and the options are endless. With so many offering their own take on opulence, it now takes something extra to attract the upscale wanderlust. More than just comfort and style, today it's all about whimsical escapism.
Writer Zoe Louise Cronk
Library Hotel, New York City
Book-lovers, rejoice! A block away from the world-renowned New York Public Library stands the Library Hotel. Dedicated to all things books, every square inch of these chic digs are lined with bookcases and each room has its own theme with relevant books and art to match. These include botany, poetry, fashion design, fairy tales, classic fiction, ancient history and many more. It's the city's best-known concept hotel and the beautifully appointed, art deco interiors and classical music that plays throughout affords a tranquil, elegant atmosphere – a rare find in this buzzing metropolis. But it's not all about reading. There's also a penthouse lounge and bar to inspire your inner wordsmith. www.libraryhotel.com
Milestone Hotel, London
Period-inspired glamour doesn't get better than the fivestar Milestone Hotel in London's upmarket Kensington. The suites to spring for are the Prince Albert, Tudor and Regency. With regal sophistication in abundance, the Prince Albert Suite is draped in pale gold with understated patterns surrounding an extravagant fourposter wooden bed upstaged only slightly by a grand hanging tapestry. Contrasting in style, but no less elegant, is the Tudor Suite. Picture walls adorned with embroidery and two fireplaces under an ornate Tudor Rose ceiling. The traditional oak panelling inspired by the Tudor period (1485–1603) will transport you to a bygone era. The Regency Suite was designed to celebrate the fine art and architecture of the 1800s: a bold striped chaise longue, free-standing copper bath tub, original artwork depicting the English countryside and a treasure trove of artefacts. Your stay at the Milestone comes complete with balcony views of Kensington Palace and Gardens.
www
.
milestonehotel
.
com
TreeHotel, Sweden
Once upon a time, a filmmaker named Jonas Selberg Augustsén visited a guesthouse in the forests of Swedish Lapland, where he and his crew captured the movie The Tree Love. For the couple who owned the pensionat, their visit sparked an idea that would evolve into something truly unique. They gave a few friends (also renowned Swedish architects) free reign to let their inspiration run wild, and together created a series of treetop dens that would attract global travellers for years to come. Guests today seek either the Bird's Nest cabin or the new 'seventh room' 10m up in the pine crowns. Stargaze from the netted terrace or enjoy an al fresco night in the wilderness. Relaxation comes via the tree sauna, open-air hot tub or Swedish massage, while more energetic activities include snow-shoe walks, husky-drawn sled rides and white-water rafting. Keen photographer? Cross the Arctic Circle and scan the sky for the legendary green flashes of the Aurora Borealis. This is more than a hotel stay: it's earthy and humbling in a remote, picture-perfect setting. www.treehotel.se
Attrap'Rêves La Bouilladisse, France
Living life in a bubble has never felt so good. Slip away to beautiful Provence and unwind in the cosy cocoons of Attrap'Rêves La Bouilladisse. An ingenious concept you can enjoy in all weather, these quirky bubble capsules look like something from a science fiction movie. They're made entirely from recyclable materials and almost completely transparent, enabling you to appreciate your surroundings with no trouble from insects or humidity. Study the stars through the telescope and constellation chart at your disposal, and watch the sky change from blue to black and back, feeling utterly at peace. Each bubble has its own identity, such as 'glamour', 'zen' and 'love'. With an open-air Jacuzzi and reflexology and massages on offer, you'll be revitalised in no time.
No Man's Fort, Portsmouth
Secluded. Historic. Distinctive. Three words that define the No Man's Fort hotel that rises from the waves off the south coast of England. Here nautical luxury has become something of an art. Housed in a Victorian-era fort, it was built to protect the English city of Portsmouth from the French invasion of Napoleon III in the 1800s. Today it's a one-of-a-kind hotel that sits within swirling tidal waters, delivering dramatic seascapes at every turn. You can tour the fort and learn about the history, but the weight of its ancestry can be felt instantly. Combined with the subtle soundtrack of the waves, naval hues and maritime artefacts that serve as decoration, it affords an incredible atmosphere. Floor-to-ceiling windows flood the penthouse Lighthouse Suite with natural light, making it the perfect vantage point to watch the yachts and fishermen that sail past each day. Take to sea for an exhilarating Rib Ride across the Solent or head up to the rooftop Jacuzzi where you can admire the 360-degree vistas. www.solentforts.com
Montana Magica Lodge, Chile
Its location alone makes it magical. In the heart of the 300,000-acre Chilean Patagonia Rainforest at the foot of the Andes Mountains awaits the Huilo Huilo Biological Reserve. Its commitment to nature and culture conservation as well as the region's astounding natural beauty has made it a pilgrimage for hikers and travellers alike. A small number of exceptional hotels have sprung up in the area, but none more distinct than the Montana Magica Lodge that resembles a child's imagination more than a luxury hotel. Accessible only via rope-bridge, carved from a man-made volcano, covered with foliage and with a waterfall cascading down its side, it is the epitome of unique. Here, they have a penchant for eco living and exceptional service. Its design brings the outside inside; made entirely from wood and stone with curious features such as hot tubs in gigantic tree trunks and wooden walls that lean into the room as a result of the mountain-shaped structure.
www
.
huilohuilo
.
com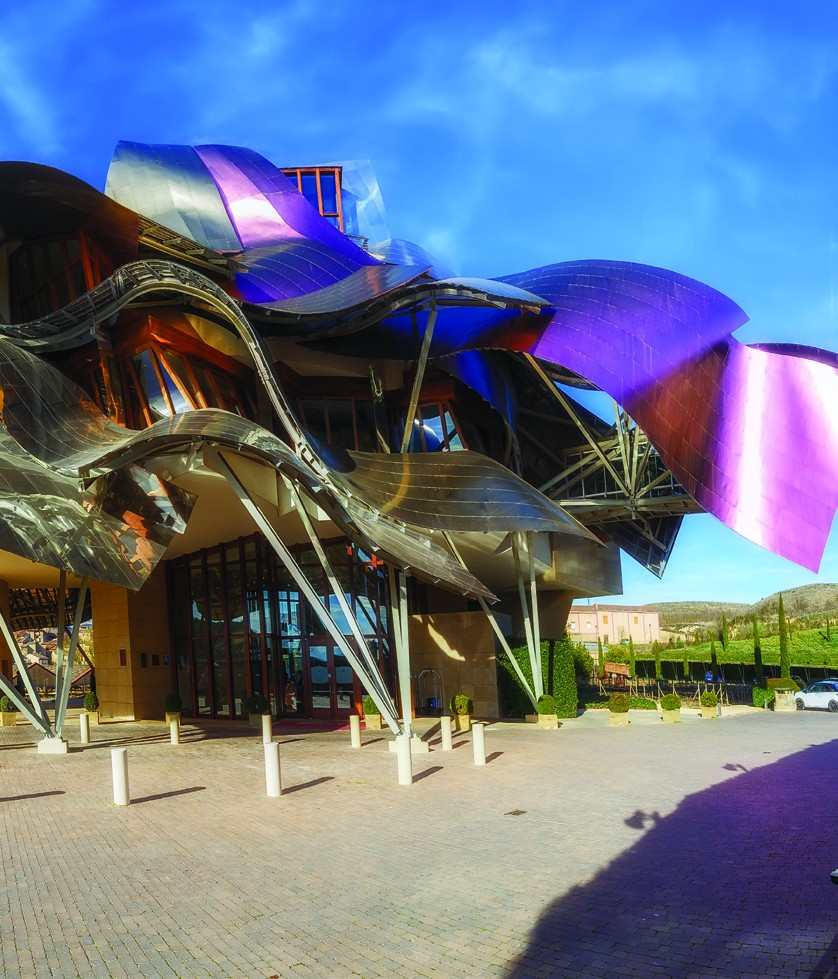 Marqués de Riscal, Spain
In the stunning Rioja wine-growing region of Spain is the Marqués de Riscal: the first and only hotel designed by architect Frank Gehry. Renowned for his work on the Fondation Louis Vuitton in Paris, Gehry's characteristic style made the jump seamlessly to hotels in the form of this avant-garde design. Giant titanium ribbons in silver and purple stand boldly against the skyline, with his trademark high ceilings, tilted walls and zigzag windows making the design even more intriguing. The structure itself doesn't appear to fit with the vineyard on which it resides but its ethos is all about art, gastronomy and wine – the ultimate Spanish combination. The on-site restaurant is Michelin-starred and comes complete with magnificent views of the Cantabrian Mountains, and there's also an entire spa wing that specialises in vino therapy. Feel like exploring? The medieval town of Elciego is just a stone's throw away. www.hotel-marquesderiscal.com
MARQUES DES RISCAL/ISTOCK
Palacio de Sal, Bolivia
Lying proudly amongst the Andes of Southwest Bolivia at 3,660m above sea level is the majestic salt flat known as the Salar de Uyuni, the world's largest salt surface and mirror, so large in fact that it can even be seen from space. It was a combination of bold innovation and creative architecture that led to the construction of an impressive hotel made entirely of salt including the walls, ceilings, staircases and furniture. The Palacio de Sal delivers an unforgettable stay in one of 30 magnificent rooms, all equally as eye-catching for their igloo-like ceilings (of course crafted from salt blocks instead of ice). Watch the sunrise and set as the changing colours are reflected in the salt flats.
www
.
palaciodesal
.
com
Hotel Seven, France
A levitating bed and bathtub, transparent shower and fibreoptic lighting – get ready to take your weekend stay into the modern age. This is a hotel with architectural prowess that perfectly combines Parisian romanticism with technological design. Each of the seven suites at the French capital's Hotel Seven is different. Choose from the elegantly mysterious Suite Nuit Chic or go for the Suite Sublime where everything is pretty and white with crystal chandeliers and rounded edges for refined sophistication. The Suite Secret Agent depicts infamous spy 007 on the walls and eludes a futuristic vibe. Alternatively, enter the world of cabaret in the red and blackhued Suite Cabaret where the intimacy and drama of the theme will capture your imagination.
www
.
sevenhotelparis
.
com
Crane Hotel Faralda, Netherlands
Upcycling enters the hotel arena with the arrival of the Crane Hotel Faralda in Amsterdam. Once considered scrap metal and reborn into a novel hotel, this unprecedented technical challenge took four years to complete. Everyone loves a good view, and they don't get much better than 360-degree panoramas enjoyed from a suspended suite from 35 to 50m above ground. The suites are split-level, spacious and extravagant. Of the three, the most unique is the 'Secret Suite'. It was once the crane's machinery room, but has been transformed into a dreamy hideaway with oriental silk pillows, satin Chivasso fabrics and a handmade copper bath from Marrakesh. The hotelier even put a spectacular spa pool on the crane's upper desk where guests can marvel at the city, harbour and dunes all at once.
www
.
faralda
.
com