We have come a long way from eggs Benedict and avocado toast. These three restaurants are elevating the brunch experience.
01 Bochinche. Desayuno de verduras.
The late Anthony Bourdain was famously derisive of brunch: "Remember, brunch is only served once a week – on the weekends. Buzzword here, 'Brunch Menu'. Translation? Old, nasty odds and ends, and $12 for two eggs with a free Bloody Mary."
What has been marketed as a time for weekend repose has likewise been accused of serving unimaginative, overpriced food catering to the Instagram-obsessed.
The negativity isn't that unfounded. Just look at the way it is replicated ad infinitum with little inspiration from cafe to cafe in Singapore.
In times like these, when every dining experience feels like an entire occasion, mediocre brunch food is no longer acceptable. Fortunately, some restaurants are stepping up to the challenge of giving this meal a much-needed reputation makeover.
ELEVATING THE CLASSICS
Trust the Aussies – perhaps the OG purveyors of simple yet sophisticated brunch fare – to spruce up prototypical brunch items. At Cheek Bistro, brunch is classy but not snooty, classic but not boring. Favourites are expertly executed, like the Shakshuka (bright, spicy and deeply comforting; mop up all the sauce with the side of toasted sourdough) and Not Hot Chicken, its take on fried chicken and waffles that swaps chicken for quail and a delicious, smoked maple sauce.
Other notable representatives are the Beef Cheek served with radicchio and a herb salad tossed in a piquant pommery mustard dressing, and Non, zero-alcohol wine alternatives created by an ex-Noma chef that make abstinence look cool.
BUCKING THE TREND
At The Butcher's Wife, a gluten-free label might not quite be the selling point for a meal that typically relies heavily on toast and waffles, but chef Mariana Campos D'Almeida will make believers out of sceptics. There's the prerequisite meat option – the Full Breakfast from The Butcher that features lamb sausage, bacon, organic eggs and tapioca root rosti – but where she truly impresses is with her spin on traditionally gluten items.
In her Blue Pea Flower Naan Sandwich, the gluten-free naan is paired with a fermented black bean falafel patty, lentil hummus, yoghurt and green mango chilli sauce. A fluffy, gluten-free Our Brioche French Toast comes delicately sweetened with red date puree and jambu jam topped with cinnamon whipped cream, toasted almonds and goji berries for a far superior take on the traditional version.
Be sure to also try the Organic & Sustainable Açaí & Banana Bowl of housemade gula Melaka granola, fresh fruits and whipped coconut cream.
REDEFINING INDULGENCE
In the age of the coronavirus, hotel brunch buffets have been forced to pivot to an a la carte format while maintaining the same, expected level of indulgence. Basilico at Regent Singapore, a bubbly brunch icon, is settling into a new groove by redefining the theatrics of its Champagne brunch.
It is now structured like a multicourse meal, with a selection of popular favourites, like its truffle focaccia and panroasted foie gras, served directly to guests. Additional orders are welcomed. Dishes like the Fresh Black Truffle Risotto with Porcini Mushrooms are first finished in the parmesan wheel on a trolley before being served tableside.
The unobtrusive wait staff flit about, ensuring tables are full and glasses are always topped up. And, while it's hard to replace the experience of visiting its famed cheese room, you can still order from about 30 varieties.
02 Butchers wife. Blue Pea Naan Sandwich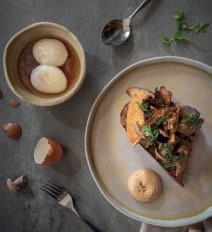 03 Cheek Bistro. Mushrooms on Toast.
"In times like these, when every dining experience feels like an entire occasion, mediocre brunch food is no longer acceptable."