Start the second half of the school year right with a mummy food blogger's hearty breakfast ideas for your little ones.
Start the second half of the school year right with a mummy food blogger's hearty breakfast ideas for your little ones.
Pandan Dutch Baby Pancake
Makes 1 pancake
Ingredients
4 pandan leaves
100ml milk
2 large eggs
½ tsp salt
40g caster sugar
50g top flour sifted
1 tbsp organic coconut oil
Whipped cream (to serve)
Your choice of fruit (as garnish)
1 Blend pandan leaves with milk, strain the mixture and extract about 80ml of the pandan milk. Set aside.
2 Beat eggs, salt and sugar together on high speed until pale, thick and fluffy, about 12 to 15 minutes. Once it forms a ribbon when you pull the batter, it's ready.
3 Add pandan milk into the egg batter. Sieve top flour in and gently fold to combine everything together. Make sure you don't over whisk, as the eggs might deflate.
4 Preheat oven to 180 deg C and pour 1 tbsp of organic coconut oil in an ovenproof pan.
5 Place pan over medium fire and heat up the coconut oil. Then, pour the batter into the hot pan. Cook for a minute, then move the whole pan into the preheated oven.
6 Bake for 12 to 14 minutes or until the surface of the Dutch baby cake is lightly browned. Remove and let cool slightly before topping with whipped cream and fruit.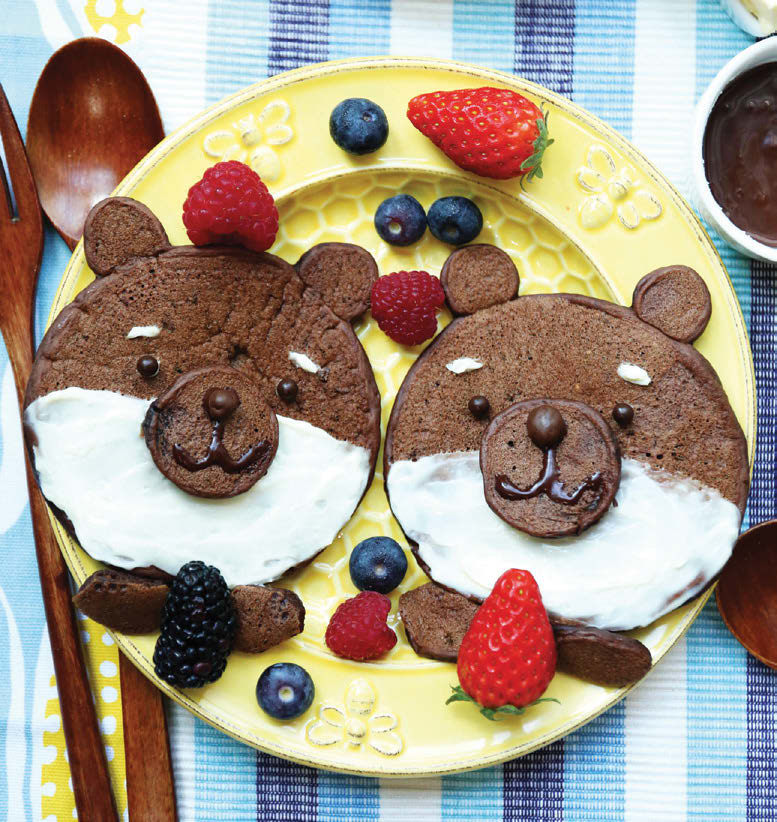 Buttermilk Chocolate Pancakes
Makes about 8 to 10 pancakes
Ingredients
170g top flour
30g Valrhona cocoa powder
1 tsp baking powder
¼ tsp baking soda
½ tsp salt
60g confectioner's sugar
350ml buttermilk
Maple syrup (to serve)
Butter (to serve)
1 Whisk all the ingredients together until the mixture is smooth and creamy.
2 Heat a nonstick pan on low heat. Spoon some batter over the pan and cook till it sets on both sides.
3 Repeat till all the batter is used up. Serve with maple syrup and butter.
Basic Wholewheat Loaf
Makes 1 loaf and 4 buns
Ingredients
250g bread flour
150g whole wheat flour
40g caster sugar
4g salt
260 ml fresh milk
5g instant active yeast
50g whole egg (without shell)
30g unsalted butter, softened to room temperature
Cocoa powder
1 Place all the ingredients except butter in a mixer. Knead at medium low speed until it forms a soft, pliable dough.
2 Continue to knead, with a break in between to allow dough to rest once. Once the dough pulls clean from the side of the bowl, it's ready.
3 Add the butter and continue to knead until it pulls clean from the side of the bowl. Place the dough in greased bowl and cover it. Set aside until it doubles in size, about 1 to 1.5 hours.
4 Preheat oven to 170 deg C and grease a loaf pan. Punch out the air from the dough and divide into the following portion: four balls of 150g and four balls of 50g. The former is for the loaf while the latter is for the doggie buns.
5 Take some of the dough from the four 50g portions and shape into the doggies' eyes, nose, ears and mouth. You may leave the doggie buns plain as pictured, or fill them with your preferred ingredients. Colour the dough portion for the ears and nose with cocoa powder.
6 Bake the loaf for 30 minutes and the buns for 15 minutes until golden brown. Let them cool on a rack completely before serving or slicing.
Honey Chunky Granola With Almonds & Dried Figs
Ingredients
240g organic steel cut rolled oats
75g wheat germ
200g whole raw almonds roughly chopped
2 tbsp organic cold pressed coconut oil
150ml wildflower honey
½ tsp salt
¼ tsp cinnamon powder
Egg white from 1 large egg
100g dried figs, cut into pieces
100g organic large raisins or cranberries
Milk or yogurt (to serve)
1 In a large mixing bowl, combine all the ingredients together except for the egg white and dried fruits.
2 Preheat oven to 150 deg C and prepare baking tray lined with parchment paper.
3 Whip egg white until soft peaks form, then fold in to the oats mixture. Making sure everything is well coated and mixed.
4 Spread the granola on the baking tray in a thin layer so it can bake evenly. Bake for 15 minutes.
5 Toss the mixture and flip it so the unbaked area can be toasted as well. Bake for another 10 to 12 minutes. Watch it so it doesn't burn.
6 Remove from oven and let cool before breaking up the chunks. Add the dried fruits and combine well.
7 Store in an airtight container for 7 to 10 days. Serve with milk or yogurt.
Oh Bee Bee of @honeybeesweets.sg fame on Instagram contributed these recipes.
This stay-at-home mum of two teenage girls also blogs at www.honeybeesweets88.blogspot.sg.
RECIPE PHOTOS OH BEE BEE BEE BEE'S PHOTO FILE PHOTO