This National Day, we asked chefs to recreate their favourite local dish. The results? Hearty, comfort foods for the family.
This National Day, we asked chefs to recreate their favourite local dish. The results? Hearty, comfort foods for the family.
Singapore Laksa
Prep 45 mins / Cook 20 mins / Serves 4
LAKSA PASTE 1.2 litres oil 700g sugar 500g salt PART 1500g shallots 600 g fresh chilli 100g garlic 700g chilli paste 200g candlenut 80g lemongrass 100g blue ginger PART 2 100g belachan, roasted 10g turmeric powder 20g coriander powder PART 3300g dried shrimp, before roasted 4.5 litres water 1.5 litres coconut milk 300g dried thick bee hoon (rice vermicelli) 4 crayfish (200 - 400g each), cooked (or use 20 tiger prawns) 12 pieces tau pok (bean curd puff), halved 1 piece fishcake, sliced 2 hard-boiled eggs, halved 100g bean sprouts ¼ cup fresh laksa leaves, finely chopped 4 strands pandan leaves.
1. LAKSA PAST E Blend all ingredients under Part 1, Part 2, and Part 3 separately until fine. Heat oil in pan and fry the fine paste (blended from Part 1) till fragrant. Add in fine paste blended from Part 2 and Part 3, one after another. Lastly, add in salt and sugar (see Chef's tip).
2. Bring 4.5 litres of water to boil. Then add in 1 kg of laksa paste and simmer for 10 mins. Add pandan leaf and laksa leaf; continue to simmer for 2 mins. Add 1.5 litres of coconut milk and bring to boil. Set aside.
3. Blanch rice vermicelli and bean sprouts. Separate the portion into four bowls.
4. Garnish each bowl of vermicelli with tau pok, fishcakes, crayfish or prawns, and eggs. Pour the laksa broth into each bowl and sprinkle with some finely chopped laksa leaves. Serve hot.
CHEF'S TIP: This recipe will give you 5 kg of laksa paste. To make 4 portions of laksa, simply add 1.5 litres of coconut milk and 4.5 litres of water; then bring to boil. You can keep the remaining paste in the freezer for up to 3 months.

Chef Chua Yew Hock
Executive Chef, Holiday Inn Singapore At rium He's cooked for top restaurants in five-star establishments in Cambodia, China, Myanmar, Philippines and New Zealand, but the affable Chef Chua is still most comfortable leading the F&B teams in creating and promoting local delicacies here in Singapore. The dish he most love is the Singapore Laksa, a dish that every Singaporean knows and truly represents multi-cultural Singapore. Here, Chef Chua retains the dish's traditional roots – after all, why change something which is perfect to begin with?
Nasi Ulam
Prep 1 hour 30 mins / Cook 30 mins / Serves 4-6
RAW HERBS AND VEGETABLES (finely julienned) Daun kunyit (turmeric leaves) ½ stalk lemongrass 6 pieces daun limau purut (kaffir lime leaves) 4 strands long beans ½ bunga kantan (rojak flower) 2 full stalks daun kesum (laksa leaves) 30g whole selar fish (local mackerel or yellowtail scad), deboned and minced by hand 30g salted fish, finely chopped SAMBAL TUMIS 100g shallots 15g candlenut 30g dried chillies 10g belachan.
1. SAMBAL TUMIS Blend all ingredients and stir-fry till fragrant.
2. Mix all the herbs and long beans together with 2 tbsps of "sambal tumis", 2 bowls of room temperature rice (see Chef's tip) and minced fish and salted fish in a mixing bowl. Toss everything together till evenly spread.
3. A rrange on a dinner plate lined with a banana leaf underneath. Garnish the rice with more of the mixed herbs. Add more sambal tumis or herbs according to personal preference.
CHEF'S TIP: It is important to use room temperature rice. Using warm or hot rice will cook the herbs which will then be brown and bitter.
Chef Raymond Khoo
Executive Chef/Owner, The Peranakan
Even though he is well versed in French, Indian, and Spanish cuisines during his 30 years in F&B, Chef Raymond's first love for cooking stems from his family heritage. Peranakan food is his specialty and all his recipes come from his family, vetted by his mum and godmother. To celebrate National Day, he chose Nasi Ulam, a traditional Nyonya/ Malay rice dish which he says takes a lot of patience and time to prepare.
Ayam Panggang
Prep 30 mins / Cook 20 mins / Serves 2-4
1 kg boneless chicken thigh 200 g fresh red chillies 50 g shallots 100 g garlic 50 g yellow ginger powder 80 g buah keras (candlenut) 30 g belachan 1 stalk lemongrass 30 g blue ginger Lime leaves, cut lemongrass and calamansi, for garnishing SEASONING 50 ml coconut milk 1 tsp fine salt 2 tbsps sugar 1 tsp jintan manis (coriander seeds), roasted.
1. Marinate chicken with all ingredients except garnish and mixed seasoning except coconut milk. Keep in chiller for a day for best results (see Chef's tip).
2. Before pan frying or baking, mix in the coconut milk. Pan fry or bake till golden brown and cooked.
3. Garnish with cut lime leaves, lemongrass and calamansi.
CHEF'S TIP: Plan ahead for this dish. You can prepare the seasoning one day ahead and it is best to leave marinated chicken overnight for more flavourful results.
Chef Eric Neo
Executive Chef, InterContinental Singapore
With over 20 years of culinary experience under his belt, Chef Eric is a recognisable personality among food industry insiders, the media and food bloggers. He appears regularly as a guest chef/judge on popular food programmes on local TV. Chef Eric chose the Malay dish Ayam Panggang as representative of the plurality of flavours from different cuisines we are so fortunate to enjoy in Singapore.
Suan Pan Zi
Prep 20 mins / Cook 1 hour / Serves 2-4
1.2 kg beef chuck, cut into bite size (or cuts of your choice) 4 lemongrass, use white part 200 g shallots 30 g galangal 8 cloves garlic 8 tbsps chilli paste 6 tbsps meat curry powder 400 ml thick coconut milk 4 turmeric leaves 40 g kerisik (toasted coconut) 50 g palm sugar Salt, as needed.
1. Blend lemongrass, shallots, galangal and garlic together until fine.
2. In a heavy base deep cooking pot, combine beef, blended mixture, chilli paste, curry powder and coconut milk together. Cook over medium low heat, stirring often until beef is tender. It will take around 1 hour to cook (add in hot water if gravy starts to thicken before beef is tender).
3. Add in turmeric leaves, kerisik and palm sugar. Cook until heated through. Season with salt to taste.
4. Serve with rice.
Chef Pang Kok Keong
Executive Chef / Owner, Antoinette
Well-known for his irresistible sweet creations and themed "fetish" food collections, Chef Pang is one of Singapore's most exciting young chefs to emerge in recent years, having gathered his expertise from being Executive Pastry Chef at the Les Amis Group and conceptualised Canelé Pâtisserie Chocolaterie here. Being Hakka, Chef Pang naturally chose the famous Hakka dish Suan Pan Zi (Hakka abacus seeds), which to him represents his heritage and also his love for food and cooking.
Dhall With Chapati
Prep 10 mins / Cook 20 mins / Serves 4
400g red lentils, washed 2 tsps turmeric powder, freshly grated 2 tbsps unsalted butter 2 tsps cumin seeds 1 small onion, finely chopped 3 cloves garlic, finely sliced 2 fresh green chillies, finely sliced (see Chef's tip) 1 tsp garam masala (ground spice blend) 1 tsp ground coriander 5 cm fresh ginger, peeled and finely grated 3 Roma tomatoes, peeled, seeded and diced CHAPATI (Makes 12) 250g whole-wheat flour 200ml water 1 tsp salt, plus extra flour for dusting while rolling the chapatis.
1. In a small frying pan, dry-fry the cumin seeds over a medium heat until toasted and fragrant. Set aside.
2. Melt a tablespoon of butter in a pot and gently fry the garlic, onion, chillies, ginger and tomatoes. Once the garlic is golden, mix in the toasted cumin seeds, garam masala and ground coriander.
3. Add the lentils to the pot and cover with cold water. Bring to boil (skim off any scum that rises to the top), and reduce to a simmer. Stir in the turmeric and the remaining butter. Cover and leave to cook gently until the lentils are completely softened.
4. CHAPAT I In a large bowl combine flour and salt. Add the water and stir with fingers until it starts making a dough. Knead the flour until you have soft and pliable dough that does not stick to your fingers. Rest for minimum 1 hour at room temperature. Divide the dough into 12 equal-sized balls. Roll each ball in dry flour and flatten with a rolling pin. Place the rolled chapati on the hot griddle and cook for 30 secs or until tiny golden dots appear on the bottom, flip over. You can puff up the chapati on direct flame too.
5. Serve dhall in a bowl with chapatis at the side.
CHEF'S TIP: If you want a less spicy version, remove the seeds from the green chillies to keep the heat down. Great for kids who can't take spicy foods.
Chef Emmanuel Stroobant
Chef/Owner, Emmanuel st roobant Group
Dhall is one of celebrity chef Emmanuel Stroobant's favourite local dishes. There is a very good reason the Belgium chef – who has won many culinary awards and counts Singapore as his home, having lived here for more than 16 years with his wife and two kids – chose this dish. Chef Emmanuel has been a vegetarian for close to eight years so he naturally picked this popular vegetarian Indian dish. For Chef Emmanuel, the dish is simple and honest, a reflection of how living and working in Singapore is like to him.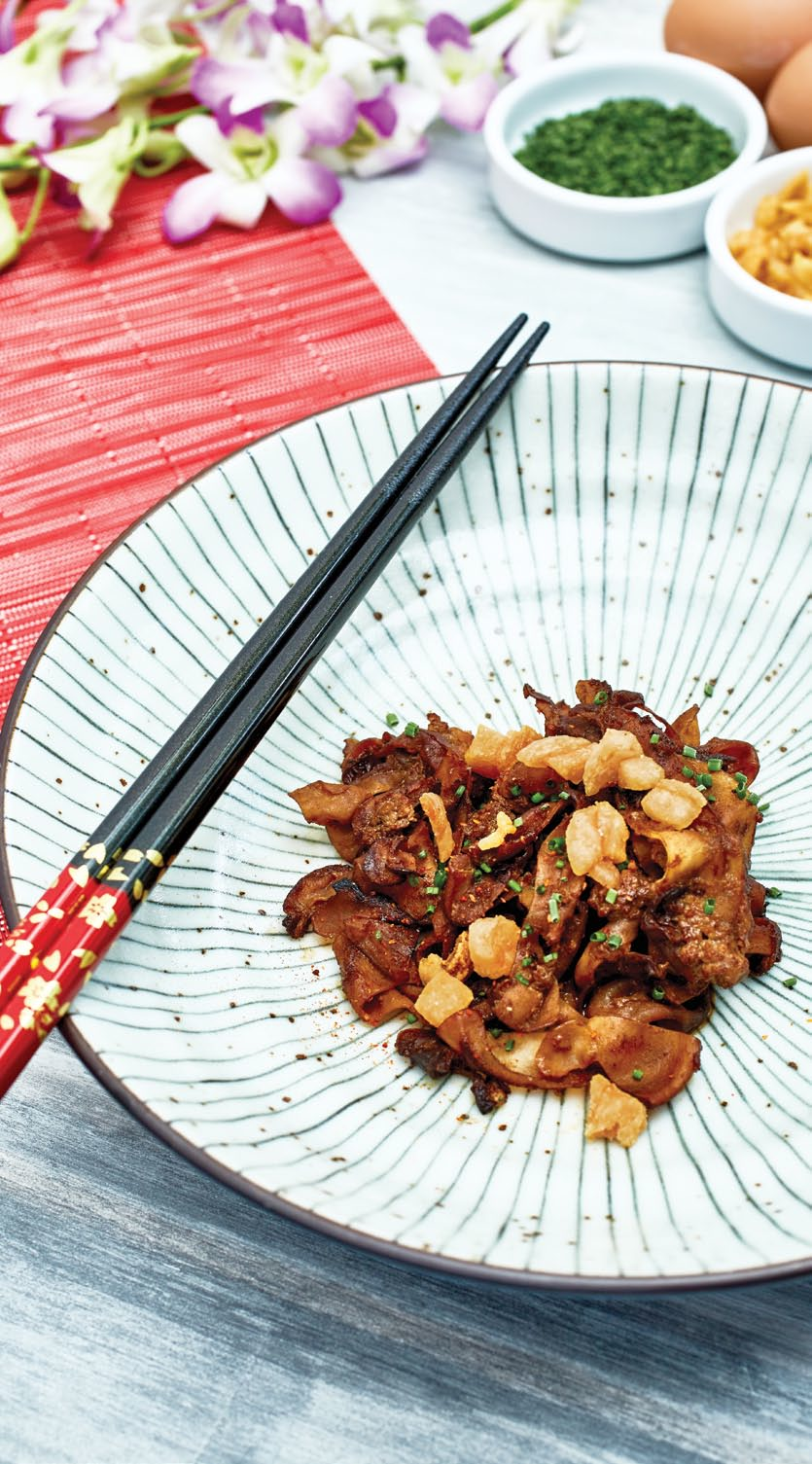 Char Kway Teow (Without Kway Teow)
Prep 10 mins / Cook 5 mins / Serves 1
100g fresh cuttlefish, thinly sliced to the width of kway teow (flat rice noodles) 1 tsp good quality fish sauce 1 tsp good quality dark soy sauce 1 tbsp lard 1 large egg Chives, chopped Chilli padi flakes Fried pork lardons, cubed.
1. Mix the cuttlefish with the dark soy sauce and fish sauce.
2. In a wok, heat the lard until it is smoking hot. Saute the cuttlefish quickly for about 10 secs. Break the egg in. Switch off the heat and scramble to ensure the egg coats the "kway teow".
3. S prinkle chilli flakes, chives and lardon cubes on top. Serve immediately.
Chef Willin Low
Chef/Owner, Wild Rocket
As one of Singapore's most recognisable personalities, Chef Willin excites foodies with his modern and imaginative take on classic homespun dishes. Here, Chef Willin created his very own Wild Rocket Char Kway Teow (Without Kway Teow) using mainly sliced cuttlefish to replace the kway teow. "I knew I wanted to pick a hawker dish because to me, our hawker culture is not only the soul of the Singapore culinary identity but central to Singapore's heritage. Char Kway Teow was picked mainly because I was thinking how best I can enjoy a plate of it carb free!" says Chef Willin.