Discover why retinoids are still considered the top anti-ageing ingredient type after over 30 years
Retinoid. Retinol. How about Retin-A? You may have heard of one of these names, and their promises to plump up wrinkles, slow down premature skin ageing and boost regeneration. And you heard right. While a multitude of anti-ageing ingredients floods the beauty scene r every year, there's nothing quite like a retinoid.
Considered the gold standard for anti-ageing ingredients since the 1980s, retinoids have the most robust evidence for their anti-ageing properties, explains Dr Ong Xiangning of Aeras Medical Aesthetic Clinic. That explains why retinolinfused products continue to hit the market year after year.
What retinol does and how it works
Retinol's biggest claim to fame is how well it works to delay signs of ageing. It speeds cell turnover, fends off free radicals and promotes collagen production to firm and smooth skin, reducing the look of wrinkles. On top of these, retinol can also help to clear acne, minimise the look of pores (due to firmer skin), reduce the look of uneven pigmentation and brighten your skin tone.
Retin-what?
Quick jargon lesson: retinol is a form of vitamin A that falls under the retinoid family. Retinoids come in different strengths: pure retinoic acid (also known as Retin-A or Tretinoin) is prescription-only, retinol that is less potent than the pure stuff, and on the lower concentration end, you'll find retinol derivatives like retinyl palmitate, retinyl acetate, and retinyl linoleate.
"Since the discovery of retinol and Tretinoin, there are now several new generations of vitamin A derivatives, such as Tazarotene and Adapalene, which are proven clinically to work as well or even better than retinol and Tretinoin, and are also more chemically stable, gentler and safer for use topically on the skin," explains Dr Gladys Teo, head of research and development at Estetica Est.Lab.
Who should use it?
Anyone from their mid-20s and beyond. Chronic acne sufferers may even find prescription retinoids to be the answer to their skin woes. However, those with dry or sensitive skin, eczema, psoriasis and rosacea may experience dryness, redness and itching as retinoids can aggravate these skin conditions. If you fall into the latter category, gentler formulas may be more suitable.
How should you use it?
There's some trial-and-error involved when it comes to using retinoids. If you are new to retinoids, Dr Melvin Tan of Epion Clinic explains that it is not unusual to experience some sensitivity.
"This usually subsides after a few weeks of consistent use," says Dr Tan. "Simple remedies include starting on the lowest concentration of retinoids, applying the product every other day instead of daily, and applying moisturiser after." Once your skin has become comfortable with alternative-day applications, gradually increase the frequency until you're using it every day, or as specified in the product directions.
If you're worried about aggravating your skin, use a gentler formula first. You'll also want to avoid using retinoids after scrubs and products with acids such as alpha hydroxy acids (AHAs) and beta hydroxy acids (BHAs) as these would reduce the efficacy of retinoids. Retinol products don't give you overnight results; Dr Ong adds that you need to use a retinol product consistently for at least six to eight weeks.
When retinols were first introduced in skincare products, they tend to be volatile and break down when exposed to sunlight or air. According to Dr Tan, there have been improvements in formulas. "With older formulations, there were concerns about the active ingredient possibly breaking down due to sun exposure, but this is not the case with newer formulations. Now, daytime retinol use is fine, as long as you have a good broad-spectrum sunscreen on," explains Dr Tan.
GET GLOWING
Refine skin texture, brighten dull skin and improve collagen production with these skin-revitalising retinol products.
Bybi Beauty Bakuchiol Booster, $23 (15 ml), is a certifiedvegan product that doesn't use retinol, but a plant-derived alternative called bakuchiol that's supposedly as effective as retinol and without its undesirable side effects.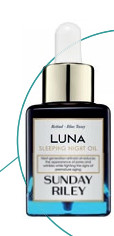 Infused with blue tansy extract, Sunday Riley's Luna Sleeping Night Oil, $78 (15 ml), works while you sleep to leave you with more radiant, youthfullooking skin in the morning.
Elizabeth Arden Retinol Ceramide Capsules Line Erasing Night Serum, $153 (60 capsules), is said to dispense just the right dose each time to rejuvenate skin.
To revive skin quickly, Drunk Elephant A-Passioni Retinol Cream, $105 (30 ml), has one per cent of vegan retinol, and a blend of peptides and superfood ingredients for extra nourishment.
Clinique Fresh Pressed Clinical Daily + Overnight Boosters with Pure Vitamin C 10% and A (Retinol), $52 (a set of two vials), promises prescription-level results with products that only get activated upon first use. Apply the vitamin C in the daytime and retinol at night.
Eve Lom Time Retreat Radiance Essence, $175 (150 ml), uses liposomeencapsulated retinol to keep the active ingredient effective in its hydrating formula that is said to keep skin moisturised for up to 72 hours. Plant and algae extracts help to calm and improve glow.
Developed by a plastic surgeon, 111Skin Celestial Black Diamond Retinol Oil, $300 (30 ml), has "maximum strength" one per cent of retinol and black diamond particles to boost product absorption.
With its ability to speed cell renewal, retinol in the Origins Plantscription Retinol Night Moisturizer with Alpine Flower, $110 (30 ml), purportedly gets you quicker antiageing results from its plant actives.
For all skin types, Pixi Retinol Tonic, $22 (100 ml), can be used twice daily and has time-released retinol to rejuvenate skin through the day.
TEXT: YUEN YI YING / ADDITIONAL REPORTING: ARISSA HA / PHOTO: 123RF.COM