An ordinary cleanser may not clear blackheads, dead skin, and grime from your skin. You need a deep cleansing team that gets right into your pores.
An ordinary cleanser may not clear blackheads, dead skin, and grime from your skin. You need a deep cleansing team that gets right into your pores.
Clear keratin plugs with Powder Wash +, $25 for 50g
Blackheads happen when oil and dead skin, which is mostly made of a protein called keratin, clump together inside the pores. According to the brand, most regular cleansers can't break down keratin, but ORBIS' Powder Wash + uses enzymes to do just that.
The two enzymes, protease and lipase, break down protein and oil respectively, so clogs are dissolved. The lightweight powder lathers to a rich foam that's fun and easy to use.
If you've read enough women's magazines, you're probably well aware of the need for twice-daily cleansing.
According to ORBIS, however, regular daily cleansing isn't enough to zap zits, reduce dullness, and ensure that your skincar e products are working optimally.
The Japanese brand, which is known for its oil-free products, says that standard cleansers are necessary for daily maintenance, but you'll need dedicated pore care products for issues such as blackheads, whiteheads, deep-down grime, and build-up of dead skin.
Its Special Care range is specifically designed to solve pore problems gently, without harming skin. Even so, there's no need to use these all on the same day.
You may use them more often if you have oily and acne-prone skin.
Remove stubborn black heads and white heads with Care-Na Hot Cool Gel, $23 for 60g
Stubborn black heads and white heads are also caused by blocked pores. They occur most often around the (forehead, nose, and chin) because that's where skin is oiliest. To deal with them, apply Care-Na Hot Cool Gel. The black gel heats up to dilate pores, while charcoal powder binds to the sebum and lifts it away. Fine beads in the gel scrub away dead cells, and hamamelis leaf extract helps to firm and tone for smoother skin over time. The gel cools after five seconds to a refreshing, minty finish to help pores contract back to their original size. Rinse off to see your pores cleaned, as if you'd just applied a pore strip!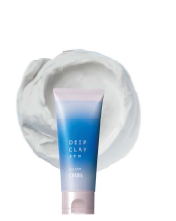 Get rid of deep-seated grime and oil with Deep Clay Spa, $28 for 100g
You may not have stubborn clogs to get rid of, but still want deep cleansing to wipe out grime trapped deep inside pores to get your glow on. For that, there's Deep Clay Spa, which has white clay to capture oil and dirt. This weekly mask also has Marine Moisture Complex to hydrate skin, so it doesn't feel tight on the face like a typical clay mask.
Slough off dead skin cells with Aqua Peeling Gel, $28 for 120g
This no-scrub exfoliant uses deep ocean water and apricot juice to gently remove dead skin build-up. Roll it over your face and watch the dead skin clump together.
PROMOTION
Get a complimentary foaming net with every full-sized bottle of Powder Wash + purchased. While stocks last.