The range of nudes out there is as varied as we are diverse – one shade will never fit all. We match the right ones to yours, so you can wear this trending colour perfectly.
What is nude? Well, it's not a light brown. Not really. A nude lipstick is simply how the shade looks against your skin. To find the right hue, look at two things: skin tone (what you see on the surface) and skin undertone (warm, cool or neutral), says makeup artist Larry Yeo.
For warmer skin tones, like honey, choose a nude with a warmer undertone – one with a peachy or golden base; a pink-based nude makes you look ashy. If you have a cooler skin tone, enhance the natural tone of your lips with a rosy nude.
The perfect nude lipstick should give your lips a flush of colour and make you look fresh-faced. It should enhance your lips, not make them disappear into your face. And that nude could be anything from subtle pinks and delicate earth tones to a touch of burgundy, rosewood and taupe.
Finding the right nude lipstick for your skin tone can be like hitting the jackpot, but we've done all the legwork here so you can skip guessing and zoom in on the right nudes for your skin tone, from fair to deep.
All you need to do is match the underside of your wrist to the shades here (we've used the Pantone colour chart to make it super easy), to see which nude lipsticks work for you.
"Match your skin tone to these Pantone shades to find your skin match and the perfect nude for you."
FAIR
Nude lipsticks with a hint of pink or rose, in a sheerer finish, will make your paler skin look fresh and healthy. Avoid matching your nude exactly to your skin tone – you'll look washed out and sickly.
Hera Sensual Spicy Nude Volume Matte in #252 Nude Cream, $43 
Dior Addict Lipstick Stellar Shine in #260 Mirage, $52 
Vapour Beauty Lip Nectar in Chill, US$28.85 (S$39.50), at Net-a-porter 
Rouge Hermes Satin Lipstick in Beige Kalahari, $103
Fenty Beauty Slip Shine Sheer Shiny Lipstick in Makeout Break, $35 
LIGHT
For your ideal MLBB (My Lips But Better) shade, look for lipsticks that have a pink or rose undertone to add a pretty flush to your complexion.

Chanel Rouge Coco in Adrienne, $52 
Cle de Peau Beaute Refined Lip Luminizer in #5 Perfect Peach, $85 
Laneige Layering Lip Bar in #13 Bitter Rose, $39 
Nars Matte Lipstick in Cruising, $40
Clarins Velvet Lip Perfector in #01 Velvet Nude, $33
MEDIUM
Your warmer complexion looks great in beiges, browns, and even mauve nudes. To give lips definition, opt for a shade a tad darker than your natural lip tone. And stay away from shades lighter than your skin tone, as well as nudes with orange undertones that can make your complexion look sallow.
Yves Saint Laurent Beaute Tatouage Couture Velvet Cream in #204 Beige Underground, $52 
Rouge Dior Ultra Rouge in #325 Ultra Tender, $52 
Estee Lauder Pure Color Envy Kissable Lip Shine in Bronze Idol, $52 
Armani Beauty Ecstasy Mirror in #102, $57
Hourglass Girl Lip Stylo in Achiever, $54
OLIVE
Choose a nude lipstick that has a flush of peach to enhance your lips and add warmth to your complexion. Picking one with a little gold shimmer won't hurt either, as it instantly enhances your complexion rather than compete with it.
Urban Decay Vice Lipstick in Uptight, $31 
M.A.C Powder Kiss Liquid Lipcolour in Date-Maker, $41 
Clarins Comfort Lip Oil Intense in #01 Intense Nude, $36 
Shiseido Makeup Modern Matte Powder Lipstick in #503 Nude Streak, $46 
Charlotte Tilbury K.I.S.S.I.N.G Lipstick in Penelope Pink, $50
HONEY
A warmer nude, like a toffee or caramel, will brighten your complexion and make you look more alert and awake. Steer clear of cooler shades as they can make you look ashy.
Decorte The Rouge Velvet in BR 301, $48 
Chanel Rouge Coco Flash in #134 Lust, $52 
Christian Louboutin Beauty Sheer Voile Lipcolour in Private Number, $142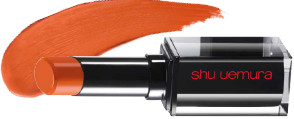 Shu Uemura Rouge Unlimited Amplified Matte BG961, $42 
Tom Ford Lip Color in Libertine, $76
DEEP
Complement your richer skin tone by choosing a deeper nude that has red, brick-red or berry undertones to flatter and bring out your colour.
Lancome L'Absolu Rouge Intimatte in 274 Killing Me Softly, $49 
Estee Lauder Pure Color Desire Rouge Excess Lipstick in #112 Deny, $62 
Gucci Beauty Rouge a Levres Mat in 209 Mona Leslie Cameo, $53 
Clinique Even Better Pop Lip Colour Foundation Lipstick in #22 Nuzzle, $36 
Charlotte Tilbury Matte Revolution Lipstick in So 90s, $50
Make the nude lip work for you
Makeup artist Larry Yeo shares these useful tips.
• Nude newbies can start with a gloss or balm – the more translucent the finish, the more forgiving the colour.
• To do a fully nude lip look, choose a colour one to two tones darker than your foundation shade for subtle contrast. Since you're playing down your lips, play up your other features, say, with a smoky eye and fuller brow.
• To do an MLBB look, choose a nude that's one shade brighter than your natural lip colour. And to enhance it, keep the entire look monochromatic using shades from the same colour family. For instance, caramel lips could be paired with taupe or soft browns on eyes and cheeks.
• If your natural lip colour is uneven, use a lip liner in a neutral shade to even it out before applying nude lipstick so that the colour stays true.
TEXT VANESSA CHIA PHOTOGRAPHY PHYLLICIA WANG ART DIRECTION SHAN