THE PLANT STEM CELL SECRET TO BEAUTIFUL SKIN
It was the first beauty brand to use plant stem cells 13 years ago, and Chantecaille still leads the way in skincare, bringing botanicals and science together in skin tech-driven products, to give you healthy, radiant skin.
Sylvie Chantecaille, the founder of her eponymous French beauty brand, started her business based on one belief – that flowers have amazing healing potential. And that botanicals should star in her products.
The very first botanical she came across was Rose de Mai on a trip to Grasse in France. The scent captivated her, and the prized rose quickly became one of her favourite flowers. It's why Rose de Mai rosewater is used in all her products.
But Sylvie didn't fall in love only with the scent. The rose is rich in anti-inflammatory, anti-ageing and antioxidant properties, and keeps skin well-hydrated. It's an extraordinary plant that also helps reduce sleeplessness and soothe headaches.
Flowers aside – and using them in her products – the founder decided it was important to include scientific innovation in her products too. The result: groundbreaking formulas that marry nature with science to soothe, hydrate and nourish skin.
According to studies, plant stem cells help slow the speed of skin ageing. Chantecaille was the first beauty company to tap into this finding, and in 2007, launched the Chantecaille Gold range. Plant stem cells are now a feature in many other Chantecaille products.
Botanicals – The heart of Chantecaille
Chantecaille's high-capacity lab is the machinery behind its plant stem cell research. To determine which plants offer the most skin benefits, scientists test each one's survival quotient, by simulating different weather conditions in the lab.
They then create an extract of the plant stem cell, which is then duplicated so it can go through more rounds of strict and rigorous safety testing.
The brand wants to ensure that the extracts contain no environmental contaminants such as pesticides, toxins and heavy metals that can irritate sensitive skin. The rigorous process ensures that only the purest, most effective active ingredients, containing high concentrations of the potent phyto-actives that benefit skin, make it into each product. Take the Chantecaille Bio Lifting Oil Free Fluid+ for example – each bottle contains 10 million plant stem cells, making it a powerful anti-ageing treatment.
Taking care of the environment
Plant stem cells aren't just powerful ingredients, they're also more sustainable. Sylvie says plant stem cells need little land and water, which means more can be used for food crops.
In fact, the brand claims that if a customer invested in six 50ml jars (or a year's worth) of a Chantecaille cream containing one plant stem cell active, the company would reduce water consumption by up to one tonne annually. The actual amount of water saved is a lot higher as a some Chantecaille products contain more than one active.
The fact that plant stem cells are cultivated in the lab means there's no need to wait for a harvest to obtain what's needed. And as only a specific part of the plant is needed, that part can be replicated in culture, so the plant is never destroyed, unlike in traditional slash-and-burn farming methods. Not to mention, having access to every one of the plant's molecules means the brand is able to avoid plant shortages due to drought or flood.
What this means: an unlimited supply of any active ingredient, in highly effective concentrations, in any Chantecaille product.
WHAT'S GOOD FOR YOUR SKIN
Caffeine-free Coffee Stem Cell
Comes from the coffee plant. It plumps and hydrates skin.
Bionymph Peptide Stem Cell
A blend of peptides and sugars derived from cultured plant stem cells. It reduces the look of fine lines, protects DNA from free radical damage, energises skin cells and boosts collagen levels.
Sweet Pea Stem Cell
Comes from the sweet pea flower. It increases skin's natural ability to detox and defend against UV and free radical damage, by encouraging its internal cleaning and recycling system.
Daphne Stem Cell
Comes from Winter Daphne, a plant that can thrive in freezing alpine cold. It protects skin from damage caused by a harsh environment, like wind and extreme cold, increasing sebum production and repairing micro-lesions that result from such exposure. Skin is also well hydrated.
Raspberry Stem Cell
Comes from raspberries, which are rich in skinprotecting antioxidants. It is also an intensive moisturiser, helping to soothe redness.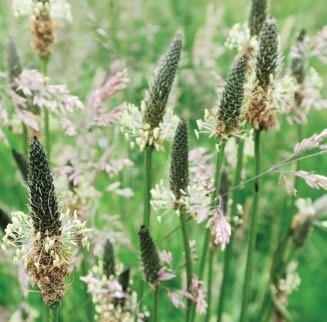 Plantago Lanceolata Stem Cell
Comes from a herb from the plantain family, known as ribwort plantain or buckhorn. It firms skin, promotes elastin production and lightens age spots.
Tomato Stem Cell
Comes from tomatoes, which are rich in antioxidants that protect skin from free radical damage and repair DNA damage. Plus, it promotes skin clarity and radiance.
White Horehound Stem Cell
Comes from the mint family. It prevents pollution damage and boosts the skin barrier to keep nasties out. It also refines skin texture and reduces the appearance of blackheads (by 50 per cent in 28 days).
Bell Pepper Stem Cell
Comes from bell peppers. It stimulates microcirculation, reducing swelling and fluid build-up, especially in the eye area, while lightening dark circles.
THE FIRST PLANT STEM CELL
It was a rare apple that started the phenomenon. The Uttwiler Spatlauber, found in the Swiss Alps, has an unusually long shelf life – it can keep fresh for months. On the tree, if the apple's skin is nicked, it can regenerate and heal itself. Scientists found that its stem cells are a potent reservoir of anti-ageing properties. Used in skincare, it encourages the skin cell renewal process, reducing the appearance of lines and wrinkles, while restoring elasticity.
PHOTO OF WINTER DAPHNE & SWEET PEA 123RF
MEET CHANTECAILLE'S BIO-LIFTING RANGE
The more than 15 types of plant stem cells, along with anti-ageing peptides, fortify and revive skin for a lifted, toned, supple and glowing complexion. These products are available at Chantecaille counters at Takashimaya D.S. and Tangs at Tang Plaza (opening April 30, 2020).
Treat Bio Lifting Serum+, $460
It contains bionymph peptide, caffeine-free coffee, raspberry and plantago lanceolata, to help you get firm, toned, radiant and youthful-looking skin. It also protects against blue light, which can lead to premature skin ageing.
Hydrate Bio Lifting Oil Free Fluid+, $471
A lightweight oil-free lotion that keeps skin shine-free, and lifts and sculpts the face while reducing the appearance of lines and wrinkles. It contains the same actives as the serum, plus daphne extract. You can also use it to prep skin for makeup.