It was the go-to look for every woman of every age and skin colour – and it was wearable, versatile and classy.
It was the go-to look for every woman of every age and skin colour – and it was wearable, versatile and classy. Today's version in a cooler tone still has all the pluses. And you're encouraged to go beyond wearing it au naturel.
THE DAY LOOK
A light wash of colour on the eyelids adds a touch of colour to fresh, radiant skin.
The first thing you should know is: what is a cool brown. Your starting point should be taupe, which is a brown with grey tones. On your eyes, it creates the illusion of depth and dimension. "It's like contouring for the eyes," says makeup artist Larry Yeo. All you need to do is properly conceal dark eye circles, as cool browns tend to emphasise dullness in the area.
THE DATE LOOK
Use a deeper brown on the eyelid, and on the lower lash line, gently blend out the same colour.
THE MAKEUP ARTISTS WHO PIONEERED '90S MATTE BROWN EYES, AND THEIR (STILL) BEST-SELLING PRODUCTS
Bobbi Brown has always been known for her natural, neutral look, which translates into the products her eponymous brand sells. She's launched products she deems "essential" to women – and they always included a matte taupe. The Eyeshadow in Grey (a grey-brown, $40) has been sold out and restocked multiple times.
Kevyn Aucoin is the man responsible for the cool matte brown eye + sculpted face look he created on celebrities and models in the '90s, including Cher, Cindy Crawford and Naomi Campbell. Since launching Kevyn Aucoin Beauty in 2001, his The Contour Book (contour and eye palette) had always been a bestseller, but it has been discontinued for the upgraded iteration: The Contour Book Volume II (US$65 or S$90). It's so exclusive that each buyer is limited to just three pieces when purchasing it at www.kevynaucoinbeauty.com.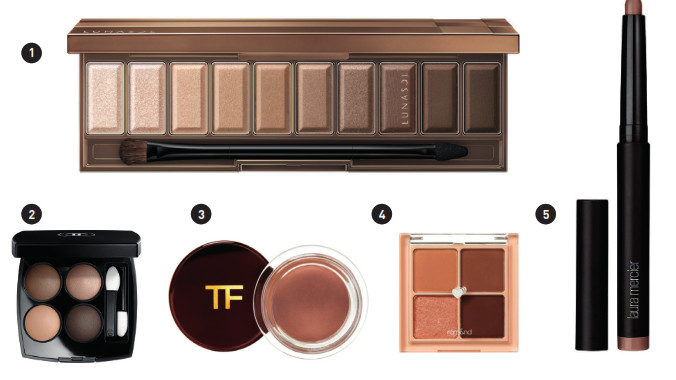 THE BEST COOL BROWNS
1. The Neutral Beige variation of Lunasol's The Beige Eyes series features 10 shades – nothing too showy, all subtle. The cool taupe and brown shades come in a matte finish.
2. All the essential cool browns you need to create a day-to-night look are in Chanel Multi-Effect Quadra Eyeshadow in Clair-Obscur ($94). There's a light, medium and deep brown, plus a creamy offwhite shade for highlighting.
3. If you only need one, make it the Tom Ford Emotionproof Eye Color in Bengal ($70). Pat the sheen-free cream eyeshadow on eyelids for a wash of colour, or use it as a base for powder eyeshadow. Best part, you only need to use your fingers.
4. Apart from the eyes, you can use the taupe shade from Rom&nd's Better Than Eyes quad in Dry Ragras ($26.90) to contour the nose too, as the colour is so light. Otherwise, all the shades come together for a Korean-style matte cool-brown look.
5. The eyeshadow stick that is Laura Mercier Caviar Stick Eye Colour in Cobblestone ($49) works on the go. It gives precise application, and is easily blended with just your fingers.
PAIR YOUR COOL BROWN EYE LOOKS WITH THESE PRODUCTS RECOMMENDED BY LARRY YEO
1. Berry blushers add colour to the cheeks without stealing attention away from the eyes. Go for the Ere Perez Carrot Colour Pot in Holy ($40, at www. peaupeaubeauty.com) for a super natural-looking flush.
2. If wearing cool brown eyeshadow makes your skin look washed out, add a bronzer to your makeup look, says Yeo. Fenty Beauty Sun Stalk'r Instant Warmth Bronzer ($46) adds radiant warmth to your skin.
3. For lips, a warm pinky-brown lipstick like Yulip Lipstick in Daring Nude ($30, at www.ksisters.sg) works best across looks of all intensities, and all skin tones. "The neutral, skin-like tone of the lipstick gives the impression of healthy, naturally plump lips," says Yeo.
THE '90S BROWN EYESHADOW LOOK, REINTERPRETED BY SG-BASED INFLUENCERS IN 2019
1. Emily Loke/ @ paper_tigress – To create the illusion of lifted eyes, blend a cool brown eyeshadow outwards at the outer corners. Use a damp eyeliner brush with the same eyeshadow to create a smudgy "shadow liner". Finish off with black mascara.
2. Munah Bagharib/ @munahbagharib – For added emphasis on the eyes, go for the full package: smoky eye look, eyeliner, and falsies. Keep the rest of the face clean and matte.
3. Thien Qi Yun/ @qiyunz – To add highlight "points" to an eye look, use a matte light beige at the inner corner of the eye, and on the brow bone.
4. Alex T/ @alextbeauty – A sultry way to add warmth and colour to the rest of your face is to bronze, and pair with a milk chocolate-coloured lipstick.
5. Willabelle Ong/ @willamazing – A light overall wash of colour over the eyelids makes for an easy and pretty everyday look. Come night, build the layers and blend out for an ultrasmoky eye.
6. Shanthi Vimalan/ @shanthiarumugam – For instant intense colour payoff, use a flat shader brush to pat the colour on the eyelids. Then, a clean blending brush to lightly smoke out the pigment.
THE DANCE LOOK
Adding an almost-black brown to the eyelids and lower lash line creates a sultry and mysterious vibe – perfect for not having to worry about smudged mascara if you're dancing the night away.
TEXT CHELSEA TANG PHOTOGRAPHY RAYMOND LEE/CAPSULE PRODUCTIONS STYLING J.E HAIR CHRISTVIAN GOH, USING REVLON PROFESSIONAL MAKEUP RINA SIM MODEL MYRTHE Z/NOW MODEL MANAGEMENT