MasterChef Australia's Poh Ling Yeow's first love is baking. Here, the celebrity chef brings you some of her all-time favourite sweet treats, perfect for Mother's Day
MasterChef Australia's Poh Ling Yeow's first love is baking. Here, the celebrity chef brings you some of her all-time favourite sweet treats, perfect for Mother's Day
"Banana Cinnamon Date Stacks (turn page for recipe)."
"Roast flaked almonds for 7 mins at 160 C fan-forced, or until golden hroun."
BANANA CINNAMON DATE STACKS
"A chewy, cinnamony dacquoise base studded with sticky dates, layered with fresh cream, sliced banana and toasted almonds, then finished with lashings of dark chocolate ganache – what's not to like?"
Prep 1 hour + Cooling | Cook 30 mins | Makes 10
DACQUOISE
6 large egg whites
1⅓ cups caster sugar
1½ cups almond meal, sifted
1½ tsps ground cinnamon
¾ cup pitted dates, roughly chopped
GANACHE
80 ml thickened (whipping) cream
100 g dark chocolate melts (buttons) or chopped dark chocolate
CREME CHANTILLY
600 ml whipping cream
½ cup pure icing sugar or icing sugar mixture, sifted
1 tsp vanilla extract, vanilla bean paste or vanilla essence
BITS & PIECES
1 quantity Creme Chantilly
6 bananas
160 g toasted almonds, roughly chopped
1. Preheat oven to 130 C. Line four baking trays with baking paper. Draw a total of 20 x 8-cm circles on the baking paper, leaving at least 3 cm of space between the circles. Spread these out over the baking trays.
2. DACQUOISE BASE In a large bowl, whisk egg whites with an electric mixer on high speed until medium peaks form. Start adding 1 tbsp of sugar at a time, whisking well between each addition. Keep whisking until all the sugar has been used and meringue is very stiff and glossy. Combine almond meal and cinnamon in a small bowl, and mix briefly. Add this, together with the dates, to the meringue. Fold together to combine.
3. Transfer mixture to a piping bag, and snip a 1-cm hole off the tip. Pipe concentric circles onto prepared baking paper, or simply use a spoon or spatula to spread the mixture. Bake 30 mins. Cool completely on trays before using.
4. GANACHE Microwave cream and chocolate in a small heatproof bowl for about 40 secs on the highest setting. Whisk until smooth, then transfer ganache to a piping bag.
5. CREME CHANTILLY Combine cream, icing sugar and vanilla in a medium mixing bowl, and whisk by hand or with an electric mixer until medium or stiff peaks form. Medium peaks make a nicer texture to dollop and provide moisture to slices of cake. Stiff peaks are more fitting for icing cakes and piping with, as the shape stays put.
6. To assemble stacks, just before serving, spread a dollop of the Creme Chantilly on a disc of dacquoise. Slice bananas and arrange a layer of them on the cream, then snip a 2-mm hole off the tip of the piping bag holding the ganache. Squeeze a zigzag of ganache over the top of the bananas, then finish with a sprinkle of almonds. Place another disc of dacquoise on top, and repeat process. Continue until all the stacks are made, or assemble them as you need – the dacquoise discs will last up to a week in an airtight container. Serve immediately after assembling.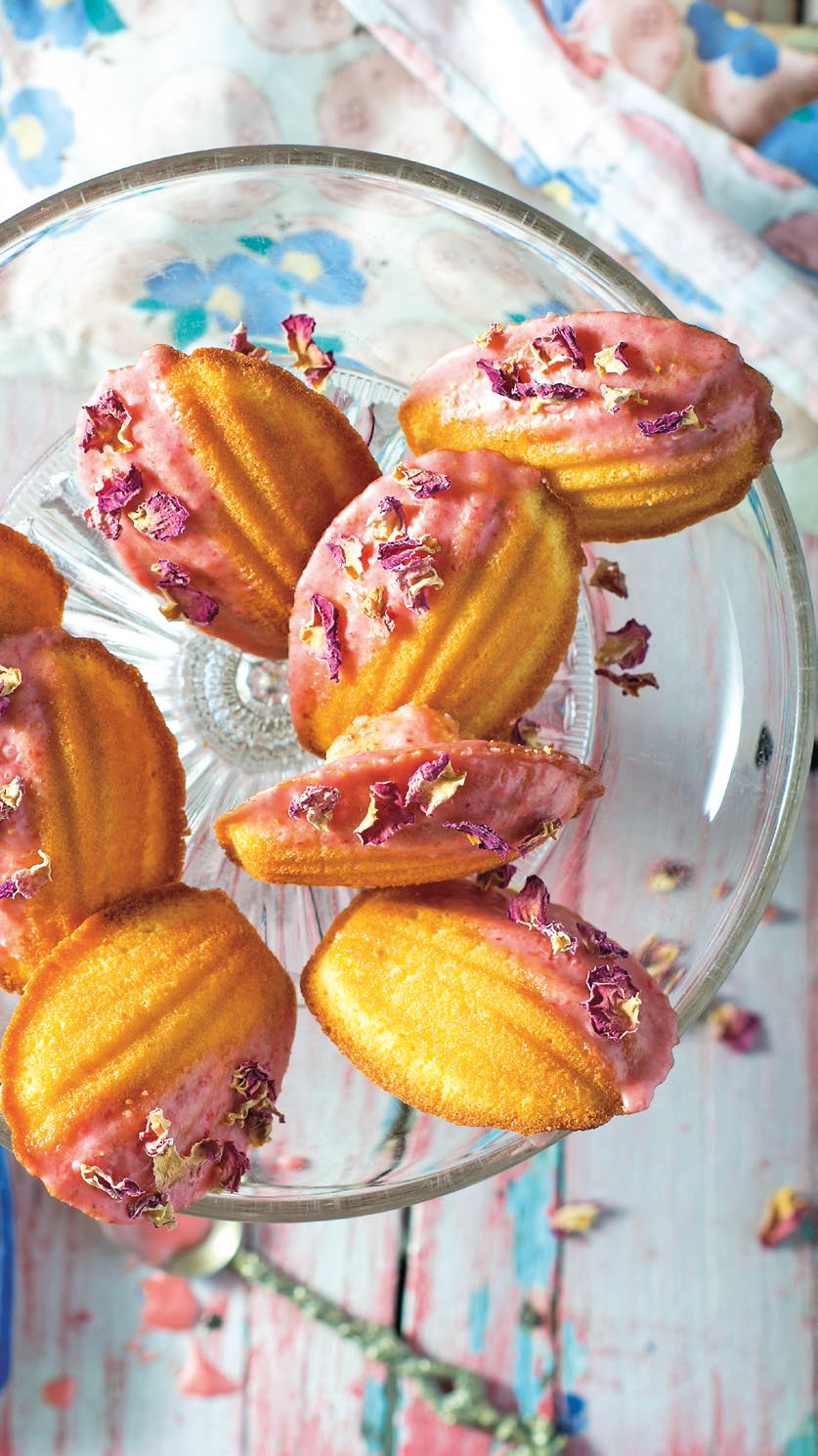 MADELEINES WITH STRAWBERRY ROSEWATER GLAZE
"The brilliant thing about these little French butter cakes is that they age so well but, if you eat them soon after they come out of the oven, you'll catch that small window of crispy-edged goodness that can only be experienced if you're an enthusiastic baker – or at least related to one!"
Prep 45 mins + Cooling | Cook 10 mins | Makes 12
⅔ cup plain flour
1 tsp baking powder
120 g caster sugar
2 eggs, lightly whisked
140 g butter, melted
½ tsp finely grated lemon zest
STRAWBERRY ROSEWATER GLAZE
60 to 90 g pure icing sugar, sifted 4 to 6 strawberries, mashed and passed through a sieve 1 tsp rosewater
1. In medium mixing bowl, combine the flour, baking powder and sugar. Mix with wooden spoon, then add eggs, butter and lemon zest. Stir until smooth, then transfer batter to a piping bag, and refrigerate 2 hours.
2. Preheat oven to 200 C. Grease a 12-hole madeleine tin well.
3. Pipe a small amount of batter into each mould, filling up to two-thirds. Reduce oven temperature to 180 C fan-forced, and bake for 10 mins until madeleines are golden. As soon as they come out of the oven, smack the edge of the tray onto the work surface to unmould cakes. Allow to cool completely on a wire rack before glazing.
4. STRAWBERRY ROSEWATER GLAZE Combine icing sugar, strawberry puree and rosewater in a small bowl, then stir until smooth and quite runny. If it's too thick, mash more strawberries to add to mixture. Dip just half of each madeleine into glaze diagonally, then let glaze set before serving. These keep well for up to a week in an airtight container.
CRACKLE CHOUX BUNS WITH PISTACHIO CUSTARD
"In Paris, there are pâtisseries dedicated entirely to the choux bun, or profiterole, and they always look like this, with a crackle surface, which gives the bun a delicate crunch. They are filled with every possible flavour of custard that you can imagine. Don't listen to anyone who says these are difficult to make. Just follow the recipe carefully, and you'll be fine!"
Prep 30 mins | Cook 20 mins | Makes 20
PISTACHIO PRALINE
60 g pistachio nut kernels, toasted
50 g caster sugar
1 tbsp water
PISTACHIO CUSTARD
3 cups chilled creme patissiere (see right) or cream A few drops of green food colouring 150 ml whipping cream, whisked to stiff peaks
CRAQUELIN
¼ cup plain flour
¼ cup soft brown sugar
1¼ cup unsalted butter, softened CHOUX PASTRY
75 g butter
¾ cup water
⅛ tsp salt
¾ cup plain flour
3 eggs
1. PISTACHIO PRALINE Spread the toasted pistachios on a baking tray lined with baking paper. Combine sugar and water in a small, heavy-based saucepan. Stir to combine, then leave it alone. Bring to boil, and when it turns a deep amber colour, immediately remove from heat and pour over the nuts on the baking tray. When praline has set and cooled, break chunks of it into a mortar. Use pestle to pound the chunks until you have a fine powder.
2. PISTACHIO CUSTARD FILLING Take creme patissiere or cream, then fold in food colouring and the powdered pistachio praline. Chill the custard completely, before whisking in cream.
3. CRAQUELIN Combine flour, brown sugar and butter in a small bowl, and mash with rubber spatula until mixed into a thick paste. Roll between two pieces of baking paper until 1 to 2 mm thick. Chill and preheat the oven to 200 C.
4. CHOUX PASTRY Combine butter, water and salt in a medium non-stick saucepan over medium heat, and wait until the butter has just melted – you don't want the mixture to boil. Add flour, and keep cooking and stirring continuously with wooden spoon, until mixture leaves the side of the saucepan and gathers into a ball. Add eggs, one at a time, beating until smooth before adding the next.
5. Transfer mixture to piping bag fitted with a 1-cm round nozzle, and pipe 3- to 4-cm dollops with a 3-cm gap between them. Take craquelin out of refrigerator and, using a pastry cutter, cut enough 4-cm circles to cover each choux bun. Gently peel them from baking paper, and pop one on top of each bun. If circles start to wilt, pop the sheet of craquelin into the freezer for 2 mins before continuing.
6. Bake for 20 mins until golden brown. As soon as the choux buns come out of the oven, pierce the bottoms with the tip of a piping nozzle to release the steam, and cool them on a wire rack.
7. To fill choux buns, pipe pistachio custard into the holes in the bottom of each bun (slightly underfilling with the custard makes for a better eating experience, as too much custard can be difficult to eat and too rich on the palate). Serve immediately.
These recipes are extracted from Poh Bakes 100 Greats by Poh Ling Yeow, published by Murdoch Books. Other recipes include Malaysian Pineapple Tarts and Turkish Delight. At $39.38, from singapore. kinokuniya.com.
CREME PATISSIERE
Prep 20 mins + Cooling | Makes 1.5 L (6 cups)
1 L (4 cups) milk • 6 egg yolks + 2 extra whole eggs • 200 g caster sugar • 100 g wheaten cornflour • 60 g chilled unsalted butter, thinly sliced • 2 tsps vanilla bean paste or vanilla extract • 1 tbsp Cointreau OR Grand Marnier liquor
1. Microwave milk in a large heatproof bowl for 4 to 5 mins on the highest setting. Meanwhile, whisk the egg yolks and extra eggs with the sugar until pale and thick. Do not allow sugar to rest on the eggs for any length of time before whisking vigorously, or it will pickle the yolks unevenly and create a lumpy mixture. Whisk in cornflour until smooth. Add to hot milk, and whisk to combine.
2. Microwave for 2 mins, then whisk madly until smooth. Repeat twice, or until the mixture is very thick and swirls stay put like whipped cream. Cool for about 5 mins, before whisking in the butter and vanilla until combined.
3. Allow to cool for about 30 mins, whisking enthusiastically every 10 mins to get rid of any steam trapped in the custard and helping it to set.
4. Cover with plastic wrap pressed directly onto the surface of the custard, and refrigerate overnight or until completely chilled before using.
5. When ready to use, whip together the creme patissiere and Cointreau with an electric mixer on high speed until silky and glossy. If you want the Creme Patissiere to be lighter, whisk in some Creme Chantilily, or even a tiny bit of milk.
PHOTOS: MURDOCH BOOKS, INSTAGRAM @POHLINGYEOW