We asked chefs to share recipes for their favourite festive dishes and, of course, they had to put their own signature twists to them.
We asked chefs to share recipes for their favourite festive dishes and, of course, they had to put their own signature twists to them. From hearty braises to a delightful icy treat, these are sure-win crowd pleasers.
"Blue Pea Flower Tang Yuan Kakigori, see page 97."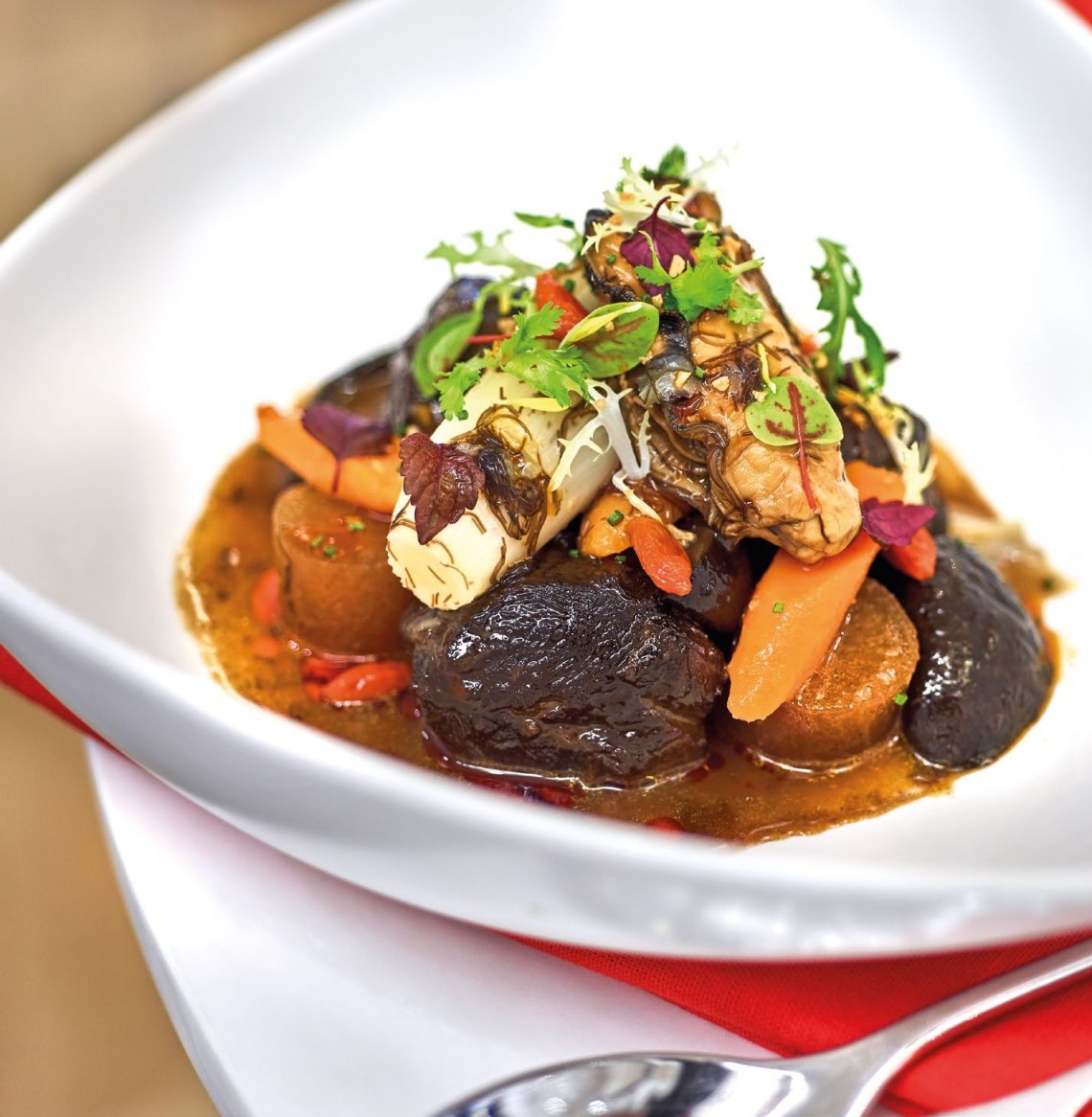 RED BRAISED IBERICO PORK CHEEK BOURGUIGNON
Prep 30 mins (+ overnight soaking) | Cook 3 hrs | Serves 4
8 pork cheeks
8 dried oysters, rehydrated in cold water 15 mins, rinsed well then strained
1 g fatt choy (black moss), rehydrated in cold water 15 mins, rinsed well twice, then strained
8 dried shiitake mushrooms, rehydrated overnight, rinse and squeeze them gently to remove excess water, discard stems
4 g black peppercorn
50 ml Sichuan chilli oil
20 g dou ban jiang (chilli bean paste)
50 g rock sugar
700 ml Shaoxing wine
80 ml light soy sauce
25 ml dark soy sauce
2.5 L chicken stock
Oil, for cooking
MIREPOIX (STARTING MIXTURE)
50 g ginger, sliced
30 g garlic, crushed
120 g yellow onion
70 g leeks, diced
70 g celery, diced
150 g carrot, diced
20 g scallions, use white part
DRIED SPICES
3 pcs star anise
3 cloves
1 cinnamon stick
3 g Sichuan dried chillies 8 bay leaves
1. In the large bowl marinate the pork cheek with MIREPOIX, DRIED SPICES and 300 ml Shaoxing wine, then cover and leave in the fridge overnight.
2. In a colander, strain the marinated cheeks and keep the liquid aside.
3. Put cheek in a large bowl, season with chilli bean paste and Sichuan chilli oil.
4. Heat up 2 tbsps oil in a large casserole dish, then brown the pork cheeks in batches, transferring to a plate once browned. When all the meat is browned, use the same casserole to saute the MIREPOIX, then deglaze the pan with the marinated liquid.
5. Add rock sugar and slowly melt the sugar, taking care to not let it burn. Then add in the cheeks. Turn up the heat to medium. Stir and coat the cheek with the melted sugar.
6. Add the rest of the Shaoxing wine, light soy sauce, dark soy sauce, chicken stock, dried shiitake and dried oysters. Stir and make sure everything is submerged. There will be some caramelised sugar on your spatula, dissolve it in the stock before covering the pot.
7. Bring the mixture up to a simmer over medium-low heat for 3 hrs. Check the pork cheeks periodically to make sure the sauce doesn't dry up. If needed, add water a bit at a time (up to 250 ml). Add in the black moss.
8. Once the pork is to your liking in terms of tenderness, turn up the heat to cook off  any excess sauce, stirring constantly. The sauce will reduce to a glistening coating on the pork cheek. Serve with steamed rice.
By Head Chef Michael Ng, Halcyon & Crane
Chef Michael's Cantonese grandfather would cook braised dried oyster with mushroom and fatt choy during special festive occasions. His mother inherited the recipe and adapted it over time, replacing the oyster with pork belly. As the dish is shared to a third generation, Chef Michael has used the same recipe, except now, pork cheek is in his French-style stew, which is boldly punctuated with his favoured Sichuan flavours.
DRIED OYSTER, BLACK MOSS, BRAISED MUSHROOMS & VEGETABLES
Prep 1 hr (+ overnight soaking) | Cook 1 hr | Serves 4
8 dried oysters, rehydrated in about 300 ml water for an hour
8 dried shiitake mushrooms, rehydrated in 600 ml clear water overnight
20 g black moss
½ dried white fungus, rehydrated in water for an hour, then coarsely chopped and returned to soaking liquid
1 dried black fungus, rehydrated in water for an hour, then thinly sliced and returned to soaking liquid
100 g enoki mushrooms
¼ Chinese cabbage, cut into bite-sized pieces
1 bunch flowering garlic chives Corn starch and oil, as needed Salt, to taste
BRAISING LIQUID
4 cloves garlic, finely sliced
1 knob ginger, peeled and finely sliced
2 shallots, finely sliced
3 tbsps oyster sauce
175 ml beer (a light beer will work best) or Shaoxing wine for a traditional flavour
500 ml soaking liquid from the dried shiitake mushrooms
250 ml soaking liquid from the dried oysters
BEER PICKLING LIQUID
3 tbsps lager or any light beer
1 tbsp sugar
2 tbsps rice vinegar
½ tbsp soy sauce
BEER DASHI STOCK
8 rehydrated shiitake mushrooms and stems (from the rehydrated mushrooms above)
85 ml soaking liquid from the shiitake mushrooms
175 ml lager or any light beer
1 kombu or edible kelp sheet (buy the best you can afford, from Japanese supermarkets)
10 g bonito flakes
1. BEER PICKLING LIQUID While the dried ingredients are soaking, make the beer pickling liquid by mixing everything together and whisking until the sugar is fully dissolved. Set aside.
2. BEER DASHI STOCK Place all the ingredients, except the bonito flakes, in a pot, and bring to about 60 C or when small bubbles form very slowly at the bottom of the pot. Leave the ingredients to slowly infuse the liquid at this temperature for about an hour. Remove the kombu after the hour has passed, then bring the stock up to a rolling boil.
3. Switch the heat off, and swirl in the bonito flakes. Let it infuse for about 15 mins, then strain. Keep the mushrooms for braising.
4. Remove the dried oysters from bowl, and pat off excess water. Coat the oysters in about 2 tsps corn starch. Heat a little oil in a pan, and pan-fry the oysters until golden brown. Set aside.
5. Strain the black moss, then mix in 1 tbsp cornstarch. Give it a quick massage, then rinse in cold water until all corn starch is washed off. Set aside.
6. BRAISING LIQUID In a deep pan, warm 100 ml cooking oil on medium heat. Add ginger, garlic and shallots. Immediately turn the heat down low and saute the aromatics until they are fragrant, soft and lightly golden.
7. Turn the heat back on high, and add in the beer to deglaze.
8. Then turn the heat back low, and add in oyster sauce, and the shiitake soaking liquid as well as the oyster soaking liquid.
9. When the liquid is simmering, add in mushrooms and pan-fried oysters, then cover with the braising liquid and leave to braise for 30 mins.
10. While waiting for the braise, heat up a different pan with oil, add in a few slices of ginger, finely sliced black fungus and a pinch of salt, then saute until the black fungus takes on very slight colour. Immediately add the black fungus slices into the pickling liquid to soak.
11. When the 30 mins allocated for the braising has been reached, check to ensure there is still plenty of braising liquid. If the liquid is looking low and the vegetables are looking a bit dry, add some Beer Dashi Stock.
12. Add the cabbage, enoki mushrooms and black moss into the braising pot and braise for 15 mins. Do a taste test at this point; the flavour should be rich without being cloying.
13. When about to serve, heat a shallow pan until very hot. Add the flowering garlic chives, then add oil after. The oil should smoke immediately. Saute garlic chives with a pinch of salt. When the flowering garlic chives have a nice charred colour, pat dry the white fungus and add into the pan. Toss them together for about 15 secs.
14. Scoop the braise onto serving dish. Top with the flowering garlic chives, white fungus and beer dashi. Accompany with steamed white rice.
By Executive Chef ArChan Chan, LeVeL33
Chef ArChan Chan's dish is inspired by a fermented bean curd vegetarian dish her grandma makes every Lunar New Year. Her take on the auspicious dish includes dried oyster (which is ho si or good business in Cantonese) and fatt choy or black moss, as well as beer, an ingredient that is an essential in the world's highest urban microbrewery where she works. Beer is also used in the dashi stock and pickling liquid.
PERANAKAN PRAWN SALAD
Prep 35 mins | Cook 20 mins | Serves 8-10
500 g medium prawns, peel off shells and heads to make the stock
350 ml water
4 heads pang chye (local lettuce), soaked and washed clean, then plucked
50 g white sesame seeds, toasted Sugar, to taste
100 g pickled spring onion bulbs, sliced thinly, optional
Chinese coriander, washed and plucked, and sesame seeds, optional
CHILLI PLUM SAUCE
100 g large chillies
100 g chilli padi
6 tbsps plum sauce
Juice from 10 small limes
1. In a saucepan, fry prawn heads and shells till fragrant. Add 350 ml water to mixture and boil till 100 ml is left. Boil raw prawns in this stock till cooked (when they turn pink), devein, slice in half, then chill till ready for use. Save some stock for the sauce.
2. CHILLI PLUM SAUCE Blend the chillies till fine, if possible, till all the chilli seeds have been ground. To this mixture, add plum sauce and about 5 tbsps prawn stock, mix well. Add the lime juice, sugar and salt to taste. Mix well.
3. Lay the individual lettuce leaves in a circular pattern on a plate. Place the boiled prawns and, if preferred, pickled spring onion slices on top. Generously drizzle Chilli Plum Sauce over. Finish off with sprinkling of sesame seeds and Chinese coriander.
By Chef Damian D'Silva, Folklore, Destination Hotel
This dish is a festive essential for Chef Damian's Peranakan grandmother during the Lunar New Year. The appetizer, which is spicy, sweet, sour and salty all at once, features a bed of fresh Chinese lettuce leaves topped with poached prawns, then drizzled with chilli plum sauce and lime juice. Instead of the usual lo hei, Chef Damian's family has this auspicious prawn salad which signifi es wealth and good luck.
BLUE PEA FLOWER TANG YUAN KAKIGORI
Prep 1 day (+ freezing) | Cook 20 mins | Serves 4
125 g glutinous rice flour
15 g blue pea flower
130 g water
Fried shallots and ground peanuts for topping
BLACK SUGAR GINGER KAKIGORI
800 g water
80 g black sugar
20 g old ginger
7 pandan leaves, tied into a knot
CANDIED SWEET POTATO & YAM
100 g sweet potato
100 g purple sweet potato
100 g yam
SUGAR SYRUP
250 g sugar
1 litre water
BLACK SUGAR SYRUP
200 g black sugar
400 g water
1. GLUTINOUS BALLS Bring water to boil and infuse the blue pea flower, let it cool completely. In a mixing bowl, mix the glutinous rice flour with the blue pea flower water until you achieve a smooth dough, add more glutinous rice flour if it's too sticky. Set aside, covered, until ready to cook and assemble.
2. Shape into little blueberry-sized balls. Bring a pot of water to a boil and cook the glutinous rice balls. They are cooked when they float to the surface. Remove and place in water so they don't stick.
3. BLACK SUGAR GINGER KAKIGORI Clean ginger and smash. Then boil with water, pandan leaves and black sugar for 15 mins. Strain and cool down. Transfer to a freeze-proof container or ice cube tray and place in the freezer overnight.
4. CANDIED SWEET POTATO & YAM Bring the water and sugar to boil for the syrup, remove from heat. Wash, skin and cube the sweet potato and yam. In 3 pots, simmer the 3 tubers for 8 to 10 mins until tender, but not too soft or mushy. Strain tubers and put into sugar syrup.
5. BLACK SUGAR SYRUP Bring to boil, strain and set aside.
6. ASSEMBLY Chill a bowl in the freezer. Shave the ice in the shaving machine. Spoon the sweet potatoes, yam and glutinous rice balls over the ice, sprinkle the crushed peanuts over and then garnish with fried shallots. Drizzle with more black sugar, if preferred.
By OwnerChef Pang Kok Keong, Antoinette
When Chef Pang was a child, his mother used to make the simple tang yuan, pink and white glutinous rice balls with brown sugar ginger syrup during the Lunar New Year. His contemporary take on this traditional dish transforms it into a colourful, vibrant dessert served a la the Japanese kakigori with shaved iced and syrup.
FISH HOTPOT
Prep 30 mins | Cook 90 mins | Serves 4-6
2 madai or red sea bream
2 kinki, also known as kichiji
3 L water
2 leeks, cut in chunks
5 g white peppercorns
1 sheet kombu
30 ml shoyu or Japanese soy sauce
100 ml mirin (Japanese rice wine)
70 ml sake
500 g Japanese cabbage, handshredded into large pieces
1 taro (yam), cut into medium cubes
4 tomatoes, quartered
1 silken tofu, cut into large cubes Salt, to taste
1. Fillet all the fish, reserving the bones (or get the fishmonger to fillet it for you). Slice the fish ensuring every piece is at least 1 cm thick, then set aside.
2. FUMET Take the reserved bones and gently wash and rinse in cool water – an essential step to ensure clean flavours. Do not use hot water or blanch the bones as the bones will lose their flavour.
3. Using a stock pot, add the cleansed bones, leek, peppercorns and kombu sheet into cold water and slowly bring to a simmer. Let the combination simmer for one hour, taking care to skim away all impurities that float to the surface of the water.
4. Take the pot off  the heat, and strain away all the solids, then bring the broth back into the pot.
5. FISH HOTPOT Add shoyu, mirin, sake, cabbage and yam. Simmer everything on low heat, until the yam is soft, about 20 mins.
6. Add tomatoes, tofu and fish slices for 30 secs, then add salt to taste. Serve immediately.
By Chef-Owner Jeremmy Chiam, Le Binchotan
For Chef Jeremmy, the fish hotpot is a festive family dinner must-have. In line with Le Binchotan's cuisine philosophy, Chef Jeremmy's fish hotpot is inspired by a Japanese-style fumet base made from fish bones. Fumet is a stock made by simmering fish or meat in water, wine, or in both, and boiled down to concentrate the flavour. He says this process allows for the broth to be quickly and richly flavoured. He uses Japanese madai and kinki fish but if you can't find them, look for non-oily white-fleshed fish such as red snapper, grouper or sea bream.
PHOTOS: ANDY WONG/RAVE PHOTOGRAPHY