When you step into Ushidoki's main dining room in a shophouse on Tras Street, it's clear that chef Hirohashi Nobuaki is not one to stick with tradition for the sake of it. The kaiseki master shifted his specialisation from seafood to beef two and a half years ago, based on one main approach: "(I applied) the ways I handle fish/ seafood to the way I handle the beef."
When you step into Ushidoki's main dining room in a shophouse on Tras Street, it's clear that chef Hirohashi Nobuaki is not one to stick with tradition for the sake of it. The kaiseki master shifted his specialisation from seafood to beef two and a half years ago, based on one main approach: "(I applied) the ways I handle fish/ seafood to the way I handle the beef." 
TEXT CELINE ASRIL
This is a natural progression when you realise the chef began working at his father's Osaka sushi restaurant at the age of nine. Just as Nobuaki did with fi sh, he's identified specificities for each part of the cow: The cow's tongue, for example, is best cooked braised, cut thinly to reveal its pinktinged cross-section, and served in a yuzu-accented consomme. This opening course of nine leads with bright and natural flavours, textures and colours. The start to the lunch and mysterious non-beef dinner menus (he offers only four menus in total), we'd imagine, is equally uplifting.
His choice and combinations of ingredients, clearly, are essential to his success. Nobuaki works with only directly-imported Ozaki beef (Ushidoki is the only restaurant in Singapore that exclusively orders one cowper month from the farm). This is Japanese wagyu from one Miyazaki prefecture farm that harvests its cattle at 32 to 36 months, giving the meat at least four months longer to mature than regular wagyu farms. "(For regular wagyu cattle), although they've reached their maximum size, the taste is not there yet," he explained.
He's right, of course – regular wagyu, which is usually more fat than flavour, would have fallen flat against the generous black truffle, rich yolk and sweetness of the "Rosanjin'' style sukiyaki sauce, the latter being Ushidoki's house concoction that has been kept on a bare simmer in a copper vessel on the counter since the day the restaurant opened in October 2015.
With such robust produce and flavours, plenty of creativity and restraint is needed to not overwhelm the diner, which Nobuaki has mastered. Before the meal, if anyone had posited that a sake-cup-sized "bowl" of wagyu beef chirashi, topped with shiso flowers, shoyu powder and a piece of kombu in the silhouette of a cow would have been enough, we would have said: "You're mad." We've now changed our tune to: "You'd be mad to not try this."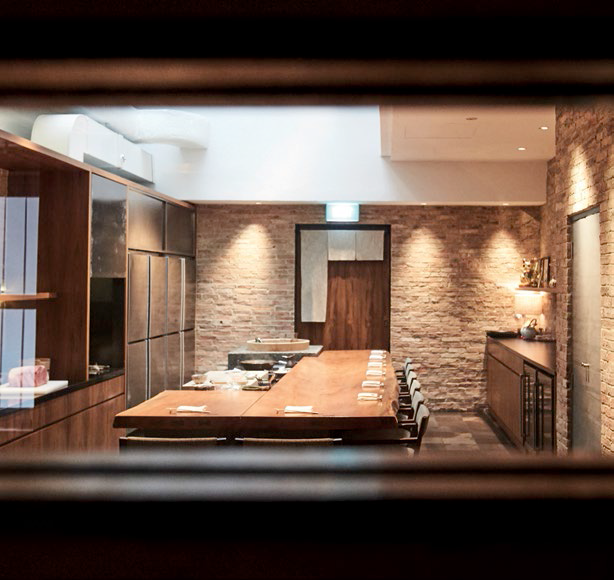 (facing page) To begin the kaiseki meal, feast on the chef's beautifully plated hassun platter featuring seasonal ingredients.
(this page) The classy Ushidoki Wagyu Kaiseki is housed in a Tras Street shophouse. It's helmed by chef Hirohashi Nobuaki, who uses top-quality Ozaki beef from Japan for his creations.
Experience asian
Award of Excellence
VLV SINGAPORE
#01-02, 3A River Valley Road, Clarke Quay, S(179020). T 6661-0197
Restaurants by the thrumming Clarke Quay waterfront usually go all out to signpost their existence with promoters or pull-up posters. Not VLV. Launched in 2016, the modern Chinese affair helmed by chef Martin Foo occupies the second floor of a heritage building.
There's a fierce pride and keen inventiveness in Foo's dishes, coupled with obviously premium ingredients, yet we were the only souls in the 50odd seater for the entire dinner sitting. The courtyard bar facing the river was seemingly more popular that evening.
Nothing in the extravagantly refurbished interior, save the creaky carpeted stairs (read: no lift), hints at the building's heritage status. Ascend these and you're greeted by a dignified palette of creams and browns, leather and marble, haloed by dim lights. Then the abundance of faux fur and oversized crystal candleholders becomes apparent, and edges the decor towards kitschy. It does, however, make for striking pictures.
The food is equally dolled-up, but there's definitely substance to match the style. The quintessential char siew, served fanned out on black slate, is a redolent affair of succulent, melt-in-mouth fat, caramelisation and a bold tail of char to prepare the palate for more slices. Excellent and befitting treatment for kurobuta from Kagoshima.
Check marks, too, for staples such as the hearty kimchi fried rice, served with a gooey 63-degree egg in which you can slather your seaweed-coated, umami-infused grains. Then there's the brazen subversion of perennial Singapore favourite orh nee (yam paste) – served cold instead of piping hot, pureed instead of sauteed with lard, topped with coconut ice cream, and peppered with pumpkin flesh and seeds. That last addition is highly unorthodox, but results in a brilliant confluence of earthy and piquant.
With such consistent attention paid to almost every menu item, it's a shame the restaurant has seen declining patronage (we asked) – so much so that certain big-ticket signatures have gone on pre-order-only basis so as to reduce food wastage. Be sure to look up the menu and call ahead if you have your eye on delicacies such as beggar's chicken or Peking duck.
TEXT LIAO XIANGJUN 
(above) VLV boasts a swanky interior with a side helping of kitsch.
(left) Chef Martin Foo gives kimchi fried rice a modern Chinese twist.
Award of Excellence
WAKU GHIN
L2-01, Level 2 Dining, The Shoppes at Marina Bay Sands, S(018956). T 6688-8507
Since it first opened in 2010, Waku Ghin by celebrity chef Tetsuya Wakuda has continued to impress with skilfully executed cuisine made from the freshest ingredients. The 25-seater restaurant features four private dining rooms, each with its own teppan counter where a dedicated chef prepares food on the hotplate in front of the diners.
Items in the 10-course modern European-Japanese repertoire change daily, with the exception of a few signature items such as the marinated raw botan shrimp with creamy sea urchin, topped with Oscietra caviar. Other dishes for the evening include the delicately sweet belt fish from Shizuoka, pan-seared until the skin is golden brown. This is teamed with spinach from Okinawa and foie gras, which lends a touch of fattiness to the dish. Next, a wobbly poached egg is served with silky potato puree and a pearl spoonful of Oscietra caviar, then topped with liberal shavings of black Perigord truffles. Sublime.
The indulgence continues with plump grilled Hokkaido scallops served with fregola in a stock of bonito and tomatoes. Marbled slices of ohmi wagyu from Japan's Shiga prefecture are lightly seared and brightened with citrus soya and grated wasabi, whose slight tartness and gentle heat respectively complement the buttery beef nicely. The last savoury course is a choice of cold somen or warm ochazuke. We pick the former and relish every bite of the delicate noodles. Finally, a cup of gyokuro, a highly prized green tea, is served. We take a moment to appreciate the savoury, almost umami, flavours.
Service is polished, unobtrusive and thoughtful – upon noticing after the first course is served that my dining companion is left-handed, the table settings are corrected accordingly.
For dessert, we are ushered to the main dining hall to enjoy a refreshing peach and lychee granita. This is followed by a jasmine mousse with fragrant kumquat and dark chocolate sorbet, bringing the lovely evening to a close.
TEXT XIE HUI QUN
(left) Waku Ghin's signature marinated botan shrimp topped with sea urchin and oscietra caviar.
(bottom) Enjoy an aperitif at Waku Ghin's bar before dinner.
Award of Excellence
WHITEGRASS
#01-26/27 Chijmes, S(187996). T 6837-0402
Modern Australian restaurant Whitegrass, which was awarded a Michelin star in 2017 and ranked number 50 by Asia's 50 Best Restaurants in 2018, has come a long way. Chef-owner Sam Aisbett, who used to work with Sydney's esteemed Peter Gilmore (Quay) and Tetsuya Wakuda (Tetsuya's), has impressed diners with his knack for bringing the most unlikely ingredients (Western and Asian) and textures together with flair. And there is no slowing him down.
Aisbett's dishes are ever-evolving and do not stay on the menu for too long. For instance, the crowd favourite of pickled white vereduna beetroot with thinly-sliced hamachi fish, shaped like a rose, has been taken off the menu. Some familiar dishes, which we grew quite fond of, are still available on the eightcourse discovery menu. They include the meaty yet delicate red braised Challans duck with eggplant cream, kanten noodles, water chestnuts and Chinese jelly mushrooms as well as the amazing dessert of shredded milk with honey. This creation features thin layers of dried milk finely shredded by hand, and placed gingerly atop Hokkaido milk jelly, milk ice cream and floral honey from Thailand.
New dishes that are charming include the refreshing starter of Japanese pen shell clam with white dashi jelly, which presents clean and naturally-sweet flavours. The Hokkaido snow crab with egg drop soup and a crab dumpling gilded in gold foil, is as delicious as it is beautiful to look at.
It is a busy evening for the restaurant – the service staff are shuttling about from dining room to dining room, and the kitchen is in high gear endeavouring to keep up – so there are lulls in between courses. Otherwise, it is a lovely evening, made better by the latest dessert (Aisbett serves two desserts for this particular menu): an addictively crunchy creation that combines single origin Peruvian chocolate with wood-roasted coffee, Pedro Ximenez prunes, painstakingly hand-shaven macadamia nuts and frozen chocolate. Now, if only this dish could linger around for just a while longer.
TEXT XIE HUI QUN
(from top) Art on a plate: Australian marron with fresh curd and pickled watermelon rind; Sam Aisbett, chef-owner of Whitegrass; sweet finale of chocolate with wood-roasted coffee, Pedro Ximenez prunes and shaved macadamia nuts.
Award of Excellence
WILD ROCKET
10A Upper Wilkie Road, S(228119) T 6339-9448
Chef Willin Low has proven that not only does he have staying power in the restaurant business, but also that ModSin is a viable, sustainable cuisine style that is gaining an authenticity to call its own. Having called the Hangout@ Mt. Emily hostel home for 13 years, Wild Rocket has defied all naysayers with its patrons willingly making the trek up to its residential locale.
Guests can choose from the a la carte menu; sets of five, seven, or nine courses; or the omakase menu. We start with the Trio of Mushroom Ravioli in Mushroom Truffle & Shiitake Consomme, which brings to mind the shiitake soup that my mother used to cook. The heady aroma, toothsome ravioli parcels stuffed with shiitake, oyster and button mushrooms, and soulful intense broth that seems to go on and on – it's really powerful stuff and a great start to lunch.
Moving on, our Seafood Crustacean Oil Spaghettini with Tiger Prawn, the star dish at Wild Rocket, is a safe but delicious choice. The mains of Kelong Red Snapper Sayur Lodeh and Black Vinegar Iberico Pork Jowl "Ter Kar Chor" are both successes. Complementing the perfectly cooked fi sh is the robust vegetable-based coconut-scented curry, which has a spicy kick. The Iberico pork jowl dish, compared to its inspiration, has been barbecued. It's served with a balanced and mellow black vinegar sauce, and the accompanying chestnut puree is a pleasing counterpoint.
All the desserts look attractive but it is the twist on a traditional Teochew dessert that calls for further inspection. The Orh Nee Yam Paste with Pumpkin Persimmon Ice Cream & Candied Lard, with its pipings of yam paste and scoops of ice cream prettily arranged, is a more refined take that may have all the elements but doesn't deliver the same amount of satisfaction as the original.
Wild Rocket's cuisine has evolved over the years into one that is not about trends, but about good food with strong, familiar flavours in a modern guise. We could embrace this and just think of it as local food. That would mean a coming of age.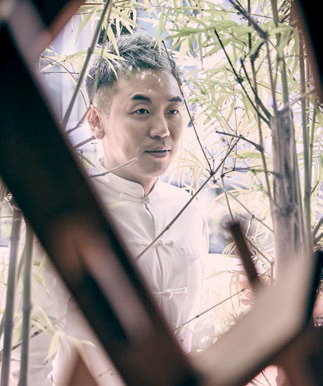 TEXT ANNE LOH
The Orh Nee Yam Paste with Pumpkin Persimmon Ice Cream & Candied Lard is pretty in presentation.