This month's chic list.
This month's chic list.
Artist Lilian Daubisse likes the contrast that results from using from an industrial material like cardboard to create his handmade art
TO SLEEP, PERCHANCE TO DREAM
Hermès windows around the world have always been a space for storytelling and fantasy. Since the Hermès boutique at Liat Towers reopened in 2016, its windows have been dedicated to a series of displays designed by guest artists. From now until 5 August, they play host to French artist Lilian Daubisse's surreal world of undulating vegetation in his latest creation, "Daydream Mirage", which transports passers-by into an imaginary world that exists in that brief moment before one falls asleep—a moment where reality is altered. His inspiration to create an enigmatic plant world inside the Hermès windows?
Singapore's harmonious integration of vegetation into our architecture. Look closer and you'll find that the artificial vegetation in these mysterious tableaux has been assembled using strips of corrugated cardboard that have been meticulously cut, glued and knotted by hand. Daubisse explains his alien-nesque art further: "The symbol of the seed is that of the beginning or the source. Plants come from seeds, and I wanted the seeds in my installation to symbolise the beginning of a dream, which will sprout and develop into an imaginary world, populated with fantastical plants of unfamiliar textures and shapes."
CLASS ACT
After two years of practical training in all aspects of theatre, Singapore Repertory Theatre's The Young Company—the first youth theatre programme established in Singapore—will perform 1984 for their graduation show. Based on George Orwell's iconic novel, 1984 tells the story of Winston Smith, a cog in the giant machine state of Oceania. Physically and mentally under the omnipresent eye of Big Brother, Winston has been caught struggling for scraps of love and freedom in a world awash with distrust and violence. He is then forced to confess his Thoughtcrimes before an unseen inquisitor, and the audience—who act as a silent witness to his torture. Expect a provocative adaptation of one of the most prescient works of literature of the last century from the graduating class of 2019. Visit sistic.com.sg
Kelly Randall Sia has collated recipes inspired by her family and her travels
HOME DINING REIMAGINED
Singapore author Kelly Randall Sia's first cookbook Delicious Gems: A Treasury of Recipes to Entertain and Delight has made a mark in the culinary sphere, having just been named Best In The World in the Best Entertaining Cookbook category at the Gourmand World Cookbook Awards 2019. 
Long admired as a fashionista and accomplished hostess, the jet-setting self-taught cook has refined over 80 personal recipes to spice up any occasion, be it an intimate family lunch or a 20-person dinner part Impress your guests with Chicken Katsu Biscuit Slider. Sweet and Spicy Miso Vongole, and Rambutan Wild Rice. Or take them down memory lane w Singaporean classics like Teochew-style Steamed Fish.
Available at all major bookstores and amazon.com.
Argentina's Fuerza Bruta promises a high-octane performance for visitors to this year's Singapore Night Festival
NOCTURNAL DELIGHTS 
Back for the 12th edition from 23 to 31 August, re-imagine the night at the Singapore Night Festival 2019 as the Bras Basah and Bugis district transforms into an ethereal wonderland over two weekends. Visitors can expect more immersive installations and an exciting line-up of arts, heritage and cultural experiences this year. A must-see is headline act—internationally-renowned Argentinean troupe, Fuerza Bruta, who will perform three shows a night from 29 to 31 August at Cathay Green.
Brace yourself for an adrenaline rush as you witness a combination of thrilling high energy acrobatics performances with mind-blowing lighting visual effects in this 360-degree sensory theatrical spectacle over and around a standing audience.
While admission to the festival is free, tickets to Fuerza Bruta are available on sistic.com.sg.
They Poach The Rhino, Chop Off His Horn And Make This Drink 
SINGAPORE SPOTLIGHT
If you're after a thought-provoking exhibition, "Awakenings: Art in Society in Asia, 1960s–1990s" is on from now until 15 September at National Gallery Singapore. A collaboration with Museum of Modern Art Tokyo (MOMAT) and the Museum of Modern and Contemporary Art Korea (MMCA), the exhibition premieres in Southeast Asia here in Singapore. Featuring art from across 12 Asian countries, the exhibition focuses on the post-colonial period, characterised by independence movements, decolonisation and the re-politicisation of art in the region. Noteworthy experimental artworks by the Singaporean contingent include Tang Da Wu's They Poach the Rhino, Chop Off His Horn and Make This Drink and Complaint by Koeh Sia Yong. And don't miss S/HE by Amanda Heng—a powerful performance piece inspired by Heng's mother, who found herself increasingly isolated after Singapore instituted its bilingual language policy in 1966.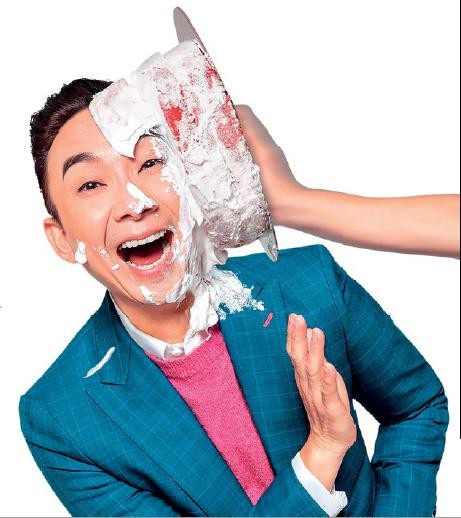 Local funnyman Hossan Leong will showcase his unique brand of humour in this series of shows
LOCAL HUMOUR
Fans of Singaporean stage and screen actor, host, radio DJ, and comedian Hossan Leong will want to save the date for his upcoming show—Hossan-AH 50! Love You LEONG Time!—from 14 to 31 August at the Drama Centre Theatre. Our favourite Singapore Boy marks this extra-special production (his final one-man show) with performances on his 50th birthday. Expect a riotous celebration as Mr Double-Confirm sings about living through six tourism slogans, three recessions, two international airports and one government. Hossan-Ah 50! promises a rollercoaster ride of a party as Leong takes you on a journey through music, laughs and love, regardless of race, generation or social status.
Visit sistic.com.sg 
Bizet's Carmen

FOR THE LOVE OF OPERA
Don't miss these two amazing productions by two non-profit operatic organisations in August.
16 to 17 August
New Opera Singapore (NOS) will perform A Midsummer Night's Dream, Op. 64 with music by Benjamin Britten set to a libretto adapted by the British composer and Peter Pears from William Shakespeare's play. Britten's opera is based on the bard's popular comedy which follows the consequences of a spat between the fairy-king, Oberon, and his queen, Titania. Follow no fewer than 19 different enchanted characters as they get tangled in relationship quadrangles, mistaken identities and transformations. Comprising youthful local musicians with a love of opera and Western vocal music, NOS will take the audience on an intriguing journey in three acts for a two-night performance at Victoria Theatre. Visit sistic.com.sg
30 August to 1 September
One of the most famous pieces in the opera world, Bizet's Carmen, will be brought to life by the Singapore Lyric Opera (SLO) at the Esplanade Theatre. The passionate musical drama tells the story of smugglers, cigarette factory workers, soldiers and the gorgeous, fiery and free-spirited Romani woman, Carmen. Bizet's Carmen will see the effort of some 120 performers from the flagship company of Western opera in Singapore, including the main cast, the SLO chorus, the children's choir, dancers and musicians. Visit sistic.com.sg
ADDITIONAL REPORTING: BEVERLY TAN