Regardless of whether you're a seasoned spa connoisseur or just looking for your ticket to relaxation, these award-winning treatments will keep you coming back for more.
Regardless of whether you're a seasoned spa connoisseur or just looking for your ticket to relaxation, these award-winning treatments will keep you coming back for more.
All-round indulgence
Me-Time Day Spa
Auriga Detox Day, $499 for 240 mins. Auriga Spa, Tel: 6591 5023, www.auriga-spa.com
This four-hour indulgence starts with dry brushing, a seaweed and lemon scrub, then a body wrap, scalp massage and lymphatic drainage massage. After a deep cleansing facial, enjoy a healthy meal at The Knolls.
Girls' Day Out Spa
Ultimate Hammam Ritual, $440 for 120 mins. ESPA, Tel: 6577 8880, www.rwsentosa.com/espa
Want to try something different? Enjoy an authentic Turkish-style hammam bath experience, complete with a full body scrub down, then finish it off with a relaxing massage.
Spa Experience
Total Japanese Relaxation, $535 for 180 mins. Ikeda Spa Prestige, Tel: 6388 8080, www.ikedaspa.com
You don't have to travel all the way to Japan to have an onsen experience. This customised treatment includes a soak in the steamy hot white ion sento waters, then a unique geisha facial which uses nightingale droppings and a soothing massage.
Spa–cation
Time To Spa, from $940 for 110 mins and one night's stay. The Spa at Mandarin Oriental, Tel: 6885 3533, www.mandarinoriental.com/singapore/luxury-spa
Besides a room with a view and a delicious breakfast, this staycation package lets you enjoy a rejuvenating jet lag body treatment and remedy eye treatment for two. Plus, enjoy a complimentary late check-out (subject to availability) as well.
Facials
Hydrating Treatment
IDS Hydro Therapeutics Treatment, $198 for 45 to 60 mins. IDS Clinic, Tel: 6568 3555, www.idsclinic.com
After a facial exfoliation, your skin will undergo ultrasonic cleaning, followed by an application of concentrated vitamin C essence. You'll notice skin looks plumper and hydrated after the treatment.
Brightening Facial
HydraBooster Facial Programme, $374.50 for 45 mins. Scinn Medical Centre, Tel: 6235 8066, www.scinn.sg
Detoxify and rejuvenate skin with this four-step treatment that includes cleansing and exfoliation, a gentle peel, extractions to remove impurities from skin and a hydrating eye and face mask.
Whitening Facial
Intense Whitening Plus Treatment, $240 for 75 mins. AsterSpring, Tel: 6853 3036, www.asterspring.com.sg
For a visibly brightened complexion, this brightening facial uses the RS Whitening Rice Essence and RS Whitening Cream Masque, both which contain seven natural plant extracts that promote clearer skin.
Clarifying Facial
D.C.M. Revitalising Skin Treatment, $338 for 120 mins. D'Skin, Tel: 6282 7388, www.dskinlab.com
This gentle treatment promotes collagen synthesis and targets unevenness, bumpiness and overall clarity of skin.
Calming Facial
Natura Bissé Vitamin C Face Spa, $342.40 for 90 mins. Spa Rael @ One Degree 15 Marina Club, Tel: 6271 1270, www.sparael.com.sg
Beyoncé is a big fan of Natura Bissé, so we were curious how it would fare for our skin. Verdict: The products felt and smelt great, and helped to calm red, sensitive skin.
Spot-Busting Facial
CO2 Laser, $321 for 15 mins. Prive Vitale Clinic, Tel: 6535 3328, www.privevitale.com
This effective treatment targets acne scars, sun and age spots, as well as fine lines and wrinkles. Using short-pulsed light, thin layers of surface skin is removed with minimal heat damage.
Blemish-Free Facial
CRYOLase Laser Facial, $250 for 30 mins. Kosmé Aesthetics, Tel: 6536 6954, http://kosmeaesthetics.sg
Want a reduction in pigmentation caused by pimples, or just want your pores to appear smaller? This treatment tightens and lifts with a technology that brings the temperature of skin to below zero degree Celsius.
Oil-Control Facial
Simple Pimple Plan, $214 for 75 mins. Spa Esprit, Tel: 6836 0500, www.spa-esprit.com
For crystal clear skin, try this treatment which includes an AHA peel, detoxifying clay mask and lymphatic facial drainage massage.
Pore-Refining Facial

Twin-Laser Pore-Recovery Facial, from $298 for 30 mins. CSK, Tel: 6100 6886, www.cskclinics.com
This clinically tested and FDA-approved laser facial helps to noticeably improve the appearance of skin with its dual lasers.
Anti-Ageing Facial
Diamond Age-Defying Marine Miracle Facial, $800 for 90 mins. Haach, Tel: 8242 8811, www.haach.com
Combining plant and marine concentrates like seaweed, as well as nano-fine diamond powder, you'll shine bright like a diamond after this exfoliating and energising facial.
Line-Reducing Facial
Age Resist+, $380 for 90 mins. Rexults medSpa, Tel: 6738 0988, www.rexultsmedspa.com
Using micro-currents to stimulate facial muscles, this helps to bring back tone and firmness to your facial contours. Results were seen as soon as the first treatment.
Firming Facial
Repair and Rejuvenate, $350 for 60 mins. DrGL Loves DrSpa , Tel: 6465 8880, www.drspa.com
This intensive reparative treatment uses proprietary ionwave technology and plant extracts to target and repair ageing skin cells. It also includes microdermabrasion cleansing and a massage.
Slimming Facial
SMASLift Facial Programme, $308 for 70 mins. SkinPerfect, Tel: 6235 7377, www.skinperfect.com.sg
A latest in Korean face shaping technology, this programme promises to lift the contours of your face by delivering heat to the inner layers of tissue and promoting collagen renewal.
Lifting Facial
Lift Me Up RadioFrequency Treatment – Face & Neck, $300 for 60 mins. EstheClinic, Tel: 6221 4797, www.estheclinic.com.sg
As we age, wrinkles and lines become more apparent no thanks to a loss in collagen. Thermo-controlled radiofrequency is used to stimulate collagen and streamline facial contours.
Tightening Facial
3D Face Lift for Jawline, Double Chin and Skin Tightening, $388 for 50 mins. Kosmé Aesthetics, Tel: 6536 6954, http://kosmeaesthetics.sg
Firm and tighten skin at sag-prone areas like the jawline or double chin with this innovative facial. Best of all, this relatively pain-free facial minimal downtime.
Relaxing Facial
Purifying Facial, $168 for 60 mins. La Source Spa, Tel: 6732 1318, www.lasourcespa.com.sg
Protect yourself from the harmful effects of UV exposure with this facial. It's great for oily or acne-prone skin and targets blackheads, blemishes and breakouts.
Smoothing Facial
BioSurface Peel, $188 for 60 mins. Orchidée, Tel: 6242 0313, www.orchidee.com.sg
Using only Dermalogica products, this chemical peel helps to treat signs of premature ageing by smoothing and resurfacing the uppermost layers of skin with minimal downtime.
Rejuvenating Facial
DRx O2 Premier Rejuvenate, $286.76 for 90 mins. The DRx Medispa, Tel: 6836 1555, www.drx-group.com
Need a perk-me-up? Say goodbye to dullness with this treatment that uses Topical Hyperbaric Oxygen (THO) Therapy, or medical-grade oxygen to liven up dull skin.
Detoxing Facial
R6 Trilogy Detoxification Face Therapy, $488 for 60 mins. Jean Yip Beauty, Tel: 6634 5160, www.jeanyipgroup.com
Ageing and pollution can take a toll on the clarity of skin. Using state-of-the-art equipment and Transdermal Administrative System (TAS), this facial helps to fight the damage deep within skin.
Glowing Facial
Radiance Smoother, $250 for 75 mins. Clarins Skin Spa, Tel: 6838 5060, www.clarins.com.sg
When your skin is stressed, minute lines start to form and show. Smooth away wrinkles and reduce signs of fatigue with this hands-only facial.
Perfecting Facial
Hydra Perfect Treatment, $620.60 for 90 mins. Fresver Beauty Pte Ltd, Tel: 6100 8108, www.fresver.com.sg
Using their Aqua Cleansing System, skin is cleansed, unclogged and infused with moisture boosting hyaluronic acid for a dewy glow.
Luxurious Facial
Regenerating Ceremonial, from $250 for 120 mins. Dior Skincare Suite, Tel: 6688 7561
Tucked away in a private suite within the Dior store, this all-encompassing experience will leave you feeling relaxed and refreshed. Besides the usual facial, you can opt for a decollete option as well.
Pampering Facial
Le Blanc Absolute Whitening & Radiance Treatment, $180 for 75 mins. Chanel Espace Beaute, Tel: 6738 1307, www.chanel.com
The secret to the success of this facial lies in the gentle pinching and overall handiwork of the skilled therapist. Skin looks visibly brightened and youthful after the facial.
Organic Facial
Bespoke Organic Skin Gym Facial, $260 for 120 mins. Beaute by Kew, Tel: 6534 8255, www.beautebykew.com
For a more contoured jawline, try this unique facial that only uses organic products. Plus points for customising the treatment and mask to our judge's skin type.
Power Lunch Facial
Laser Facial, $120 with consultation. Refresh Laser Clinic, Tel: 6749 2462, www.refreshlaserclinic.com.sg
Five minutes are all you need to reduce pigmentation and even out your skin tone. Though the experience was brisk, the results were visible.
Pre-Party Facial
Opulence Facial, $397.83 for 60 mins. Damai Spa, Tel: 6416 7156, www.singapore.grand.hyatt.com/hyatt/pure/spas
Using botanical brighteners and concentrated vitamin C, this power-packed facial leaves your skin luminous. The best part? The glow lasted for days after.
Red Carpet Facial
Mask-to-Perfection Treatment, $168 for 45 mins. Skin Inc, Tel: 6222 7428, www.iloveskininc.com
After a skin analysis, start with an Oxy Miracle Peel, which speedily gets rid of excess sebum and clogged pores. You also experience the double goodness of the Pure Deepsea Hydrating Mask and Get Glowin' Brightening Mask.
Facial – Gua Sha
Imperial V-Shaped Facial Guasha, $158 for 75 mins. Healing Touch, Tel: 6715 1515, www.healingtouchspa.com
Used by TCM (or Traditional Chinese Medicine) practitioners, guasha helps to detoxify and relieve tension and stiffness by promoting Qi flow. Besides recharging the body's lymphatic system, you'll also experience noticeably refreshed skin.
Facial – Microdermabrasion
Porcelain Illuminate Facial, $406.60 for 75 mins. Porcelain Aesthetics, Tel: 6227 9692, www.porcelainfacespa.com
This 2-in-1 oxygen-infusion facial also includes a gentle microdermabrasion, as well as an OxyPulse Massage to encourage lymphatic drainage.
Facial – Radio Frequency (RF)
RF Rejuvenation Treatment, $355 for 60 mins. The DRx Medispa, Tel: 6223 1555, www.drx-group.com
Are you noticeable a little more frown lines around your forehead? Ageing starts as early as in our twenties. By stimulating elastin production within skin, this helps to promote a firmer facial contour.
Facial – Acupuncture
Phoenix Facial, $259 for 90 mins. Asian Wellness Spa, Tel: 6705 7860, www.onefarrer.com/spafitness
We usually associate acupuncture with other areas of the body, so it was definitely an interesting experience to have it done on the face. After a TCM consultation, needles are strategically placed along major meridian points on the face to increase better microcirculation.
Facial – Light Therapy (LED)
CosmeLED Radiofrequency and LED treatment for Face, $360 for 75 mins. EstheClinic, Tel: 6221 4797, www.estheclinic.com.sg
For sensitive skin, especially those prone to acne, this treatment uses red and blue LED lights to get rid of acne-causing bacteria and regulate sebum production.
Facial – Laser Threading
KKUM Laser Threading Facial Treatment, $588 for 60 mins. Dream Plastic Surgery, Tel: 6871 8888, www.dreamplasticsurgery.com
For a flawless, fuzz-free mien, this facial is a must-have. Using Intense Pulsed Light (IPL), it will help to smoothen skin and reduce the appearance of pores.
Facial – Stem Cell
Stem Cell Gold Facial, $522.16 for 60 mins. Dermacare Medispa, Tel: 6376 9238, www.medispa.com.sg
Made from 24-carat gold flakes, sheep placenta extract, hyaluronic acid, chamomile and grape seed extract, this facial promotes better cell turnover rates.
Non-Invasive Facelift
Non-invasive Legacy Face and Neck Lifting, $380 for 30 mins. Cambridge Therapeutics, Tel: 6733 6729, www.cambridgetherapeutics.com.sg
Using EnerG RF therapy imported from Japan, this slimming facial targets saggy jowls, cheeks and jawlines by promoting collagen formation.
Instant Skin Fix
Deep Red Facial, $235.40 for 60 mins. The Sloane Clinic, Tel: 6509 8108, www.sloaneclinic.com
After cleansing and a microdermabrasion scrub, LED red light is used to boost cell turnover rates and stimulate skin to heal and improve.
Oxygenating Treatment
OxyGeneo 3-in-1 Face Therapy, $400 for 45 mins. Estetica, Tel: 6285 6372, www.esteticabeauty.com
Targeting fine lines, wrinkles and general ageing concerns, this RF facial uses a 3-prong approach – exfoliate, oxygenate and infuse – to perfect skin.
Face-Shaping Treatment
RFX Facial Remodelling Treatment, $388 for 30 mins. Lush Aesthetics, Tel: 6737 4964, www.lushaesthetics.com.sg
Looking for a more chiseled jawline? This treatment helps to painlessly lift and firm saggy skin, as well as targets wrinkles and expression lines by altering the elasticity of skin.
Bespoke Facial
Customised Infusion, $211 for 45 mins. Skin Inc, Tel: 6222 7428, www.iloveskininc.com
This no-needle mesotherapy procedure is painless, non-invasive and includes a customised cocktail that's been tailored for your skin's needs.
All-In-One Facial
Concentrated Ginseng Rejuvenating Facial Treatment, $220 for 80 mins. Sulwhasoo Boutique @ Capitol Building, Tel: 6844 9766, www.sulwhasoo.com
If you love the goodness of ginseng, you'll appreciate the aromatic skincare products used in this facial. Besides the cleansing, scrub and mask, enjoy a facial massage as the therapist uses cool jade rings to knead and firm.
Eyes & Brows
Eye Treatment – Hydrating
Dreye Eyeglow Treatment, from $180 for 40 mins. ClearSK, Tel: 6100 6868, www.clearskgroup.com
Besides making use of unipolar and bipolar radiofrequency to treat the dermal layers of skin, this treatment also uses Light & Heat Energy to rejuvenate the eye area.
Eye Treatment – Illuminating
Bedazzle Eye Treatment, $120 for 45 mins. Glomax Aesthetics, Tel: 6225 5193, www.glomaxaesthetics.com
Get rid of dark circles with this treatment that uses luxe ingredients like caviar and algae, as well as a vibration device to restore radiance.
Eye Treatment – Lifting
Total Eye Endermolift, $401.25 for 25 mins. LPG Endermospa Singapore, Tel: 6734 6626, sg.endermospa.com
Late nights causing puffy and tired-looking eyes? This anti-dark circles treatment helps to drain toxins around the eye area, lift and restore.
Eye Treatment – Anti-Ageing
Age-Defense Eyes Treatment, $128.40 for 45 mins. Prive Aesthetics, Tel: 6737 0755, www.priveaesthetics.com
Using skilful massage techniques around the pressure points, the experienced therapist soothes away lines and dullness. A warm paraffin mask is applied to relieve tiredness around the eyes.
Treatment – Dark Circles
Eye Bags Reducing Treatment, $150 for 45 mins. Estetica, Tel: 6285 6372, www.esteticabeauty.com
This specialised treatment uses Tripollar RF and ultrasonic waves, as well as the powerful Estetica OptimaLift A+ to diminish eye bags and crow's feet.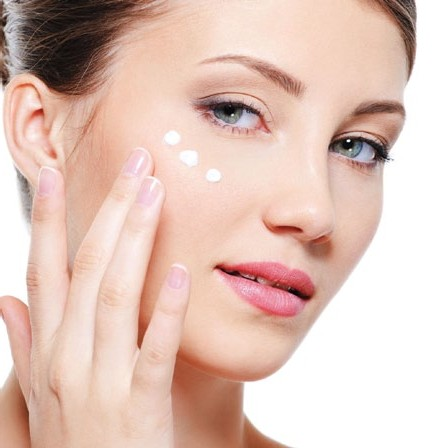 Brow Grooming
Browgraphy (Tweeze + Thread), $45 for 30 mins. Browhaus, Tel: 6634 9303, www.browhaus.com
Besides the usual shaping, threading and tweezing, you'll also get to tweak the colour of your brows to match your hair.
Brow Embroidery – Classic
Erabrowlogy, $1,314 for 90 mins (4 sessions). Erabelle, Tel: 6376 8336, www.erabelle.com
This semi-permanent brow service finds the perfect look for your features and face shape, and uses a Soft Shading technique for naturallooking brows.
Brow Embroidery – Natural
Natural Eyebrow, $1,380 for 90 mins. Browtisan, Tel: 6235 2355, www.fb.com/browtisan
Unlike unnatural-looking eyebrow tattoos, this treatment gives you bold, beautiful brows tailored to your face shape with no downtime and minimal discomfort.
Brow Embroidery – Korean
6V Korean Virtual Brows Embroidery, from $880 for 60 to 90 mins. Avone Beauty Secrets, Tel: 6224 6268, www.avone.sg
Redefine your facial features with this brow embroidery technique that has been designed to create the look of softer strokes and more natural-looking brows.
Semi-Permanent Eyeliner
Eye Define, $642/$856 Browhaus, Tel: 6634 9303, www.browhaus.com
Tired of having to battle with liquid liner every morning? This semi-permanent eyeliner not only saves you time, it can help to revitalise the look of tired eyes as well.
Massages
Aches-Busting Massage
Singapore Heritage Massage, $185 for 60 mins. Chi The Spa, Tel: 6213 4818, www.shangri-la.com/singapore
This deep tissue massage was literally one of the best we've had, and that's saying a lot. Our patient therapist was quick to customise the pressure and deftly eased a chronic pain in the neck.
Tui Na Massage
Traditional Chinese Tui Na Massage, $180 for 60 mins. St. Gregory Spa, Tel: 6505 5666, www.stgregoryspa.com
Using a combination of kneading, rubbing, finger movement and palm pressing, this massage targets the body's acupoints, encourages better circulation and even helps to boost joint mobility.
Aromatherapy Massage
Relaxing Aroma Body Massage, $210 for 60 mins. Amarin Spa, Tel: 6845 1161, www.amarinspa.com.sg
Using 100 per cent natural plant essential oils from ingredients such as pistachio and almonds, this treatment is as aromatic as it is soothing and relaxing.
Relaxing Massage
Refreshing Relaxation Massage, $139 for 60 mins. Pürovel Spa & Sport, Tel: 6239 1780, www.swissotel.com/hotels/singaporemerchant-court
Long, soothing strokes are used in this relaxing massage to aid lymphatic drainage. We also enjoyed the lovely scent of the essential oils that comprised of lavender, pine and clary sage.
Oriental Massage
Meridian Massage, $214 for 60 mins. The Ultimate Penthouse Spa, Tel: 6737 3383, www.theultimate.com.sg
Located on the 27th floor of Shaw Centre, you'll feel nestled amongst the clouds while at this penthouse spa. The sprawling space, paranomic views and overall deft techniques of the therapists make this place a must-visit.
Detoxing Massage
Manual Lymphatic Drainage Massage, $150 for 60 mins. Revive Wellness, Tel: 6222 0061, www.revivewellness.com.sg
An imbalanced diet or unhealthy lifestyle can sometimes give rise to excessive water retention. This treatment helps with restoring your body's lymphatic system to its natural state and flush out fluids and toxins.
Deep Tissue Massage
Deep Tissue Massage, $88.28 for 90 mins. Healing Touch, Tel: 6786 7695, www.healingtouchspa.com
Seated in front of your computer for too long? Target chronic aches and muscle pains with this treatment. Ideal even for sports-related strains, you'll enjoy the deep movements and slow strokes of the massage.
Hot Stone Massage
Hot Stone Massage, $159.43 for 75 mins. Amore Boutique Spa, Tel: 6733 7333, www.amorefitness.com/spa
Though the warm stones which were strategically placed along pressure points took some getting used to, it helped to relive sore spots, relax the mind and improve overall blood circulation.
Energising Massage
COMO Shambhala Massage, $140 for 60 mins. COMO Shambhala Urban Escape Singapore, Tel: 6304 3552, www.comoshambhala.com
If we could describe this massage in one word, it would be "nurturing". A blend of massage oils is used in this treatment to calm the mind and improve general well-being.
Firming Massage
Collagen Firming Body Massage, $192.60 for 60 mins. Spa Symphony, Tel: 6636 8878, www.spasymphony.com.sg
We loved the calm atmosphere at this boutique spa, as well as the attentive masseuse. Plus, even though this massage targeted areas that required a bit more firming massages, we did not experience any pain or discomfort.
Insomia-No-More Massage
Warm Jade Stone Massage, $341.33 for 90 mins. Remede Spa, Tel: 6506 6896, www.remedespasingapore.com
If you have trouble falling asleep, this unique jade stone massage will help to heal, balance and rejuvenate. By balancing energy flow, the body is placed in a rested and relaxed state.
Invigorating Massage
Meridian Gua Sha, $465.45 for 90 mins. Spa Rael, Tel: 6732 9633, www.sparael.com.sg
Ancient Gua Sha techniques have been given a modern-day update in the body sculpting treatment. Besides utilising a jade roller, there's also a focus on replenishing a deficiency of 'qi' in the spleen and reducing cellulite.
Jetlag Recovery
Executive Retreat, from $289 for 90 mins. Spa Retreat, Tel: 6705 7860, www.onefarrer.com/spafitness
Harnessing both ancient techniques from the East and cutting-edge technology from the West, you'll find a relaxing oasis to rest and decompress. If constant travelling has taken its toll, indulge in the relaxing outdoor Jacuzzi baths and enjoy an invigorating massage here.
Bespoke Massage
Social Spa, $1,118.15 for 180 mins. ESPA, Tel: 6577 8880, www.rwsentosa.com/espa
After being driven by a buggy to your own private villa by the sea, unwind together with your partner in the steam shower or take a dip in the infinity pool. You'll also get to customise your own experience which can include a facial, scrub, wrap and massage.
Pre-Natal Massage
Baby Moon Experience, $423.72 for 45 mins and 1 night's stay. So Spa Sofitel Singapore Sentosa Resort & Spa, Tel: 6708 8358, www.sofitelsingapore-sentosa.com/sospa
Set amidst a lush garden spa, enjoy a gentle pregnancy-friendly massage that will soothe those muscle aches away while your partner will get to enjoy a relaxing foot massage. The experience finishes off with a refreshing soak in a Jacuzzi.
Post-Baby Massage
Postnatal Massage, $192.60 for 60 mins. Huang Ah Ma The Maternity Spa, Tel: 6536 1661, www.huangahma.com
Post-pregnancy, the body may experience strained muscles and overall tiredness. Pamper yourself with a postnatal massage that will help target sore spots, improve blood circulation and also help to eliminate excess body fluid.
Top-To-Toe Massage
Royal Meridian Foot and Back Therapy, $208 for 100 mins. The Luxe House, Tel: 6479 9997, www.luxehouse.com
This unique massage combines a traditional 86 The Singapore Women's Weekly | may 2016 acupressure foot reflexology with light cupping and an intense head and body massage. The best part? You don't even need to get undressed as it's done in an open-concept room on a massage chaise longue.
Head/Scalp Massage
Deluxe Algae Scalp Therapy, $298 for 90 mins. The Luxe House, Tel: 6479 9997, www.luxehouse.com
Using pure sea water that is rich in oligo elements and a nutrient rich Chondrus Crispus algae formula, this treatment is great for protecting your head and hair against pollution and damaging chemical treatments.
Body treatments
Body Contouring – Abdomen/Tummy
Twin-Lipo Bodytrim Treatment, from $196 for 30 mins. ClearSK, Tel: 6100 6868, www.clearskgroup.com
Designed and administered by doctors, this treatment targets stubborn fats, especially those lurking in the abdomen or tummy area. This non-invasive treatment has minimal discomfort and downtime.
Body Contouring – Thighs
Liposhock for Cellulite Reduction, $400 for 45 mins. Simply Aesthetics, Tel: 6384 2598, www.simplyaesthetics.sg
Using Acoustic Wave Therapy, a machine delivered high-energy acoustic waves into the desired areas to help break down and disrupt fibrous tissue. When new collagen is formed, an inflammatory response is triggered, resulting is thicker, smoother skin.
Detoxing Treatment
Chimu Detox Body Harmoniser, $267.50 for 75 mins. RN Spa, Tel: 6238 6890, www.rnspa.com.sg
This holistic treatment combines the use of traditional herbs to help increase blood circulation and achieve hormonal balance.
Post-Natal Treatment
Venus Viva Stretch Marks Treatment, $480 for 30 mins. Kowayo Aesthetic Clinic, Tel: 6884 4297, www.kowayoaesthetic.com
Post-pregnancy weight loss might sometimes result in the natural formation of cellulite around the thighs and buttock area. Using a mini handheld applicator, this treatment effectively targets problem areas and helps to reduce lines between six to eight weeks.
Anti-Cellulite Treatment
Exilis Elite, from $600 for 30 mins. Healthsprings Aesthetics, Tel: 6262 3660, www.healthspringsaesthetics.com.sg
By delivering heat deep into skin, this is designed to melt away fat and tighten the skin as the body's adipose tissue is broken up. After the treatment, toxins will be naturally flushed out from the body.
Beat The Bloat Fix
Detonix-S System with 4R Mast and Cryolipolysis, $280 for 120 mins. Expressions, Tel: 6235 9890, www.expressions.com.sg
For firmer skin, a patented cream is applied onto areas of concern before you are covered by a multi-polar thermal blanket which encourages you to sweat out toxins.
Skin Smoothing Treatment
Divine Haven Polishing Massage, $288 for 120 mins. One Beauty Spa, Tel: 6338 4979, www.onebeautyspa.com
Kick back and relax as the full body Marine Sea Salt Detox Body Polish works its magic to slough away dirt and dead skin cells. You'll also get to enjoy a pampering massage as well.
Body-Firming Treatment
Little Black Dress, $350.96 for 90 mins. Dermacare Medispa, Tel: 6376 9238, www.medispa.com.sg
Getting ready for a big night out? Before you slip into a sexy little black dress, this treatment will help perfect your silhouette. You'll leave with beautiful, silky smooth skin.
Body-Sculpting Wrap
Cheeky Chai Detox, $251.45 for 105 mins. Spa Esprit, Tel: 6475 7020, www.spa-esprit.com
For a fragrant detox session, we loved the chai drainage massage that was accompanied by Dead Sea mud and an aromatic concoction of cardamom, clove and cinnamon.
Hands, feet & nails
Classic Manicure & Pedicure
Mineral Earth Clarifying Manicure & Pedicure, $242 for 90 mins. Vedure Face, Body & Nail MediSpa, Tel: 6732 6448, www.vedure.com
Mineral clay is known to soften and nourish skin, while lavender extracts help to relax the body and mind. We love how soft and delicate our hands looked after this treatment.
Gel Manicure
Whitening Classic Gel Spa Manicure, $75 for 45 mins. The Nail District, Tel: 6386 6002, www.fb.com/thenaildistrict
Located in the middle of a housing estate, expect top-notch service at this cozy salon. Choose from a wide array of colours, and we liked that the classic gel manicure lasted for weeks.
Luxurious Manicure & Pedicure
Bastien's Duo, $285 for 75 mins. Remede Spa, Tel: 6506 6896, www.remedespasingapore.com
When it's developed by a podiatrist, you can expect the treatment here to be vastly different from anywhere else. Two therapists work in tandem to get your hands and feet soothed, smoothed and nails healthy and shiny.
Brightening Manicure & Pedicure
Sakura Ultra Hydrating Mani & Pedi Spa Treatment, $150 for 90 mins. Vedure Face, Body & Nail MediSpa, Tel: 6732 6448, www.vedure.com
If you have very dry skin, this is the solution for you. First, sake and ginger are used to hydrate skin, then brown sugar is applied to exfoliate. As a finishing touch, rice oil is massage onto skin to glowing results.
Anti-Ageing Hand Treatment
Time-reversal for Hands, $108 for 60 mins. One Beauty Spa, Tel: 6338 4979, www.onebeautyspa.com
Our hands are usually the first parts of our body to start showing pigmentation spots and lines. Take care of them just like you would your face with this pampering, anti-ageing treatment.
Foot Reflexology
Foot Reflexology, $114.13 for 60 mins. Adeva Spa, Tel: 6836 9988, www.adevaspa.com
Located right in the middle of Orchard Road, this spa retreat is an unexpected treat. We loved the modern and luxe facilities, as well as our therapist's deft hands as the knots in our foot were kneaded into submission.
All-In-One Foot Treatment
Foot Indulgence, $222.56 for 60 mins. Spa Club at Beach Road, Tel: 6339 9238, www.spaclub.com.sg
Start the treatment with a luxurious foot soak, followed by thorough exfoliation and an intense but enjoyable foot massage.
Bespoke Nail Party
Bespoke Spa Parties, $799 for 180 mins. AUUM The Honest Nail Spa, Tel: 6463 9713, www.auumthehonestnailspa.com
'For this customised experience, we chose a foot spa and classic gel manicure. We loved the attention to details while the therapist dressed up the space in the comfort of your own home.
Hair removal
Hair Removal – Waxing
XXXX Strip, $62 for 40 mins. Strip, Tel: 6634 9330, www.strip.com.sg
For something swift and hassle-free, pop by any Strip outlet. Hygiene is key here, so you'll never have to share anything – from towels to the therapists' gloves – and an absolute no doubledipping rule.
Hair Removal – IPL
IPL Brazilian, $642 for 40 mins. Strip, Tel: 6337 8747, www.strip.com.sg
Surprisingly, this treatment was practically painless. Apart from a cold gel applied, the sensation during the IPL procedure was mild and not uncomfortable.
Hair Removal – DPL
Power DPL Permanent Hair Removal, $260 for 120 mins. Beaute by Kew, Tel: 6534 8255, www.beautebykew.com
This laser treatment helps you get rid of unwanted body hair in a jiffy. Safe to use on anywhere from your upper lip to bikini line, you're guaranteed safe, quick and effective results.
For men
Hydrating Facial
Men's Refresh, $180 for 75 mins. Rexults medSpa, Tel: 6738 0988, www.rexultsmedspa.com
The session starts with a tension-releasing 88 The Singapore Women's Weekly | may 2016 neck massage, and is followed by a customised exfoliant that gets rid of dead skin cells. A mask, plus face, neck and shoulder massage helps to relax and refresh.
Clarifying Facial
Ultimate Radiance Lift, $522.16 for 90 mins. Dermacare Medispa, Tel: 6376 9238, www.medispa.com.sg
Combining the regenerating powers of roses, as well as electrical pulses, this treatment stimulates the circulatation and flow of the lymph nodes. The result? Clearer-looking skin.
Anti-Ageing Facial
LPG 10% Peeling Procedure, $406.60 for 35 mins. LPG Endermospa Singapore, Tel: 6734 6626, www.fb.com/endermospa.sg
By exfoliating skin, this treatment helps to boost cellular activity and regeneration. The secret to the formula lies in 10 per cent of "good" acids like glycolic and mandelic acids which help fight the ageing process.
Scalp Treatment
DRx Purifying Scalp Therapy, $188 for 60 mins. The DRx Medispa, Tel: 6223 1555, www.drx-group.com
Hair loss can occur with age or lifestyle changes. During this treatment, a hair analysis is first done to determine the condition of your scalp. A purifying serum is applied, then a micro needle brush is used to stimulate hair growth.
Grooming The Gentleman's
Grooming Experience, $287 for 90 mins. Vedure Face, Body & Nail MediSpa, Tel: 6732 6448, www.vedure.com
This four-hands treatment will pamper your man from top to toe. Besides a facial and a face and scalp massage, he'll also be treated to a gentlemen's manicure and pedicure, and eye brow and nasal hair trimming.
Shave
Complete Shave, $65 for 45 mins. We Need A Hero, Tel: 6222 5590, www.weneedahero.sg
For a pampering grooming session, this experience includes a shave, scrub, facial, massage and the use of both hot and cold towels. 
Cut
Complete Haircut, from $55 for 45 mins. We Need A Hero, Tel: 6222 5590, www.weneedahero.sg
Tired of express cuts? You'll enjoy a unique experience in this space that's been inspired by the techniques and decor of old school barber shops.
Hair Growth TwinLaser (TM)
Infusion, $179 for 35 mins. CSK, Tel: 6100 6868, www.clearskgroup.com/P4
A two-step approach is taken when tackling the issue of hair loss. First, a soft laser is used in combination with a medical grade serum to strength follicles. Secondly, it's an antiinflammatory treatment which is packed  with antioxidants.
Body Contouring – Abdomen
Proslimelt with Isogei, $150 for 30 mins. Expressions, Tel: 6235 9890, www.expressions.com.sg
Using isometric movements to target fatty tissue, two probes are applied to "problem" areas to stimulate and cause the muscles in the area to contract, in turn improving its tone and firmness.
Body Contouring – Back
Love Handles Trimming, $197.95 for 45 mins. Urban Homme Face & Body Studio For Men, Tel: 6284 6166, www.urbanhommeformen.com
Though exercise is key to a healthy body, there are times when areas of our bodies still retain and store fat. Each session promises a loss around the love handles, and our judge noticed his back looked and felt firmer.
Massage – Aches Busting
Lush Golf, $195 for 90 mins. Lush Spa, Tel: 6254 9091, www.lushspa.com.sg
Tucked away within the Singapore Polo Club, this spa will transport you away from the hustle and bustle of city life. For targeted relief in the lower back, shoulders and thighs (areas commonly used by golfers), try this massage by physio-trained therapists.
Massage – Deep Tissue
Karuna Kaya Deep Tissue Massage, $350.96 for 60 mins. Spa Club at Beach Road, Tel: 6339 9238, www.spaclub.com.sg
This deep tissue massage makes use of energy boosting shilajit, a thick, tar-like substance commonly used in Ayurvedic treatments, as well as cedarwood, sandalwood and vetiver oils.  
Massage – Sports
Lush Spa Sports Massage, $149.80 for 60 mins. Spa Infinity, Tel: 6738 0069, www.spainfinity.com.sg
Is your partner is recovering from muscle fatigue in between sports or training sessions, this will help soothe those aches. This deep tissue massage uses a trigger point technique to work out those kinks.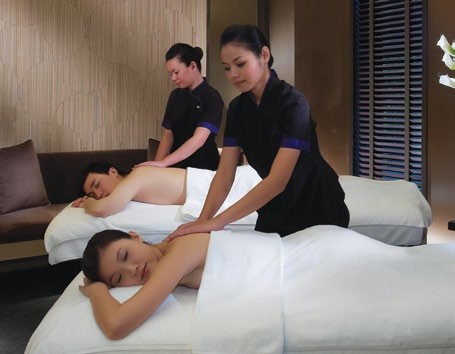 For couples
Couple Treatments – Relaxing
Honeymoon Couple's Spa Experience, $1175.82 for 240 mins. Auriga Spa, Tel: 6591 5023, www.auriga-spa.com
Got half a day to spare? This luxurious experience takes place in a spacious spa suite complete with a Jacuzzi bath and private garden. Breathe in delicate rose and jasmine scents as you are pampered by the sensuous, candle-lit scrub, wrap and massage.
Couple Treatments – Energising
Workout Day, $176.55 for 60 mins. So Spa Sofitel Singapore Sentosa Resort & Spa, Tel: 6708 8358, www.sofitel-singapore-sentosa.com/sospa
Unlike a conventional spa retreat, this workout session includes a fitness assessment, a personal trainer and a customised fitness routine. The best part? You get to enjoy a 30-min massage and a healthy lunch packed with antioxidants after exercising.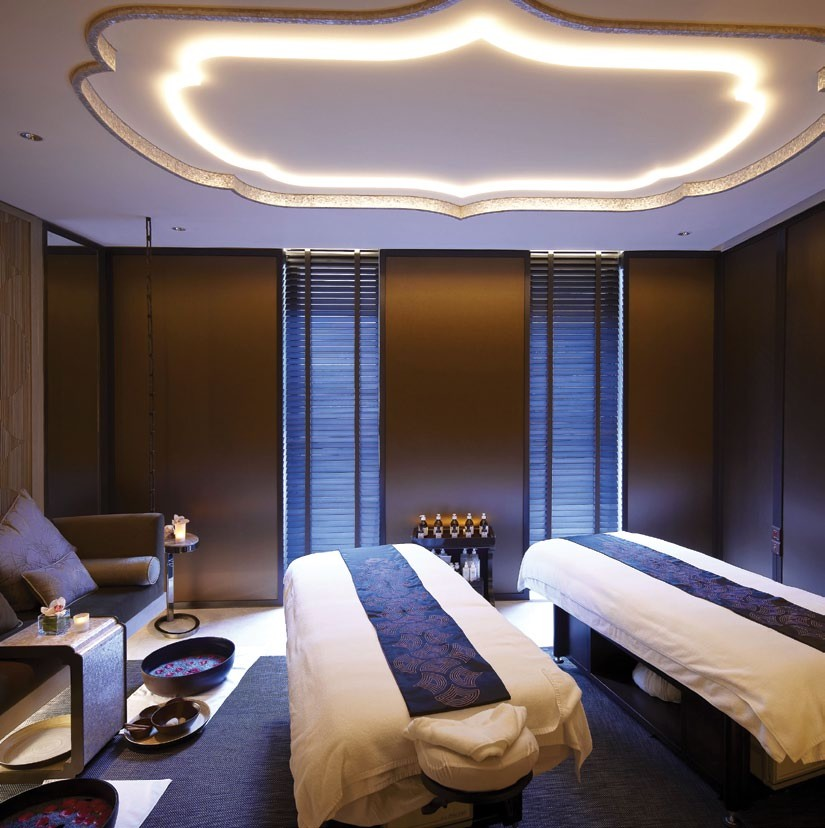 Couple Treatments – Romantic
Romance Body Massage with Nature Body Polish, $110 per pax for 90 mins. Masego The Safari Spa, Tel: 6790 1661, www.masego.com.sg
For something a little out of the ordinary, head to this safari-inspired spa. You'll get to reconnect over a relaxing massage and be refreshed by the invigorating body polish.
Couple Treatments – Refreshing
Javanese Mandi Lulur, $190.46 for 90 mins. The Ultimate Resort Spa, Tel: 6316 6451, www.theultimate.com.sg
If you love the swift knuckle-work and deep thumb pressure that is common in Javanese massages, this treatment is for you. After the session, you'll feel both the tension and stress of a busy lifestyle melt away.
Couple Treatments – Pampering
Couple Senses Therapy, $545.70 for 135 mins. Estheva Spa, Tel: 6338 3318, www.estheva.com
After a calming senses therapy session, you'll be treated to a Romantic Bliss Massage while your man gets to enjoy the Senses Awakening Massage. The session wraps up with a Skin Beautifier Facial for two.