Late-night festive shopping hours at Wisma Atria from Dec 18-23 mean that for one week, you'll be able to get everything you need – whenever you want.
Late-night festive shopping hours at Wisma Atria from Dec 18-23 mean that for one week, you'll be able to get everything you need – whenever you want.
FASHION
COACH (#02-19)
Give the gift of this heritage American brand's leather goods. The Cross Stitch Floral Wallet ($175), which features floral prints on textured cross-grain leather, has a compact size that makes it perfect for cards, cash and receipts. And the Uni Coin Case ($175) is a nifty, stylish wallet that unzips for easy access, and keeps coins tucked away neatly.
SEAFOLLY (#02-16/17)
Sandy getaways call for bright and sunny beachwear from Australian brand Seafolly. The Palm Beach print evokes a coastal jungle, mixing moss-green palm trees, pale pinks, and pops of fuchsia hummingbirds. Wear the cropped top ($99.95) and the leggings ($109.95) under the Tropicana dress ($169.95), a feminine and versatile piece that will take you easily from pool to party.
TORY BURCH (#02-28)
Take outfit inspiration from the breezy and effortless style of Tory Burch's holiday collection. The Thelma dress ($995) in metallic velvet with contrasting gazar cuffs pairs perfectly with the Valentina Bow Slide ($700), low-heeled sandals in a floral brocade pattern with eye-catching crystals. The Cosmic Floral shoulder bag ($885) is an embroidered velvet creation with removable tassels and adjustable shoulder strap.
RÉVOLTE COLLECTIVE (#01-08)
For the perfect alternative holiday outfit, look no further than Révolte Collective. The multi-label store stocks designers that offer interesting silhouettes, clean lines and simple details. Its own in-house designs are a favourite of local design supporters. Go with the Ellaria Jumpsuit ($189) for a relaxed look.
VIVRE ACTIVEWEAR (#B1-04)
Never worry about ill-fitting sportswear again – this local brand was created with Asian frames in mind. Slip on the Interval Loose Tank ($39), a relaxed top ideal for the studio, and try the fuss-free Defy Performance Crop ($59), which features a comfortable foldable waistband that's non-dig and non-slip. The Defy crops come in four colourways – perfect for rotating between your workouts.
FOREVER NEW (#01-12)
Here's a nice way to frame photos and memories – a real sign of thoughtfulness in the age of the smartphone. The Heart Shaky Photo Frame ($24.99) is a fun heart-shaped design filled with sparkling pink holographic glitter that's sure to bring a smile to your face.
JEWELLERY AND TIMEPIECES
ALL WATCHES (#01-16)
Sporty men will love the Davosa Apnea Diver Automatic (from $1,650). The Swissmade timepiece is up for the extreme challenges of diving – it is watertight up to 20 ATM (a depth of roughly 200m) – and has a case that can be unscrewed and raised for easy viewing underwater.
MASTERPIECE TIME & JEWELS (#02-04/05)
For a subtle touch of Italian glamour, consider the Leda watch (price unavailable) from Versace. This elegant classic features Roman numerals and a Greek key bezel in a feminine 38mm size. Considering the brand's rigorous Swiss certification criteria, you can trust that this will be a worthwhile investment.
TIMEWISE BY CORTINA WATCH (#02-33 & #03-24)
The Breguet Tradition GMT wristwatch in 18K rose gold, with a hand-wound movement, is fit for any occasion. Its black, off-centre sub-dial displays a second time zone, and is hand-engraved on a rose engine. This is a timepiece that will appeal to anyone.
TAG HEUER (#02-45 & #03-34)
A great couples' gift would be this matching pair of Carrera Calibre Heuer 01 chronographs. The signature watch from the Swiss manufacture comes in a men's version ($7,250) with the complex skeletonised dial that has made it a classic, while the women's ($13,000) is dressed up with 1.09-carat diamonds.
MAUBOUSSIN (#02-14)
Want to take your festive greetings a step up? Say it with a stone – in this case, a precious one from Mauboussin. The Couleur d'Amour pendants ($1,990 each) have multicoloured gems on white gold chains. The amethyst pendant, which symbolises protection, is paved with rubies; while the blue topaz variation, symbolising love, is paved with amethysts.
LEE HWA DIAMOND GALLERY (#02-06)
Jewellery is a sure-fire way to add Christmas sparkle to your outfit. Consider the My Way ring (price unavailable) by Italian jewellery designer Anna Maria Cammilli, featuring a diamond centrepiece in an 18K gold square. Its sensuous lines and modern sensibility are sure to turn heads.
APTIMOS (#01-15)
The Festina Mademoiselle collection includes women's timepieces that you can't go wrong with as gifts. Among them is this beautiful model ($229) with a stainless steel case and mesh bracelet, and Swarovski crystals that shine and sparkle on the dial. As a bonus, with every purchase, you'll receive a complimentary bangle finished with a light grey mother-ofpearl inlay, while stock lasts.
EMPEROR WATCH & JEWELLERY (#02-40 to 44 & #03-32/33)
The Starray collection from Emperor Watch & Jewellery is inspired by the stars and the serene beauty of the night sky. Choose the earrings in 18K white gold with tapered diamonds ($4,000), or the pendant from the same line. The clean and contemporary lines of these pieces make them perfectly tasteful festive presents.
FITFLOP (#01-31/32)
Comfort meets style in the Superballerina flats ($199; UP $239.90) from FitFlop. The graceful and feather-light ballet flats are covered in shimmering sequins and set on the brand's slim Supercomff midsoles, ensuring maximum comfort even as they add a dazzling touch to any outfit.
PRETTYFIT
Go for the trendy mule silhouette by getting these wine-hued Lamb Suede Mules ($79.90). The fashion-forward design combines premium suede and oh-so-current details, making this pair one to stand out in.
CHARLES & KEITH (#B1-18)
If you've been keeping up with the season's looks, you'll appreciate these furry open-toed sandals ($53.90) from this home-grown shoe label. They tap into the hottest trends right now – fur and velvet – all wrapped up in a playful pair that's perfect for parties.
PAZZION (#B1-09/10)
Make a statement with these dazzling mules ($83). Boasting crystal-embellished brooches and neat straps, they have a distinctly feminine appeal and would be a perfect accompaniment to your shimmering evening dresses. A great pair for dancing your way through Christmas.
PEDRO (#B1-32 to 34)
Infuse your look with a touch of fun and whimsicality by choosing the right accessories. The Leather Compact Wallet ($43.90) from local brand Pedro sports a removable star charm. And the wallet's slim design makes it easy to fit into pockets or small compartments.
PORTER INTERNATIONAL (#03-06)
Send a message of cheer, quite literally, with the Keep On Smiling mini handbag ($259) from Porter International. It comes in bright shades of red, blue and green in the brand's glossy and hardy MILKY PLUS canvas fabric, with a smiley face sewn onto the front.
BEAUTY
ETUDE HOUSE (#B1-20)
This holiday season, ETUDE HOUSE is launching a galaxy-themed collection which includes a Colourful Scent Perfumed Hand Cream 3-piece Gift Set ($28). The fragrant trio will keep hands moisturised while imparting a mild, sweet scent.
QOOSH NAIL SPA (#03-03/04)
Some women in your life seem to have it all, which makes it challenging to choose suitable presents for them. For such individuals, give the gift of a Gelish Manicure and Classic Pedicure from Qoosh Nail Spa ($88, UP $117). Get one for yourself too at the same time – it'll be a good way to spend time together getting your nails dolled up for the festivities.
SASA (#B1-06)
This one's for Korean beauty lovers. The Controbing Box from Celebeau is a threein- one wonder. It contains a high-coverage foundation, a contouring shade to shape your face with, and a highlighter for a brilliant finish. You can get it for $39 – a price exclusive to Sasa Wisma Atria (regular retail price: $49). And good news for best friends: Get two of these multi-tasking wonders for only $70, also exclusively at Sasa Wisma Atria.
THEFACESHOP (#B1-K5)
All the skincare you need can be found in THEFACESHOP's Holiday Special The Therapy First Serum Set ($47.90). It has items from the brand's The Therapy line, including an anti-ageing serum, a toner-andessence treatment, moisturising emulsion, and exfoliating cotton pads. A great gift for loved ones who enjoy pampering themselves!
ASTALIFT (#03-30)
It's often said that beauty starts from the inside, which is the idea behind the Pure Collagen and Whiteshield drinks ($11.90 for three bottles) from Japanese brand Astalift. They have essential ingredients for clear, glowing skin, and are uniquely formulated to help your skin retain and replenish its moisture from within.
VICTORIA'S SECRET (#B1-26)
The fragrances from Victoria's Secret are popular favourites for good reason. Their sweet scents evoke sexiness and playfulness, and this makes the Love fragrances wonderful gift options. They're inspired by the excitement, happiness and crazy love stories of the brand's iconic Angels, so you can pass the intoxicating emotions along with the eau de parfum ($99 for 50ml, $129 for 100ml) or a body wash ($49).
KIDS
COTTON ON KIDS (#01-23/24)
This year's standout Disney princess was Belle from Beauty and the Beast. The Lux tees ($22.95) by Cotton On Kids get a refresh this season, and we're big fans of the frill-sleeved, adorable one featuring Belle front and centre, embellished with sequins.
SEED HERITAGE (#01-25 to 28)
Australian children's wear brand, Seed Heritage, is a favourite for its highquality and stylish clothing. Kids will surely appreciate its adorable toys and accessories, while mothers will enjoy the thoughtful range of baubles and trinkets.
GIFTS GREETINGS (#01-34)
Tokidoki, whose products are Italian-designed, has a Sweet Gift Collection that's an excellent choice for budding fashion lovers. Choose from a Latte Milk Carton bag ($94.90), Palette Coin Purse ($39.90), or a Unicorno Trifold Wallet ($59.90) – fun and playful accessories for the young at heart.
TYPO (#B1-61)
Start the coming year with items from Typo's collaboration with Disney. The 2018 calendar ($16.99) features Tinkerbell and a message to "Throw fairy dust in 2018's face". And stash your cash in a fun coin purse featuring a host of classic Disney characters.
L'ZZIE (#B1-35)
Sparkle and shine this Christmas season in L'zzie garments! Try matching with your little one in Hello Kitty polka-dot dresses ($87 for the adult's dress, $67 for the kid's) to channel sweet, romantic vibes and create magical moments you can both cherish.
ELISA LITZ (#B1-36)
Jump into the holiday spirit! These adorable pairs of deer flats ($89 for the adult's, $75 for the kid's) are made of suede and have 3-D antlers and ears, so they'll make a sure statement that you're in the mood for joy and celebration.
SMIGGLE (#B1-40)
Start the little ones' school year right with cute backpacks from Smiggle. The Junior Character Cat Blast ($59.95) backpacks are smaller, have fun designs, and boast adjustable straps and plenty of useful compartments, making them perfect for younger kids.
F&B
PABLO (#01-02)
Since making their debut in Singapore, PABLO's cheese tarts have become the sort of hit that inspires long queues and patient waits. The large 15cm Freshly Baked Cheese Tart ($15) has a mousse-like, light cheese filling in a flaky puff pastry crust, topped with a sweet and tangy apricot jam. The perfect dinner-party gift!
BEN'S COOKIES (#B1-50)
The famous English cookie makers are known for baking with "chunks, not chips" – a fine indulgence for the year end. A cookie is $2.95, but you won't want to miss these festive promotions: a box of five ($14.75) gets you two more cookies for free, while boxes of 10 ($29.50) get five more cookies bundled in.
TWELVE CUPCAKES (#B1-58)
Make your Christmas merrier with these themed treats (from $2.50 a cupcake) from Twelve Cupcakes: Santa's Helper (vanilla chocolate), Christmas Tree (red velvet), Snowman (blueberry) and Christmas Special (mint mocha). They'll be a hit at any Christmas gathering.
STARBUCKS (#03-35)
Get ahead of the crowd and show how well you know your loved ones by getting them gifts from the heart at Starbucks. Check out the most thoughtful, adorable options from this season's holiday collection, which will be rolled out in stages, in the lead-up to Christmas!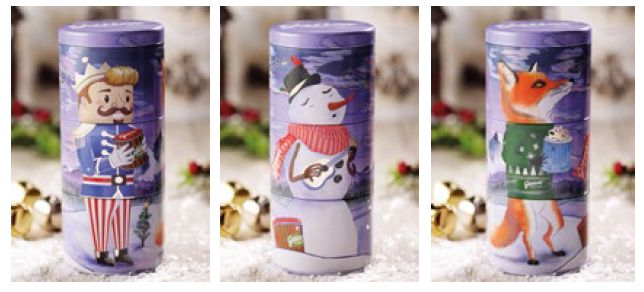 GARRETT (#B1-56)
Filled with delicious chocolate, the limited-edition Dark Chocolate CaramelCrisp popcorn from Garrett is a delectable treat. The three stackable tins feature three whimsical characters inspired by the holiday season – a snowman, a red fox and a gallant nutcracker soldier – against a snowy backdrop.
LiHO (#B1-03)
LiHO introduced us to rich, thick cheese drinks. This festive season, try the Cheese Melon Tea ($2.90, UP $4.10). The blend of winter melon and the brand's signature cheese makes it a perfect sweet treat in our sunny weather.
SPECIAL!
BE REWARDED WITH VOUCHERS WITH A MINIMUM SPEND
Log on to wismaonline.com for more details.
Where to buy: 435 Orchard Road, Wisma Atria, Level 1. Concierge: 6235-2103
wismaatria
wismaatria