The spring/summer 2020 runways served up a plethora of modern, graphic looks that ran the gamut from the everyday to the fantastical—highlighted with bold, brilliant colour from eyes to hair. Warning: Wallflowers need not apply.
From top: Diorshow Liquid Mono in 540 Gold Twinkle, $49, Dior. Flypencil Longwear Pencil Eyeliner in Lady Lagoon, $33, Fenty Beauty. Lip Maximizer in 001 Light Pink, $50, Dior 
Concept Korea
GET GRAPHIC
Take a page from Dior's beauty playbook; in the words of Peter Phillips, Creative and Image Director for Dior Makeup, draw "a double line of black eyeliner like two little 'wings' that are discreet yet graphic; applied at the corner of the eye, separated by a swipe of gold".
"Hermès"
From left: Expensive Amla Oil Hi‑shine Topcoat, $43, IGK. Jackpot Styling Crème, $25.64, R+Co 
MAKE IT SLICK
The wet hair look reigned supreme at many a runway, for it's how you take lacklustre locks and turn 'em into cool girl tresses in a jiffy. The innate versatility of the look makes it great for all lengths and works for most hair types; experiment with styles such as the extreme side-part seen at Hermès—a perennial favourite.
CELINE
Miu Miu
GLAM GRUNGE
Lived-in kohl-lined eyes and sooty lashes are officially cool again—including smudges of mascara transfer on the under-eye. Long live grunge chic.
Burberry Cat Lashes in Ultra Black No.1, $52, Burberry Beauty
"Chanel"
MONOCHROME ME
A makeup trend that's still going strong, the monochromatic look gets a colour update starring cool browns and mauves as seen at Chanel—a colour palette inspired by Global Creative Makeup and Colour Director Lucia Pica's desert expedition.
TIP: Play up the eyes and lips with contrasting textures to prevent your monochromatic look from appearing flat. Think creamy eyeshadows loaded with fine shimmer to complement velvety matte lips, or vice versa— it's all about dimension, dimension, dimension.
From left: Ombre Premiere Laque eyeshadows, $53 each; Rouge Allure Velvet Extreme in 132 Endless, $52, Chanel. Eye Shadow / Loud And Clear in Bougie Babe, $33, M.A.C 
"Jeremy Scott"
THEATRICAL 'DOS
They're outlandish, outrageous and OTT—evoking Victorian sensibilities, a Marie Antoinette revival and the crazy, colourful world of Harajuku girls— but these outré hairstyles could be just the thing if you need to get creative for fancy dress parties. While the most straightforward route is to fake it with a wig, those working with their real locks will want to amplify the volume as much as possible in order to get that big-hair effect. A fab product to help zhoosh up the tresses is the Volumizing Hair Spray by OUAI; spritz liberally and backcomb away!
Thom Browne 
Volumizing Hair Spray, $39, OUAI 
Vivienne Westwood 
Louis Vuitton 
Lip Glorifier in N2 Red, $62, Clé de Peau Beauté 
Self-Portrait 
Max Mara
Rouge à Lèvres Mat in 605 Vienna Amaranth, $53, Gucci Beauty
"Lip Magnet in 605 Insomnia, $57, Armani Beauty"
LEAD WITH YOUR LIPPIE
Say it with a statement pout —be it Max Mara's vampy lip or the pop of matte pastel purple seen at Self-Portrait. If it's an ultra-glossy look you're after, go the way of Louis Vuitton, where models rocked a subtle orchid-meets-red ombré hue with  killer shine.
Salvatore Ferragamo
PAINTERLY EYES
Bold swathes of colour were artfully splashed across the eyelids in all shades and permutations that bordered on the artistic and insouciant, such as the imperfectly perfect finger-painted effect seen at Salvatore Ferragamo. Meanwhile, a bold fuchsia took centre stage at Valentino; the look, dreamed up by makeup legend Pat McGrath, featured exaggerated colour that spread to the temples, cheeks and brows, finishing with a metallic touch that played peekaboo with the light.
Valentino
From left: Amrezy Eyeshadow Palette (Limited Edition), $75, Anastasia Beverly Hills. Eye Color Quad in 31 Sous Le Sable, $127, Tom Ford Beauty 
Moschino
Moschino
PASTEL STREAKS
Behold the dip-dye hair trend with a twist, as Moschino adopted a broken-up, streaked pattern using neon pastels. The paintsplotched chignons were created by hairstylist and painter Julien d'Ys, who channelled the collection's Picasso-inspired vibe using strokes akin to the brushstrokes used in painting.
GCDS
Clockwise from top: Crushed Diamonds Patent Shine 10X Nail Lacquer in Brilliant, $26, Butter London. Vernis Glow Vibes in 372 Smooth, $40, Dior. Holos Nail Lacquer in Mermaid Tales, $23, NCLA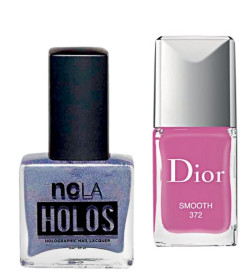 A TALE OF TALONS
For this, it's the longer, the better because that means you've got more nail to play with. Whether you favour square, oval or ultra-pointed tips, draw all eyes to your digits by dressing 'em up in a holographic lacquer or with accessories such as nail piercings (only if you're going with artificial nails!).
Michael Kors
The Jade Massaging Comb, $76, Mount Lai 
3.1 Phillip Lim
"Luscious Curl Cream with Flaxseed Oil, $50, Christophe Robin"
AU NATUREL
The natural hair movement had a moment as brands such as Michael Kors and 3.1 Phillip Lim sent models down the runway with their god-given curls, from 'fros to close-cropped coils.
Fendi
BLING IT UP
Take the KiraKira filter into real life by dressing up your eyes with sparkle that just won't quit. Work a more subtle version à la Fendi, where glitter was sprinkled along the under-eye to appear like fairy teardrops, or go all out in the vein of Lutz Huelle's shimmery look, created by M.A.C makeup artist Terry Barber, who was inspired by Catherine Deneuve in Belle de Jour—"It's a very '60s shape!"
From top: Glitter Pop! Peel Off Liner in Hey Mr. DJ, $34, Too Faced. Heavy Metal Glitter Gel for Eye, Face and Body in Disco Daydream, $30, Urban Decay. See-quins Glam Glitter Eyeshadow in Glitter Rock, $38, Marc Jacobs Beauty
Lutz Huelle
TIP: To ensure the glitz stays put, go for products that use a gel-based medium, which provides a better grip for the glitter. Alternatively, foolproof application can be had with festival makeup, where decorative paillettes for the eyes come prepped with adhesive.
Givenchy
Saint Laurent
"From left: Tinted Glow Booster, $60, NARS. Hyaluronic Hydrafoundation, $89, By Terry. Touche Éclat 3D All Over Glow Powder, $79, YSL Beauté"
SUPER SKIN 101
It was all about the complexion at Givenchy and Saint Laurent, with the former taking on the "glass skin" look and the latter bringing back the non-touring trend. Whether it's to nail that turned-up translucence or to perfect a soft-focus dewiness, you'll want to start with well-moisturised skin before prepping with an illuminating primer. Go for foundations that deliver a side of hydration to keep skin looking fresh, skip the bronzer and use only the barest smidge of powder—preferably one that comes with finely milled shimmer to keep the glow going.