What you need, what you want, and what really works.
BRIGHT YOUNG THINGS
Steal the best makeup looks of these celebrity progeny 
"Bloomstay Vitalizing Eye Cream, $125, Sulwhasoo"
KAIA GERBER
Inheriting her parents' good looks (her mum's supermodel Cindy Crawford and dad, former model Rande Gerber), Gerber scored her first modelling gig with Versace's junior line when she was just 10. At 18, she has already walked down countless runways and was even awarded Model Of The Year at The Fashion Awards in 2018.
Bright-eyed: If you have a hectic schedule like Gerber's, a good eye cream such as Sulwhasoo's Bloomstay Vitalizing Eye Cream is essential. It absorbs quickly, comes with its own applicator, and helps reduce puffiness while improving microcirculation.
Le Volume Révolution de Chanel, $54, Chanel 
LILY COLLINS
To say Collins started young is an understatement. The English-American actress, daughter of Phil Collins and Jill Tavelman, first appeared in BBC's Growing Pains at the tender age of two, and went on to bigger roles in films such as The Blind Side, Mirror Mirror and The Mortal Instruments: City of Bones. Collins has also appeared in many campaigns for Lancôme and her stunning lashes are one of her most recognisable features.
Fluff 'em up: Whether you're blessed with long lashes like Collins' or need a bit of help, Chanel's Le Volume Révolution de Chanel can add some oomph to your peepers with its 3D-printed brush designed to coat lashes without clumping.
Eye Defining Pen, $90, Tom Ford Beauty 
BELLA AND GIGI HADID
You can't talk about famous offspring without mentioning the Hadid sisters. Daughters of former The Real Housewives of Beverly Hills star Yolanda Hadid and real estate developer Mohamed Hadid, the pair basically grew up in the limelight. Gigi starting her modelling career when she was just two, starring in a Baby Guess campaign, while Bella made her modelling debut at 16, walking for Desigual at New York Fashion Week Fall 2014.
Defined peepers: If you have gorgeous eyes like the Hadid sisters', you need only play them up with eyeliner. The dual-ended Eye Defining Pen from Tom Ford Beauty has a brush tip for creating a regular cat eye as well as a fine tip that can be used to draw in details.
Glow Play Blush in Cheer Up, $49, MAC 
LILY-ROSE DEPP
The daughter of Johnny Depp and Vanessa Paradis began her acting career at 15 and leapt to stardom when Karl Lagerfeld picked her as Chanel's brand ambassador in 2015, and then as the face of its No. 5 L'Eau fragrance in 2016. Fun fact: Marilyn Manson is her godfather, and he reportedly gave her her first pair of heels when she was still in diapers.
Take it to new heights: Have the same sky-high cheekbones as Depp and her father? The best way to enhance them while giving skin a natural flush is with a light touch of blusher such as MAC's Glow Play Blush in Cheer Up, no highlighter needed!
Dior Forever Skin Correct in 3N, $63, Dior 
ZOË KRAVITZ
The darling of actor-musician Lenny Kravitz and actress Lisa Bonet inherited her parents' talents and took them to another level. The multitalented 31-year-old proved her acting chops in films such as X-Men: First Class, Mad Max: Fury Road and Fantastic Beasts and Where to Find Them, and is also a musician and model. She signed on as the ambassador of YSL Beauté in 2018, and fronted its Black Opium fragrance and Rouge Pur Couture campaigns.
Less is more: Blessed with stunning features like Kravitz's? All you need to do is dab on Dior's Dior Forever Skin Correct in 3N to take away redness.
SHAKE IT OFF
These new-gen beauty offerings do more than just hydrate 
VITAL HYDRA SOLUTION BIOME ESSENCE, $99, DR.JART+
The skin's microbiome is our first line of defence against external aggressors, and harsh skincare products can affect its balance. Perfect for those with sensitive skin, this hydrating lotion formulated with probiotics and triple hyaluronic acids calms irritation and helps normalise the skin's microbiomes while improving tone and texture, promoting overall healthier skin.
SUBLIMAGE LA LOTION LUMIÈRE EXFOLIANTE, $195, CHANEL
Formulated with vanilla planifolia water, white birch water and alpha-hydroxy acids, this delicate lotion gently exfoliates to lighten dark spots, even out skin tone and refine texture for a clarified complexion.
DIOR PRESTIGE LIGHT-IN-WHITE L'OLÉO-ESSENCE LUMIÈRE, $167, DIOR
Inspired by traditional Chinese medicine (which posits that a yin-yang balance is essential for optimal health), this essence seeks to restore and maintain the natural hydrolipid balance of skin for a luminous glow. White rose oil works on regulating melanin production while Rose de Granville plumps, smooths and refines. There's also the antioxidant-rich Japanese apricot extract to soothe and soften, and natural PHAs for gentle exfoliation.
FLORA DRIP, $182, ALBION
This anti-ageing essence is packed with over 7,800 active substances that combat long-term cell damage as well as issues such as dullness, dehydration and sagging skin. Its star ingredient, the proprietary Myurat, is created by fermenting five medicinal herbs with a rare fungus, the pure white Shirakami, producing enzymes that aid in skin renewal.
CLARIFIQUE REFINING ENZYMATIC DUAL ESSENCE, $140, LANCÔME
This dual-phase essence is enriched with French beech bud extracts to help accelerate skin renewal and refine skin texture. The patented whisk design generates micro bubbles of both phases to form a lightweight fluid that absorbs quickly into skin.
"Support your skin's natural healing while you sleep with the Advanced Night Repair Synchronized Recovery Complex II ($175) from Estée Lauder"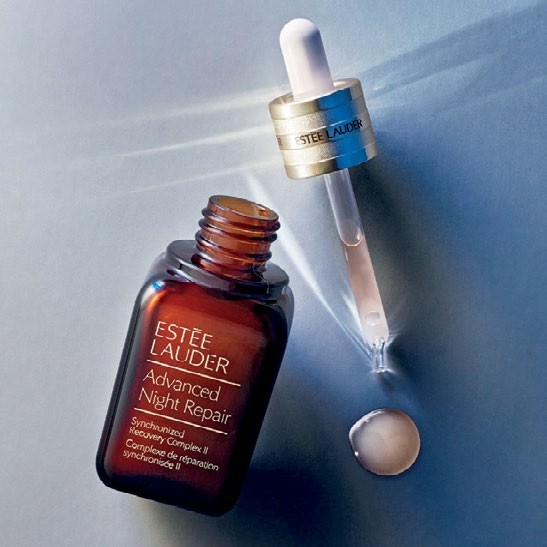 NIGHT RECOVERY
When you don't get enough shut-eye, it shows on your skin. Can't repay your sleep debt just yet? Help your skin out by using a night product— while the skin works around the clock to repair damage, this process is strongest at night. Maximise the benefits with a product such as Estée Lauder's Advanced Night Repair Synchronized Recovery Complex II. Packed with antioxidants and hyaluronic acid, and boasting the patented ChronoluxCB Technology, it helps strengthen and plump skin, and rids dullness for a radiant glow.
For the uninitiated, "MLBB" stands for "My Lips But Better", a term that refers to lipstick colours similar to the natural tone of your lips. These were first espoused by beauty influencers and YouTubers as the go-to lip colours for the no-makeup makeup look back in 2013. This season favours MLBB hues with creamy textures and a glossy finish to plump the pout, as opposed to the matte finish when the trend first emerged. Look for colours that match the inner part of your lips rather than the outline, which is prone to darkening and discoloration. Then just swipe on to brighten up the complexion and polish up your everyday look.
Clockwise from left: Kisses Lip Lacquer in 03 Nude, $44, Burberry Beauty. Loaded Lip Lacquer in Young Hearts, $40, NARS. Sensual Spicy Nude Gloss in 422 Lingerie, $43, HERA. K.I.S.S.I.N.G Lipstick in Nude Kate, $50, Charlotte Tilbury 
SIREN SEEKER
Team a velvety red pout with an ethereal glow and lots of lashes for a classic look that works from the red carpet to the bedroom 
1. Lash Curler, $50, Hourglass 2. Mascara L'Obscur, $56, Gucci Beauty 3. Rouge Allure Velvet in 357 Camélia Rouge, $54, Chanel 4. Dior Backstage Rosy Glow in 004 Coral, $61, Dior 5. 1-800-Hold-Me, $40, IGK 6. Legendary Brows in Super Model, $42, Charlotte Tilbury 7. Glow Lasting Foundation, $79, HERA 8. Eye Quad in 27 Mink Mirage, $127, Tom Ford Beauty 9. Mink Lash Collection Secret Weapon, $43, Velour
BY ARISSA HA. PHOTOGRAPHY: GETTY IMAGES
BY ARISSA HA