From delightful ensembles plastered with abstract comic strips at Prada, to Saint Laurent's epic spectacle held in view of the Eiffel Tower, designers are bringing back the magic of fashion shows while spreading renewed hope and optimism.
From delightful ensembles plastered with abstract comic strips at Prada, to Saint Laurent's epic spectacle held in view of the Eiffel Tower, designers are bringing back the magic of fashion shows while spreading renewed hope and optimism.
GUCCI
Gucci's show was set against a myriad of cultural references, from marble Roman sculptures to arches drawn from Indian, Aztec and Egyptian styles. Low strobe lights and fog, plus the haunting strain of remixed techno beats, further set the tone.Then came the models, each one dressed in retooled vintage clothes from a carousel of fashion references: There were Chinoiserie touches, '80s shoulders, English tweeds—even Disney references in the form of a Snow White sweater. A glam rock twist came courtesy of a number of flashy outfits inspired by Elton John's sequin-strewn past. More than two years on, Michele's spell on the fashion world has not been broken. 
BURBERRY
Burberry's unexpected collaboration with Gosha Rubchinskiy turned its signature checks into hot fashion commodities overnight. Naturally, the question on everyone's lips was how Christopher Bailey would build on that momentum for the British heritage brand. He didn't disappoint, delivering another runway-to- store collection that chalked up plenty of digital impressions. The checks made an encore appearance of course, turning up on caps, plastic raincoats and giant duffle bags. There were also thick knits, sheer gauzy dresses, and sparkly brooches and earrings—all layered with an irreverent hand to reveal the eccentricities of British style.
CÉLINE
Talk about ending on a high—Phoebe Philo's final collection for Céline summed up exactly why she is a designer respected for the deft ways she has instilled intelligence and functionality in style- forward clothes. Wanting to spread a positive message, Philo worked with Smiljan Radic to create a set that recalled the joy of bonfires and camping.  The designer's last foray yielded sculptural trench coats, khaki suits with bold shoulders, and plenty of fringe that swooshed around the ends of dresses like waves with every step.      
MAX MARA
Max Mara put Halima Aden on its runway last season, and invited the activist to walk its spring/summer 2018 catwalk again. She returned, of course, serving as a timely reminder that the runway is a place to celebrate diversity. Aden was clad in a denim ensemble that highlighted the depth of Max Mara's offerings. Sure, the Italian brand's camel coat remains its claim to fame, but it also does a fine job of creating clothes for the sophisticated urbanite. The show opened with neutrals on smart suits and sublime coats before bursts of florals on trench coats and dresses took over. Accents of '90s minimalist tailoring were present, seen on sleek pencil skirts and pants, while formal blazers were reimagined in translucent organza. In short: Quality classics that were made to last.
KATE SPADE NEW YORK
Kate Spade New York is celebrating its 25th anniversary in 2018 and it looks to be a year filled with gaiety. For its spring/summer 2018 staging, the brand brought the spirit of New Orleans into the heart of New York—the Grand Central Oyster Bar, to be exact. Models swayed along to the rhythm of jazz, each one a vision of whimsy. Flowy tops, butterfly motifs and floral dresses emphasised the collection's Southern charm. It also witnessed the return of the Sam handbag from 1993; reinterpreted for a new generation of women through monochrome stripes, botanical prints, or wicker, denim and printed canvas.
CHANEL
"There is no life without water," observed Karl Lagerfeld. So there it was, cascading down the face of a man-made canyon in the middle of the Grand Palais during Chanel's epic spring/summer 2018 staging. Models emerged from behind a blanket of waterfall mist kitted in an assortment of plastic bucket hats, transparent capes and thigh-high rain boots that caught the ethereal iridescence of light and water. Technology further enhanced nature's beauty, with Lurex threads, prismatic fringes on tweed coats and skirts, and PVC bags that took on an opalescent shine in the sunlight.
SAINT LAURENT by Anthony Vaccarello
Anthony Vaccarello couldn't have chosen a better venue for Saint Laurent's spring/summer show. Constructed below the Trocadéro, the open-air set basked in the looming presence of the Eiffel Tower—an apt metaphor for the night's proceedings, since the late founder himself was a beacon of fashion whose liberal and ground- breaking take on Parisian sensuality made him one of modern fashion's greatest designers. As the Eiffel Tower twinkled in the background, Vaccarello showed his understanding and mastery of the House's codes, first with a passage of louche shirt-and-short combos that were a nod to Marrakesh, a place integral to the story of Saint Laurent. Those segued into virginal lace numbers, before culminating into a stunning climax of feathers dancing hypnotically off super-cool mini-dresses. 
JIMMY CHOO
Virgil Abloh surprised everyone when he reinterpreted Princess Diana's style for a new breed of royalty at Off-White. To shod the feet of his princesses, Abloh enlisted the help of mega footwear brand Jimmy Choo to come up with modern versions of the glass slipper. The final products conceptualised by Sandra Choi, Creative Director of Jimmy Choo, and her team toed the line between futuristic and classic, precious and fiesty. A padded ankle boot, for example, looked ready for outer space. Elsewhere, giant bows sat atop sexy stilettos. The other story that emerged was the use of plastic, which either encased thigh-high boots like a layer of second skin or wrapped around floral pumps as if they were priceless gems.
MIU MIU
Even though bygone eras have heavily influenced Miuccia Prada's works, she has never allowed retrospection to hold her back from looking forward. Her strength in repackaging fashion cues from various decades into a language that's completely her own was once again on full display at Miu Miu, where the innocence of the '50s was injected into the sensuality of the '90s. Like the diverse cast of models, these were clothes as multifaceted as they were multi-layered. Dainty bows decorated pretty vests and jackets worn over shirts and lace shifts, while printed sheer dresses recalled the excitment of dressing up for high school prom nights.
PRADA
Eight female artists were commissioned by Miuccia Prada to create graphics for a collection that linked the ideologies of authority with the might of ink on paper. Words have the power to influence, but in Prada's cartoon world, women can let their imagination flow freely and write their own stories. In a space plastered with comic illustrations, she armed her troop of women with overcoats and oversized jackets, some crafted from Prada's signature nylon; others printed with polka dots or comic strips; but all with sleeves pushed-up as if suggesting that these women weren't afraid to get down to work. Animal motifs and prints such as spiders, tiger stripes and leopard spots, chosen for their wild fighting spirit, were added to the equation.
HERMÈS
The brief for any designer helming Hermès must read like this: Create functional and timeless wardrobe pieces that integrate into, and honour, the lives of women wearing them. The reins of the French Institution with an equestrian heritage is now in the hands of Nadège Vanhée-Cybulski, but past designers who have taken up the mantle include the elusive Martin Margiela, who is often regarded as having set the precedent at the luxury goods powerhouse; and Jean Paul Gaultier, whose efforts were thematic if slightly subversive. Since her appointment, Vanhée-Cybulski is holding court with a string of collections that epitomise a sense of ease, and for spring/summer 2018, it was business as usual for her. It was a wardrobe full of pieces built to last: Impeccably tailored pantsuits, smocks, knitted striped dresses— even a leather poncho—made their rounds on the catwalk, strengthening the message of restrained luxury at Hermès. 
LOEWE
More than four years on, Jonathan Anderson continues to bring fresh perspectives to Loewe. This season marked his preoccupation with the inherent possibilities of fabric, resulting in a playfulness in the clothes. Anderson imagined the Loewe woman to be a hippie traveller and dressed her in a curated mélange of strong bohemian sensibilities. Think: Patchwork kilts hybridised onto sheer knits; an unexpected flash of gingham on the collar of an otherwise classic trench coat; an attractive combination of pastel panels, gingham prints, and paisleys on a floaty dress.
MICHAEL KORS COLLECTION
An all-American sense of ease pervades Michael Kors' aesthetic. For spring, he  envisioned a cosmopolitan lady on her way from Manhattan to Malibu. Whether criss-crossing the city or vacationing on the beach, the collection's understated vibe meant there was a perfect outfit for every destination. Choose from tie-dye dresses, tailored sarongs, or pyjamas in palettes of baby blue and sunset pink. A wanderlust-inducing array of tropical prints, straw totes and luxurious flip-flops stomped down the makeshift boardwalk as well, completing the selection.
DIOR
A white t-shirt emblazoned with the slogan "We should all be feminists" launched Maria Grazia Chiuri's career at Dior, so it was hardly surprising that one year later, yet another t-shirt—this time printed with "Why have there been no great women artists?", a line from art historian Linda Nochlin's essay—kick-started the proceedings. Feminist leanings aside, Chiuri is also a designer with goals to endear the French brand to millennials, and her ongoing efforts have paid off with another youthful collection filled with chic netted berets, girly sweaters, cool denims and divine crystal-embellished frocks.
DOLCE&GABBANA
Dolce&Gabbana's new season pays homage to women and the sensual '90s glamour making its rounds on the spring/summer 2018 runways. Models were outfitted in sheer, corseted black frocks; oversized suits in silk chiffon or leggings, while powering down the runway to a millennial-infused playlist consisting of Katy Perry and Calvin Harris.  Yet another strong element was the dazzling jolt of prints, textures and colours, be it ruching that resembled stripes, or whimsical prints that ranged from playing cards and fruits, to soup cans and cannelloni.
TORY BURCH
Working on the spring/summer collection allowed Tory Burch to walk in the footsteps of one of her heroes: The American designer and her team were granted access to the library of David Hicks. The late interior designer's flair for decorating has informed the ways Burch has utilised prints at her namesake brand. The influence resurfaced in an exuberant showing that was filled to the brim with colourful stripes and graphic prints inspired by those Hicks used for wallpapers and upholstery fabrics.
POLO RALPH LAUREN 
Celebrated designer Ralph Lauren is known for continuously updating the brand's Americana heritage with a contemporary-yet-timeless twist. Polo Ralph Lauren, the off-shoot of the designer's more high-end runway line, continues that ethos. The 78-year-old designer returned to familiar grounds this season, with fresh interpretations of heritage tees, handcrafted sweaters and washed leather bombers that played up the masculine-feminine dichotomy. He also appealed to our sense of adventure with summer essentials such as a white nautical jacket, preppy sweaters, smartly tailored linen shirts and trousers perfect for that long-awaited getaway. 
MONCLER GAMME ROUGE
The announcement that Moncler will end its partnership with Giambattista Valli on the Gamme Rouge line (the curtains will also come down on the Thom Browne-helmed Gamme Bleu) came a month after its spring staging. In retrospect, was Valli's last collection prophetic of the changes that are in store for the brand, considering how it felt like he was saving his last dance for this season? Regardless, he explained during post-show interviews that he was taken by a group of "hiplet" dancers who fused ballet with hip-hop moves and decided to dedicate a collection to the dance form. Ribbed sweaters, puffer jackets, lace blouses, and tulle dresses and skirts were the perfect companions for the off-duty dancer making her stage exit.
SALVATORE FERRAGAMO 
The delicate shine of silk; the sensuality of gauze; the tenderness of floral and fauna prints... These floated down Salvatore Ferragamo's runway in a spectacle that highlighted a woman's strengths. "No two women are the same. I wanted to celebrate women's individuality and style, vivid colours— ever evolving femininity," explained Fulvio Rigoni of his last collection for Salvatore Ferragamo. The Design Director of the brand's womenswear universe leafed through each decade of fashion, which resulted in a medley of pencil skirts from the '20s and bohemian jumpsuits from the '70s. 
VALENTINO
Pierpaolo Piccioli is truly making strides as a solo designer at Valentino— post-split from Maria Grazia Chiuri, he has been steadily churning out critically-acclaimed collections that have brought fashion fantasies to whole new levels. This season, Piccioli delivered on all counts again. His pieces were functional yet exuded an air of magnificence: A dreamy procession of silk dresses in sporty silhouettes, utilitarian pants and jackets reinterpreted in PVC were new propositions for the brand. A high- collared, monastic dress in lilac was unbuttoned to reveal shorts underneath. A Valentino show is never complete without eveningwear— the latter part of the presentation had models sweeping down the runway in exquisite A-line gowns bedecked with sequinned flowers. It was fashion that stirred hearts and provided an escape from the mundane.   
BALENCIAGA
In the two years Demna Gvasalia has been at the helm of Balenciaga, he has positioned the brand as the barometer of changing tastes and attitudes. Gvasalia's keen sense of observation, coupled with his time at Maison Martin Margiela, has resulted in a street-focused aesthetic that turns the ordinary into the extraordinary. After referencing the Balenciaga archives for past collections, Gvasalia focused on his own strengths for spring/summer 2018, appropriating everyday objects into covetable accessories—a parka fused into a denim vest; tri-coloured pants were inspired by modular tracksuits; Crocs came sky-high with platforms, while patent heels turned punk with aggressive spikes. Nothing was off-limits for Gvasalia. 
MOSCHINO BY JEREMY SCOTT
Jeremy Scott should know a thing or two about transformation. After all, since his arrival at Moschino, he has turned it into a red-hot brand chock-full of fun fashion. Metamorphosis, as it transpired, was on his mind for spring. "This is a collection about how far you can go, and how high you can leap. It's about metamorphosis and beauty and feminine archetypes all set within the codes of Moschino. It's a dance through the music of fashion," he explained. As is expected of Scott, he went crazy with the theme. The kitschy Moschino spirit was expressed in wildly different ways, from the Black Swan-inspired biker- ballerina gear to the closing section of evening looks that blossomed like giant bouquets of flowers. 
MARC JACOBS
"We started out from last season, and thought: Let's put the effort into making clothes. Let's show in the Park Avenue Armory like we did before. No set, no fancy lights, no music... but let's turn the girls out in joyous, oversized, reimagined, exaggerated prints and colour," Marc Jacobs explained in a statement. To the sound of just their footsteps, models whose heads were wrapped in colourful turbans filed past in a single procession wearing giant sweaters, oversized cardigans, cocoon-like parka jackets and flashy dresses that amplified the joie de vivre spirit to maximum effect. 
FENDI
Trust Karl Lagerfeld and Silvia Venturini Fendi to pull off a collection centred on themes as disparate as "tropical travel" and Italian Futurism—an art movement that took hold in the early 20th century. This clash brought about a well-thought-out myriad of colourful stripes that ran in every direction, and checkerboard patterns that decorated womanly dresses, coats and socks with aplomb. Broderie anglaise, which surfaced as a fern leaf detail on the ends of an off-shoulder dress, and summery florals that blossomed on sheer blouses, diaphanous skirts and a mink dress, brought the mind on an invigorating trip to a far-flung resort.
GIVENCHY
The highly anticipated debut collection of Clare Waight Keller saw her return to the roots of the House through an intimate study of founder Hubert de Givenchy's works. Titled "Transformation Seduction", Waight Keller's designs were a complete about-turn from the Gothic and Catholicism- infused vibe her predecessor, Riccardo Tisci, had established for Givenchy. Instead, she chose to refocus on the strength of the brand—tailoring, which she finessed into powerful shoulders and sharp lines, with the primary silhouette one that fans out at the top and then tapers inwards to the waist. 
TOD'S
What comes to mind when you think of an Italian summer? Leisurely afternoons basking in the warm glow of the European sun? Or, an elegant nonchalance that has made the Italian lifestyle a very attractive concept? Tod's channelled the latter this season, crafting a modern leisure wardrobe for the jet-setting woman. Models strutted down the catwalk in calming tones of beige, white and yellow, while a focus on materials such as suede and leather (a pyjamas set in paper-thin calfskin was a standout), solidified the reputable standing of Tod's as a House of exceptional know-how. Its craftsmanship shone through in its accessories selection, too. Boxy bags in exotic skins, plus the reinvention of the brand's iconic moccasin in various iterations, will no doubt be a hit among style-savvy women.
LONGCHAMP
For Longchamp's spring collection, Creative Director Sophie Delafontaine wrote a tale of a free-spirited Parisian gallery owner travelling the world to fulfil her passion for tribal art forms. Naturally, the items were designed to play up the spirit of travel and exploration. Bold prints in shades of terracotta, crimson and teal proved alluring, as did flowy dresses dotted in Swiss tulle. Fringed leather skirts, safari jackets constructed in suede or cotton gabardine reiterated the tribal front.
VERSACE
To mark the 20th anniversary of Gianni Versace's premature demise, Donatella Versace pulled together a touching tribute that celebrated his life's works and creativity. She lifted prints from some of his most iconic collections from the '90s—elaborate Baroque patterns, primal animal motifs and colourful Warhol drawings, to name a few—and rendered them liberally on dresses, billowing skirts and sexy pantsuits. The re-emergence of the beloved graphics not only served as a reminder of Versace's transgenerational appeal, they also proved that two decades on, the brand remains just as glamorous, powerful and sexy—just as Gianni would have intended it. 
BALLY
Put together by a team known as the "Bally Collective", the brand's newest collection continues the retro and quirky tone proposed by former Creative Director Pablo Coppola. Besides a selection of bags and collegiate sneakers that should appeal to fans, most interesting was how the brand's logo has been converted into a monogram, signalling an embrace of logomania. Meanwhile, a teddy fur coat looked befitting of a Swiss luxury brand whose mountaineering ambitions have since been converted into a multi-million fashion business.
COACH 1941
Stuart Vevers' tenure at Coach 1941 has seen the revival of an all-American spirit at the brand. For spring, Vevers conjured a showing that he described as "a downtown, undone take on dressing up"—replete with a glitter-covered set resembling a New York alleyway, no less. The collection showed both the glitzy and gritty sides of the Big Apple: Delicate prairie dresses were jazzed up with sequins, while leather biker jackets were crafted to look well-worn. Meanwhile, Keith Haring's illustrations lent their presence to the collection as graphic prints, squiggles and quirky patches on pastel slip dresses, varsity jackets and a host of bags.
BOTTEGA VENETA
With a colour palette borrowed from the magnificent Marble Room at Kedleston Hall, Bottega Veneta's latest collection is lively, upbeat and exuberant. "It's very playful," explained Tomas Maier, Bottega Veneta's exacting Creative Director. He dipped crisp cottons, smooth silks and luxurious suedes in various shades of lilac, mint and blush, and kept silhouettes utilitarian but feminine. Maier described the clothes as "easy pieces", but the work that went into crafting them was no walk in the park. All forms of embellishments, from jewel- coloured studs to glass beads dancing on fringes, exploded across workwear-style jackets, flirty skirts, and coats bursting with the optimism of spring. 
LOUIS VUITTON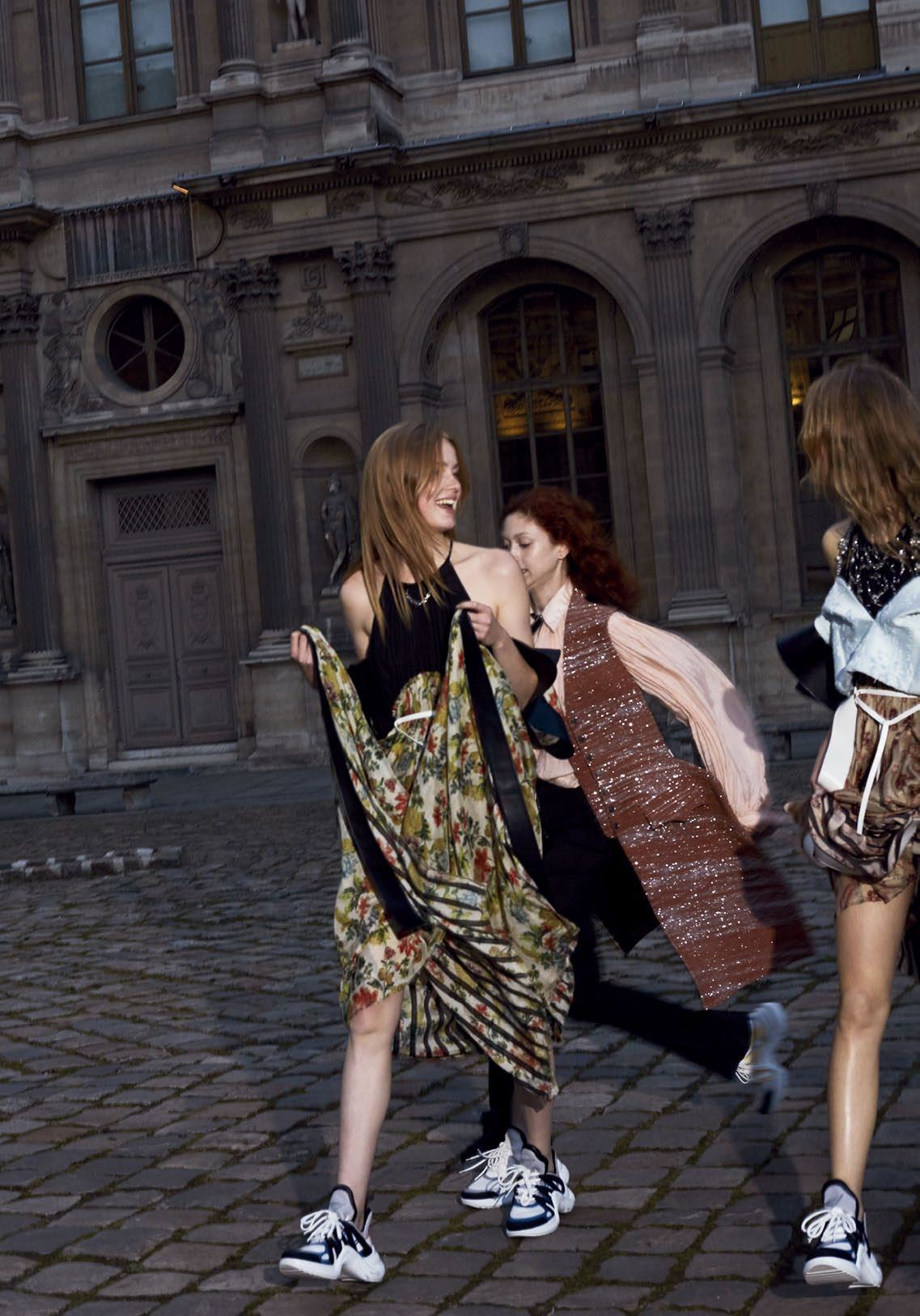 Nicolas Ghesquière's knack for redefining wardrobe codes is what makes his tenure at Louis Vuitton especially illuminating. That, coupled with the ability to weave in Louis Vuitton's travel heritage into the mix, has earned him a new legion of fans. Ghesquière was particularly inspired during a visit to New York's Met Museum, where the 18th-century French aristocratic garments on display set him on a quest to translate the "notion of a perennial style" for the Maison. Inside the Louvre's Pavillon de l'Horloge, he made a compelling case by convincingly contrasting the regal air of brocade frock coats and vests with frilly blouses, sporty shorts or leather trousers; each ensemble transported to the future on the soles of equally innovative-looking sneakers. 
ADDITIONAL REPORTING BY KIMBERLY ONG.
PHOTOGRAPHY: COURTESY OF THE BRANDS; SHOWBIT; TPGVIP/CLICK PHOTOS; MORGAN O'DONOVAN FOR DIOR