As you gear up for an active, sporty life, fitness writer Estelle Low highlights the hot trends to look out for.
As you gear up for an active, sporty life, fitness writer Estelle Low highlights the hot trends to look out for. 
If there's anything we can be 100 percent sure about, it's that the #fitlife is trending. Being fit is a growing priority in Singapore, and almost everywhere else in the world.
Maybe it's got to do with social media. Or the rising number of fitness trainers. Or the ever-evolving gyms and newfangled fitness concepts. Whatever those reasons, we're not complaining. The more people get off their butts and work their bodies, the more we stand to gain in this era of chronic diseases.
Looking at the tenacity of fitness converts, we can safely say that this #fitlife is not a fad, but a revolution. And there are many ways to be a part of it. For a start, check out the top 10 trends for the year.
1. HIIT 
High-intensity interval training (HIIT), which involves alternating short bursts of high-intensity exercise with short periods of recovery, is not new. But it is becoming a huge hit with many, from time-strapped office workers to fat loss-driven people. A global survey by the American College of Sports Medicine scored HIIT as the top fitness trend for 2018. 
Once an exercise of the elite, it has gone mainstream, thanks to the widespread availability of classes, and popular fitness Instagrammers like Kayla Itsines and Tanya Poppett, who prove that you can get a hardcore, equipment-free workout anywhere. 
The biggest allure of HIIT is its efficiency. Most workouts are done in 30 minutes, and leave you feeling like you just conquered a mountain – fatigued, panting and sore in all the right places! Then there's the afterburn, where your metabolism spikes for up to 36 hours post-workout and you burn more calories doing nothing. Awesome, isn't it? 
If you're new to HIIT, let your trainer know your fitness background and about any pre- existing health conditions or recent injuries. Exercises usually involve jumping and running, which put weight on your joints. 
2. GROUP EXERCISE CLASSES
Group training ranks second on the American College of Sports Medicine's survey of fitness trends, moving a few spots up from sixth place in 2017, and it's easy to see why. 
As group fitness classes typically involve more than five students, they are much less intimidating for newbies than say, personal training, where there's one-on-one attention from the instructor. Exercising in a group also provides extra motivation: when you see someone else pushing her limit, you're likely to do the same.
This explains why CrossFit and boot camps are so popular. Working out with like-minded people adds friendly competition, and makes you more committed. We're currently in love with F45 Training, a group-based functional training technique that emphasises motivation, innovation and results, and is done in 45 minutes. There are 10 F45 Training studios islandwide. Positive vibes, positive mind!
3. FITNESS SMARTWATCHES
Before activity-tracking gadgets came about, people exercised with watches that had stopwatch functions. Then came GPS watches to track routes, distance and speed. Now, fitness smartwatches rule the market.
Those like the Samsung Gear Sport Smartwatch, Apple Watch 3, and Fitbit Ionic Smartwatch are equipped with a suite of functions that track what you want to know about your workout, including duration, heart rate, calories burned, speed, distance and route. They also boast features like automatic activity detection, step, swim, and sleep tracking, music player, smartphone notifications and digital payment services.
With such all-rounded watches like these being snapped up like hotcakes, who needs to carry their smartphone and wallet to a workout? Only time will tell if smartwatches will last beyond the hype. 
4. BODYWEIGHT TRAINING
Mention this and many might think of just push-ups and pull-ups. Essentially, any exercise that involves your body weight is part of bodyweight training. This includes squats, lunges, burpees and mountain climbers.
These no-equipment workouts are in demand because they can be done anywhere, and require little space. They are also really basic in terms of movement, which makes them easy to follow, and yield good results because they target the big muscles.
Muscles help you burn calories, so when you work major ones, like the core, quads and glutes, you'll increase your overall calorie burn.
Bodyweight training is commonly incorporated in HIIT, yoga, CrossFit and calisthenics. For a taste of it, head to http://bit.ly/shape-bodyweight-exercises.
5. HEART RATE MONITORING
Such monitors used to be for athletes who needed to track their heart rate during and after training. But not anymore. With the advancement of wearable technology that offers heart rate tracking, anyone can – wittingly or unwittingly – get their hands on a heart rate monitoring device.
Here's why you should care about heart rate monitoring: It's one of the most effective ways to determine your aerobic fitness, gauge your heart health, and tell you how hard you're exercising. So the next time your spinning instructor asks you to go faster and harder, you can see if you are near breaking point (close to 100 per cent of your maximum heart rate) or if you still have some way to go. To find out if your cardio fitness is improving, see how long your heart rate takes to recover from a hard workout. The quicker it is, the stronger your heart.
Increasingly, gyms are offering classes that track your heart rate throughout the workout. The idea is to keep you in the moderate-to high-intensity zones, so you build strength, speed and power, and most importantly, create excess post-exercise oxygen consumption that raises your calorie burn for up to 36 hours after the session. The Endurofit class at TripleFit and Orange 60 class at Orangetheory Fitness are good examples of heart rate-based training.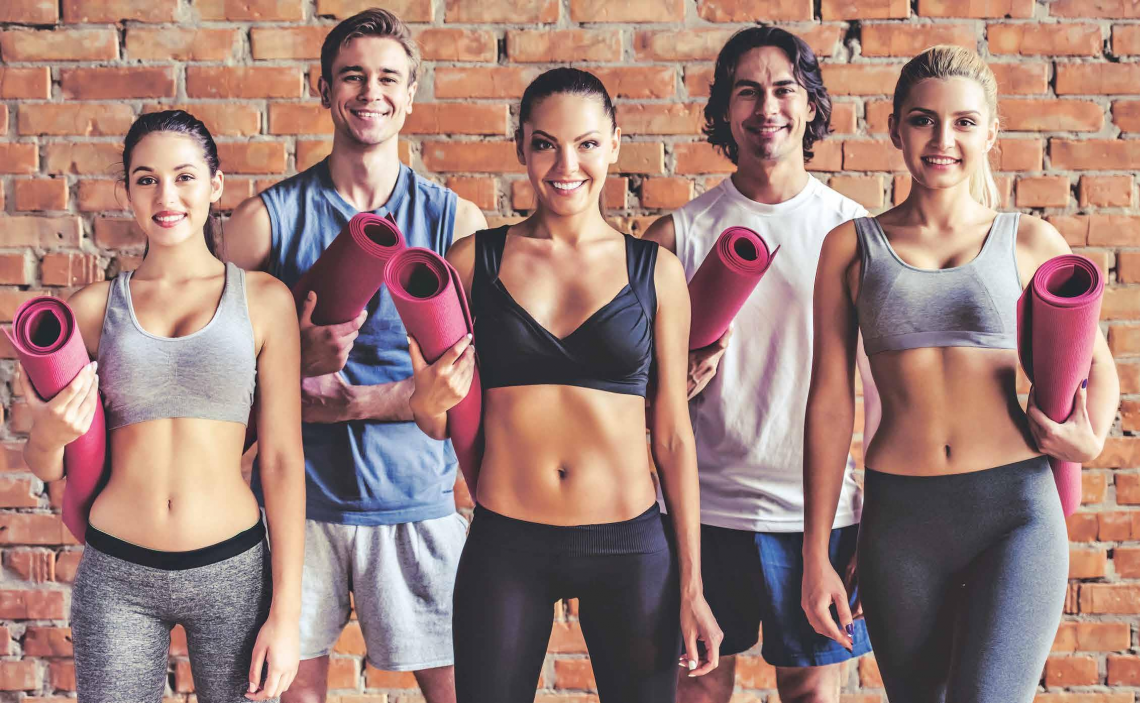 6. YOGA
Even if you haven't done yoga, you may know someone who's doing it. And super passionately. She probably swears by how yoga keeps her so calm, grounded and focused that she can't imagine living without it. 
Fair enough. Yoga is indeed one of those multifaceted activities that stands out from other workout forms. It exercises not just the body, but also the mind. Meditation and breathing exercises are commonly introduced in yoga, with the purpose of slowing down one's thoughts (and heart rate), while promoting mindfulness and gratitude. 
For something that was founded in India for religious reasons more than 5,000 years ago, yoga has evolved so much. It's mind-blowing how this age-old practice gets reinvented year after year: Hatha yoga, power yoga, Iyengar yoga, yin yoga, yogalates (yoga and pilates), yogasthenics (yoga and calisthenics)… the list of variations goes on. 
With so many versions catering to different needs, yoga is definitely here to stay. Women – and even men – are embracing it as a first choice of exercise. And with the constant introduction of new styles like Broga (yoga for men) and HIIT Yoga, it will become even more sought after. 
7. STRETCHING
Finally, exercisers are starting to see the importance of flexibility and mobility training. What used to be an afterthought is now gaining traction among fitness devotees. Stretching is no longer an extra, but an essential part of a workout. 
Done regularly, stretching improves posture and alignment, so you'll walk taller. It also increases your range of motion so you can perform better in sports. When nimble and bendy, you can do so much more. Think of stretching as an investment for your future fitness pursuits. 
Some gyms have taken a step further by rolling out stretch-specific classes that focus on lengthening tight muscles and stretching deep tissues. Our favourites include Stretchfit at Amore Fitness, Stretch at Yoga+, and Stretch & Technique at WeBarre, which incorporates floor barre moves, too.
8. COMMUNITY WORKOUTS
Sports brands are starting to organise fitness events to refresh their image, gain exposure and attract potential customers. They usually come with incentives like complimentary gear and discount vouchers.
To the public, they are excellent ways to try out new forms of exercise without the pressure of commitment. (No pesky salesperson trying to sell you stuff!) They are also great opportunities to rope in workout buddies and spend an action-packed evening together.
To stay updated, follow your favourite fitness brands on social media. These happenings are usually publicised on Facebook and/or Instagram. In the last year, we've seen Asics, Triumph, The North Face, Under Armour and Victoria's Secret organise such workout events, ranging from boot camps to functional training, trampolining, yoga and HIIT.
9. CORE TRAINING
Of all the muscles you fire up during a workout, nothing is activated quite as much as the core. Your core refers to the muscles around your trunk and pelvis – the abs, chest, back and down to the pelvic floor.
Without strength in those areas, your stability will be affected. That's why trainers always remind us to engage the core when doing exercises. Doing so also puts us in the proper posture and protects the lower back, especially when jumping and lifting weights.
In pursuit of fitness goals, like mastering a handstand or a full push-up, people are realising the significance of a strong core. When you activate your core, strength training moves will feel a lot easier.
The Core 360 and calisthenics classes at TripleFit are all about training your deepest core muscles (and letting those sexy ab lines show). Another way to build core strength is to do stability workouts like Surfset Core at Surfset Singapore, Bosu Blast at Pure Fitness and our latest craze: FloatFit HIIT and FloatFit Yoga that are done on a float in a pool. FloatFit workouts are currently available at ParkRoyal on Beach Road. (Read more about FloatFit HIIT in this issue's Shape Your Life section.)
10. ACTIVEWEAR
The activewear market has boomed over the last few years, thanks to the surge in fitness trends. Fancy yoga pants, spinning capris, high-support sports bras, pretty tank tops… you can find them all in a click.
The designs are aplenty, and fit so comfily, that many are donning activewear for leisure activities, like shopping and cafe-hopping, as well. Hence the term "athleisure".
Based on the roaring sales and frequent product launches, this trend is not about to end. In fact, brands are working tirelessly to update their fit, form and fabric technology, so they can keep churning out sleeker clothes and shoes.
It's becoming so competitive that even Nike has launched nine different workout pants for nine specific sports. Whoa!