The DFS Masters of Wines and Spirits event is back for its eighth edition.
Obtaining the very finest things in life often requires a little legwork, but for over half a century the DFS Group has taken it upon itself to bring the world's most precious liquids easily available to discerning travellers everywhere. The culmination of those efforts is presented every year at the DFS Masters of Wines and Spirits event.
As the leader in global travel retail, DFS has the ability to bring together leading wine, spirits and champagne brands to offer customers exclusive access to one of-a-kind products. Thanks to the group's close ties to the brands and merchants who have spent a year travelling the globe to source these gems, DFS's selection is peerless, demonstrated once again in eighth edition of one of the most celebrated and prestigious events in the industry.
Masters of Wines and Spirits 2019 was held on March 23 and 24 at Infinite Studios, and it was a celebration of the theme of "Masters at Work", where homage was paid to luminaries whose commitment and knowledge have raised the bar in their respective industries.
Guests were taken through an immersive and interactive journey that explored what the various categories of wines and spirits had to offer, including classes by the four masters: Diageo's Ewan Gunn as Master of Whisky, The Macallan's Sarah Burgess as Master of Malt, Fabrice Papin of Chateau Lafite Rothschild as Master of Wine, and Hidetsugu Ueno of Ginza's Bar High Five as Master of Cocktail.
The 140 products showcased at the event are now available at DFS Changi Duplex Stores in departure terminals 2 and 3, with selected items also available on iShopChangi.com – but here's a guide of what to look out for.
For information on more DFS Masters of Wines and Spirits products other than those highlighted on these pages, visit www.ishopchangi.com/mows2019.
A. IN THE SPOTLIGHT
When it comes to elevating whisky enjoyment, don't underestimate the power of exclusivity. These are editions that will raise your Scotch collection to a new level.
A01 THE MACALLAN FINE & RARE DECADES COLLECTION
 A special collection by The Macallan exclusively for DFS that comprises five vintages: the 1938, 1947, 1954, 1965 and 1976. Bundled as a showcase of liquid history, The Macallan Fine & Rare Decades Collection takes you on a sensorial journey, from the soft and inviting peat and citrus-driven 1938 to the harmony of toffee apples, dates and vanilla in the 1976. But move quickly, as only two sets have been produced.
A02 THE MACALLAN 72 YEARS OLD IN LALIQUE — THE GENESIS DECANTER
The Macallan 72 Years Old in Lalique - The Genesis Decanter is the oldest Macallan ever released and was launched to celebrate the opening of its new distillery. Distilled in the 1940s and housed in a crystal decanter made by renowned French glassmaker Lalique, the spirit has a balanced character of sweet oak and peat that's lifted at the end by hints of fruit. Only 600 decanters are available, and the purchase comes with a VIP experience that includes a two-way airport transfer, a guided tour of The Macallan Estate and distillery, a private tasting, a whisky pairing dinner and a night's stay at the brand's charming Easter Elchies House.
B. SINGING IN THE GRAIN
Just like wine, the diversity of whisky is truly remarkable, and discovering lovingly crafted gems from around the world is an unparalleled indulgence for the astute connoisseur.
B01 KARUIZAWA SINGLE CASK 1995
The Karuizawa Single Cask 1995 is possibly the last ever cask from Karuizawa to be bottled in Japan and was distilled in 1995, just a few years before the distillery closed. It spent 23 years in red wine casks before being bottled at cask strength in 2018, bringing with it a unique richness and complexity, and a dark amber tone.
B02 PORT ELLEN 39 YEAR OLD
Islay's Port Ellen distillery may be closed now, but its imminent revival by Diageo will make its original stock all the more precious. The 39 Year Old, dubbed The Spirit Safe, is married from a selection of ex-bourbon and ex- sherry casks and is the oldest Port Ellen ever to be released to the public. The Spirit Safe marks the start of a new collectible series, Port Ellen: Untold Stories, and only 1,500 bottles are available worldwide.
B03 THE GIRVAN PATENT STILL 28 YEAR OLD
William Grant & Sons is ensuring that single grain whiskies are not being outshone by their malty cousins. The original Girvan Patent Still was built by William Grant's great-grandson, Charles Gordon, in 1963 and dubbed the "No. 1 Apps" — referring to the distillery term for apparatus. Four more stills followed in the next 50 years, producing excellent single grain whiskies such as the Girvan Patent Still 28 Year Old. The pure and fruity base spirit was matured in first fill American white oak to give it a light gold colour with accompanying aromas of vanilla, oak and spice. The texture is smooth, rich and creamy, with a lasting sweet finish.
C. RARE GEMS
There are people in the know, and there are people who want everyone to know. The folks who fall in the latter category want their containers to be as outstanding as the liquids they hold, because an appreciation of craftsmanship begins with the vessel.
C01 WULIANGYE FENGTAN JIU
No spirit demands conviviality and community more than baijiu. As people gather to share the impressively strong Wuliangye Fengtan Jiu, they can also admire its bottle, made from porcelain reserved for use in state ceremonies. The luxurious packaging uses kaolin clay from New Zealand, bone china from England, glaze from Japan, pigments and gold paste from Germany and plaster from Taiwan, to name a few resources. The lightweight bottle is also acid- and alkaliresistant and free of lead and cadmium, allowing for better ageing over long periods of time.
C02 RARE LE SECRET MAGNUM VINTAGE 1997 WITH EMERALD/ RUBY/SAPPHIRE
Need something shiny to catch your museum lighting? Consider the Rare Le Secret Fine Jewelry Editions. The limited edition series has been embellished by jewels from Mellario, the oldest family-run company in France and possibly the oldest jeweller in the world, and each magnum features a 1-carat precious stone — a sapphire, ruby or emerald — interwoven with white and yellow gold ribbons set with 510 diamonds. The Rare Le Secret gets its name from the 1997 vintage, which was forgotten and left to age for 20 years before the opportunity for this extravagant bottling arose.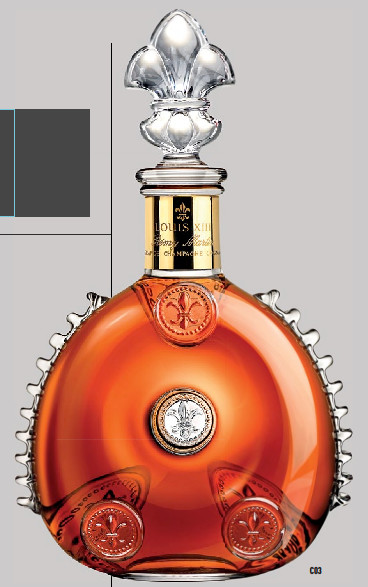 C03 REMY LOUIS XIII LE MATHUSALEM
Remy Martin knows that the Louis XIII name is enough to evoke envy (and thirst), but now it has the size to match its reputation. The Louis XIII Le Mathusalem is the first cognac of mathusalem size (6L) to be produced in crystal. That crystal is made by none other than La Maison Baccarat, and each hand-blown decanter requires over 20 master craftsmen to produce. Only 50 decanters are available a year, each of them individually numbered. Good things ought to be shared, so each Louis XIII Le Mathusalem comes in a display chest containing eight crystal glasses, a serving platter, a pouring pipette and an invitation to a private tour in Cognac for four.
D. INNOVATION NATION
Whisky's reign over the spirits category is far from over, and fresh ideas from the industry's esteemed distilleries are going to keep it that way for the foreseeable future.
D01 GLENMORANGIE RARE CASK 14 YO
Glenmorangie ages spirits in various casks — from port to sherry butts — to boost their flavour just before bottling. Occasionally, a single cask is so exceptional it demands a release of its own. Such was the case with the Rare Cask 14 Year Old. First distilled in 2004, it was aged for a decade in American white oak ex-bourbon casks to obtain the distillery's signature notes of orange, peach and vanilla. It was then moved into oloroso sherry casks to develop notes of cocoa, treacle toffee and spice, resulting in a whisky with a long finish, integrated complexity and great depth.
D02 HIGHLAND PARK EXCLUSIVE SINGLE CASK 15 YO
Wanting to give whisky lovers a chance to discover the unique characteristics that can stem from a single cask, Cask 3822 was bottled exclusively for DFS Masters of Wines and Spirits 2019 to create the Exclusive Single Cask 15 YO. Only 576 bottles of this sherry-seasoned whisky are available, and recommended for those who like their spirits with lingering flavours of vanilla, buttery popcorn and pineapple.
D03 COMPASS BOX LIMITED EDITION TOBIAS & THE ANGEL
Independent bottler Compass Box has managed to get its hands on whiskies from the Clynelish and Caol Ila Distilleries and, discovering how well these single malts complement one another, blended them all together to create the Tobias & the Angel. The youngest whiskies in the blend are 24 years old and bottled at 47.6 per cent ABV, so be prepared for power and complexity. The label is a re-creation of the famous painting of the same name by Renaissance artist Andrea del Verrochio.
E. A VINE PAIR
A good  wine is capable of elevating everything it touches, from food to company. Here are two outstanding examples to savour.
E01 CHATEAU PICHON BARON 1988
No cellar is complete without a stellar Bordeaux and Chateau Pichon Baron has a reputation for producing some of Bordeaux's best "super seconds" (second growths that can rival the quality of their first growth peers). Its Grand Vin captures the nuances of the vineyards' unique terroir, and the Chateau Pichon Baron 1988 is a vintage not to be missed. Rated 90 points by Robert Parker, the deep red 1988 rolls out layers of blackcurrant and spice aromas, with gentle tannins and density on the finish.
E02 LUX VITIS 2015
There are countless other gems to be discovered from the Old World, and the Tenuta Luce Lux Vitis 2015 is one that showcases Tuscany's winemaking prowess. The Lux Vitis expression is produced in a very limited quantity from a single vineyard and made predominantly with the winery's prized cabernet sauvignon. A small amount of sangiovese was added to enrich the wine's character, which was then further enhanced by by ageing in French oak barrels for two years.