The Weekly's annual Great Women Of Our Time Awards aims to inspire the next generation, fuel entrepreneurial passion and galvanise women to be a force for change.
The Weekly's annual Great Women Of Our Time Awards aims to inspire the next generation, fuel entrepreneurial passion and galvanise women to be a force for change. In this 2018 edition, our roster of barrier breakers features 18 women from various sectors, from public service to business owners, who have achieved their success through strength, smarts, hard work and determination. Here are the nominees from the Arts & Media, Finance & Commerce, and Public Service & Education categories BY NATALYA MOLOK & CANDY LIM-SOLIANO
See The Glow In 7 Days
Iconic to Lancôme, the Advanced Génifique Youth Activating Serum helps you love the skin you're in. With daily use, cutting-edge probiotic ingredients strengthen the skin base for more radiant and hydrated skin, and a reduction in fine lines. Age is just a number; with the help of this serum, see the results in just seven days – you'll feel happier and more confident in your own skin.
Silver Streak
The Enchanted Nature series from PANDORA features exquisite details that include playful tassels, romantic swirls and shiny cubic zirconia.
ENCHANTED TASSELS EARRINGS, CHARM BRACELETS AND RINGS; AND HEART SWIRLS CHOKER, ALL FROM PANDORA. DRESS FROM COVETELLA.
Charlotte Lim, 35
Co-Founder, JobTech
Helping you find the best job match fast – that's what Charlotte aims to do with JobTech, a company she started last year with business partner Ang Wee Tiong. She shares, "Unemployment is something I've always been passionate about since my first job at the Economic Development Bank. I remember in 2016, Singapore was hit by record unemployment rates and Artificial Intelligence was beginning to make waves in workforce disruption. So when I met Wee Tiong, we talked about how to use this technology to help people find jobs amidst the gloom."
JobTech is an artificial intelligence and big data analytics company providing optimised job matching tools and real-time labour market intelligence. All job hunters have to do is upload their resume on the JobTech website at no cost and the technology will reveal the day's top five job openings that best match the individual's skills. "Every day we process 1.2 million global job postings to build a dynamic skills map that shortlists the ideal candidates for employers," says Charlotte. "From there, our cloudbased platforms help companies and employers connect in a manner that is much faster and cheaper than the traditional recruiting tools."
Charlotte has plans to launch the platform in Malaysia and Indonesia, further elevating the start-up's profile.
JEWELLERY FROM PANDORA. AIJEK CAPE FROM TANGS AT TANGS PLAZA; T BY ALEXANDER WANG TOP FROM THE OUTNET; AND PANTS FROM ZARA.
Judith Knight, 44
Founder, Wings Therapy & Learning Centre
When Judith's middle child Jake was diagnosed with quadriplegia cerebral palsy, epilepsy, global developmental delay and congenital cataracts, her world came crashing down. But the determined mother-of-three also knew she needed to look for solutions if she wanted to give her son a chance in this world.
"We had amazing support from the doctors here," she shares, "but there were some unique solutions that weren't yet available." Judith plunged headlong into research and travelled the world with Jake, in search of quality therapies. She finally found a form of suit therapy that worked for him, and started hosting therapy sessions whenever she invited teams from Canada and the US.
But Judith knew she needed a permanent solution. "Travelling abroad can be really tough, especially with young kids. For many families, there comes a time when it's not financially viable." Judith set up Wings early this year in the hopes of making previously inaccessible therapies available to families here. She highlights, "My experiences in intensive therapy centres overseas were supportive and happy, and that's why Wings is built like a home! We can make changes to many lives, and I hope that this centre helps to build a more socially inclusive community."
JEWELLERY FROM PANDORA. JACKET AND PANTS FROM MANGO; AND CAMISOLE FROM TOPSHOP.
Major Sylvia Koh, 37
Unmanned Aerial Vehicle (UAV) Pilot, Republic of Singapore Air Force (RSAF)
Maj Koh made history in Singapore's military aviation as the RSAF's first female UAV pilot in 2003. "The learning curve was steep during my time as a cadet, but I did not give up." Determined to graduate as a qualified UAV pilot, she would often spend all her available time studying and practising (mental flying) during the weekends. She states confidently, "I want to inspire other women. We can play our part in defending our nation."
As the UAV Chief Instructor in Air Force Training Command, she now trains selected officer cadets to become UAV pilots. "I want to see my trainees successfully graduate and start contributing to our nation." Maj Koh also regularly hones her skills as an operational UAV pilot by flying the Heron 1 UAV. She explains, "The Heron 1 is integral in the SAF's network of sensors and fighting systems. It can be deployed with fighters and attack helicopters, and against terrorist threats as it's able to cover a wide area of surveillance."
Maj Koh, who has participated in several overseas exercises, emphasises flying a UAV is nothing like playing a video game. "We have real missions to perform, such as counter-terrorism and area surveillance." she explains.
Brighten & Re-Energise Your Eyes
The Lancôme Advanced Génifique Yeux Light-Pearl harnesses the power of the original patented Advanced Génifique formula to brighten the delicate eye area. The unique applicator lets you massage the eye area with just the right amount of pressure. Skin looks firmer and lifted, and you'll look more refreshed and less tired.
JEWELLERY FROM PANDORA. JUMPSUIT FROM COVETELLA.
Christine Lim, 45
Managing Director, San SeSan Global
Like snacking? Then you've surely heard of San SeSan Global. It's the company responsible for stocking up our supermarket shelves with some of the most binge-worthy nibbles. And Christine is the woman behind this global food marketer and importer.
"My partners and I acquired the business in 2003 for $30,000. I leapt at the chance even though I had no entrepreneurial experience because I've always been inspired by stories of business owners who strike out on their own to create something from nothing," reveals Christine. But she soon found herself pursuing her dream alone. Unable to handle the capital-intensive initial years of the business, and the mounting losses, her partners wanted out.
But the eternally optimistic Christine refused to quit. "I simply decided that San SeSan had to succeed, so I bit the bullet and pushed through, and even though I kept falling down, I was always hungry to do better," she says.
Christine's persistence paid off. San SeSan Global has had a turnover of $12 million annually since 2016. It now has 100 per cent coverage in all supermarkets, hypermarkets and convenience stores in Singapore. And she has plans to expand its global presence from 19 to 30 countries within the next three years.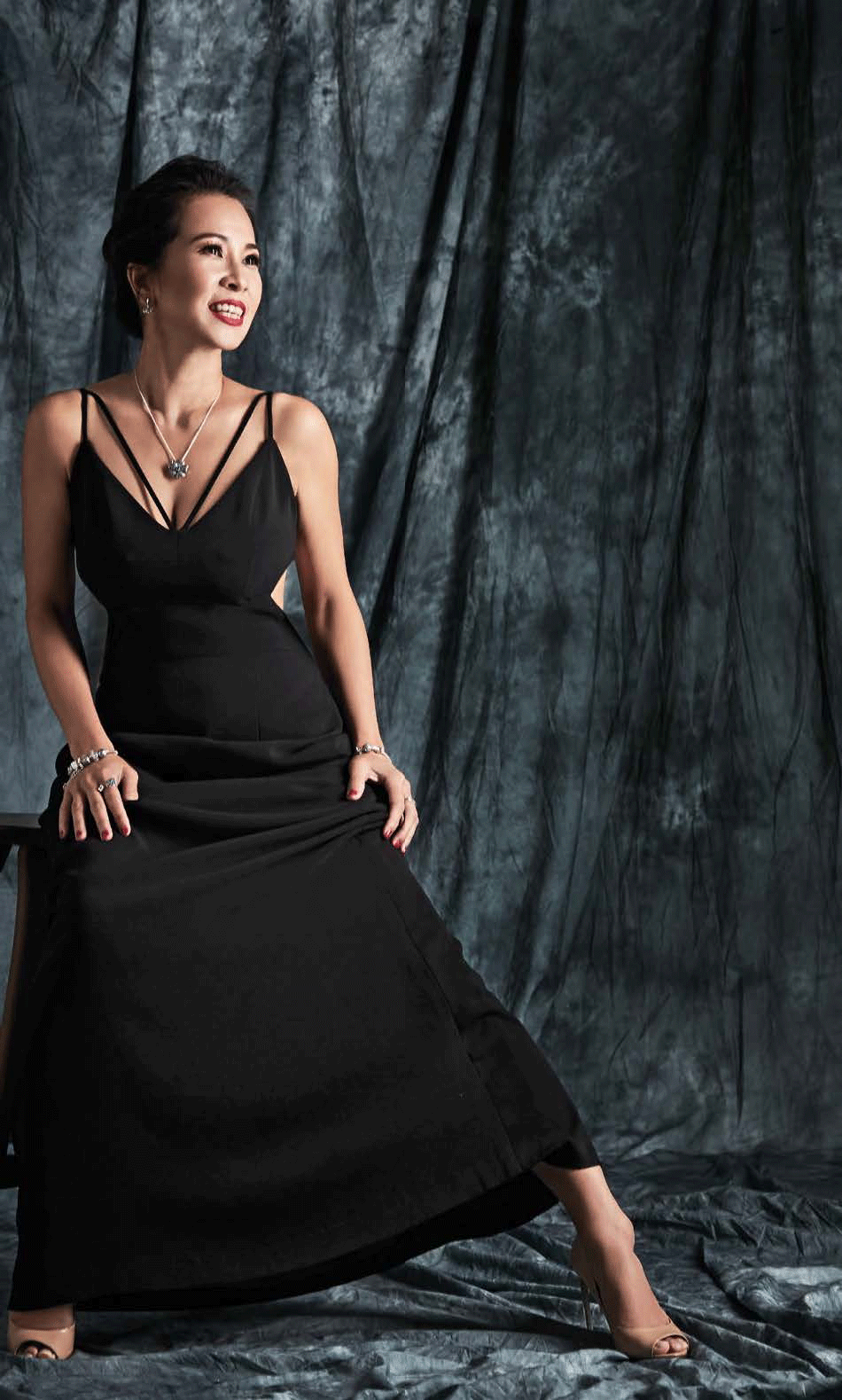 JEWELLERY FROM PANDORA. DRESS FROM COVETELLA.
Karen Tok, 46
Founder & Advisor, ScienTec Consulting
Karen took the unconventional route towards success in 2002 when she founded her company, ScienTec Consulting, a recruitment agency specialising in a relatively new sector, the life sciences industry.
A series of set backs from young, which included a delay in completing her primary school and two consecutive job retrenchments, actually set the stage. She started ScienTec Consulting with a working capital of $10,000 and the sole knowledge that the sector had been identified as one of the growth pillars by the Singapore government in early 2000.
"Life Sciences was a virtually non-existent industry in Singapore when I started out. Though we had the first mover advantage, looking back I feel we were a little too ahead of our time." The credit to its success goes to Karen's perseverence and resourcefulness.
Working 16 to 18 hours a day and often ending up sleeping in the office, the gutsy entrepreneur tweaked and refined her business model to come up with a global search methodology that would become the company's winning formula in recruiting crossborder talents. She broke even within a year, and the company was acquired at $10 million by Will Group Inc, a manpower outsourcing company. Under her leadership, the company won over 20 prestigious industry awards, including Recruitment Agency of the Year and Best Client Servicing.
It couldn't be more of a fairy-tale ending for someone who had come from a modest background: Her father was a taxi driver and mum a night shift worker. "It seems like there was just enough to feed us and pay for our school fees. I didn't have much toys compared to other kids I knew, but I was okay with it, I could always come up with something to play with," she says. "Though I understood the importance of money, I was never driven to be rich. I was, however, driven to be successful, perhaps thanks to my academic failures. I think my story's come full circle."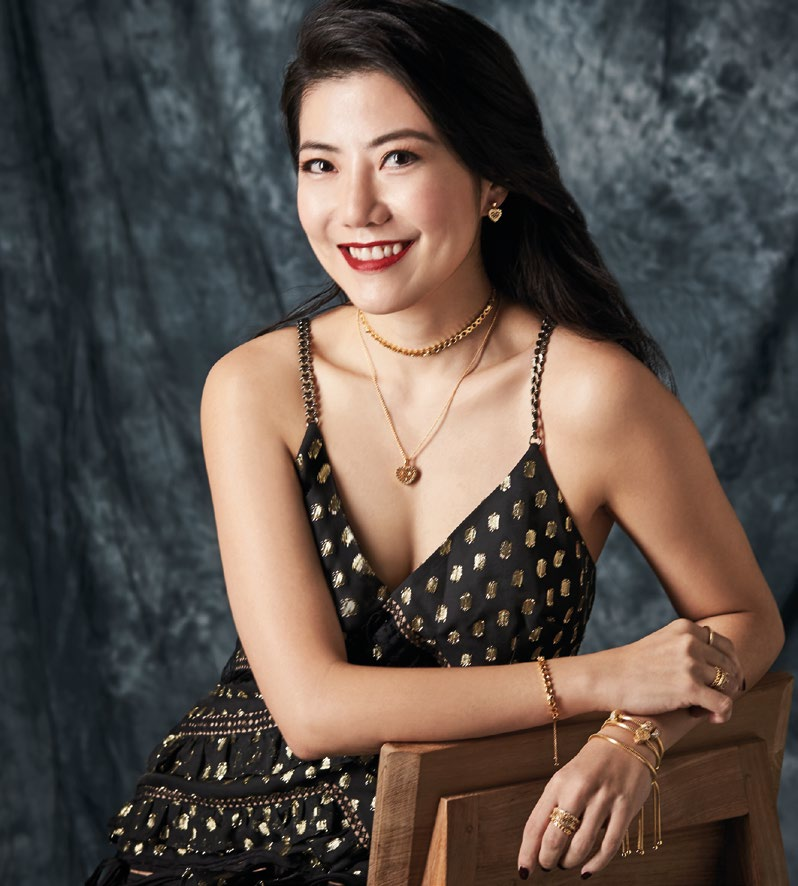 Liquid Gold
A key motif from PANDORA's SHINE collection is the honeycomb pattern, symbolising power in a wonderfully elegant way.
HONEYCOMB LACE EARRINGS, PENDANT AND RINGS; HONEYBEE CHOKER AND BRACELET; MOMENTS PANDORA BRACELET; PANDORA LOGO SAFETY CHAIN, ENCHANTED CROWN RING; AND SIGNATURE HEARTS OF PANDORA HEART RING, ALL FROM PANDORA. SELF-PORTRAIT DRESS FROM NET-A-PORTER.
Jaelle Ang, 38
CEO and Co-Founder, The Great Room Offices; Director, Country Group Development
The number of women finding success in real estate financing and property management is growing. But making a break into development eludes many. Jaelle, the director of Thai-based real estate business, Country Group Development (CGD), is looking to change that with her latest venture: An ambitious waterfront development near Bangkok's Chao Phraya River, which will include a Four Seasons Hotel, Asia's first Four Seasons Private Residences and a Capella Hotel.
"It's currently the largest scale development project in Thailand for the next decade, but like anything worth doing, there were challenges along the way," Jaelle reveals. For one, the plot of land, which she chanced upon in 2009, was messy – it had a fish market and 300 rickety houses. But Jaelle, a trained architect, saw great potential. Convincing the client (Four Seasons) of the same, however, wasn't going to be easy. "It took a lot of persistence and stubbornness on my part because I had to convince these huge brands to come in and believe in my vision."
Clearly, she succeeded in making a convincing case because the US-based luxury hotel brand signed on to be part of her long-term legacy project.
Jaelle is also the CEO and Co-Founder of The Great Room Offices, a sprawling co-working space at One George Street. It has sister properties in Bangkok and Hong Kong, and there are more in the works. Jaelle says that to achieve the vibe she was going for – that of luxe hotel lobbies around the world – she worked with hotel designers rather than office designers for the space.
Jaelle's success can be attributed largely to her go-getting life motto: "Whatever effort you think is required to achieve something, you have to multiply that by 10. So that if you reach for the stars, when you fall you won't fall too low."
An Entire Bottle Of Serum In One Mask
Ideal for busy women, the Lancôme Advanced Génifique Hydrogel Melting Mask is a great pick-me-up for rough days and long nights. A single sheet mask contains the same amount of probiotic fractions as an entire bottle of the Advanced Génifique Serum – strengthening the skin from within; giving instant radiance and hydration.
JEWELLERY FROM PANDORA. HALSTON HERITAGE DRESS FROM NET-A-PORTER.
Sunita Kaur, 40s
Vice-President, Spotify Asia Pacific
The word "mentor" usually makes us imagine someone older and more experienced than ourselves. But Sunita, during her three-year tenure at Forbes as Advertising Director, found a new definition for the term. "I was advised to seek a 'reverse mentor' specifically between the ages of 16 and 18." Recognising the need to upgrade herself and stay relevant in the digital world, Sunita took up the challenge. Having previously cut her teeth in print media at powerhouses such as Singapore Press Holdings and Time Warner, the experience brought Sunita up to speed quickly with technological and social media trends, enabling her to drive strategies which effectively amplified the company's business presence in the region.
She carried over her newfound expertise to her subsequent roles at Microsoft, Facebook and, eventually, Spotify. Since joining Spotify in 2013, when it was first launched, Sunita has seen the company grow from strength to strength. "Today, we are the world's largest music streaming platform across 65 markets with over 157 million users, including 71 million Spotify Premium subscibers," she says proudly. "Everything we do at Spotify is driven by our passion and love for music – I believe that this is the very foundation of our success."
Take A Bow
Encapsulated by the ribbon, PANDORA's Bonds Of Love range seeks to celebrate cherished relationships and the coming together of friends and loved ones.
BRILLIANT BOWS EARRINGS, BRACELET AND RING; SWIRLING DROPLETS RING AND BRACELET; GOLDEN SPARKLING STRAND BRACELET; EXPLOSION OF LOVE BRACELET AND ASSORTED RINGS, ALL FROM PANDORA. GODDIVA DRESS FROM ZALORA.
Sim Chi Yin, 40
Nobel Peace Prize Photographer
As a young girl, Chi Yin, with her mother's camera in tow, would take the bus down to Little India on Sundays and capture images of interactive street life. She realised early that writing and photography were her strengths, coupled with a need to be "a useful person in life and society".
An internship at the The Straits Times' photo desk under the mentorship of veteran photojournalist George Gascon, set her on that path. The determined self-starter would often ask for extra assignments and take on all the weekend shifts so she could learn on the job. She subsequently joined the paper in 2001, after her graduation, as a social and housing reporter and did a stint at The New Paper in "human-rights journalism" on the state of migrant workers here. For six years from 2003, she recorded the life journeys of a few foreign domestic helpers, making multiple trips to Indonesia – even over the holidays.
In September last year, Chi Yin became the first Singaporean Peace Prize photographer to be commissioned to showcase 2017's Nobel Peace Prize winner, the International Campaign to Abolish Nuclear Weapons. Her two-month journey from the China-North Korea border to six states in the western United States took her along the North Korean border near missile-testing facilities, as well as decommissioned missile silos in US states like Washington, Arizona and Nevada. Her work, titled Fallout, is part of a year-long exhibition called "Ban the Bomb", in Oslo, Norway.
CLOTHES RACHEL'S OWN.
Rachel Heng, 30
Novelist & Short Story Writer
Today, Rachel Heng is sitting on deals worth six figures each by publishers in the UK and US for her debut novel Suicide Club, but her writing journey was speckled with many disappointments.
"Suicide Club grew out of an early short story I wrote on a long-haul flight, in which a man goes to a party that turns out to be a funeral. I was writing a lot of short stories before, and for the first couple of years I was pretty discouraged," says Rachel, who came from a finance background and spent six years at global investor GIC before moving to Texas where she's currently pursuing a Graduate Programme. "I submitted a lot of my stories to literary journals and got a lot of rejections," she shares.
But taking a night class at the London writing school Faber Academy provided Rachel with just the opportunity she needed. The school published an excerpt she had written in an anthology and sent it to London agents and editors. "Then we had to do a reading day of sorts where we read out our work for two minutes in front of a bunch of publishers," she recalls. Soon after, she was approached by 11 interested agents and some editors. But as she only had 30,000 words, Rachel set out to complete her novel.
Soon, the 30,000 words became 170,000. The author then threw out half to end up with the 90,000-word novel you see on bookstore shelves today.
FASHION STYLING: AARON KOK, ASSISTED BY TAN GIN YEE / PHOTOS: VERONICA TAY AND VEE CHIN, ASSISTED BY GONG YI MING AND PHYLLICIA WANG; JEANBART (FOR RACHEL HENG) / MAKEUP: HONG LING (USING NARS), KEITH BRYANT LEE (USING YSL BEAUTY) AND GINGER LYNETTE (USING LANCÔME) / HAIR: ASH LOI/ATELIER AND KENNETH ONG, USING KEUNE HAIRCOSMETICS SINGAPORE / FURNITURE: ETHNICRAFT ONLINE SINGAPORE/ SPECIAL THANKS: NICKY LOH