In a world of one-day deliveries and instant gratification, time has become a luxury many can ill afford.
In a world of one-day deliveries and instant gratification, time has become a luxury many can ill afford. But as these four business and creative personalities prove, the passage of time is an essential part of their success. The Peak spends an afternoon with each one to understand the importance of going slow.
Beppe de Vito runs il Lido Group, a sprawling F&B collective that includes Amo.
Room for Growth
When it comes to excellent pizzas, a sourdough starter rises to the occasion.
The explosion took chef and restaurateur Giuseppe de Vito, who goes by the moniker Beppe, by surprise. 
The kitchen floor, worktop and ceiling were soiled with pungent, viscous gunk – the result of an overactive sourdough starter that had built up too much pressure while fermenting in a tightly wrapped parcel.
This mother dough – which began as a simple mixture of organic flour and green apples – is, as de Vito describes it, a capricious entity. One that bubbles and blooms in response to humidity and temperature, as well as the flour and water it is given daily. "A living ingredient, it requires even more attention than meat, vegetable or pasta," says the 48-year-old, a Bitonto native from Italy's Puglia region.
Keeping this yeasty mass alive – a feat that demands the sensitivity of a scientist and the dedication of a constant gardener – might seem like a lot of work, but the five-year-old starter is a crucial ingredient in the pizzas served at Italian restaurant Amo, one of six F&B concepts run by de Vito.
Patience, it seems, pays off in a pizza base that rises in the oven to form a thin, crisp exterior with a chewy bite. 
Beppe still gets his hands dirty in the kitchen to make sure the pizza dough is up to scratch.
"On the crust, we want to see leopard skin or charred spots forming. Because there's still room in the dough for leavening, rising air bubbles thin out sections that cook more quickly than the surrounding areas, resulting in burnt patches that are not only aesthetically pleasing but also give the crust a nice texture throughout." 
Unlike the traditional Neapolitan-style pizzas of Naples that incorporate beer yeast in the dough, de Vito believes that adding the sourdough starter makes the carb-heavy dish easily digestible since the fermentation process helps break down sugars and starches in the dough.
While proofing a batch of dough takes up to 32 hours, training his staff to handle and fire it up is a process that stretches into years. "The more time you spend with it, the better you'll get at it. The best pizza makers simply have more experience handling the dough, fire and oven." 
With a wood-fired oven blazing at temperatures of up to 380 deg C, de Vito slides an uncooked pizza topped with ingredients into the oven and removes the paddle in one swift pull before the dough sticks to it. 
The signature charred spots on the crust give the pizza a nice texture.
In Italy, good pizzerias only open for dinner because they need time to start a fire and allow it to reach the right temperature.
Then, while watching the fire, he gives the pizza a few turns to ensure the crust cooks evenly before whisking out the finished product. 
All this happens in under 55 seconds, during which anything can go wrong – and it does. To illustrate, our photographer had de Vito hold a pizza at the mouth of the oven past the requisite time. It might have made for a picture-perfect moment, but the pizza subsequently failed to brown properly and was deemed unfit for consumption. 
While de Vito does not take shortcuts when making a good pizza, he does leave some room for technology to help improve the process.
"In Italy, good pizzerias only open for dinner because they need time to start a fire and allow it to reach the right temperature. In Singapore, where we are open six days a week for lunch and dinner, we don't have that time to spare. So we use gas to heat up the oven and burn almond or cherry wood to give a smoky flavour to the pizzas," shares de Vito.
All of the jewellery at Eden + Elie is made by hand.
Going Slow to Go Fast
For Eden + Elie, time is the foundation for everything it does, from making jewellery to growing the business.
From the outside, the nondescript building with homogenous red bricks stacked one over the other and teak wood panels around the windows forming a cube wasn't exceptional to Stephanie Choo.
The magic happened when she stepped inside the space.
"When you walk in, you'll see this marble staircase. Further in, at the main atrium, there is this amazing skylight that illuminates the entire interior and seems to give the place strength and serenity. If buildings could sing, this one would. I remember thinking that it was such a magical place and that I felt completely at rest," recalls Choo. The building in question: the Phillips Exeter Academy Library designed by the late Louis Khan at New Hampshire in the US.
Choo was the quintessential Singaporean student with the kind of success story that would delight traditional Asian parents. She decided to study engineering at the Massachusetts Institute of Technology (MIT). But all her life, she felt an emptiness in her soul that her stellar grades could not fill. "I wanted to make poetry, but had not yet found the appropriate language to express it in."
These wide bangles have 3,240 Miyuki beads sewn onto the surface.
So, at the start of her second year in MIT, she took up the Introduction to Architecture module on a whim. That trip to the library was part of the class. But it changed her entire life, filling the emptiness with the language of architecture. 
Five years ago, Choo started jewellery brand Eden + Elie (pronounced Eden and Elie), named after her two children Eden and Eliot. She had left architecture by then and wanted to build something that would marry the things she cared about and make a difference through design. "After building big, well, buildings, I found it nice to work on an intimate scale," Choo says.
Eden + Elie is very much an ode to a slower time. Unlike traditional jewellery making, which usually employs heavy equipment to smelt, cast or solder pieces, Choo and her artisans stitch, knit and bead everything by hand. 
At the core of each piece are many tiny Miyuki seed beads. For example, one of Eden + Elie's bestsellers, a beautiful wide gold bangle from the Everyday Modern Collection, has 3,240 beads, each measuring a millimetre stitched on an area just slightly bigger than your smartphone.
"Much like architecture, time is also a language to me. It's a component of the creative process. When you are learning or experimenting, it takes time. When you rush something, you could break it. It is the unseen hours you put into your craft that eventually come to fruition down the road," explains Choo.
The amount of time that went into her craft made it tricky for her to expand the business, and that's how co-founder Leon Leon Toh entered the picture.
Stephanie Choo and Leon Toh are the co-founders of the jewellery brand.
Much like architecture, time is also a language to me. It's a component of the creative process.
They met at a business networking event in 2017 when Choo was looking for someone to support her journey and Toh was searching for companies that were trying to do good.
What struck Toh about Eden + Elie was how the embodiment of time was central to its business identity. "Sure, we can hire 20 more people or construct pieces quicker in China, but it defeats the purpose of what we are trying to do. The time taken to create each beautiful product gives it that heart and soul, and it's just a matter of capturing that spirit in the business."
The strategy is working. From Choo being the sole designer, the team has expanded to 11 artisans, 10 of whom are autistic, to keep up with demand. Choo identified the Autism Resource Centre as a suitable partner to work with and employed 10 of its members. Adults with autism usually have intense focus and concentration, and are very exact – all valuable assets to Eden + Elie.
The brand has also worked with organisations such as The Ascott and Singapore Airlines, the latter to produce a limited-edition jewellery collection inspired by the Peranakan culture and the iconic blue kebaya.
Being recognised as changemakers has not gone to their heads though. They still take their time to forge the future, much like how patience is a core ingredient in their jewellery. Toh sums it up best: "When you want to build good businesses, you can go fast. But if you want to build a great business, you need time."
Mark Tay, who is a scratch golfer, has been all over the world to learn about the ins and outs of alcohol. 
Steeped in Perfection
Before they're shaken or stirred, Mark Tay's cocktails pass through a rite of time to yield more complex flavours.
"Ten bartenders working from the same recipe script will give you 10 different drinks," says Mark Tay.
He would know. The 45-year-old hospitality industry veteran – affectionately referred to as Uncle Mark – has launched drinking holes such as Nektar, one of Singapore's earliest craft cocktail bars, as well as raised a generation of outstanding bartenders, both in Singapore and abroad. 
These days, as head of hospitality at Door XXV, a private bar at Spectrum, a shared workspace provider for innovators and technology-driven firms, Tay continues to flip the script on popular cocktails. 
What makes his Old Fashioned different, for instance, is his special bourbon-based, bacon-infused fat wash. Popularised in 2007 by beverage director Don Lee of New York City's PDT, fat washing is a clever cocktail technique that adds savoury flavour to spirits. It is influenced by an old perfumery method of infusing oil such as bacon grease into alcohol and then freezing the liquid, so the fat rises to the surface.
Tay's idea to use fat washing is reminiscent of his commis chef days when he worked alongside the late French culinary legend Michel Roux over 17 years ago at The Waterside Inn, Roux's three-Michelin-starred restaurant. 
"Here was a man who had lots of Michelin stars to his name, but he still found the time to teach me how to make a classic coq au vin. As we waited to collect roast drippings for thickening the roux, we would talk about the menu or just how our day went."
Fat washing is an arduous and laborious process, and can easily be omitted since the modern bartender has an arsenal of ready-made liqueurs, aromatic bitters and syrups at his disposal. But Tay wouldn't have it any other way.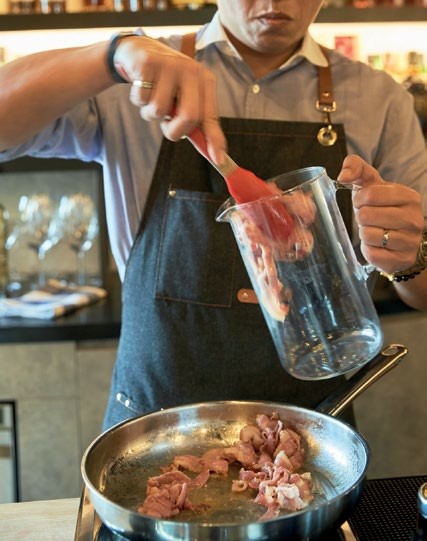 To make his Old Fashioned, Tay broils and fries bacon and steeps them in bourbon for five days in a process called fat washing.
People today are in too much of a rush to get from point A to point B. They don't spend as much time enjoying the process of getting to that point.
To make his fat wash, Tay begins by broiling and frying bacon strips before adding a splash of bourbon to deglaze the pan and allowing the mixture to steep in bourbon for up to five days. As the meat loses its colour, the spirit takes on a darker hue, mirroring the steady transfer of savoury flavour compounds from bacon to bourbon. Coagulated bacon fat, which rises to the top of the liquid, is filtered through a sieve and cheese cloth, leaving behind a bold bourbon that retains the savoury notes of bacon.
Almost primitive in its pleasures, this union of booze and savoury oil demands way more legwork than what it would take to make the classic Old Fashioned with a swift swirl of bourbon, sugar and Angostura bitters. But this Peranakan guy, who grew up watching his grandmother make rempah from scratch, believes in the magic of time and continues to invest hours to produce unusual cocktail ingredients such as sterculia-infused rum, citrus tobacco and wolfberry gomme.
Some might call him a relic in an era where convenience is prioritised above all else and processes are optimised to facilitate the hectic pace of modern life. But Tay thinks otherwise. 
"People today are in too much of a rush to get from point A to point B. Some rush to get their meal over and done with while others spend too much time trying to have a quick drink and a quick buzz. They don't spend as much time enjoying the process of getting to that point."
PHOTOGRAPHY VERONICA TAY & VEE CHIN
ART DIRECTION FAZLIE HASHIM & ASHRUDDIN SANI
GROOMING SHA SHAMSI; BENEDICT CHOO; DAX LYE