Every time-starved, sleep-deprived mum needs these lavish beauty gifts that actually work, says ELISA CHIA. Get them for yourself this Mother's Day.
Every time-starved, sleep-deprived mum needs these lavish beauty gifts that actually work, says ELISA CHIA. Get them for yourself this Mother's Day.
ENGINEERED FOR FAST DRYING 
I'm kicking myself for not taking the plunge and buying the Dyson Supersonic ($599) when it was launched two years ago – imagine the time I would have saved on hair-drying. 
I adored its sleek, modern design, but I wasn't sure about parting with good money just for aesthetic pleasure. That is, until I recently had the chance to see the efforts that its team of engineers took to understand the science of hair. 
Here's what I also learnt about the "reinvented" dryer: The Supersonic promises not to overheat and damage hair. This is thanks to a smart thermal sensor, which measures the temperature 20 times every second and keeps it under control. 
It's safe to let your child handle it because the surface always remains cool, no matter how hot the dryer gets. It's more lightweight than conventional bulky dryers, as well. 
What's most impressive, though, was how it cuts drying time significantly. Its digital motor works in combination with its patented Air Amplifier technology to produce a high velocity jet and volume of air. 
Now, I was sold. Time saved on mundane routines like hair-drying means I can spend more time bonding with my kids or go to bed sooner. This Mother's Day, it comes with a free special edition pale rose case. From www.shop.dyson.com.sg and major department stores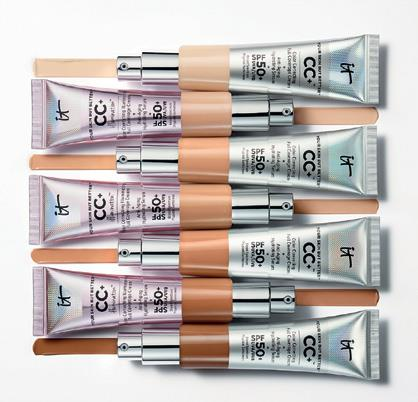 CONCEAL AND TREAT 
It's makeup and skincare in one product. Developed with plastic surgeons, the IT Cosmetics Your Skin But Better CC+ Cream with SPF 50+ ($62 for 32ml) helps correct skin redness and conceals dark spots while hydrating skin with an anti-aging serum. 
As its name suggests, it also protects skin from the sun's harmful rays. It recently launched two new shades, Light Medium and Neutral Tan, to suit more Asian skin tones. 
Tip: For more even coverage, apply it with the brand's Heavenly Luxe Complexion Perfection Brush No. 7 ($60), a dual-ended foundation and concealer brush. With that, I find myself using less of the CC+ Cream as it blends more smoothly than fingers can. From www.sephora.com.sg 
ABSORBS LIKE NO OTHERS 
Another time-saver: the Aquis Waffle Luxe towel ($54) and turban ($62). Made of uniquely woven ultra-fine microfibers, the super absorbent material is said to help wick water away from wet hair five times faster and more thoroughly than cotton towels. This means I can further reduce time on blow-drying. From www.sephora.com.sg 
GET EVEN NOW
Why won't the dark spots that developed during my pregnancy go away? If you're also bothered by stubborn pigmentation, try the Lierac Lumilogie Day & Night Dark-Spot Correction Double Concentrate ($108 for 30ml). 
Each bottle comes with two pumps: use the gel balm from the white one in the morning and from the grey one before bedtime. They contain slightly varied active ingredients, but share the same main botanical formulation, with extracts of sea daffodil and plantain. It is free of parabens and colourants, and is suitable for all skin types. 
A month after using, the dark spots under my eyes actually lightened and my skin felt smoother. I can't wait to see the long-term results. From retailers including www.fb.com/BeautyByNature.Sg and www.lazada.sg 
DIY FACIAL TREATMENT 
Who has time to visit the facial salon fortnightly when you have young kids? That's why it's especially important to give your skin the TLC it needs at home. 
Unlike other electronic cleansing brushes, the Refa Clear ($360) doesn't just vibrant or spin; its 3D Sonic Motion produces micro- movements both horizontally and vertically. 
I like how ultrasoft the brush head feels on my skin. In fact, its tapered tips are said to be thinner than skin pores, ensuring that dirt and grime can be removed effectively.