Are you visiting any of these six cities during the school break? Keep your little ones happy with these fun, creative and engaging activities.
Are you visiting any of these six cities during the school break? Keep your little ones happy with these fun, creative and engaging activities.
KUALA LUMPUR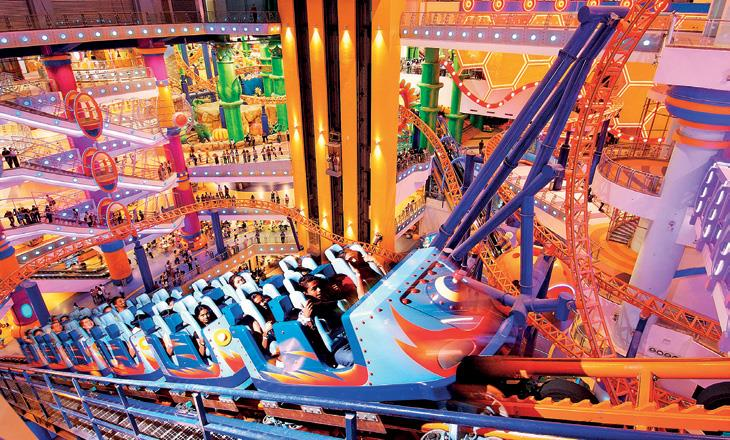 Have fun indoors 
Check out Berjaya Times Square Theme Park – Malaysia's largest indoor theme park, according to the Malaysia Book of Records. It is located on levels five and seven of Berjaya Times Square. 
Your kids will have a whale of a time trying all the different rides, which range from a merry-go-round and the Flying Bumble Bee, to bumper-car rides, mini roller coaster rides, an exhilarating Crazy Bus ride and a drive through the Fantasy Garden on a safari jeep. All rides and attractions have minimum height requirements. 
HOW MUCH Tickets start from RM11 (S$3.70); family packages start from RM113. 
FIND OUT MORE www.berjayatimessquarethemeparkkl.com
Go fishing in the city 
If Junior loves animals, he will love Farm In the City, a petting zoo with a variety of animals. There are 19 stations to choose from, including Longkang Fishing, which takes visitors back to the old days when kids would catch fish from big drains (Junior will get to catch his own fish at this station). 
Pet Village is made up of cute and cuddly rabbits and guinea pigs, while Reptiles Cavern is a large enclosure housing crocodiles, monitor lizards and mangrove snakes. There's also the Ostrich Farm.  
HOW MUCH Tickets are RM48 (S$16.10) per child and RM58 per adult; family packages are also available. 
FIND OUT MORE www.fitc.com.my 
Get lost in a world of science 
Spend the afternoon at Petrosains Discovery Centre, located in Suria Shopping Centre at the base of the iconic Petronas Towers. Here, your little ones can check out the hands-on interactive and educational exhibits and catch exciting science shows. 
The centre's newest gallery, Space, teaches kids about the latest in space science and technology – they can discover how astronauts live and work in space, programme a rover to search for signs of life on Mars, or travel to Jupiter and step into a hurricane. 
HOW MUCH Tickets start from RM8 (S$2.70). Admission is free for kids aged two years and below. 
FIND OUT MORE www.petrosains.com.my 
BANGKOK
Play and learn 

Located in Emporium Mall, Imaginia Playland is a technology- centric centre that caters to children from toddlers to teenagers. There are a variety of zones, each offering a "learning through play" experience. 
At Dream Jungle and Dragon Cave, for instance, kids can bounce on interactive trampolines and crawl over massive elevated nets before sliding down a giant slide. In the Time Tube Slider zone, they get to journey down a make-believe mountain range at full speed, and at the Builder's Studio, kids are invited to create something new from specially designed wooden toys. 
HOW MUCH Tickets start from 100 baht (S$4.20). 
FIND OUT MORE www.imaginiaplayland.com 
Ride a go-kart
Race with – or against – your kids at Easy Kart Bangkok, an indoor go-karting track. There are three different go-kart sizes to choose from, depending on how fast you want to go.
Safety is a priority here – a team of engineers, technicians and mechanics maintain the go-karts daily, and all go-karters have to be properly attired and wear crash helmets. If you prefer to just watch your kids instead of take part with them, the track has an air-conditioned viewing area.
HOW MUCH Tickets start from 450 baht (S$18.90).
FIND OUT MORE www.easykart.net
Play with snow 
Dream World has plenty of theme-park rides and attractions for children young and old. The little ones will love playing in the indoor ball pit, riding the old-fashioned train that travels around the park, and taking a spin in the motorised bumper boats. 
For the older kids, there's a "haunted" mansion, thrilling roller coasters and the hair-raising Viking ship ride. But what makes this park unique is Snow Town, which maintains a temperature of -8 deg C and is filled with powdery snow, slides, snow sleds and a giant snowman. All rides and attractions have minimum height requirements. 
HOW MUCH From 1,100 baht (S$46) per person for unlimited rides 
FIND OUT MORE  www.dreamworld.co.th 
Have a splashing good time 
Located on the sixth floor of Central Plaza in the Bang Na district, Pororo Aqua Park is a themed rooftop waterslide park, named after the South Korean cartoon penguin. 
Highlights include Tong Tong's Magic Slide, which has a double splash pool landing; the award-winning Pororo's Funnel, a 158m-long tubular waterslide; and Eddy's Adventure, a convoluted slider ride. 
There are also a variety of pools for kids of all ages – Porong Porong's River takes you all around the aqua park in a special tube float.    
HOW MUCH Tickets cost 280 baht (S$11.80) per child and 400 baht per adult. Admission is free for children 90cm and shorter. 
FIND OUT MORE www.pororoaquapark.com 
HONG KONG
Try figure skating
With an area of 1,482 square metres, Mega Ice in Kowloon Bay is said to be the largest ice rink in Hong Kong. If your kids already know how to ice skate, they can rent a pair of skates and have a go by themselves on the ice.
But if they want to learn how to glide like a professional figure skater then Mega Ice also offers lessons. Choose from three types of skating coaches – a regular, a senior or a star coach.
HOW MUCH A private, 30-minute lesson starts from HK$280 (S$46.90).
FIND OUT MORE www.megaice.com.hk
Build a "house" from scratch 
The Children's Gallery at the Hong Kong Science Museum features a number of interactive exhibits, including the Big Kids' Work Site. 
Here, Junior can pretend to be a construction worker and build a small house, using bricks and equipment such as a crane, a wheelbarrow and a conveyor belt. 
The role-playing work site accommodates up to 25 children, so your little one will also get to "work" with other kids. This exhibit is only open to children who are 80cm to 120cm tall.     
HOW MUCH Tickets are HK$20 (S$3.35). Admission is free for kids under four years old. 
FIND OUT MORE www.hk.science.museum/
Create original ceramic art 
If your kids are artistically inclined, they will enjoy the workshop at Loveramics at The Pulse in Repulse Bay. First, they get to pick one item from a range of unglazed ceramic mugs, bowls and owls. 
Then, they can decorate their item any way they want, using the paints, stamps and stencils provided. The decorated item is left with the store to be glazed, polished and fired. No experience is necessary. 
The workshop is open to all ages, but kids under three years old must be accompanied by a parent or guardian. 
HOW MUCH Each session lasts about two hours and costs HK$400 (S$67), including one ceramic item and all tools and brushes. 
FIND OUT MORE www.loveramics.com 
Burn energy in countless fun ways 
Superpark in Kowloon is every child's dream come true. Designed by a Finnish dad, and with locations all over the world, this indoor activity park has three zones, each built for a specific purpose. 
The Adventure Area features obstacle walls, trampolines, zip wires, slides, play towers, and a pedal car racing track. Over at the Game Arena, kids play sports like baseball, basketball and golf. 
In the Freestyle Hall, kids can skate and scoot, play in a foam pit, climb a wall, and do gymnastics on the special floor. The best part is, you're welcome to join your little ones. There is no minimum age to enter the venue. 
HOW MUCH A one-day ticket costs HK$180 (S$30) per person on weekdays, and HK$250 per person on holidays. Cheaper tickets are available if you only plan to stay in the venue for a few hours. 
FIND OUT MORE www.superpark.com.hk 
SEOUL
Experience farm life 
Anseong Farmland is located about 70km from Seoul. Here, kids can ride on tractors, pet farm animals, practise archery, tour a livestock paddock, watch dog shows, ride a water bumper tube, learn about harvesting and even go horseback riding. 
There are also many green open spaces in which to run around or have a family picnic (there are restaurants and snack shops on-site where you can purchase food), and you can also rent bicycles and ride around the property. 
HOW MUCH Tickets are 10,000 won (S$12.15) per child aged three to 18 and 12,000 won per adult. 
FIND OUT MORE www.nhasfarmland.com  
Explore a 3D world 
Seoul's Trick Eye Museum is an optical illusion paradise, filled with three-dimensional paintings and installations. There are five main spaces, with names like Water World, Synchro Zone and Fantasy, where your little ones can pose alongside the exhibits and take funny and mind-bending photographs. 
There is also an ice museum that boasts ice sculptures and a 10m-long slide made from ice. Kids aged three to 10 years old will also enjoy the creative workshops, from mask making to toy making.
HOW MUCH Tickets are 12,000 won (S$14.60) per child under 18 years old and 15,000 won per adult.
FIND OUT MORE www.trickeye.com/seoul 
Spend the day at a museum for kids 
The Seoul Children's Museum offers a variety of inspiring activities and workshops. For instance, on weekends, kids four years and older can learn how to make simple dishes with their parents at the Family Cooking Class, while those five years and older can express themselves at the Performance Workshop. 
There are also exhibitions, most of which are educational and designed to spark your child's creativity and imagination. 
HOW MUCH Tickets are 4,000 won (S$4.90) per person. Admission is free for children under 36 months old. Workshop and class fees are extra. 
FIND OUT MORE www.seoulchildrensmuseum.org 
Go on safari 
Located in Yongin, Everland is South Korea's largest amusement park. There are numerous attractions here, including roller coasters, virtual reality adventures and water- themed rides. 
One of the more unique ones is the Lost Valley Safari Adventure, where visitors travel through a safari-style park on a specialised, convertible amphibious vehicle. 
There are numerous animals to spot along the way, including zebras, sable antelopes, cheetahs, pink flamingos and giraffes. Everland also has a Safari World attraction, where visitors can get up close to lions, tigers and bears. 
HOW MUCH Tickets are 43,000 won (S$52.30) per child and 54,000 won per adult.
FIND OUT MORE www.everland.com 
SYDNEY
Go on a wild ride 
The iconic Luna Park Sydney promises hours of fun for kids of all ages. The entertainment precinct, which has been around since 1935, is home to an array of exhilarating rides and attractions, like the Wild Mouse, which dips and zips you around a 400m-long circuit, high above Sydney Harbour; Wonky Walk, which challenges you to walk straight on a path with moveable floors and other obstacles; and Hair Raiser, which raises you 50m into the air before dropping you down at full speed. 
If your children prefer something tamer, no worries – check out the carousels, mini Ferris wheels and bumper cars. 
HOW MUCH An unlimited rides pass starts from AU$22 (S$22.30) per child who is 85cm-105cm tall. All rides have height requirements and tickets are priced according to height. 
FIND OUT MORE www.lunaparksydney.com
Enter the world of Snugglepot and Cuddlepie 
Visit May Gibbs' Nutcote, a house- museum that was once the home of the famous Australian children's author and illustrator. Gibbs is best known for her iconic story, The Complete Adventures of Snugglepot & Cuddlepie. 
Located by the harbour in Neutral Bay, this attraction is perfect if you have a couple of hours and just want to relax – watch a short film about Gibbs' life and book characters, take a tour of the museum, and play with the kids in the gardens overlooking Sydney Harbour. 
HOW MUCH Tickets are AU$4 (S$4.05) per child and AU$10 per adult, or AU$20 for a family of four. 
FIND OUT MORE www.maygibbs.com.au 
Learn to surf 
With its exquisite beaches and impressive waves, it's no surprise that Sydney is a popular destination for surfers. There are many surf schools near the city, offering private as well as group lessons for children of all levels of fitness and ability. 
In addition to receiving instruction on how to surf and perform various moves on the water, your kids will learn surfing etiquette and how to engage the ocean safely. The schools provide surfboards and, if the temperature calls for it, wetsuits. 
HOW MUCH Manly Surf School, on Manly Beach in the Northern Beaches area of Sydney, runs group classes daily. Lessons are suitable for children aged five and older. The cost is AU$55 (S$55.80) per child per two-hour group lesson. 
FIND OUT MORE www.manlysurfschool.com 
Be an astronomer for a night 
Take your budding astronomers to Sydney Observatory, where they can experience the oldest working telescope in Australia – it was installed in 1874 – and learn how to spot stars and planets with help from the experienced guides. 
After exploring the sky in the telescope domes, head to the 3D Space theatre or the digital planetarium to witness constellations, listen to Indigenous stories about the Milky Way, ride a spaceship to the Moon, and even travel to a distant galaxy.  
HOW MUCH A day tour ticket starts from AU$8 (S$8.10) per child; and a night tour ticket starts from AU$20 per child. Family packages are also available. 
FIND OUT MORE www.maas.museum/sydney-observatory 
TOKYO
Meet Hello Kitty and her friends 
Experience everything kawaii (Japanese for "cute") at Sanrio Puroland, home of Hello Kitty, My Melody, Kiki and Lala, Gudetama and other iconic Sanrio characters. 
This unique theme park offers several attractions, from a 10-minute boat ride through the Sanrio world; a ride around My Melody's neighbourhood in the Eco Melody Car, with plenty of photo-taking opportunities along the way; and a visit to Dream Star Cloud, where the Little Twin Stars, Kiki and Lala were born.
HOW MUCH Tickets start from 2,500 yen (S$31.30) per child and 3,300 yen per adult. 
FIND OUT MORE https://en.puroland.jp
Learn to cook Japanese food 
If your little one enjoys cooking and baking, why not sign her up for a short cooking class at ABC Cooking Studio? The classes are conducted in English and suitable for children aged years and older. 
Learn simple Japanese dishes, like onigiri (rice balls), tamagoyaki (rolled omelette) and wagashi (traditional Japanese sweets); baked treats like Fruit Roll Cake; and decorative sushi rolls and pretty matcha (green tea) desserts. 
HOW MUCH A 90-minute lesson starts from 5,000 yen (S$62.60) per person. 
FIND OUT MORE www.abc-cooking.co.jp 
Train like a ninja warrior
Receive full ninja training at the Ninja Trick House, located in Shinjuku. The session includes a number of activities and experiences, from learning how to throw shurikens (small concealed weapons) to uncovering secrets in the ninja house, engaging in swordplay, and learning how to use a ninja sword (note: the swords are not real). 
Your children will also get to take photographs with a ninja. As the space is small, tours are kept to a maximum of 12 people. Each tour lasts 30 to 45 minutes. 
HOW MUCH Tickets are 1,100 yen (S$13.80) per person. Admission is free for children aged three and younger.
FIND OUT MORE www.ninja- trick-house.com/en 
Make food samples 
Japan is known for its fake food displays, and what better place to learn how to make them than at Ganso Sample, the country's top food replica manufacturer? 
At its Kappabashi store, visitors can learn how to make prawn tempura and a small head of lettuce using wax. 
The food replica-making workshop is open to participants aged seven and up. Children aged 10 and below must be accompanied by an adult (the adult must also participate in the workshop and pay a workshop fee). 
Each workshop lasts from 60 to 75 minutes and reservations are recommended. Although the workshops are conducted in Japanese, they are easy to follow because there are employees to guide you and demonstrate the techniques. 
HOW MUCH Workshop fees cost 2,300 yen (S$28.85) per participant. 
FIND OUT MORE www.ganso-sample.com 
PUROLAND PHOTO @_CHERRY61
BEAR BUN PHOTO @PATRICIALIN6822