FORMER SINGAPORE DANCE THEATRE BALLERINAS ALISON CARROLL AND LISHA CHIN'S QUEST TO CREATE A DANCE INSPIRED FITNESS WORKOUT LED TO THE LAUNCH OF THEIR STUDIO BALLET BODY. HERE, THEY SHOW THEIR MOVES IN THIS YEAR'S LATEST OUTFITS.
FORMER SINGAPORE DANCE THEATRE BALLERINAS ALISON CARROLL AND LISHA CHIN'S QUEST TO CREATE A DANCE INSPIRED FITNESS WORKOUT LED TO THE LAUNCH OF THEIR STUDIO BALLETBODY. HERE, THEY SHOW THEIR MOVES IN THIS YEAR'S LATEST OUTFITS.
STRIKE A POSE
Details like deconstructed draping or colour blocking make all the difference to elevated basics such as a cotton jersey dress or a comfy hoodie.
(On her) Deconstructed cotton T-shirt dress, from Loewe.
(On him) Polyester hoodie and cotton pants, from Ermenegildo Zegna.
Ballet-inspired fitness classes may be all the rage these days, but when professional dancers Alison Carroll and Lisha Chin tried them out, they wanted more. The former Singapore Dance Theatre ballerinas, who became freelance Barre and dance instructors after they retired last year, wanted to add their own spin to dance workouts.
"We spent the majority of our lives doing ballet and had an idea of how we would teach it, so we created one," says Chin. "The thing about ballet is you have to be both strong and flexible, which is what makes the physique of dancers look unique. That also requires a unique style of training."
Enter Balletbody, a workout they created and which incorporates exercises and movements from classical ballet and pilates. One of the key differences between Balletbody and Barre – one of the most common programmes available – is that their classes use the barre for warm-ups before progressing to the centre of the room, while the latter focuses mostly on barre exercises.
Before taking the plunge and committing to launching the Balletbody studio, the pair began by renting a dance studio where they held a couple of classes a week, which soon grew to 10 classes – and proved  that there was a demand for the system they had created. Encouraged by their family to strike out on their own, they finally opened their studio on Pagoda Street this January, where they now teach 20 classes every week.
While they emphasise that Balletbody is suitable for dancers and non-dancers alike, they do take particular pleasure when they meet other former ballet dancers stepping in for a class. "We get a lot of clients who used to do ballet when they were young," says Carroll, "When we see them coming through the door and telling us that this is what they've been looking for, it makes me so glad we started this. I feel like I am bringing something precious to someone."
Outside the dance studio, the two have diametrically opposite fitness regimens to maintain their lithe dancers' bodies. Carroll, the more reserved of the two prefers stretching and practising pilates. Chin, who is more outgoing, opts for HIIT (high intensity interval training) and cardio exercises. She also trains and teaches at F45, a circuit training gym.
But what they both agree on is that ballet going mainstream as an exercise style might just be what it takes for the dance to experience a revival. Says Chin, "Ballet's become a bit of a dying art, and not many people go to watch it anymore. But with the current popularity of ballet fitness, even people who don't dance think ballet is cool. As dancing is such a hard career, it is really nice to see this effort not being wasted." 
SHAKE YOUR BONBONS
Loewe's Jonathan Anderson takes his love for crafty macrame to the next level with this sultry cocktail number for painting the town red.
Suede netted dress with printed inner dress, from Salvatore Ferragamo.
TAKE A SPIN
If dress codes allow for it, ditch the suit for a lightweight, textured top and straight-cut pants roomy enough to allow for a full range of movements.
Polyester embossed zip front blouson and cotton pants, from Emporio Armani.
BLACK SWANS
Formal wear need not be restrictive. The basic black maxi with a lush, feather trim and the wide-legged jumpsuit that looks like a skirt, offer wearers the freedom to nosh, drink and, of course, dance.
(On Lisha) Silk crepe dress with feather trim, from Valentino.
(On him) SilK tie-front shirt, wool jacket and wool pants, from Givenchy.
(On Alison) Tweed sequinned jumpsuit, from Chanel.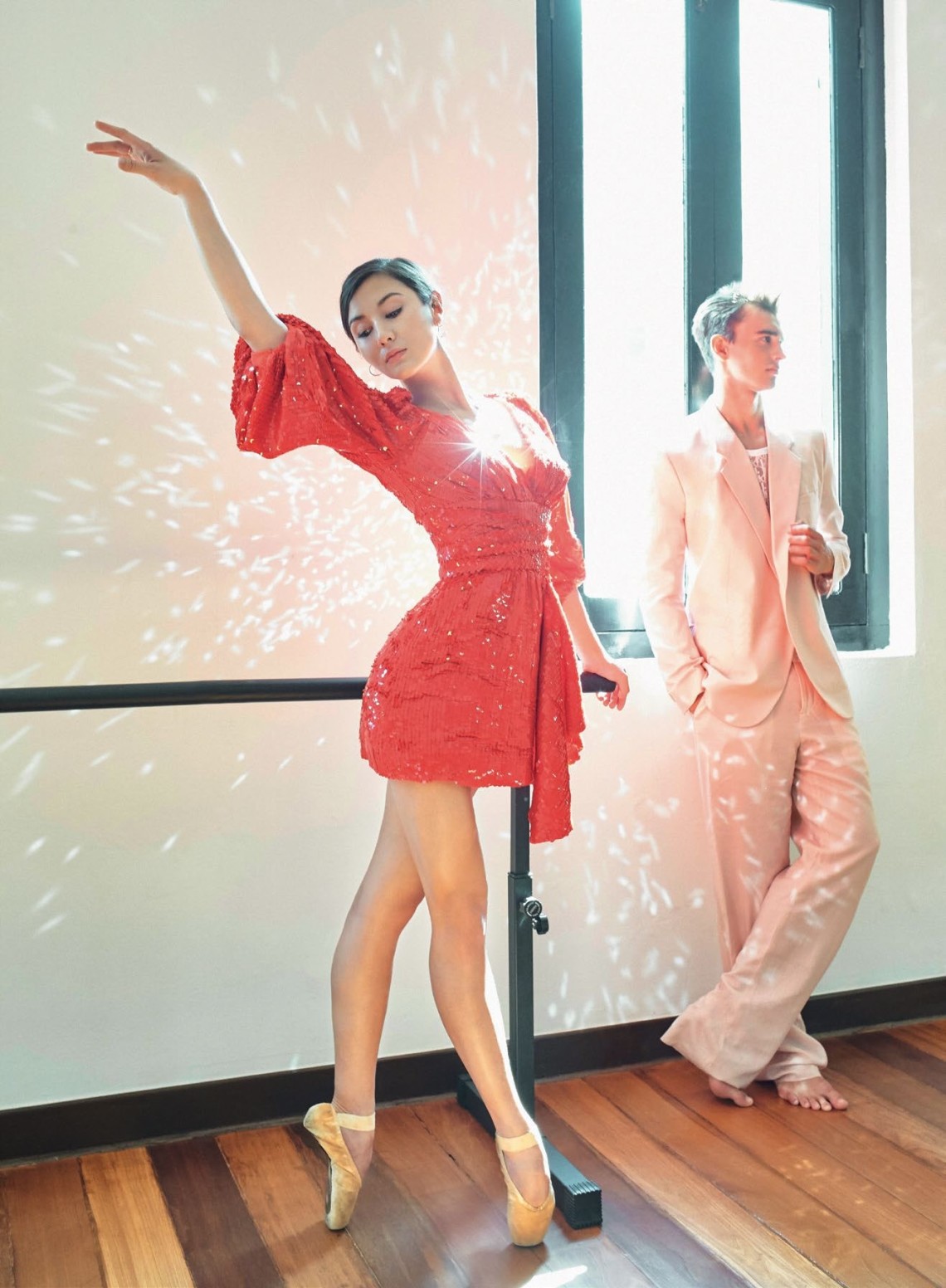 IN THE SPOTLIGHT
Hedi Slimane's reimagined Celine as a brand for the '80s disco girl is fully realised with this ultra-short sequinned party frock. How fun! For men, louche lounge suits are a refreshing change from fitted jackets and slim-cut pants.
(On Lisha) Sequinned dress, from Celine.
(On him) Polyester tank top, silk cotton wrap jacket and matching pants, from Dior Homme 
TINY DANCERS
Elegant, flowy skirts and flirty halter tops – silhouettes long favoured by dancers – are just as evergreen when worn outside the studio.
(On Alison) Mesh dress with satin belt and knit jumpsuit, from Dior.
(On Lisha) Silk halter dress, from Diane von Furstenberg.
TEXT LYNETTE KOH  PHOTOGRAPHY VERONICA TAY  ART DIRECTION FAZLIE HASHIM  STYLING DOLPHIN YEO
PHOTOGRAPHY ASSISTANT PHYLLICIA WANG STYLING ASSISTANT KARIN TAN MAKEUP KEITH BRYANT LEE, USING DIOR
HAIR EILEEN KOH, HAIR PHILOSOPHY, USING KEVIN.MURPHY MODEL PITRE, AVE MANAGEMENT LOCATION BALLET BODY