When facing a 57-shade range – we're looking at you, M.A.C – one is bound to feel overwhelmed.
When facing a 57-shade range – we're looking at you, M.A.C – one is bound to feel overwhelmed. Here's how to navigate the entire skin-tone spectrum of this and other brands.
We're not complaining that beauty brands are now much more inclusive with their foundation and concealer ranges. It's good to recognise that skin tones go beyond fair,medium, and dark – andthat undertones aren't limited to just cool, neutral and warm.
A perfect foundation match is now truly possible, with brands likeM.A.C, Fenty Beauty and Tarte Cosmetics slicing and dicing their shade ranges down to minute differences – with pink, olive and peach undertones available too.
That said, when faced with such giant ranges, how exactly do you narrow down the number from, say, 57 to just one? Industry experts share their tips with us.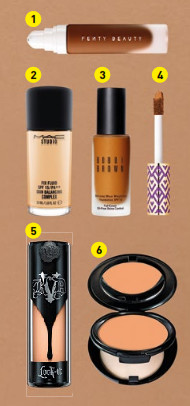 1 For foundations: First identify your skin tone, then your undertone
This helps narrow your choices to a more manageable two or three options, says Hector Espinal, global makeup artist for Fenty Beauty. Your skin tone may be light, medium, tan, or deep (depending on the individual brands' ranges). Then, determine your undertone: Cool undertones burn more easily under the sun; warm undertones tan quickly; and neutral undertones burn first, then tan.
2 Shade-match on the right areas
Swatch foundation from the cheek area to the jawline, says Regan Rabanal, regional senior manager for artistry at M.A.C. "That way, you can compare your face, neck, ear and chest to the shortlisted shades," he says. The "perfect" shade matches all these areas, and even your shoulders. For a concealer, Tarte Cosmetics' CEO, Maureen Kelly, says to swatch it on your face. "That's because you'll only be concealing parts of your face," she says. To cover blemishes, pick a shade similar to your foundation; for dark circles, go one shade lighter.
3 Check the shade in natural daylight
The colour of a product can sometimes look different in a store environment, says Espinal. Step out of the store into natural light to check if the colour really matches your skin tone. Also, give the product a couple of minutes to dry and set to its true colour, as different shades may develop differently on a range of skin tones, he says. – CT
BRANDS WITH MEGA RANGES
1 Fenty Beauty
Pro Filt'r Soft Matte Longwear Foundation, 50 shades, $50.
2 M.A.C
Studio Fix Fluid SPF15, 57 shades (globally, 64 shades) , $56.
3 Bobbi Brown
Skin Long Wear Weightless Foundation, 37 shades (globally, 43 shades), $73
4 Tarte
Shape Tape Contour Concealer, 28 shades (globally, 30 shades), $42.
5 Kat Von D
Lock-it Liquid Foundation, 46 shades, $56.
6 Cover FX
Pressed Mineral Foundation, 40 shades, $58.
PHOTOGRAPHY VEE CHIN ART DIRECTION SHERLI CHONG