The idea of skin lightening has a bad rap.
The idea of skin lightening has a bad rap. But if it's about fading hyperpigmentation, there should be no controversy involved.
There's a difference between skin brightening and lightening. Brightening skincare works on making your overall complexion more luminous, translucent and even-toned. Lightening skincare, on the other hand, refers to targeted dark-spot treatments whose function is, well, to fade the darkened patches.
When it comes to tackling dark spots, there is no need to be politically correct: You need to lighten them to regain a clear complexion. "Lightening is the term used when a product's effect is clearly to lighten darkened patches such those that might appear on the underarms, for example, or to lighten other areas with hyperpigmentation," says Dr Low Chai Ling, medical director of SW1 Clinic.
Take its SW1 Super White, a 15-minute treatment mask that uses cysteamine, a new lightening ingredient that is found in human cells and is seen as a less irritating alternative to standard-issue hydroquinone (whose side effects include skin dryness, itching, redness and stinging).
In the mask, cysteamine works to reduce melanin in the epidermis and lighten hyperpigmentation. Because it is so potent, Dr Low does not recommend it for general brightening purposes.
Hyperpigmentation is what dark spots are called (a more endearing term: freckles). In the name of skin positivity, we've seen Taylor Swift on a 2014 British Vogue cover sporting handdrawn "freckles". And Selena Gomez debuted her "freckles" in her Fetish music video (no one knows if they're real or faux, but we think the latter is more likely).
Whatever you want to call them – freckles, dark spots, hyperpigmentation – the culprit is melanin. This brown pigment occurs naturally in skin, but it becomes a problem when it is overproduced. That's when it forms clusters, creating dark spots on the skin, so your complexion looks dull and loses its luminosity.
The straightforward solution: Reduce melanin production so that fewer dark spots form. Past approaches using pure vitamin C and the aforementioned hydroquinone were harsh and irritating to skin. Beauty brands thus set about looking for gentler methods.
Luxury skincare brand La Prairie created its "equation of light": Dr Daniel Stangl, the Swiss brand's director of innovation, says that to optimise skin luminosity, you need to decrease the amount of light absorbed by the skin and increase the amount of light reflected.
What absorbs light? Melanin, of course, as well as accumulated microscopic dirt, collagen glycation and dilated blood vessels, says Dr Stangl. And what reflects light? Smoother skin and a denser network of collagen in the dermis.
Overproduction of melanin can also be traced to skin inflammation. Says Leona Low, director of training at Clarins Group: "Skin inflammation caused by aggressors such as UV rays, pollution and hormonal factors triggers excess melanin production." Clarins' approach is to soothe the skin to reduce inflammation while regulating tyrosinase, an enzyme that promotes melanin production.
Whatever the method, the end goal is the same: to zap excess melanin out of the skin and the not-so-cute dark spots along with it. Who knows? In future, these lightening products might eventually be as efficient as laser treatments.
"Whatever you want to call them – treckles, dark spots, hyperpigmentation – the culprit is melanin. This brown pigment occurs naturally in skin, but becomes a problem when it is overproduced."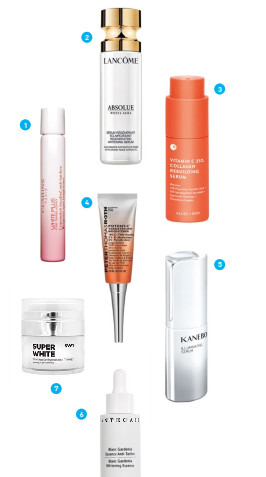 7 PRODUCTS TO TARGET D ARK SPOTS
These use gentler ingredients such as a combination of vitamin-C derivatives to inhibit melanin production and break up pigment.
Using vitamin-C derivatives
1 Clarins White Plus Targeted Spot Brightener, $60.
2 Lancome  Absolue White Aura Regenerating Whitening Serum,$420.
3 Allies of Skin Vitamin C 35% Collagen Rebuilding Serum, $185.
4 Peter Thomas Roth Potent-C Targeted Spot Brightener, $94.
Using botanicals
5 Kanebo Illuminating Serum, $190-$280.
6 Chantecaille Blanc Gardenia Whitening Essence, $310.
Using a natural skin compound
7 SW1 Super White, $107.
TEXT KAYCE TEO MAIN PHOTO VEE CHIN ART DIRECTION SHERLI CHONG PLATE TAKASHI ENDO