The latest and most talked-about collections.
ON-SCREEN BLING
From top: Anne Hathaway's Ocean's 8 character, Daphne Kluger, wearing Cartier's "Jeanne Toussaint" necklace. Cartier's jewellery feature throughout the film
GOOD GRADES
Most women know about a diamond's 4 Cs and the GIA certification that comes with each gem. However, when it comes to jade, things are not quite as clear-cut. Unless you're an expert on the valuable stone and how it's graded, it's best you head to a reputable jeweller that you can trust for your jade needs. Even better? When the jeweller offers designs that present the traditional stone in a new, contemporary light. Enter local jeweller Choo Yilin, who was one of the first on our shores to show how hip jade can be, while garnering a name for herself, locally and abroad, with alluring jewellery that celebrate local and Asian cultures—like Japan's beloved cherry blossoms, as shown in the pieces here.
From top: White and rose gold, jade, moonstone, garnet, rhodolite garnet, amethyst and topaz Cherry Blossom Branch ring; white and rose gold, jade, moonstone, phodolite garnet, amethyst and topaz Sakura Garland necklace, Choo Yilin 
There's good reason why Ocean's 8 is a movie date you'll want to have with your girl friends. For one, the Gary Ross spin-off features a brilliant A-list female cast—including Sandra Bullock, Cate Blanchett and Anne Hathaway among others—looking to pull off a heist at the Met Gala. Then, there's the fact that Cartier has been roped in to be the film's exclusive jewellery partner with designs that punctuate the film with high-glamour. Case in point: The unforgettable "Jeanne Toussaint" necklace Hathaway's character is seen wearing. Borrowing its design from a 1931 necklace that was created for the Maharaja of Nawanagar (a necklace that once bore the splendorous 136.25-carat blue-white Queen of Holland diamond), the replica took Cartier's High Jewellery workshops eight weeks to complete through the help of archival design drawings and photographs. But of course, while the necklace is the clear star of the film's jewel cast, Cartier's other creations have lots of screen time too.
ART IN MINIATURE
For its latest "Métiers Rares" collection, Jaeger-LeCoultre commemorates the 100th anniversary of Ferdinand Hodler's death with three limited edition Reverso Tribute Enamel watches of eight pieces each. Hodler, one of the 19th century's best-known Swiss artists, was famed for his landscapes; three of which have been chosen for this series and rendered on the case through grand feu enamel (each took over 50 hours to complete).
From left: White gold Reverso Tribute Enamel Lake Thun, Symmetric Reflection watches (back and front); Lake Geneva with Mont Blanc in the Morning Light watch, $131,000 each, Jaeger-LeCoultre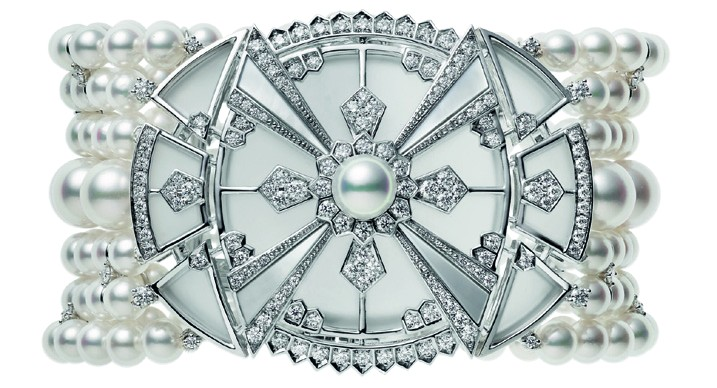 "White gold, japanese Akoya pearl, mother-of pearl, quartz and diamond Yaguruma bracelet, Mikimoto"
A NOTE ON CULTURE
Kokichi Mikimoto became the first man to create cultured pearls 125 years ago—and the world of jewellery has never been the same since then. To celebrate this momentous year, Mikimoto has released a new collection that pays homage to a brand heritage piece from 1937: The multifunctional Yaguruma sash clip that could be worn in 12 different ways. Today's Yaguruma collection echos the stylish Art Deco lines of its precursor on necklaces, pendants, a bracelet and a multistrand pearl belt that would be the pride of any bijoux collection.
Say "I Do"
We're all familiar with wedding jewellery, so why not His and Her timepieces for that special day? That's the question Rado must have asked itself when it released its Wedding campaign, which shows just how the brand's collections— including the True Diamonds, True Thinline, HyperChrome and DiaMaster—fit in seamlessly with any stylish nuptial day. So now you can say yes to the dress and timepiece, too.
"Clockwise from top: Rado's new  wedding campaign. Ceramic True  Thinline watches, $2,930 each, Rado "
FANTASTIC BEAST
"Cara Delevingne, as shot by David Yarrow"
TAG Heuer's latest "Don't Crack under Pressure" visual campaign saw Cara Delevingne doing exactly what the brand espouses. Shot in South africa by renowned wildlife photographer and conservationist, David yarrow, Delevingne stares fiercely into the camera with a wild lion at her back for a captivating set of images that convey power and raw energy achieved with the help of famed lion whisperer, Kevin Richardson, the campaign saw Delevingne living out her dream of working with an animal she loves: She sports a lion tattoo on her index finger and auctioned her TaG Heuer Signature Edition Carrera watch to benefit oxford's Wildlife Conservation Research Unit in 2015.
"Steel and diamond Carrera Calibre 9, $6,700, TAG Heuer "
"Steel and diamond Vanguard Lady Moonphase, $47,915, Franck Muller"
FACE  VALUE
Franck Muller fans know that the watch brand proudly manufactures its dials entirely at its Les Bois factory in the Swiss Jura. But for one week in June, it gave the public a preview of the precision and dexterity needed to make its world-famous dials when it flew a dial painter artisan to Singapore for its pop-up event at Paragon. Also on display at the pop-up were Franck Muller's flagship collections, including the brand-new Vanguard Lady Moonphase collection and Crazy Hours 15 th Anniversary Asia Exclusive timepieces.
"Gold, lapis lazuli and diamond Sweet Alhambra bracelet watch, Van Cleef & Arpels"
WE'RE LOVING…
… This Sweet Alhambra bracelet watch by Van Cleef & Arpels. Featuring lapis lazuli nestled on a bed of gold and diamonds, this limited edition good luck charm (of just 50 pieces) makes as much a statement by itself as it does stacked with other wrist adornments.
From left: To launch its campaign, Tiffany & Co. turned New York City's iconic yellow taxis blue, dressed bodegas up with paper flowers, and released limited edition MetroCards at selected stations. The brand's famous Fifth Avenue Flagship store clock was turned into a digital screen. Paper flowers dress up a bodega
BLUE'S CLUES
To rack up anticipation for the launch of its "Believe in Dreams" 2018 spring campaign starring elle Fanning, Tiffany & Co. took to the streets with pop-up installations that coloured New York City in its signature blue and saw buckets of paper flowers dressing the windows of convenience stores. That's not all: In addition to a massive Instagram campaign, Tiffany also released a new recording of "Moon River" (the song that Holly Golightly sings in Breakfast at Tiffany's), with vocals by Fanning and lyrics by A$AP Ferg, which you can check out on spotify.
A Patek Philippe table dome clock (Ref. 1675M) from the "Farquhar Collection"
"Creating the gouache for a Twenty~4 Haute Joaillerie timepiece "
RARE AND REVERED
For three days in April, Patek Philippe threw open the doors of its Salons on Rue du Rhône in Geneva to showcase its entire 2018 collection of rare handcrafts timepieces, providing fans with the unique opportunity to marvel at the breadth of skills displayed on the range of dome table clocks, pocket watches and wristwatches at one convenient location. From different techniques of Grand Feu enamelling, to astounding feats of wood micromarquetry, the horological masterpieces then made their way to private collections across the globe.
From top: Patek Philippe's Calatrava "Birds and Clouds" Ref. 5077/101G-010; Calatrava "Tuscany" Ref. 5077/100R-033; and pocket watch "Königssee in Bavaria" Ref. 992/127J