From indulgent services that treat your hair concerns, to the latest high-tech gadgets for a couture blow-out, these experts guarantee you hair that will turn heads.
"Opal, sapphire and diamond earrings, David Morris"
GHD
GHD GOLD STYLER
$295
You know the scenario: You've done your hair to perfection—it's sleek, shiny and not a strand is out of place—only to have it start to frizz up as soon as you leave your home for the great humid outdoors. See, the key to eliminating frizz and locking in your intended hairstyle isn't about setting hair with leave-ins and sprays. The real magic lies in styling with the right tools. This is why it is no surprise that GHD sells four stylers every minute across the globe—that's 2,102,400 units every year.
A decade since the GHD styler was introduced, the bestseller in the range has been given a gleaming new technical makeover upgrade: The GHD Gold Styler.
This everyday essential heats up in 25 seconds flat to a max of 185 degrees Celsius, the optimum temperature for styling (any hotter and it can damage tresses), while its dualzone technology ensures an even heat distribution so that you can achieve glossy locks without compromising on hair health. It's also ergonomically built with a round barrel for versatile, snag-free styling, and the contoured floating plates just glide through tresses, making straightening a speedy process and frizz-busting a breeze. The result is enhanced sleekness and a salon-worthy shine that lasts through the day.
The GHD Gold Styler also boasts a protective plate guard to prevent accidental burns, and a Sleep Mode that sees it automatically switched off if not used for 30 minutes. This means yo can run out of the house—just as swiftly as you did your hair—without worrying about frizz or your hair iron. It's the  perfect styling companion, really.
THE GHD GOLD STYLER IS AVAILABLE AT PREP LUXE AND ALL SEPHORA STORES 
GHD GHD AIR HAIRDRYER
$225
A gorgeous DIY blowout with minimum effort—that's what the team at GHD guarantees with its professional hairdryer, the GHD Air Hairdryer. Developed by the brand's UK Research & Design Lab together with top physicists, engineers and styling professionals, the GHD Air Hairdryer is equipped with a powerful motor and a patented removable air filter that delivers a high-pressure air flow for exceptionally fast drying.
In addition, it is engineered with advanced ionic technology that reduces frizz and flyaways to keep tresses smooth and glossy, while the different temperature and speed settings allow for ease in creating a range of styles. Then, there's the detachable concentrator nozzle for precision styling and an extra cool shot button to help hold your look in place.
It's a trusty hairdryer that offers all the fancy expert tricks in one convenient gadget. So now, even the most tress-stressed beginners can enjoy a salon-finish blowdry at home—at half the time i t normally takes.
THE GHD AIR HAIRDRYER IS AVAILABLE AT PREP LUXE AND ALL SEPHORA STORES 
KIMAGE
BODY AND TEXTURE WAVES
$260 FOR FOUR HOURS
Ever scroll through Instagram and wish you had cascading locks or a tousled bob like a supermodel or It girl? Well, now you can, thanks to Kimage and its customising body-boosting and texturising treatments that help you achieve the curls, waves or added volume you seek.
The experience begins with a personal consultation with a stylist who assesses your needs, wants and, not to mention, the lifestyle you lead to ensure that your curls last long after you have left the salon. From cold and hot perms to an airwave perm—a naturallooking curl treatment first made popular in Japan—the Kimage team is well-trained to craft a hairstyle that will compliment your face shape, hair type and personal style for the most flattering, bouncy 'do. And this goes beyond curls—many get a perm to boost hair volume by adding a lift to flat roots.
As with such hair re-texturising processes, be prepared to set aside at least half a day to properly indulge in the treatment, especially for those with thick, dry or coarse hair—such hair types usually require a softening treatment to start. The following steps will then vary depending on style and hair length, but it usually involves a purifying hair cleanse, conditioning, cut and cream application that breaks hair bonds before being reformed around heated ceramic rolls to create the desired curl and volume.
The result? Bouncy, fuss-free and low-maintenance locks that will have you looking fabulous all the time.
AT HOME
When it comes to styling a salon-like 'do, drop wet curls onto an upward-facing diffuser attachment on your hairdryer till curls are soft and fluffy, then set with a hydrating mist with a soft hold, or scrunch in some mousse to create volume and defi nition without weighing hair down. But if you prefer to let your hair air-dry, just apply some Lucicare Treatment Milk (available at Kimage) for a natural, bouncy texture.
KIMAGE IS AT #02-321/322/323 MARINA SQUARE, TEL: 6276 2700;  #03-07 PLAZA SINGAPURA, TEL: 6837 2700; #03-24 KATONG 112, TEL: 6743 2700. VISIT
WWW.KIMAGE.COM.SG
FOR THE FULL LIST OF 10 STORES 
SW1 CLINIC
KERAMAX SCALP PROGRAMME
$4,066 FOR 12 SESSIONS OF REVAGE 670 LASER AND 12 SESSIONS OF REVITASCALP
There are many reasons why you might end up with thinning hair: Bad dietary habits, increased amounts of stress, genetics and even ageing can all play a part in hair loss.
The good news is that there's help—state-of-theart, aesthetically engineered help—thanks to SW1 Clinic's Keramax Scalp Programme. This consists of two treatments: Revage 670 Laser and Revitascalp, which work synergistically to promote hair growth, while delivering increased nutrition for fuller, more luscious locks.
With the FDA-approved Revage 670 Laser treatment, the therapist "combs" your scalp with a charged device that's as soft and gentle as a whisper. This stimulates blood flow at the scalp and hair follicle roots to encourage hair cellular and tissue regeneration for thicker and healthier hair growth, while strengthening existing locks at the same time. Revitascalp, on the other hand, is a scalp infusion-and-steam treatment that focuses on delivering hairs trengthening nutrients—vitamin B12, follic acid, protein-building amino acids and minoxidil—deep into the roots to intensely replenish and revitalise the scalp, preventing thinning hair and hair loss for the future.
Once you are done with SW1 Clinic's Keramax Scalp Programme, flaunting your crowning glory will be oh-so-hard to resist.
POINTS TO NOTE
The entire programme consists of 12 sessions each of the Revage 670 Laser and Revitascalp treatments. People best suited for this programme include those with di use hair loss, thinning hair and general hair weakening. With the Revage 670 Laser, the initial therapeutic phase includes twice-weekly treatments for six weeks, followed by a treatment once a week for another four months. For Revitascalp, once a week sessions are encouraged for those with severe hair thinning, while mild to moderate cases can opt for a treatment once a fortnight. Don't forget to maintain your new head of hair by keeping a balanced diet, avoiding harsh chemical treatments and tight up-dos that can pull and create tension on the hair and scalp. The Keramax Scalp Programme is suitable for both men and women.
"Hair Recovery Strengthening & Rejuvenating Serum, SW1"
ORGANIC HAIR PROFESSIONAL SINGAPORE
NATURE'S DETOXIFYING HAIR TREATMENT
$248 FOR 90-120 MINUTES
The Nature's Detoxifying Hair Treatment at Organic Hair Professional Singapore promises to revive dry and damaged locks by deeply cleansing and intensely nourishing your hair from root to tip.
It starts with a purifying hair detox and deep cleanse to remove impurities and product build-up. With a clean, renewed base, tresses are well prepped to then receive a revitalising blend of organic ingredients— argan, meadowfoam seed and camellia oils are applied with a nano-mist machine, which speeds up and enhances absorption, leaving no strand untouched. This nutrient-filled coat not only strengthens and repairs the entire head of hair, but also protects hair cuticles against external damage, helping hair grow safer and stronger. A leave-on hydrating hair mask injects a final burst of moisture to lock it all in before a blow-dry, so you walk out of the salon with soft, smooth and shiny locks with refreshed confidence.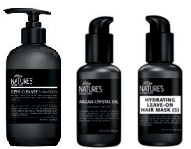 AT HOME
Complement this treatment with the right homecare. Keep your scalp clean and fresh with the Deep Cleanse Shampoo, which helps regulate sebum production and strengthen hair at the same time. Argan Crystal Oil, with its rich antioxidant properties, along with vitamin E, repairs damaged hair and protects against heat and humidity. For an extra dose of shine and moisture, apply the Hydrating Leave-On Hair Mask  to lock everything in.
Deep Cleanse Shampoo, $34; Argan Crystal Oil, $58; Hydrating Leave-on Hair Mask $44, Nature's Organic Sense.
ORGANIC HAIR PROFESSIONAL SINGAPORE IS AT #03-15 ORCHARD CENTRAL, TEL: 6554 2188; #02-02 WHEELOCK PLACE, TEL: 6734 8251; #B2-43 CAPITOL PIAZZA, TEL: 6386 4833. VISIT
WWW
.
ORGANICHAIRPROFESSIONAL
.
COM