This month's chic list
COLOUR ME HAPPY
Colours are a powerful way to lift our spirits. And with the increasing amount of time we're spending at home these days, why not enliven your space with furnishings that add a dose of merry to the everyday? Throw back to the happy times spent at old-school outdoor playgrounds with a colourful swing, or bring a smile to your face (and your guests') with a funky pom-pom stool. You can also spark joy with fun items that provoke an unexpected chuckle—think a spoon holder and steam releaser taking the form of Sebastian peeking out at you over the rim of a pot, or a light in the shape of a street lamp, which adds a playful touch to oft-dreary workspaces.
From far left: Street Lamp (floor), about $3,630, Smithers of Stamford. Swing Watercolor Colored Prints, about $426, Mariel Vanbremeersch at KSL LIVING. Red Crab Spoon Holder & Steam Releaser, about $22, Yellow Octopus. Pompon Stool No.4, MYK
CAPTAIN PLANET
Channel the superhero of the 1990s cartoon Captain Planet and the Planeteers and do your part for our home this Earth Day. The theme this year is climate action, and come 22 April, join in as the world doubles down on efforts to cut our collective carbon footprint. Start small by switching to energy-saving light bulbs and opting for everyday reusables—think metal or silicone straws, eco-friendly tumblers and cloth grocery bags. Then branch out and commit to going green on a larger scale. Minimise waste by recycling (check out nea.gov.sg) or composting; shop sustainable fashion and even furniture made using reclaimed materials; plant a tree (or two) to help mitigate the consequences of climate change; volunteer regularly for clean-up activities. In ways big and small, we can all contribute to the conversation.
Anticlockwise from above: A casualty of climate change, Venice, Italy's beautiful city on water, is sinking at a rate of 0.2cm per year. An activist's rallying call for action
COMFORTABLE COVER
Luxury goods maker Montblanc, best known for its exquisite writing instruments, debuts its first  pair of smart headphones: the MB 01. As expected from the German house, they marry form and function, combining world-class technology with the fine materials and excellent craftsmanship synonymous with the brand. What results is a compact pair of foldable headphones with bigger silicone ear cups, padded leather cushions and a similarly outfitted headband for optimal comfort; active noise-cancelling technology to ensure ultimate enjoyment of whatever you're listening to (like one of our recommended podcasts); Clear Voice Capture technology for crystal-clear calls; and a 20-hour battery life that'll last you through those binge-fixes. The MB 01 retails at $910 and is available in three colourways—brown and gold, black and chrome, and light grey and polished metal.
Montblanc's noise‑cancelling MB 01 headphones pack an audio punch in a sleek, chic package
TUNE IN
An unintended bonus of social distancing is the extra time we now have on our hands. Use yours to check out these witty podcasts that'll give you a good, hearty laugh 
WHAT: Good for You by Whitney Cummings
WHY: The veteran American comedienne with a comedy album, four stand-up specials on Netflix and three Comedy Central Roasts under her belt steers clear of news and politics, choosing instead to put a fun spin on issues relevant to the everyday—think how to save money, or how to be a better parent—with new guests every week, making for a truly relaxing one to two hours where you can leave your troubles behind.
LISTEN ON: goodforyoupod.com, Apple Podcasts, Spotify, Stitcher
WHAT: Wait Wait... Don't Tell Me! by WBEZ and National Radio Public
WHY: Hosted by Peter Sagal and scorekeeper Bill Kurtis, this weekly hour-long radio show gets you caught up with what's happening around the globe in the most wacky of ways—turning news into zany limericks, making a game out of sniffing out fake news ("Bluff the Listener") and testing one's grasp of the week's stories, game show-style ("Lightning Fill In The Blank"). Join in the laughs as famous guests get quizzed on subjects they know nothing about and keep your ears pricked for the (oft-silly) predictions made by the panel of comedians, writers, celebs and listener contestants.
LISTEN ON: npr.org/podcasts/344098539/wait-wait-don-t-tellme, Apple Podcasts, Google Podcasts, Spotify, Stitcher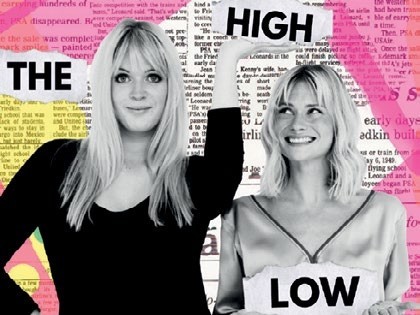 WHAT: The High Low by Pandora Sykes and Dolly Alderton
WHY: Because, in the words of co-host Alderton, it covers "stories far and wide, from brows high and low". Hosted by two posh, woke intellectuals with a wicked sense of humour, the weekly current affairs and pop culture show with more than a million listens per month is more casual-chat-between-friends than serious talk show in vibe. The topics, though, are anything but frivolous; expect discussions on books, trends, the Twitterverse talking points, and class and gender roles delivered in a totally palatable manner.
LISTEN ON: Acast, Apple Podcasts, Spotify
FIGHT CLUB
Round up your besties and rediscover the child within with a pillow fight this International Pillow Fight Day (whoever knew?), happening 4 April. There are no hard and fast rules to this romp—convention dictates that you just grab the nearest pillow (one of these cushions will do nicely too) and swing it at the nearest body—but do try to play fair. That means no smothering your pal and no snatching of another's pillow just so you can score a hit. And please, rein in the aggression because it's supposed to relieve stress, not induce it. Pro tips: Choose a plush weapon (think feather, down, cotton, wool and polyester; you don't want to knock your girls out cold) and pick your battleground carefully. Let the games begin.
From far left: CLEO Silk Cushion, about $150; Chloe Silk Cushion, about $111, My Friend Paco. Dinosaurs Shaped Cushion, about $45, Sophie Allport. Zellige Indigo Moroccan Print Silk Twill and Velvet Floor Cushion, about $225, Bivian at Lime Lace
BY STEPHANIE YEONG. PHOTOGRAPHY: SMITHERS OF STAMFORD; KSL LIVING; YELLOW OCTOPUS; MYK; TOM PODMORE; FEDERICO BECCARI; MARKUS SPISKE; COURTESY OF WHITNEY CUMMINGS & NPR; EVA K SALVI X; MY FRIEND PACO; SOPHIE ALLPORT; LIME LACE 
Edited by Stephanie Yeong