From Milan's graphic hair shapes to New York's barely-there face, the question this season is: Are you a hair or a makeup girl?
From Milan's graphic hair shapes to New York's barely-there face, the question this season is: Are you a hair or a makeup girl?
Dior
THE TWIGGY EFFECT
On dramatic eyes at Dior, with heavy black cut creases and drawn-on bottom lashes, Peter Philips, Creative and Image Director for Dior Makeup said: "I was inspired by thee sassy style of English Teddy girls in the late '50s, and their very Londoner, avant-garde style. 
From left: Tarteist Pro Remix Double Take Eyeliner, $37, Tarte; Color Mania Palette in 53 Smoky Canvas, $104; Diorshow Pump N Brow in 004 Black, $39; Diorshow Pump N Volume in 090 Black, $54, Dior
The result is a very graphic and intense black eye, in a rock style reinterpreted with a bit of a punk."
From top: Fendi. Comb, Balmain; Loc And Twist Holding Wax, Vernon Francois at Net-a-Porter
SCULPTURAL HAIR
Stock up on hair gels because you are going to want to take cues from the runway's sculptural 'dos and slicked-down styles. Beginners can attempt the ultra-neat fringes seen at JW Anderson and Richard Quinn, while Fendi's side-parted, S-curl might take a little more practice.
Marco de Vincenzo
FACE SPARKS
From rhinestone freckles to pearl-embellished eyes, sparkly three-dimensional stick-ons were a popular pick this season. 
From left: Oscar de la Renta. Lip Maestro in 400, $55, Armani Beauty; Rouge Holic Matte in 345, $45, Carmen; Sensual Intense Velvet in 339 Sizzle, $43, Hera
PETAL POUT
Calling to mind the trendsetting "blooming lips" of the K-beauty world, the pouts at Emporio Armani and Oscar de la Renta featured bold mouths that were darker in the centre, with lipstick hues blotted and blurred out past the edges, creating a petal-like gradient.
Clockwise from left: Scattered Light Glitter Eyeshadow, $49, Hourglass; Minimalist WhippedPowder Blush, $48, Shiseido. Rodarte. Crushes Glitter Gel in Tesoro Gold, $28, Kat Von D Beauty.
ALL THAT GLITZ
Sparkle came in extremes, from heavily pigmented glitter on the red-pink lids and lips at Rodarte, to a sporadic sprinkle on otherwise bare faces at Dries Van Noten. Over at Halpern, models looked as if gold leaf had been applied and left to dry on lids, leaving vivid metallic swathes which formed unique cracked patterns with every blink.
From top: Michael Kors. Giambattista Valli. Styling Butter, Oribe; Texture Spray, $16, Percy & Reed.
WAVY WORLD
Cascading Rapunzel-like curls reigned over the runways of Miu Miu, Rodarte, Giambattista Valli and 3.1 Phillip Lim. Some credit it to the idea of embracing natural hair textures, while others say the look trickled down from the art world, as Victorian and Pre-Raphaelite movements have made a resurgence in recent years. From brushed out (and fluffed up) manes with candy floss airiness, to crimped, corkscrew or ribbon curls that are touchably soft but defined, it's a sea of waves out there.
From top: Giorgio Armani. Prada. Call Time Styling Primer, $40; Mistress Hydrating Hair Balm, $43, IGK.
BEGUILING BRAIDS
Hair extensions are a runway staple for creating dramatic manes. At Prada, eight models received 22-inch versions—which were then raided to leather whip-like proportions. Meanwhile at Giorgio Armani, loose cornrows emerged as the modern woman's surprisingly chic daily "up-do".
Counter clocwise from bottom left: Toasted Tartelette palette, $59, Tarte; Cheek Shade in Turtle (Grace), Chantecaille; Fluffmatte in Baked, Sunnies Face. Kate Spade. Cushnie.
ONE SHADE WONDER
From gingery nudes to reddish tans, terracotta hues have taken their place front and centre on runway faces. Used almost monochromatically across the entire face—swept on eyes, cheeks and lips—this is probably the easiest runway look to replicate with just one versatile palette alone. 
Moschino
MANE ATTRACTION
To match hisThe Price Is Right-themed collection, Moschino's Jeremy Scott sent models down the runway with the largest bouffant wigs that money could buy. Glossy with over-the-top volume and teased to impossible heights, the gravity-defying coiffures evoked a society-ladies-who-lunch aesthetic that teamed perfectly with the campy consumerist commentary of his show.  
From top: Chanel. Joues Contraste in 440 Quintessence, Chanel.
AIR BLUSHED
At Chanel, Global Creative Makeup and Colour Designer Lucia Pica juxtaposed delicately flushed cheeks with full, defined brows. She said: "The makeup was very fresh, with a strong masculine touch seen in the groomed and defined brows. The girls were meant to look as if they had just come in from a cold snowy day at the 'Chalet Gardénia'."
Clockwise from right: Philipp Plein. Chromat. Vivid Liquid Eyeliner in Banana Blaze, $51 (set of three), Fenty Beauty; Nail Lacquer in Green Come True, OPI; Nail Polish in Sweet Supply, Essie
ELECTRIC SHOCKS
Neon didn't just make a splash in fall fashion, its bright flash was also felt in the beauty world, appearing on faces and nails. Vivid lipsticks were smudged onto lids at Carolina Herrera, fluorescent streaks at Chromat came in the form of exaggerated lower lash liner, and Philipp Plein matched flaming manicures with equally traffic-stopping lime green ensembles. 
From top: Brandon Maxwell. Miu Miu. Courrèges. Climax Mascara, $19, NARS; eyelash curler, $30, Shu Uemura.
BAMBI LASHES
Volume was the magic word backstage when it came to lashes—which came out ultra-thick, extra-long and for some, deliberately clumpy, on both top and bottom strands. 
From top: Pure Envy Eyeshadow Palette, Estée Lauder; Killawatt Foil Freestyle Highlighter Duo in 7DayWknd/Poolside, $54, Fenty Beauty; Guo Pei; Eckhaus Latta
PAINTERLY POPS
American fashion brand Eckhaus Latta made a splash with dreamy tie-dye effect eyeshadow that extended from forehead to cheekbones. Similarly, arty strokes were spotted at Tibi, with a tiny smudge of green in the lower outer corners of the eyes.
From top: Tom Ford; Eye Kohl Intense in Espresso, $55; Eye Quad in Supernouveau, $127, Tom Ford
SENSUAL SMOULDER
Both a Tom Ford staple and a runway beauty fixture, the smoky eye came extra sensual this season. Makeup artist Diane Kendal created a softer but no less statement-making look with layers of grey, mauve and plum, lined with dark brown and illuminated with an eye gloss for added dimensional impact. 
From top: Versace; Power Fabric Balm in 4.5, Armani Beauty; Highliner Gel Eye Crayon in Blacquer, $38, Marc Jacobs 
UNDERNEATH IT ALL
Spotted at Givenchy and Giorgio Armani was an emphasis on the lower lashline, with thick mascara and liner rendered perfectly on otherwise clean faces with swept back hair. At Versace, this was interpreted with a smudged, morning-after effect—and a much more badass vibe.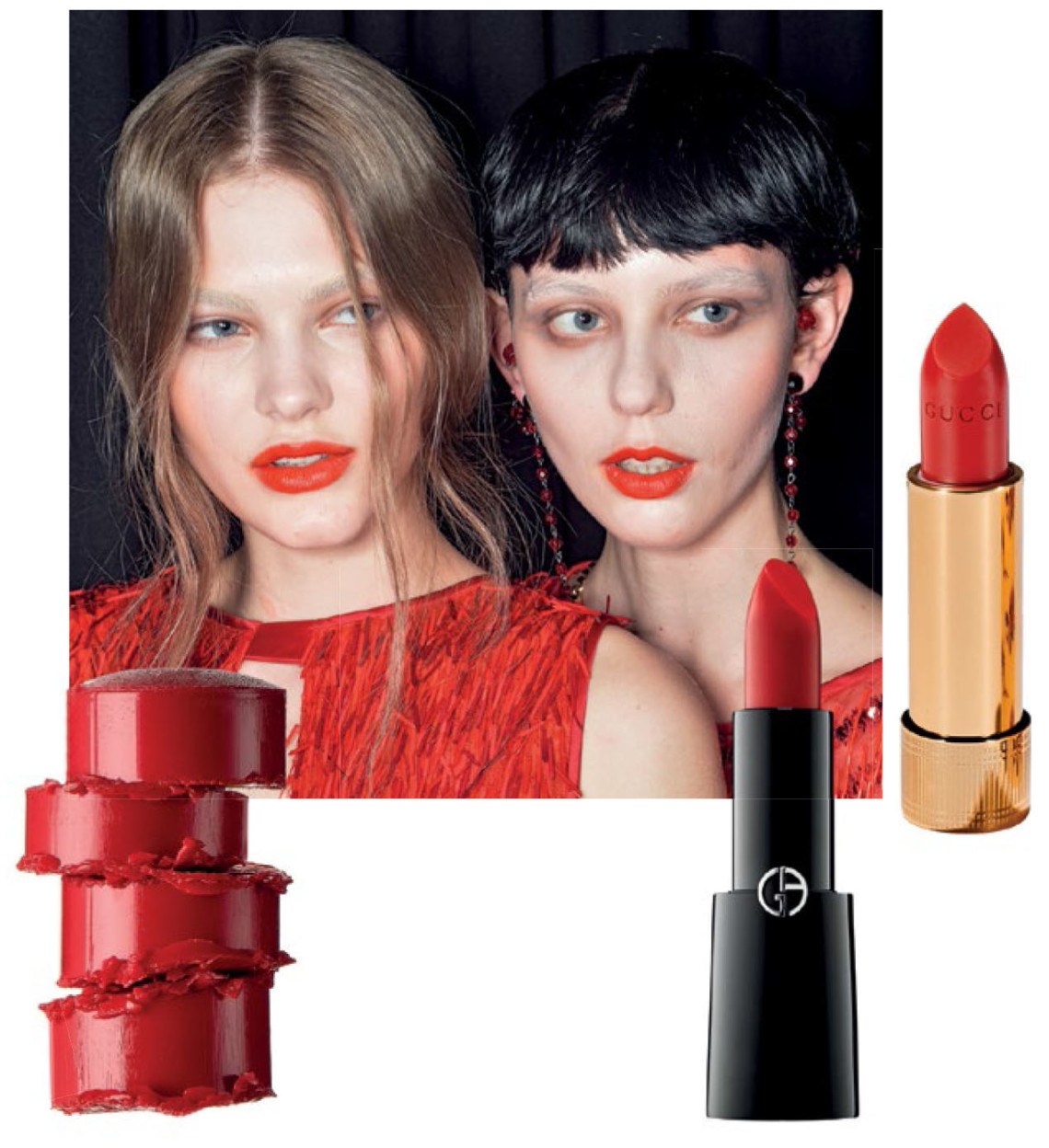 From left: Healthy Glow Lip Balm, Chanel; Emporio Armani; Rouge D'Armani, $55, Armani Beauty; Rouge à Lèvres Satin in Sadie Firelight, Gucci Beauty
RING THE ALARM
Fire-engine red remains a runway staple. Colouring everything from shoulder-duster earrings to models' razor sharp talons and pigmented pouts, crimson isn't just here to stay—it's out to make a statement. 
PHOTOGRAPHY: SHOWBIT