Our round-up of our fave beauty finds of the moment.
Our round-up of our fave beauty finds of the moment. 
"This is my must-have, since my work requires me to travel all the time. This face mist is light and refreshing, keeping my skin hydrated and dewy. It also works well over makeup!" 
Sim Wei Ying, 28 
Herbivore Botanicals Rose Hibiscus Hydrating Face Mist, $50 
"This is the holy grail in my makeup pouch! It's portable, creamy, blends easily, is highly pigmented with great coverage and a smooth velvety matte finish. Definitely worth every penny." 
Gina Peng, 20 
Nars Soft Matte Complete Concealer, $46 
"I don't like bold colours, but this one is rich and vibrant without being OTT. It's easy to apply and doesn't feel drying on the lips. Even when it fades, it leaves a light tint of colour and doesn't leave a ring around my lips like some lippies do." 
Leong Li Yuan, Senior Designer 
HERA Sensual Lip Tint in 357, $43 
"It's my dream to have chok chok or dewy skin like the Korean celebs in all the skincare ads, and this balm has brought me that much closer to achieving it. I can use it on my eyes, lips and cheeks for that dewy glow. I especially like to use it when I do the no-makeup look as it makes my skin look like I just got back from a spa." 
Smita DeSouza, Beauty Editor

Chanel Baume Essentiel Sculpting, $69 
"This fuss-free makeup remover melts away all traces of makeup including waterproof ones with minimal tugging." 
Rachell Ng, 22 
Clean It Zero Cleansing Balm Original, $20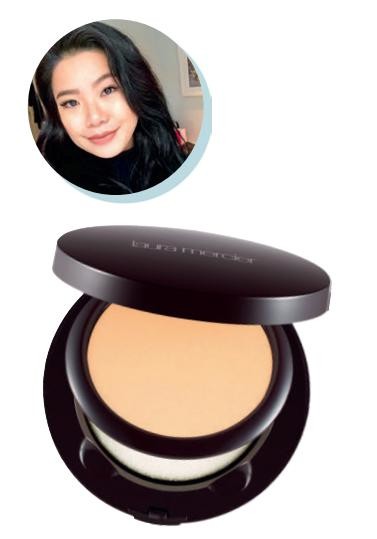 "This is my all-time favourite product— it locks in my liquid foundation perfectly with a matte finish, which I love. Plus, it's super long-lasting but doesn't clog my pores! 
Kim Teo, 23 
Laura Mercier Smooth Finish Foundation Powder, $80 
"It glides on smooth despite its matte texture, with a lovely satin finish. The colour lasted pretty well through a meal—while it did require a touch-up, it didn't completely disappear, which is quite impressive. I also love the colour — as did my sister! She said she's going to swipe it off my vanity table soon." 
Hidayah Idris, Associate Digital Editor 

Clarins Joli Rouge Velvet in 756V Guava, $40 
"The Tarte Shape Tape Contour Concealer is definitely my holy grail! The product is really creamy so it blends like butter and has super full coverage that can cover all of my darkest secrets." 
Vicki Ng, 25 
Tarte Shape Tape Concealer, $42 
"This is such an idiot-proof foundation—it applies smoothly and blends easily. It's medium-coverage, so it gives your skin a very natural, glowy finish without looking like you applied too much makeup. I also like how hydrating it feels. Best part? I find that my oily skin didn't start shining like it normally would with foundations that are more hydrating." 
Sophie Hong, Associate Editor 

Dior Forever Skin Glow, $85 
"I live by the idea that 'eyebrows either make or break your face.' This brow pencil is easy to work with, and gives me great confidence when I step out of the house even when I don't have any other makeup on." 
Celia Koh, 22 
ETUDE HOUSE Drawing Eye Brow Duo, $13.90