IN A SEASON THAT CELEBRATED WOMANHOOD IN ALL ITS FORMS, DESIGNERS CHAMPIONED A DIVERSE WARDROBE THAT BROUGHT US ALL ON A SWEET ESCAPE EDITED BY GERALD TAN
SAINT LAURENT BY ANTHONY VACCARELLO
Two seasons ago, Anthony Vaccarello brought everyone to the Trocadéro and solidified his standing at Saint Laurent in the looming presence of the Eiffel Tower. For spring/summer 2019, Vaccarello returned to the same spot, where, in a shallow pool flanked by white palm trees, he paid tribute to the legacy of Yves Saint Laurent and Parisian style. Models kicked up water as they stomped across in gear that ranged from military band jackets to sequinned playsuits, seductive shorts to pussybow blouses. The House's Le Smoking suit was also injected with a hefty dose of attitude. Vaccarello ended the night with dangerously sexy bodysuits in black and leopard print.
VALENTINO
To Pierpaolo Piccioli, the act of self-expression is the ultimate display of freedom. To that end, Piccioli conjured up a breathtaking collection that was unsurpassed in its execution. It began with an array of black looks, each iteration distinctly different in silhouette and texture. Piccioli then segued into colour, first with fiery red, followed by a medley of patterns and textures. Straw hats took on gigantic proportions that brought maximalist fantasies to new heights. Staying true to his idea of unadulterated freedom, Piccioli paired the looks with flat, feathered shoes that looked like they could take flight at any moment.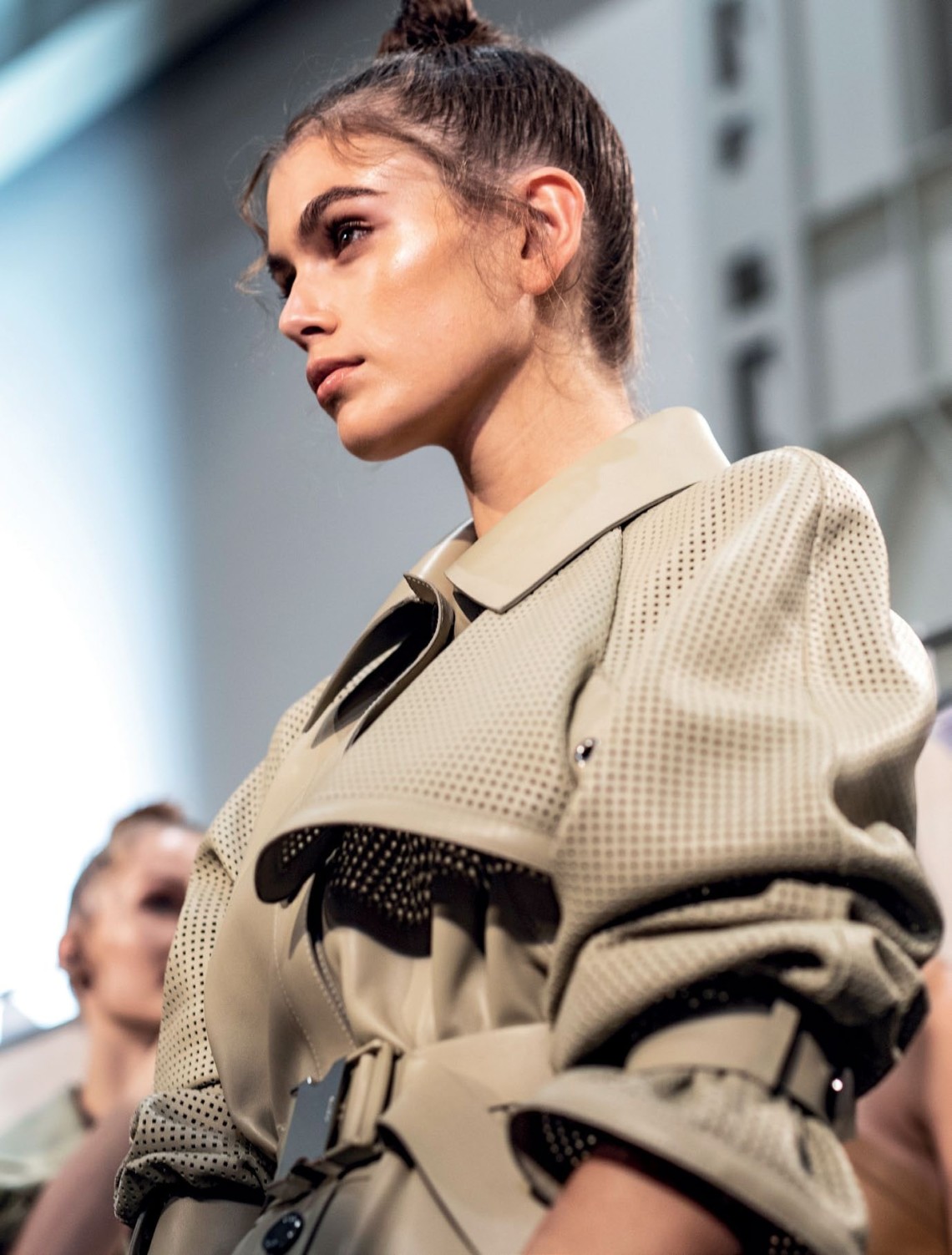 FENDI
Karl Lagerfeld and Silvia Venturini Fendi had plenty of ideas for the season and offered just as many pockets to store them. The handy compartments appeared as a leitmotif on just about everything, from a plush leather coat modelled by Kaia Gerber, to a voluminous belted top on Bella Hadid. The utility theme was also seen on trendy fanny packs and utility belts with attachable pouches—those accented several key looks, such as a blood-red doublebreasted suit and a sheer Victorian blouse. The Baguette, Fendi's cult accessory that sparked the It Bag phenomenon, was also reimagined in more ways than one—bigger in size, constructed from denim, or worn cross-bodied, they retained every ounce of the appeal that made them stars in the first place.
LONGCHAMP
Longchamp marked its 70 th birthday with a debut runway show in New York. Taking cues from legends from the '60s like Anita Pallenberg and Veruschka, Creative Director Sophie Delafontaine offered a scintillating glimpse of Parisian elegance fused with the urban attitude of the Big Apple. Animal print dresses provided the sultry counterpoint to leather bikinis. Leather tassels dripped from jackets, their bohemian quality lending whimsy to the perfect sartorial companion for long drives across deserts. Elsewhere, fringe swathed everything, from corsets that cinched delicate embroidered dresses, to gladiator sandals and leather bags done up in colourful snakeskin prints.
GIVENCHY
Clare Waight Keller sent models with cropped, boyish haircuts and distinctively androgynous beauty onto the Givenchy runway for good reason: Her inspiration this season was Annemarie Schwarzenbach, a Swiss writer, journalist and photographer who blazed the trail with her gender fluidity when she lived nearly a century ago. Waight Keller's muse would have felt right at home in some of the looks she showed, whether the leather jackets tucked into cargo pants or the sweeping trench coats. Androgyny seeped into every seam of the collection, but Waight Keller also kept proceedings ultra-feminine by way of floor-length gowns—some in bright summery hues, others delicately pleated or bejewelled, but each one fit for the red carpet.
CHANEL
Sun, sand, sea and a dose of Vitamin C... Chanel's Karl Lagerfeld planned a seaside vacation of such epic proportions that show-goers felt as though they had stumbled upon a summer holiday in the middle of all the hustle and bustle of fashion week. As models strolled past barefoot, shoes in hand, it was difficult to remember it wasn't a real beach, but in fact the Grand Palais in Paris. An uplifting collection replete with fun and flair saw the House's signature tweed jackets emerge in pastel hues or come attached with kimono sleeves. Billowing dresses had graphic parasol prints. The perfect beach day turned to night with an array of black looks, a line-up of sensuous dresses, complete with on-trend biker shorts, in a reunion of old and new, classic and modern.
LOUIS VUITTON
Nestled within the centuries-old Louvre was a Space Age tunnel that reflected Nicolas Ghesquière's obsession with the future. The same can be said of the fashion he offered at Louis Vuitton for spring/summer 2019—it seemed to come from a different dimension in terms of the aesthetics and skills employed to bring it to fruition. Ghesquière's troop of modern time-travellers traversed passageways in lightweight outerwear with statement sleeves of various textures and styles; statuesque dresses topped off  with glittering mesh layers, cosmic graphics and patterns; and a series of aerodynamic ensembles that were ready for lift-off .
LOEWE
The Maison de l'UNESCO, where Loewe holds its runway shows, was once again dressed up by Jonathan Anderson to be its own art exhibition, with models walking between contemporary artworks that gave the presentation a distinct cultural slant. As expected, artistry permeated the collection, taking the forms of flowing caftans and tunics cut from raw fabrics, sublime knits with billowing bishop sleeves, panels of feathers on dresses and accessories dipped in vivid primary colours. A Loewe show is of course incomplete without bags, and this season the options were plenty with a myriad of woven or crochet bags to tempt and tantalise.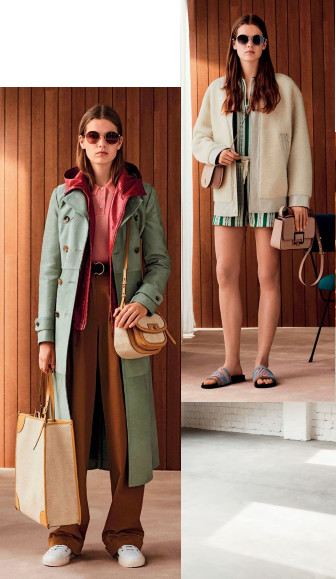 BALLY
Inspired by the pink glow of a Californian sunset, Bally's latest collection brought back the charm of the American open road. The brand's team of designers were also taken by the works of Joel Sternfeld and Stephen Shore, two fine art photographers who captured the beauty of America in the '70s. The shots, characterised by bold, saturated sepia tones, found their way into relaxed sportswear styles, from the oversized sunglasses that colour the world in muted shades of yellow and pink, to the generous silhouettes of pants peeking out from under nappa leather trench coats resembling prized vintage finds from a flea market.
DIOR
Considering Christian Dior's deep historical ties to dance and ballet, it was only a matter of time before Creative Director Maria Grazia Chiuri would base a collection on the art form for the Parisian House. Legends who blazed the trail on the stage, such as Loïe Fuller, Martha Graham and Pina Bausch, provided Chiuri with material for the season; and she transformed the fluidity and grace of dance into feminine concoctions of tulle and chiffon. As troupes of dancers wove in and out of the paths treaded by models (the former were part of a routine by Israeli choreographer Sharon Eyal that provided an emotional backbone to the collection), Chiuri balanced the lightness of the collection with structured, military-inflected looks in navy, khaki, and olive that gave the nod to her feminist leanings.
TORY BURCH
"My parents, Buddy and Reva Robinson, were adventurers. Every summer, they boarded a steamship and spent six weeks sailing from Italy and Greece to Morocco and Spain," said Burch of a collection designed to stoke wanderlust in all of us. Inside the garden of the Cooper Hewitt Smithsonian Design Museum, the American designer showed a range of crisp cotton dresses and relaxed caftans that boasted touches of lace and ethnic embroidery for an extra dash of whimsy; and matched impeccable safari jackets with tall straw hats that were perfect for a new league of modern-day explorers ready to embark on their next big adventure.
CHLOÉ
Travel nourishes the soul, which explains why it emerged as a key theme this season. At Chloé, Natacha Ramsey-Levi joined the fray of designers offering their takes on globe-trotting style. Her version is one steeped in the magnetic pull of "hippie modernism".  Tasselled hems, ruffles, twisted ropes, together with fabrics as plush as artisanal tapestries, fluid pairings of neutrals and vibrant silk scarves captured the narrative of a modern bohemian ready to leave the confines of reality behind.
MIU MIU
What to make of the giant bows, hems dishevelled and fraying, that sat on dresses? Or the studious-looking boxy jacket matched with a wild python skirt? Or the cropped sweater layered over a sheer slip? It all made for one curious mix at Miu Miu, but Miuccia Prada was actually re-examining standards of beauty, while deconstructing the codes of elegance at the same time. The designer achieved the end results by filtering her creations through the retro lenses that have characterised her celebrated career, before finessing everything together with deft tailoring.
GUCCI
The grand Le Palace, a Parisian spot itself a blend of cultural references from different time periods, mirrored Alessandro Michele's whimsical and eclectic vision for Gucci. Within the walls of Paris' hottest night spot in the '70s, Michele showed an extravaganza where the past and present blended into one rich tapestry. His magpie instinct kicked into overdrive, and show-goers witnessed a collection that included everything from modern medieval gowns to '70s high-waisted flared pants. It was experimental, referential and, of course, wildly over the top: Sequins, Lurex and feathers put in a fantastic appearance—as did Jane Birkin, who surprised everyone with a performance at the show.
MONCLER
Rule-breaking Ezra Miller arrived at the Fantastic Beasts premiere in Paris swathed in a puffer coat-dress designed by Pierpaolo Piccioli for Moncler's rule-breaking Moncler Genius—a collaboration series that does away with seasonal collections in favour of designer collaborations, which are then released as monthly drops. Conceptualised by Remo Ruffini, the brand's astute Chairman and CEO, Moncler has announced a second installation of Moncler Genius. From the conceptual (Craig Green's surreal-looking ponchos mounted on frames) to the everyday (1952's modification of wardrobe classics), every collection was a testament to the creativity and artistic freedom championed by Moncler Genius.
MARC JACOBS
Marc Jacobs certainly knows how to put on an unforgettable show. He is famous for starting his shows on time, but as the minutes went by at his recent spring/summer 2019 show, guests wondered what to make of the unexpected situation. (Rumour has it that the clothes were stuck in New York's notoriously bad traffic.) The show didn't start until an hour and a half later, but from the moment the first model strutted down the runway in a yellow slip dress paired with shimmery leggings, it was pure fashion magic. The show progressed with an endless stream of cotton candy-hued puff ball dresses with voluminous ruffles, scene-stealing sequinned trousers, over-the-top ostrich feathered pieces, and strong-shouldered '80s pantsuits. Guess what? It was worth the wait.
CELINE
Hedi Slimane's debut for CELINE was a hotly anticipated affair—the buzz it generated after proved exactly why Slimane remains one of fashion's most divisive designers. Fans of the French-Tunisian designer immediately took to the cool, rock-star attitude of the clothes; others said their goodbyes to the intellectual slant Phoebe Philo instilled during her tenure. With daring, high hemlines on ultra-glam, blinged-out dresses, Slimane showed that he is fully committed to bringing the Parisian club kid aesthetic he is known for to CELINE. Strong '80s shoulders dominated, as did slim-cut suits for CELINE's first-ever menswear collection that also celebrated today's youth in its libertarian, rebellious glory.
TOMMY HILFIGER
Tommy Hilfiger has been on the road for many seasons now, bringing his runway extravaganzas to vibrant cities such as Los Angeles, London and Milan. His latest stop? Shanghai, where the iconic waterfront avenue that is the Bund provided a catwalk unlike any other. As the towers across the Huangpu River glimmered in the night, Hilfiger rolled out a collection of cool logo t-shirts, sweat suits and varsity jackets that his youthful Chinese customers (as well as others from around the world) will appreciate.
VERSACE
Donatella Versace traded in the Italian House's provocative brand of femininity for a collection that celebrated it in an off -beat manner. There were plenty of florals, checks and stripes, all mixed and matched for a dose of fun. Retro skirt-suits had an in-your-face loudness of the '70s. But make no mistake—the designer didn't dial back on the highoctane glamour she's known for. That materialised in the form of slinky black satin dresses that showed plenty of leg, or dresses that either hugged every curve or enveloped the body in a mesmerising whirl of prints and pattern.
BURBERRY
It was a massive debut: Riccardo Tisci unveiled his vision for Burberry over an assembly of 134 looks for both women and men. Underneath all the hype that Tisci brought to the brand, however, was a thoughtful celebration of all things Burberry and, well, British. The show opened with the iconic trench coat cinched with a wide elastic band, illustrating Tisci's commitment to preserving the brand's DNA. There was also tailoring worthy of Savile Row, witnessed on power suits in shades of beige. Tisci's penchant for street wear crystallised into anoraks, hoodies and graphic t-shirts.
MAX MARA
Looking after the sartorial needs of women has played a vital role in ensuring Max Mara's longevity since its founding in 1951. Its signature camel coat, designed by Anne-Marie Beretta in 1981, has become such a quintessential object that it has shaped the ethos of timelessness at the brand. For spring, Ian Griffiths revisited the House archives and allowed Beretta's sensibilities to inform his own. Griffiths stuck to a largely neutral palette of earthy beige and dusty greys, but jolted the senses with an explosion of head-to-toe canary yellow looks. It wasn't just the past Griffith took cues from: Mythical tales of goddesses Gaia and Amphitrite led him to create patent dresses and cascading ruffles to recall the slick sheen of water and waves.
TOD'S
Every Tod's collection is a story about leather and the role it plays in the lives of women. Spring/summer 2019 is a blockbuster of sorts, featuring the sumptuous material crafted in various iterations that leave one spoilt for choice. There were blazers for every occasion, one in snakeskin, another in electric blue. Lightweight trench coats toed the line between smart and casual, filled with just the right amount of Italian sprezzatura. The accessories were no mere supporting acts—loafers with fluttering leather feathers and saddle-style handbags stole the show with their alluring combination of tradition and innovation.
HERMÈS
Held at the Paris Longchamp Racecourse, the latest Hermès collection is an exercise in class and precision. Given the extraordinary setting of its show location, plus the House's association with horses, one would expect Nadège Vanhee-Cybulski to ride ahead with the equestrian themes. Instead, those took a backseat this season—the designer channelled the allure of summer days spent on the high seas into clothes that also boasted strong athletic associations. A sailor's smock was remade into utilitarian parkas and dresses with eyelet and rope details, while buttery-soft leather mesh was shown alongside techno-spartan sandals. Vanhee-Cybulski also injected sensuality with her urban interpretation of wetsuits.
PRADA
A Prada collection is dissected at length for many reasons, among them Miuccia Prada's undisputed ability to set the agenda through her clothes every season. There's also her take on subversive duality, a powerful concept that has come to define her work for the brand her grandfather co-founded a century ago. This season saw the designer push the envelope even further—she tossed around words like "liberation" and "simplification", which eventually translated to a collection full of juxtapositions: Baby-doll blouses were matched with bike shorts, sheer dresses revealed boyish underwear beneath them, while girly headbands were upsized and embellished with studs.
MICHAEL KORS COLLECTION
Besides punchy floral prints that would look at home by the seaside, bright shades of orange, pink and yellow were splashed over the runway at Michael Kors this spring. "I wanted the show to feel like a global getaway," explained Kors. "I find travel to be the ultimate inspiration and this collection takes a little bit from all of my favourite destinations around the world." A fringed jacket paired with a lightweight knit recalled the energy of Santa Monica; cotton dresses evoked the beauty of the French Riviera; crochet swimsuits brought to mind memories of traipsing in after watching a sunset on the beach, with sand slipping through the toes.
BALENCIAGA
Since Demna Gvasalia was handed the reins at Balenciaga, he has relied on a range of sensory cues to aid his storytelling in the collections. From his ironic reworking of logos, to building a faux snow mountain littered with graffiti, every attempt is also part of his socio-political commentary on fashion and the world. For spring/summer 2019, Gvasalia took on the oft-discussed trope of technology's impact on human relationships. He collaborated with digital artist Jon Rafman, who produced a dissonant montage of kaleidoscopic imagery that flashed inside a tunnel doubling up as the runway set. Gvasalia's models—some holding on to clutches resembling rolled-up magazines—hurtled through the space in a series of tailored jackets with nipped waists, Tron-like mini dresses, or sculptural shirt-skirt combinations that added to a discordant experience engineered for a technology-obsessed generation.
RALPH LAUREN
Ralph Lauren celebrated his 50 th anniversary show in a big way. Besides a star-studded guest list that included the likes of Hilary Clinton and Oprah Winfrey, a stellar presentation that played out like a lavish orchestra showed exactly why Lauren is a bastion of classic American style. The designer brought back all his signatures over the course of more than a hundred looks. From charmingly rustic denims to opulent velvet suits and gowns, it was the epitome of classic Americana injected with generous servings of glamour.
SALVATORE FERRAGAMO
Sophomore collections can be tricky affairs, but Paul Andrew and Guilland Meilland managed a beautiful follow-up to their debut fall/winter 2018 co-ed show.  "Alongside Guillaume, I'm working to make a Salvatore Ferragamo that not only appeals to all generations, but also acts as a point of connection between them," Andrew explained in a release. "The soul of this House lies in the artistic and technical genius of Salvatore's shoe designs—his genius never gets old—and that is where we started with this collection."  The founder's game-changing use of raw materials such as rattan and wood informed Andrew's tactile interpretation of architectural sandals and woven boots, which grounded a utilitarian turn-out of masculine trench coats, jumpsuits, handkerchief-hem skirts and net dresses with a timeless sense of ease.
COACH 1941
Americana is the pulsating heart of Stuart Vevers' work for Coach 1941. It's a well-guided approach that has served him well in the five years he's been at the helm—Vevers' take has struck a chord with the young and young-at-heart. Inspired by a trip to Santa Fe, the designer put forth a spring/summer collection tailored for the free-spirited. It was a mélange of Gothic romanticism remixed with the naivety of cartoons. Deliberately distressed, worn and crumpled, the intentionally imperfect finishes also gave personality to his flamboyant ruffles, prairie skirts, leather vests and gauzy dresses.
MOSCHINO
Thanks to Jeremy Scott's wit, a Moschino show is never without an irreverent subtext. The premise for this season? That he didn't have the time to finish the collection and all he had were sketches… Except, of course, the sketches on hand had been constructed into power suits that recalled the mastery of Yves Saint Laurent in the '80s. The clothes became blank canvases, filled with marker pen scribbles as if Scott coloured them in at the last minute. Scott's tongue-in-cheek allusion to fashion's relentless pace also yielded gowns with giant measuring tape flounces or trains still attached to the rolls of fabric they were cut from.
ADDITIONAL REPORTING: RACHEL HO AND CHANDREYEE RAY. 
PHOTOGRAPHY:
123RF
.
COM
, SHOWBIT, TPGVIP/CLICK PHOTOS AND COURTESY OF THE BRANDS