WHAT EVERY TIMEPIECE HERE HAS IN COMMON: A CONSIDERABLE ELEMENT OF CERAMIC (AND, NO, WE AIN'T TALKING STONEWARE) THAT IS NOT IN BLACK OR WHITE. IMRAN JALAL REPORTS ON WHY THIS NEXT MOST COLOURFUL TREND IN HOROLOGY SHOULD GET YOU ALL PSYCHED UP.
WHAT EVERY TIMEPIECE HERE HAS IN COMMON: A CONSIDERABLE ELEMENT OF CERAMIC (AND, NO, WE AIN'T TALKING STONEWARE) THAT IS NOT IN BLACK OR WHITE. IMRAN JALAL REPORTS ON WHY THIS NEXT MOST COLOURFUL TREND IN HOROLOGY SHOULD GET YOU ALL PSYCHED UP.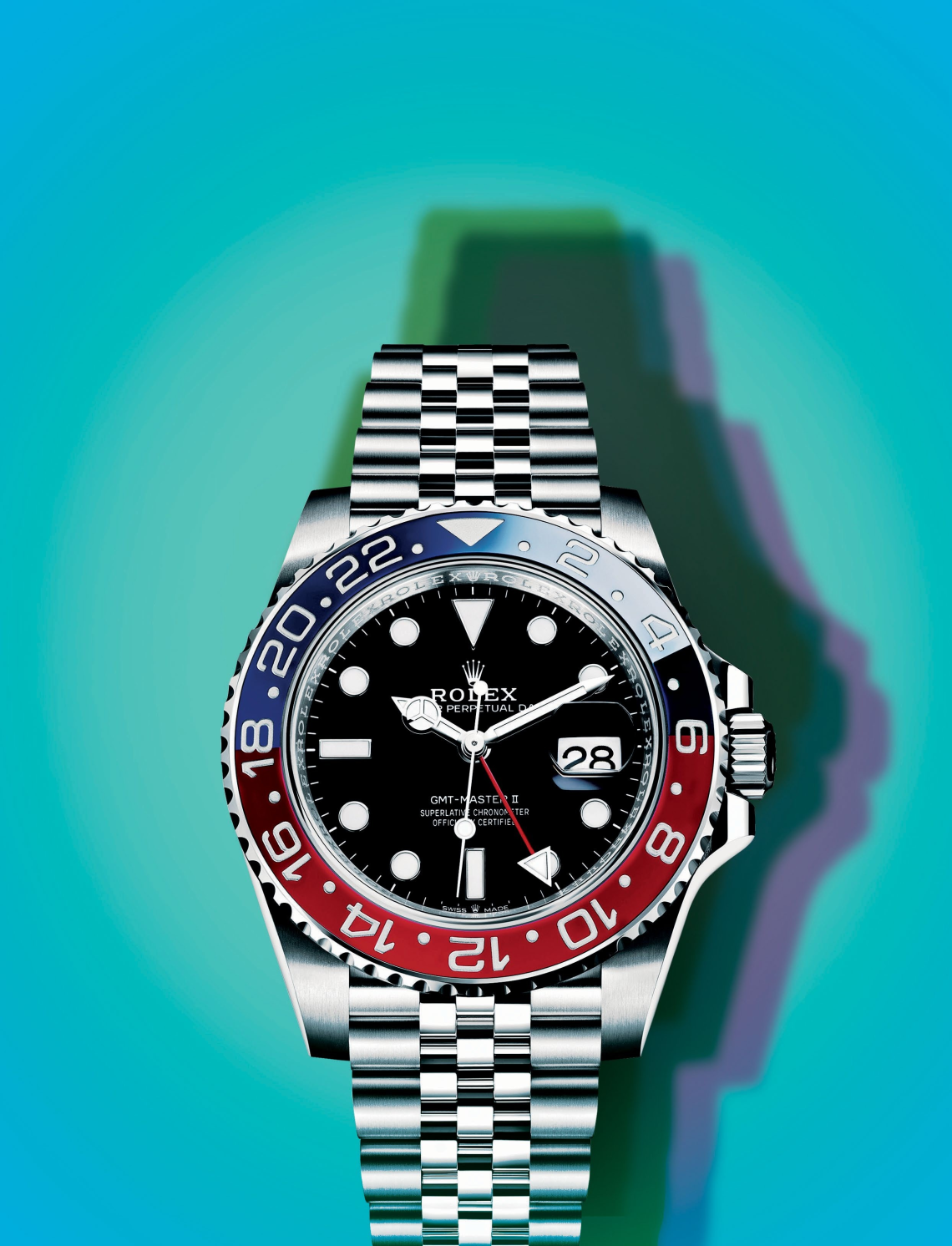 Rolex Oyster Perpetual GMT-Master II
An update of a model with a red-blue "Pepsi" bezel in Cerachrom – the brand's registered gold or platinum-coated ceramic – which was launched in 2014. The twist? That "Pepsi" came with a white gold bracelet; this has a fivelink steel variation (inspired by the archives and dubbed the Jubilee) that lends this traveller's watch a cool vintage appeal.
Clockwise from left:
Omega Seamaster Planet Ocean Deep Brown Co-axial Master Chronometer
A new automatic ladies model from the brand's signature diving line. The ceramic dial and bezel come in a rich chocolate brown that's set off with indexes in the brand's patented 18K Sedna gold, resulting in one modern yet sophisticated number.
Rado True Thinline Colours
As recognised for their monochrome hues as their 4.9mm-thin profile (think two 50-cent coins stacked together), these quartz powered ceramic watches now come coloured for the first time. In midnight blue, forest green, cognac brown and slate grey, the models recall the palette of Vermeer paintings with the green being a standout for its rare deep hue and polished finish.
Hublot Big Bang Unico Red Magic
Limited to 500 pieces, it's the brand's first watch made of coloured ceramic – the intense crimson hue is said to be more vibrant and the material harder than conventional hightech ceramic.
 You don't have to be an expert to know that the term "hightech" almost always precedes the term "ceramic" in the watch world, reason simply being that the process of deriving the latter is precisely that.
For the record, this ceramic that we speak of has nothing to do with dishware. Instead, it's obtained when high-purity zirconia – a naturally occurring mineral also used in the making of medical apparatus and spacecraft thermal shields – is fired in a process called sintering. At temperatures of almost 2,000 deg C, the powder transforms into a solid that's scratch-proof, hypoallergenic and UV-resistant (read: it doesn't fade). Little wonder that it's become one of the most desirable materials to use on the dials, bezels, cases and bracelets of timepieces.
Now, you don't have to be an expert to also know that watches made of high-tech ceramic are most commonly monochrome, often lending to industrial-looking styles that would appeal to those into minimalist aesthetics. Sure, a few coloured models have popped up in recent years. One to know: Omega's Seamaster Planet Ocean GMT with an orange ceramic bezel – a world first – that was launched in 2014 and limited to just eight pieces. But as this fun, citrusy rendition of a favourite classic might indicate, they've largely been novelties, and this could all boil down to just how tricky it is to, well, throw some shade onto high-tech ceramic.
"The negative aspect (comes) when the temperature is too high – coloured pigments added to the ceramic powder (risk getting) burnt," explains Ricardo Guadalupe, chief executive of Hublot, in an e-mail interview. "This is why ceramic always comes in the same colours – black, grey, brown, dark blue, and dark green or white." It also explains why he counts the brand's latest launch, the Big Bang Unico Red Magic, as a big achievement: Its ceramic case and bezel are a surprisingly vibrant red, with the rubber strap in a matching hue for a hyper slick and modern sporty ticker that has the same effect as a statement bangle.
That's just one in an impressive crop of 2018 releases that feature high-tech ceramic in unexpected colours. A travel favourite, Rolex's Oyster Perpetual GMT-Master II is known for its bicoloured bezel made from patented Cerachrom ceramic, so much so that past variations have earned industry nicknames. The blue-black combo launched five years ago, for example, was dubbed "Batman", while the blue-red version that followed was affectionately referred to as "Pepsi". This year, the latter has been revived on a steel bracelet, alongside the introduction of "Root Beer" with a glamorous brownblack ceramic bezel set against 18K Everose gold.
Even Rado – credited with sparking the high-tech ceramic watch wave with its chic, evening-appropriate Integral timepiece 32 years ago – is ramping up its portfolio of timepieces featuring coloured ceramic. Its True Thinline collection – a hit with design fiends for its simplicity and thinness – debuts four models in inky Vermeer shades like forest green and midnight blue. The name of this sub-line? Most appropriately "Colours".
THE OGS
For those who prefer their ceramic watches in classic black or white, these are three signature styles to know.
Rado's Integral
This minimalist timepiece debuted in 1986 and marked the first time that high-tech ceramic was used in horology. Its combination of sleek black ceramic and gold links was the brand's interpretation of a modern jewellery watch.
Chanel's J12
Created by the brand's artistic director JacquesHelleu in 2000, this nautical-inspired timepiece was originally designed in glossy ceramic, and made the material trendy among women.
Hublot's Big Bang Unico Magic Gold
Not a ceramic watch per se, but its bezel ismade of a scratch-resistant 24K gold-andceramic alloy said to be the hardest kind ofgold material in the world, causing a buzz when it debuted in 2015.