Christmas is a special time when family and friends come together to laugh, love and feast. Make your festive celebrations extra special with these amazing recipes
"Roasted Turkey With Kumquat Pistachio Stuffing & Cumberland Sauce"
CHEF'S TIP:
Vino cotto is made from grape must, and is a sweet, aromatic, velvety syrup. You can buy the Maggie Beer Vino Cotto from Little Farms supermarkets, or use a thicker balsamic vinegar as an alternative.
ROAST TURKEY WITH KUMQUAT PISTACHIO STUFFING & CUMBERLAND SAUCE
Prep & Cook 3 hours 30 mins (+ cooling and 1 hour standing time) | Serves 8 to 10
6 kg free-range turkey (bring to room temperature)
¼ cup (60 ml) extra virgin olive oil
1 tsp plain flour
2 extra-large oven bags
2 tbsps verjuice
1 tbsp vino cotto (see chef's tip)
KUMQUAT PISTACHIO STUFFING
90 g dried kumquat
¼ cup (60 ml) verjuice
1 cup (250 ml) extra virgin olive oil
500 g free-range chicken livers, sinew removed
3 medium (500 g) brown onions, chopped
¼ cup rosemary leaves, chopped
3 cups (200 g) coarse fresh breadcrumbs
⅓ cup fresh lemon thyme, chopped
1 cup flat-leaf parsley, chopped
½ cup (70 g) pistachios, chopped Extra virgin olive oil
CUMBERLAND SAUCE
(Makes about 1¼ cups or 310 ml)
2 oranges
2 lemons
⅓ cup (110 g) redcurrant jelly
1 tsp Dijon mustard
½ tsp ground ginger
½ cup (125 ml) tawny port
½ cup (125 ml) horseradish cream
1. CUMBERLAND SAUCE
Finely grate the rind from the oranges and lemons. Squeeze oranges and lemons separately. You will need 100 ml orange juice and 80 ml lemon juice. Place rinds, juices, jelly, mustard, ginger and port in a saucepan. Bring to a simmer over medium-high heat, stirring, then cook for 20 mins, or until it thickens a little. Cool completely, then stir in horseradish cream. Transfer to a bowl; cover, refrigerate until needed, or store in a sterilised jar in the fridge for up to 1 week.
2. KUMQUAT PISTACHIO STUFFING
Place kumquats in a bowl with verjuice; stand for 30 mins. Heat 2 tbsps of oil in a large non-stick frying pan over high heat. Seal chicken livers on each side for only a couple of seconds. Remove from the pan and place on a plate to cool. Chop coarsely. Heat the remaining oil in cleaned frying pan over a medium-high heat. Add onion; cook, stirring, until caramelised and soft. Add rosemary; cook for a further 2 to 3 mins. Remove from heat. In a large bowl, mix kumquats, liver and remaining ingredients. Stir in enough remaining oil to just bring the stuffing together. Season.
3. Preheat oven to 170 C. Fill the turkey cavity with the stuffing. Fold the wings under the body and tie the legs together with kitchen string. Mix together 1 tbsp sea salt flakes, 1 tbsp verjuice and 2 tbsps oil; rub all over turkey.
4. Place flour in oven bag; shake to distribute flour throughout the bag. Slide turkey into the bag to coat with flour. Tie the end of the bag with kitchen string and slip it into another oven bag, seal this too. Place turkey in a large roasting pan; roast for 1½ hours, or until golden and cooked through (internal temperature must reach 62 C).
5. Remove turkey from the oven. Cut a corner off  the oven bag, then carefully pour all the fat and juices into the tallest, thinnest jug you have (so you'll have the smallest surface area) to accelerate fat setting. Place the jug in the fridge to chill so that the fat will separate from the juices.
6. Place the piping-hot turkey, breastside down, in the pan. Leave turkey to rest for up to 1 hour with the torn oven bag or a sheet of foil loosely covering it so it can retain its heat.
7. If the turkey is not golden brown, remove it from the oven bag and place it in the roasting pan breast-side up. Increase the oven temperature to 200 C. Brush with combined remaining verjuice, olive oil and vino cotto. Roast turkey for 10 mins or until golden all over.
8. Once the fat has set, scoop it from the jug and discard. Place the juices in a small saucepan. Bring it to the boil over high heat; simmer for 10 mins or until reduced by half. Strain and keep warm until ready to serve.
9. Serve turkey and stuffing with the pan juices and Cumberland Sauce.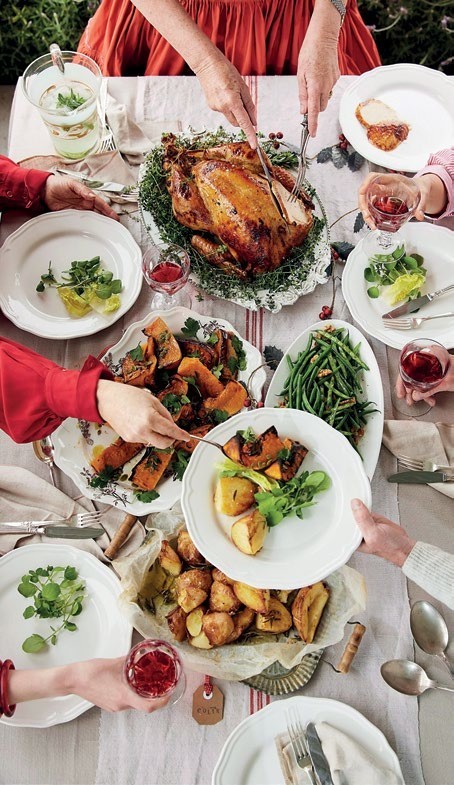 "Salad of King Prawns, Crabs and Avocado"
SALAD OF KING PRAWNS, CRABS & AVOCADO
Prep 30 mins | Serves 6 as an entree
1 kg cooked king prawns
2 baby cos lettuce hearts
1 red witlof
1 white (green) witlof
1 bunch rocket
2 large (640 g) avocados
6 freshly steamed blue swimmer crabs
Micro mint or small mint leaves, to serve
2 lemons, cut into wedges, to serve
VERJUICE MAYONNAISE
2 large free-range egg yolks, at room temperature
2 tbsps verjuice
1 tsp Dijon mustard
½ cup (125 ml) extra virgin olive oil
½ cup (125 ml) vegetable oil Ground black pepper, sea salt flakes and lemon juice, to taste
1. VERJUICE MAYONNAISE
Blend or process egg yolks, verjuice and mustard until combined. With motor operating, slowly add the oils until combined. Season to taste with sea salt flakes and ground black pepper. Taste for acidity, add a squeeze of lemon juice if needed. Cover; refrigerate until ready to use.
2. Peel and devein prawns. Separate lettuce leaves, witlof and rocket. Wash and dry leaves. Cut avocados in half, remove seeds, skin and cut into thick chunks. Place avocado chunks into a large bowl with the leaves; gently toss together.
3. Place salad on a large platter. Scatter prawns and mint; serve with Verjuice Mayonnaise, steamed crabs and lemon wedges.
CHRISTMAS FRUIT MINCE SEMIFREDDO WITH STRAWBERRIES
Prep & Cook 45 mins (+ freezing time) | Serves 8
½ cup (125 ml) verjuice
2 eggs
4 egg yolks
1 cup (220 g) caster sugar
600 ml thickened cream
Finely grated rind of 1 lemon
500 g strawberries, chopped coarsely
2 tsps vino cotto or thick balsamic vinegar
FRUIT MINCE
¼ cup (60 ml) verjuice
½ cup (125 ml) water
⅔ cup (100 g) seedless raisins
⅔ cup (100 g) dried apricots
¼ cup (50 g) dried figs
⅔ cup (100 g) sultanas
⅔ cup (100 g) currants
⅓ cup (50 g) mixed peel
¼ cup (60 g) firmly packed brown sugar
½ tsp all spice
½ tsp freshly grated nutmeg
½ tsp cinnamon
⅓ cup (80 ml) brandy
1 tbsp vino cotto
1. FRUIT MINCE Place all ingredients in a medium saucepan: cook over medium heat, simmer gently for 8 to 10 mins, or until fruit is soft, and syrup has thickened up and is glossy. Don't overcook the fruit, or it will candy and go hard. Remove from heat and spread onto a tray to cool.
2. Meanwhile, line a medium-sized bowl with a double layer of plastic wrap. Place verjuice into a small saucepan and simmer over a medium heat for about 5 mins, or until reduced by half.
3. Combine eggs, egg yolks and sugar in a large heatproof bowl, and place over a pan of simmering water, and whisk until thick and creamy for approximately 5 mins, or until it's doubled in size. Remove from heat and allow to cool to room temperature.
4. Fold the cooled Fruit Mince into . the egg mixture and the reduced verjuice.
5. Beat the cream to medium-firm peaks, and then gradually fold through the fruit mixture. Pour into the prepared pudding basin, and freeze for 6 hours or overnight.
6. To serve, remove the semifreddo from the freezer; stand for 10 mins before turning out onto a platter.
7. Meanwhile, combine strawberries and vino cotto in a bowl; stand for 10 mins. Serve the semifreddo with strawberries.
"Christmas Fruit Mince Semifreddo With Strawberries"
CHEF'S TIP:
Fruit mince can be made several weeks ahead. Semifreddo can be made up to 1 week ahead.
"Duck Fat Roast Potatoes"
"Green Beans With Roasted Walnuts"
"Baked Pumpkin With Herbs And Pumpkin Seeds"
CHEF'S TIP:
To prepare walnuts, roast in a 180 C oven for 8 to 10 mins or until golden. Pour nuts into a clean tea towel; rub to remove most of the skin.
BAKED PUMPKIN WITH HERBS AND PUMPKIN SEEDS
Prep & Cook 45 mins | Serves 6
1 kg butternut pumpkin, skin on
¼ cup (60 ml) extra virgin olive oil
¼ cup fresh rosemary, leaves stripped
¼ cup (60 ml) verjuice
½ cup flat-leaf parsley leaves
¼ cup (50 g) pumpkin seed kernels (pepitas), toasted
1. Preheat oven to 220 C.
2. Cut pumpkin into quarters lengthways; scoop out seeds, then cut each quarter of pumpkin into pieces about 4.5-cm wide.
3. Place pumpkin onto a baking tray – make sure not to overcrowd the tray. Pour the oil over, sprinkle rosemary; season with sea salt flakes. Toss well so every pumpkin piece gets coated. Roast pumpkin for 30 to 40 mins or until tender, tossing regularly. Remove from oven and drizzle with verjuice.
4. Return to the oven for a further 5 mins or until most of the verjuice has been reduced to a glaze. Keep warm until ready to serve. Transfer to a serving platter; sprinkle with parsley and pumpkin seed kernels.
DUCK FAT ROAST POTATOES
Prep & Cook 1 hour | Serves 6
1.2 kg waxy potatoes (such as Nicola, Dutch creams, kipfler or desiree)
¼ cup (60 g) duck fat (you can order from places like
sg
.
iherb
.
com
)
¼ cup (60 ml) extra virgin olive oil
¼ cup rosemary leaves
1.  Preheat oven to 230 C.
2.  Scrub potatoes well, then place into a large saucepan. Cover with cold water and a pinch of salt and place over a high heat. Place lid on the pan and bring to a low boil, then lower the heat to medium and cook for 15 mins, or until just tender.
3.  Drain the potatoes, then cut them in half, or into quarters, depending on the size.
4.  Meanwhile, place fat and oil into a shallow baking dish, and place the dish in the oven until hot. Remove the baking dish from the oven, add potatoes to the fish and sprinkle with sea salt. Toss well to ensure the potatoes are well covered with fat. Roast potatoes for 10 mins, then add rosemary leaves. Turn the potatoes and roast for a further 15 mins, or until golden and crispy.
GREEN BEANS WITH ROASTED WALNUTS
Prep & Cook 15 mins | Serves 6 Bak
With Herbs Pumpkin Seeds
600 g green beans, topped and tailed
2 tbsps extra virgin olive oil
¼ cup (25 g) walnuts, roasted and rubbed, chopped
1. Place a large saucepan of salted water over a high heat, and bring to a boil. Cook the beans for 2 to 3 mins, then drain off the water. Drizzle oil over and toss to coat well.
2. To serve, place beans on a serving platter; sprinkle with walnuts.
PHOTOS: JOHN PAUL URIZAR / BAUERSYNDICATION.COM.AU