Having pre-dinner drinks is a great way to start an evening at Origin Grill & Bar. Decked out in dark wood and dotted with plush leather chairs, Origin Bar has a convivial vibe that makes you relax immediately. We enjoy the namesake Origin cocktail, a gin-based thirst-quencher made with spiced pineapple and sugar cane. We also have our eye on other intriguing cocktails such as Leaf The Curry (think curry leaf, tamarind, cardamom and aged rum), and tempting bar snacks (poached lobster roll with trout caviar, anyone?). Alas, dinner beckons.
Having pre-dinner drinks is a great way to start an evening at Origin Grill & Bar. Decked out in dark wood and dotted with plush leather chairs, Origin Bar has a convivial vibe that makes you relax immediately. We enjoy the namesake Origin cocktail, a gin-based thirst-quencher made with spiced pineapple and sugar cane. We also have our eye on other intriguing cocktails such as Leaf The Curry (think curry leaf, tamarind, cardamom and aged rum), and tempting bar snacks (poached lobster roll with trout caviar, anyone?). Alas, dinner beckons.
Award of Excellence
ORIGIN GRILL & BAR
Lobby Level, Tower Wing, Shangri-la Hotel Singapore, S(258350) T 6213-4595
In contrast, the adjacent Origin Grill, with its high ceiling, light wood floors, well-spaced wooden tables, and hand-stitched leather Tripolina chairs in teal, is quiet. The aff able staff enthusiastically relate the restaurant's emphasis on ingredient provenance – line-caught fish and sustainable seafood and meat are used.
Sydney-born chef de cuisine Heidi Flanagan does a splendid job with the quality ingredients. Dishes, simply yet exquisitely prepared to allow the produce to shine, are hearty and satisfying.
For starters, a dish of raw tuna from the Philippines with whole edamame beans, served on crispy, wafer-thin vegetable-and-seed flatbread, tease the taste buds with fresh, lively flavours, and a lightly spicy avocado-and-jalapeno cream packs just the right punch. The Fish of the Day – line-caught by fishermen in small boats off the coasts of Indonesia and sent to the restaurant daily – is grilled to perfection and served whole, accompanied by a bed of greens and half a lemon.
Origin's highlight is the fine selection of beef from Australia, Japan and Ireland. While the Snow-Aged Full Blood Wagyu A4 from Niigata, renowned for its marvellous buttery texture, is enticing, we decide to go for the 500g 35-day dry-aged grass-fed ribeye on the bone from Longford, Ireland, because the prospect of a beefy, succulent dry-aged steak calls  out to us. It does not disappoint. The beautifully seared medium-rare steak is crusty on the outside and tender and pinkish red on the inside, with a mellow meaty flavour that lingers on the palate. Perfect with a red from the sizeable wine list.
In the day, the dining area is bright and cheerful, making it a fine spot for entertaining guests. Origin's express lunch menu is particularly ideal for business lunch. Take your pick from two or three courses, and choose from tantalising starters such as chicken liver and brandy house pate or octopus charred with smoked paprika, served with spiced tomato jam and eggplant puree. Mains-wise, you'll have a choice of three types of steaks (striploin, rump or flank steak) served with vegetables. Non-meat eaters can opt for the grilled sea bass fillet or spaghetti with jumbo crabmeat with white wine cream sauce. For desserts, a daily selection of luscious cakes (keep an eye out for the chocolate fudge cake) awaits.
TEXT XIE HUI QUN
(facing page) Origin Grill is an ideal spot for quick business lunches and more elaborate dinners.
(this page) Tuck into succulent steaks along with delicious side dishes prepared by chef Heidi Flanagan and her kitchen team.
Considering the range and quality of Italian restaurants in Singapore, it seems almost foolhardy to enter this saturated stratosphere. But if diner numbers are anything to go by, new entrant Publico Ristorante has placed its bets right, not just with aperitivo hour on its lush riverside perch, but with a handsome main dining hall studded with millennial-pink marble tables and striking custom furniture pieces by New York design firm Avroko. Equally smart-looking servers in polished brogues and sharply tailored ankle-grazing trousers are the very sartorial image of Italian dandies.
Besides subverting expectations of the archetypal hotel restaurant, Publico's modern interiors belie the menu's respect for tradition. Under executive chef Marco Turatti's watchful eye, only top-notch ingredients are allowed to pass. The buffalo mozzarella antipasto, featuring vine-ripened tomatoes, balsamic vinegar, and basil, needs little else to shine. The special for the day, a smoked artichoke and olive pasta, serves up bold flavours that do justice to the current vegetable-forward trend.
Umami-rich dishes come in the form of the Tartufata, a pizza loaded with porcini mushrooms, truffle, and smoked scamorza. The pizza dough, made using flour from a small Italian producer, is fired to a light, chewy crust, thanks in no small part to yeast derived from the fermentation of green apples.
Pizzas and pastas aside, diners can satisfy their primal cravings for Iberico pork chops, lamb cutlets, and hefty fiorentina steaks coming off the grill. Our Bistecca beef steak, cooked medium-rare as requested, arrives with a side of rosemary-roasted potatoes and heirloom tomatoes.
To round up our meal, we call for what the menu claims is "Singapore's best tiramisu" – a declaration which proves deserving, save for its campy presentation in a ceramic pot. The tiramisu recipe itself is textbook perfection.
The evening ends with the aff able manager surprising us with complimentary shots of homemade limoncello. The ice-cold Italian lemon liquor is just what the doctor ordered after our hearty feast.
(above) Savour the soft buffalo mozzarella with vine-ripened tomatoes, basil and balsamic vinegar.
(left) The luscious tiramisu is presented in a vessel resembling a plant holder.
TEXT DENISE KOK
Award of Excellence
RANG MAHAL
Level 3, Pan Pacific Singapore, S(039595) T 6333-1788
Ask any local foodie for recommendations on fine-dining Indian cuisine in this town (and perhaps even the region), and you're bound to find Rang Mahal high on the eat list. Its classy interiors aside, this 47-year-old establishment at Pan Pacific Singapore wows with its flawless Indian fare, matched by a strong wine list and polished service.
Milind Sovani, who was its chef in the early noughties, has come full circle and returned to helm the kitchen. He has revamped about 80 per cent of the menu, and the dishes certainly don't disappoint.
The tasting sampler, a trio of appetisers comprising delectably tender tandoori lamb chop, tandoori prawn, and kasoori chicken kebab, hits the spot.
Equally good is the murg lababdar – succulent tandoor-roasted boneless chicken simmered in a rich cashew and tomato cardamom gravy that's best mopped up with freshly baked naan. The bhindi do pyaza, tender baby okra tossed in ginger onion tomato masala, provides a good counterpoint to the meats, and goes beautifully with the zafrani pulao – fluffy, aromatic Indian basmati perfumed with saffron. The well-balanced and flavourful dishes are best enjoyed with stellar drops from its strong wine list.
For dessert, cast aside all preconceived notions of overly cloying sweets, and try the kesari jalebi, sweetened crispy gram flour rings served with reduced milk, or the rasmalai, cardamom-flavoured cottage cheese dumplings in sweetened milk topped with roasted pistachio and almonds. Rang Mahal's interpretations are lighter than the traditional versions and are in another league. A word of caution, though: the kesari jalebi is addictive; it's hard to stop at just one. New on the menu is the lychee kulfi frozen dessert.
With its triumvirate of great food, smart yet personable service, and an elegant ambience that few of its peers can boast, it's no wonder this grande dame remains a go-to establishment for heads of state, dignitaries and celebrities. We're fans too.
TEXT JOSEPHINE SOH
Rang Mahal's new ways of presenting two familiar dishes: lamb chops and gulab jamun dessert.
Award of Excellence
RESTAURANT LABYRINTH
#02-23 Esplanade Mall, S(039802) T 6223-4098
It may be into its fourth year of operation, but things at Labyrinth are looking as fresh and vibrant as when it first opened its doors (it recently underwent a refurbishment). In fact, Han Li Guang – the head and face of the restaurant – hints that diners can soon expect changes at this veritable stalwart of Mod-Sin cuisine in the form of a new menu with a heavy focus on local produce.
But whatever the winds of change may bring, nothing takes away from the fact that Labyrinth draws diners with its reinterpretations of iconic Singapore dishes. Chicken rice is reimagined as a dumpling encasing pieces of silky smooth local-bred French chicken, served atop a dollop of chilli sauce. Bak chor mee is spun from various elements – strips of squid assume the role of yellow noodle; Hokkaido scallop replaces fish cake; and anchovy and onion powder takes the place of minced meat, all sided by a dollop of sambal chilli paste with dried shrimp.
Har cheong porridge sees crisp, sweet, crunchy prawns coated with prawn paste on a bed of risotto with diced mushroom, diced dried scallop, and beancurd skin. Prawn noodle soup comprises kuruma-ebi and broth made with Chinese rice wine and Chinese ham, yielding a dish where every bite brims with a blend of sweet and umami flavours.
Our meal reaches its zenith with the main meat dishes. Char siew rice features barley and crunchy rice with pork cheek and collar char siew, punctuated with pineapple chips and nasturtium leaves for contrast. US Black Angus short rib is the highlight in a dish of beef satay, cooked sous vide for three days at 55 deg C, then pan-seared and served medium-rare.
Eschewing the predictable for a bolder and more adventurous approach to Mod-Sin dining, Han displays great confidence in technique and ingredients, enthralling diners with his inspired inflections on local dishes. Especially to those familiar with homegrown fare as reference points, it's thoroughly entertaining and amusing to see such creativity play out course after course without any sense of affectation.
TEXT KENNY LEONG
(above left) Labyrinth recently underwent a refurbishment.
(above right) "Chicken Rice": dumpling skin made of housemilled rice flour encases pieces of chicken, folded with ginger sauce and sesame oil.
Award of Excellence
SAINT PIERRE
#02-02B One Fullerton, 1 Fullerton Road, S(049213) T 6438-0887
"One of the highlights of Saint Pierre's modern European menu is this thymeperfumed royal pigeon roasted on the bone."
At 17 years old, Saint Pierre is one of the oldest home-grown fine-dining establishments in Singapore. While a constellation of celebrity chef restaurants at Marina Bay Sands – directly across the bay from its two-year-old location at One Fullerton – has been hogging the headlines, the one-Michelin-starred restaurant is still a force to be reckoned with.
For dinner, three prix-fixe sets are offered in addition to the a la carte menu. We choose the eight-course Discovery menu (other options are the five-course Classic and show-stopping 20-course Adventure menus).
The Discovery experience begins with much aplomb: a quartet of snacks such as smoked trout cannelloni and miso-spiked nasu (eggplant) studded with sesame seeds. The complex morsels, packed with flavour, rev up one's appetite in a promising start. It is hit after hit over the next seven courses, with Asian flavours and ingredients deftly incorporated into the Western dishes.
The smokiness of the blushing pink squares of hay-smoked buri (yellowtail) is accentuated by the subtly acidic ponzu jelly. We also relish the steamed hairy crab shreds that are moulded into a medallion and topped with more crabmeat. The sweetness of the crustacean shines through the corn and lemongrass soup, which is citrusy-sweet and tangy. We enjoy the crunch of the plush Hokkaido scallop seared in almond butter, garnished with almond bits, and given a spicy hint from a drizzle of curry oil.
The highlight of the meal is the much-lauded royal pigeon. Chef Emmanuel Stroobant first brings out the whole bird roasted on the bone for us to inspect in its full glory. He later returns with carved slabs of breast fillet of the thymeperfumed bird. The umami flavour from horseradish jus is sharpened by chewing on the slightly gamey pigeon meat. It is accompanied by a wild mushroom nori tart for a divine combination that has us polishing off the tender bird in no time.
Adding an old-school touch are the cheese (a gorgeous assortment of more than 15 French variations) and petit fours trolleys that are rolled out to conclude the meal on a high note. The cherry on top of the dining experience is the impressive food and wine knowledge of the gregarious service staff , who turn on their charm with ease.
TEXT KENNETH SZ GOH
Award of Excellence
SHINJI BY KANESAKA
Lobby Floor, Carlton Hotel, S(189558) T 6338-6131
When Tokyo's Shinji by Kanesaka opened its first overseas outpost at Raffles Hotel in 2010, the restaurant impressed diners here with its immaculate Edo-style sushi. After relocating to Carlton Hotel more than a year ago, it continues its reign as Singapore's sushi temple. Just like fine wine, Shinji is ageing better than ever. You'll get to feast on perfectly made sushi, and enjoy measured and discreet Japanese service at its best.
Though the restaurant's highlight is the main sushi counter carved from the trunk of a 220-year-old hinoki tree, we got a prime spot at the sushi counter in the smaller room. This is where your meal will be in the capable hands of master chef Oshino Koichiro, whose calm demeanour and knife skills ensure precision-cut sashimi.
As the restaurant gets a supply of seasonal fish from Tsukiji Market, its guests can revel in a decadent variety of pristine seafood. For lunch, choose from three sushi course sets (nine-piece, 12-piece and 15-piece), as well as two omakase sets.
We choose Omakase Yume and are treated to seafood ranging from a serving of lightly chilled sweet botan ebi and creamy sea urchin from Hokkaido to a platter of delicate baby tuna otoro and chutoro with ginger soya sauce, as well as torched barracuda and herring roe with wasabi jelly. In between courses, our palates and stomachs are cosseted with warm soup brimming with Japanese garoupa, leek, cabbage, mushroom and tofu.
Soon, a succession of nigiri sushi is served. Depending on the season, you can expect ocean gems like snapper, horse mackerel, chutoro, sea eel, uni, and ebi. Chef Oshino drapes glistening seafood over mounds of vinegared rice that's still slightly warm. No extra seasoning is needed as soya sauce has already been brushed onto the fish.
Why is Shinji so special? Each meal is a performance starring fine morsels delivered from a personable chef to your plate. And the experience has only grown better with time.
TEXT AMY VAN
Pristine sashimi is sliced and served by Shinji's masterchef Oshino in the smaller dining room.
Award of Excellence
SPAGO DINING ROOM
Level 57 Sands SkyPark Tower 2 Marina Bay Sands Singapore, S(018956) T 6688-9955
Sitting inside Spago, guests are cocooned from the activity centred around the famous Marina Bay Sands Skypark infinity pool. From the get-go, our waiter welcomes us warmly – definitely an improvement compared to the hostess – and when asked for recommendations, gives us a lively run-through of the menu. After hearing us out regarding all the dishes we are interested to try, he suggests a sequence of dishes which we accept happily.
Our choice of the Weiser Farm's Baby Beet Salad – we could never pass on beets when they're on the menu – is a prettily composed plate of pickled and roasted beets, accompanied by goat cheese, hazelnuts for texture and a citrus-shallot dressing. The French royal oysters that follow come with saikyo miso (a sweet miso from Kyoto), yuzu kosho (a citrus-chilli condiment), and are gratinated and topped with salmon pearls – flavour bombs that are gone all too soon. One of the signature dishes at Spago is the "chirashi" sushi, where the sushi of big eye tuna, hamachi, ebi and Hokkaido scallop lie prettily around a "pool" of Tosa soya sauce (soya sauce that has been boosted with bonito and kelp).
The Grilled USDA Prime New York Sirloin Steak is highly recommended; rest assured that Cut by Wolfgang Puck does not have a monopoly on steak cooking prowess. The steak is beautifully cooked – juicy and tender. The accompaniments of roasted fingerling potato, celeriac puree and pickled mustard seeds may be classics but they go so well with the sirloin.
We are perfectly happy with our dessert orders of Salted Caramel Souffle – this requires a waiting time of around 20 minutes – and the Passion Fruit-Chocolate "Dobos" Torte, but it is the discussion with the sommelier of the comparative merits of the dessert wines available that we really enjoy.
All in all, it is a dining experience that we won't mind repeating, despite having to take the lift with bathrobe-clad guests heading for that all-important selfie in the pool.
TEXT ANNE LOH
The Weiser Farm's Baby Beet Salad (top) and the Salted Caramel Souffle (above) are perfectly satisfying.
Award of Excellence
SUMMER PAVILION
The Ritz-Carlton, Millenia Singapore, S(039799) T 6434-5286
Summer Pavilion is one of the most refined Cantonese restaurants in town. The stalwart, which snagged one Michelin star over the past two years, has a strong following. The contemporary space, anchored by snazzy cream and black hues with woody accents, looks as refreshed as it did in late 2015 after its last renovation. With its expansive floor-to-ceiling windows, the restaurant's ambience changes dramatically from day to night. At lunch, it is bright, airy, and flooded with natural light. Come dinner time, it is illuminated by soft lighting. Whimsical, gargantuan, lalang-like centrepieces lend a touch of glamour.
Chinese executive chef Cheung Siu Kong's mastery of Cantonese cooking shines through the dishes that we order for dinner. The steamed fresh garoupa is well cooked throughout, boasting firm meat. The fish is laced with light soya sauce, and crowned with julienned spring onions and ginger. Also working up a crunch are the green dragon chives (qing long cai) that are stir-fried with crispy strips of dough sticks (you tiao). The naturally sweet greens, scented with rice wine (hua diao jiu) and sesame oil, are juicy and toothsome.
The stir-fried diced beef has just the right amount of wok hei and umami kick from the red wine and black pepper sauce that cut through the fat. We are glad to see that the popular poached special fish noodles dish remains on the menu. The springy and chewy strands – rolled out from yellowtail fish meat – are thinner than when we last had them, but we enjoy their bouncy texture coupled with the sweetness from the curl of Boston lobster meat swimming in the broth. Equally comforting is the signature poached rice with succulent chunks of lobster meat bathed in a light and satisfying lobster broth.
Service-wise, we wish that it could be on a par with the food. The pace of service on a weekday night is rather sluggish and could be a little more attentive.
TEXT KENNETH SZ GOH
(left) Feast on poached rice with succulent lobster meat bathed in lobster broth.
(below) Summer Pavilion's beautiful handpainted tableware.
Award of Excellence
TERRA
54 Tras Street, S(078993) T 6221-5159
For chef-owner Seita Nakahara, the best dishes are those defined by the natural taste of the ingredients. His style of Tokyo-Italian cuisine stems from years of working at Tokyo's top Italian restaurants as well as training in Tuscany, Sicily and Piedmont. Food at the 36-seater is a celebration of nature's bounty by way of classic Italian cooking using choice ingredients sourced – personally by the chef, no less – from Japan.
Nakahara approaches his food with a precise and restrained hand, preferring to coax maximum flavour out of the ingredients with minimum intervention and embellishment. Expect the subtle, refined, and elegant as opposed to the big, bold, and punchy. The omakase menu – there are three price points to choose from — changes regularly, depending on what is in season, which can mean sakura ebi (a translucent pink shrimp) during springtime and kegani (horsehair crab, found in the Pacific Ocean and the Sea of Japan) in autumn.
Our evening begins with focaccia accompanied by the earthy fragrance of the homemade porcini butter. The starter of crispy bruschetta adorned with scrambled eggs and briny caviar, a variation on his signature uni bruschetta, is textbook, and absolutely delicious. Next up, is grilled Hokkaido king crab leg paired with a nutty and toasty brown butter sauce and topped with pine nuts for added texture.
We are then served the signature sea urchin pasta – homemade and cut into strands using a chitarra, which has strings like a guitar – with home-cured bottarga and lightly scented with yuzu. We relish every rich, sea urchin-infused al dente bite and wish for more. Flounder from Hokkaido is executed impeccably with perfectly burnished crispy skin and white tender, flaky flesh. Intensely marbled wagyu from Iwate prefecture in Tohoku, lightly seared and still pink in the centre, is superbly buttery – the portion, gone in six to eight bites, may be small for some, but at that level of fattiness, less is more.
Before we know it, it is time for dessert. The fresh, juicy persimmons with persimmon mousse and a delicate pear ice cream serve as a perfect counter-balance to the beef dish and ends the understatedly luxurious meal on a refreshing note.
TEXT XIE HUI QUN
(top) Chef Seita Nakahara is an expert in coaxing flavours out of seasonal ingredients from Japan.
(bottom) Terra's signature uni bruschetta.
Award of Excellence
THE DEMPSEY COOKHOUSE & BAR
17D Dempsey Road, S(249676) T 1800-304-5588
If ever a restaurant embodied casual chic, The Dempsey Cookhouse and Bar, with its gorgeous high ceilings, sculptural statement "lanterns" and pockets of green, would be it. Opened by celebrity chef JeanGeorges Vongerichten in 2017, it is still favoured by the well-heeled and remains a popular spot for leisurely lunches and dinner get-togethers.
A good number of Vongerichten's signatures are on the menu, including modern creations that play with Asian flavours, alongside crowd-pleasers such as pastas and pizzas (among which is a black truffle and Italian fontina cheese pizza, no less).
At lunch, we thoroughly enjoy the crispy salmon sushi – raw salmon draped over a crispy fried bite-sized portion of rice – perfectly seasoned with just the right touch of chipotle mayonnaise and soya glaze. The simple but delicious combination of Sri Lankan crab toast with lemon aioli and avocado also stands out – a light squeeze of lemon really brightens up the whole dish, so do work that lemon wedge.
The spice-crusted snapper is well executed; the fish is succulent, with a crispy crust that lends texture to the dish. The sweet and sour broth that accompanies it, though not exactly sour, is splendid with deep, comforting flavours that tempt us to mop up every drop with more bread.
And, of course, there is dessert. The signature warm chocolate fondant with its alluring rich molten chocolate lava centre is a must-try if you've not had it before. Alternatively, we recommend the sundae – three generous scoops of salted caramel and peanut butter ice cream, served with crunchy caramelised popcorn, peanuts and hot fudge.
Cheerful and pleasant service coupled with superb food and drinks such as the refreshing ginger margarita, or a chilled glass of crisp New Zealand sauvignon blanc, make for an extremely pleasant meal. We are definitely looking forward to our next visit.
TEXT KENNY LEONG
(top) Indulge in the sundae of salted caramel and peanut butter ice cream, topped with popcorn, peanuts and hot fudge.
(right) The signature dish of salmon draped over crispy rice.
Award of Excellence
THE KNOLLS
1 The Knolls, Sentosa Island, S(098297) T 6591-5046
To really get away for Sunday brunch, you'll need to go overseas… to Sentosa. Sunday brunch at The Knolls, Capella Singapore, is an intimate affair that happens poolside, with views of the sea. Mediterranean-themed, the spread is presented indoors and out, with the appetisers, starters and desserts mostly in the airconditioned indoor dining space.
You can opt for the brunch package with non-alcoholic drinks or splash out for the Taittinger vintage champagne package, which includes cocktails and wine – if you're in the mood to mix grape and grain.
As The Knolls is a long space, walking in really whets our appetite. This time, we are given a table right before the private room, so we have to walk past the cold spread comprising salads, charcuterie, sashimi and sushi, the live oyster-shucking station with chilled seafood such as prawns and clams, and through the dessert "room". It's enough to make us ravenous, as you can imagine. The hot cooking stations in the foyer area include those for roast carving, pork ribs and grilled chicken. The grilled capsicums are so succulent, we end up having thirds!
At The Knolls, what you see is not what you get, because you get more. Mini surprises exit the kitchen occasionally to be offered to brunchers – a foie gras roll here, a marinated juicy tomato there. The cheese trolley, pushed through the restaurant, serves each table. And just in case any of us would like a last drink (or three) before ending our meal, the cocktail trolley makes its rounds, offering the cocktail of the day made with house-aged spirits and infusions. As we float our way off the island on a blissful cloud, we think: what a great way to spend a Sunday.
TEXT ANNE LOH
(left) Light and healthy quinoa salad is just one of many items served at The Knolls.
(bottom) The restaurant affords gorgeous views of the sea and the pool.
Award of Excellence
THE LIGHTHOUSE RESTAURANT & ROOFTOP BAR
Level 8, The Fullerton Hotel Singapore, S(049178) T 6877-8140
This stalwart at The Fullerton Hotel Singapore zeroes in on what it does best: classic Italian dishes whipped up by chef Carlo Marengoni.
The Lighthouse Restaurant & Rooftop Bar is dominated by a white palette – which makes its panoramic views of the Marina Bay promenade, seen through the sprawling floor-toceiling windows, stand out against the restaurant's clean-cut interiors. Besides the view, the superbly valueformoney lunch set is a good reason to make return trips here. Diners can choose two or three dishes from a list of appetisers, entrees, mains and desserts. During our lunchtime visit, business lunches seem to be taking place at all its 13 tables.
If the appetisers and entrees on the set menu do not tickle your fancy, then the Antipasti Seafood Trio on the a la carte menu is where you will find a good dose of creativity showcased. We are impressed by the citrus-kissed red prawns, which sit on an oyster leaf that imparts some brininess as well as a mineral flavour. But it is the addictively moreish deep-fried scallop with a popcorn-like crust of battered bacon bits that works up the appetite. Rounding off the dish is a lightly seasoned tuna tartare crowned with a refreshing blood orange sorbet.
Our main, a pistachio-crusted red snapper, is perfectly cooked to yield springy meat beneath a golden crust of nut-studded skin. Balancing the crunch are sides of romanesco and creamy cauliflower puree. Carnivores should go for one of the restaurant's signature dishes, the hunky slab of beef tenderloin grilled to juicy medium-rare perfection and served with onions, diced zucchini and velvety mashed potatoes. A standout for us is the accompanying rich Barbaresco reduction sauce that gives the meat a sweet caramelised note.
What elevates the lunch experience are the impeccably intuitive service staff who are wellversed in all the offerings on the menu, and who engage in friendly chatter with us without being intrusive. Not only do they refill the arugula-scented bread rolls and our glasses of water without any prompting, they also get extra points for conscientiously checking in to ensure that we are able to complete our workday lunch on time, within two hours.
Savour The Lighthouse's beef tenderloin with Barbaresco reduction, mashed potato and baby zucchini, as well as the Antipasti Seafood Trio, in a sleek setting with a view.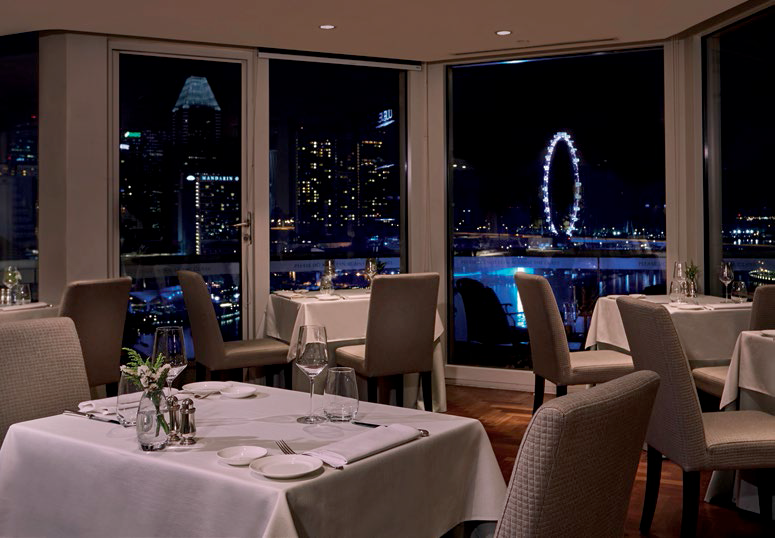 TEXT KENNETH SZ GOH
Award of Excellence
VIOLETOON SATAY BAR & GRILL
#01-18, 3B River Valley Road, Clarke Quay, S(179021) T 9834-9935
Unwinding after a hard day's work is easy at this establishment. Buzzing with energy thanks to thumping music, enthusiastic waitstaff and relaxed diners who are winding down over Violet Oon's signature cocktails before dinner, this restaurant is a sure bet for a hearty meal that doesn't disappoint. At first encounter, the formally dressed waitstaff seem too stiffly attired for the relaxed ambience of the restaurant, but their warm and engaging demeanour makes one feel at home right away.
We peruse the leather-bound menus over our orders of a Glenfiddich 12-year-old and a Red Light Special, a Violet Oon signature cocktail. Skipping the usual kueh pie ti and ngoh hiang (which must not be missed if you have guests from overseas to impress), we decide on the pork satay, daging panggang sambal hijau, nasi goreng Nonya pedas, and another Nonya staple – chap chye. The pork satay arrives as smoky skewers of lean meat pieces interspersed with deliciously bubbling and crunchy fat. Served the traditional way, with grated pineapple and peanut gravy, it is the perfect starter.
The nasi goreng Nonya pedas is presented as a steaming mound of flavourful fried rice topped with juicy prawns and sliced green and red chillies. Every bite is chock-full of fragrant minced dried shrimp, chopped cucumber and vegetables; this dish pairs beautifully with the whisky. The daging panggang sambal hijau features a 200-day grain-fed Black Angus rib-eye; perfect for sharing, it is beautifully charred to medium doneness and served with a dressing of deep-fried onions, roasted garlic and mustard mash. Our opinion is that the beef itself is so good, it doesn't need much dressing.
The chap chye proves well executed too, with a good balance of sweet and savoury. Each vegetable in this stewed dish is cooked just right.
To end the meal on a properly local note, save space for the chendol with durian penget sauce and pulut hitam (the latter is our impulse order), both of which provide a suitably sweet and memorable finish.
The vibrant atmosphere in the house, matched with vibrant flavours, makes this establishment a group-dining favourite.
TEXT JANE NGIAM
Violet Oon Satay Bar & Grill at Clarke Quay rolls out dishes with punchy flavours in a charming and convivial setting.