Great for improving both strength and flexibility, pilates reformer classes are one of the best exercises you can do – regardless of age and fitness level.
Great for improving both strength and flexibility, pilates reformer classes are one of the best exercises you can do – regardless of age and fitness level.
There's something to be said about an exercise invented in the 1920s that's still being practised passionately today. Invented by physical trainer Joseph Pilates with the purpose of rehabilitating soldiers and dancers, pilates is well-known today for building core strength and spinal alignment.
While mat pilates is commonly offered in studios and gyms, pilates reformer classes have burgeoned over the last few years, due to their versatility and ability to challenge the body in a multitude of ways.
Working you from head to toe, pilates reformer classes involve specific controlled movements to improve flexibility and body awareness through breathing and core engagement. Whether you're lying supine, prone, kneeling, standing or in a lunge, you can be sure of getting an intense muscle-stimulating workout.
"The pilates reformer is an intelligent machine consisting of springs which provide varying levels of resistance to challenge your body," says Claire Bostock, chief business officer of Absolute You, a pilates reformer and rhythm cycling studio in Orchard Road. "Unlike a mat workout where the only resistance is your body weight, the dynamic resistance the springs provide means you have to work much harder, and your body gets firm and toned much faster."
Another benefit the reformer has over mat pilates: You can't "cheat" as the moving bed attached to springs provides a specific resistance. "It's apparent if you're not doing the exercise correctly," adds Claire.
A workout for both the body and mind, pilates reformer classes require a level of concentration and focus. "In the early stages of a pilates reformer practice, it's essential to remember how to execute all the small movements in order to recruit your core muscles properly," says Lucy Warren, a physiotherapist and pilates instructor at UFit Clinic. "This helps you maintain the contraction to get the most out of the session. While it takes a lot of mindfulness, it very quickly becomes automatic."
Beyond the attraction of a pilates body – think long, lean muscles, a strong core, and all-round flexibility – the additional allure lies in its low-impact nature and women-specific benefits.
"People are beginning to recognise the importance of having a strong core and good posture, given our increasingly sedentary lifestyles," shares Roz Norman, pilates pillar coach at Virgin Active Singapore. "Also, medical professionals and specialists usually touch on the importance of pelvic floor strength during and after pregnancy, which pilates can help with. The minimal impact pilates has on joints makes it an ideal workout for women both prenatal and postnatal."
If there's any lingering doubt about why you should give pilates reformer classes a go, founder Joseph Pilates' quote sums it up best: "In 10 sessions you will feel the difference, in 20 sessions you will see the difference and in 30 sessions you will have a new body."
ABSOLUTE YOU
2nd Floor Peranakan Place, 178A Orchard Road, tel: 6732-1522
Better known for their heart-pumping rhythm cycling classes, this boutique gym's new location at Peranakan Place has a dedicated pilates reformer studio outfitted with 20 reformers, along with a yoga space and cycling studio. It offers four different pilates reformer classes – Essential Fit & Tone, Butts & Thighs, Abs & Arms, and Reformer Blend. Each 90-minute class includes a 30-minute foundation class for beginners, where the instructor runs through various parts of the machine and the props (springs, footbar, carriage, long/short box) and fundamental movements (lunges, planks, squats, side twists) that are essential for targetting those tiny stabiliser muscles. Regular clients can drop in for the hour-long portion of the class. Emerging with a sore core is almost assured.
VIRGIN ACTIVE
#01-09, 7 Fraser Street, tel: 6911-0328
The newest Duo Galleria outlet is also home to their largest reformer studio with 20 pilates reformer beds. The basic Reformer Beginner classes provide a fundamental understanding of pilates – the instructor issues detailed cues as you work on different body parts like the obliques, abdominals, triceps and glutes. For a tougher challenge, the Reformer HIIT class will put you through your paces with a combination of classic pilates movements, while building strength with props like sandbags and handrails, as well as structured interval training involving exercises like bear crawls and tuck jumps.
PURE FITNESS 
Level 8 Ngee Ann City Podium Block, 391 Orchard Road, tel: 6100-8898 Offered as part of Pure Fitness' Small Group Training programme with nine classes weekly at the Ngee Ann City outlet, the reformer classes are taught by Polestar Pilates-certified teachers, using Allegro Reformer machines to strengthen and lengthen your muscles. While the class size is small (maximum six clients), it is recommended that participants are familiar with mat pilates as the 60-minute class moves swiftly through movements such as scooter, overhead arm presses and side splits.
CORE COLLECTIVE 
#21-01, 79 Anson Road, tel: 6250-1222 
Beyond offering mat and reformer classes, Core Collective provides an extra benefit: having various wellness professionals, such as chiropractors, personal trainers and sports massage therapists, on-site. The three pilates reformer studios – with the largest holding up to 10 students – are kitted out with Basi Systems reformers that allow you to gradually improve strength through performing moves like the mermaid (to work the obliques, spine and back), the lunge stretch (focusing on the hip flexors, hamstrings and muscles around the knee joints) and other fundamental exercises.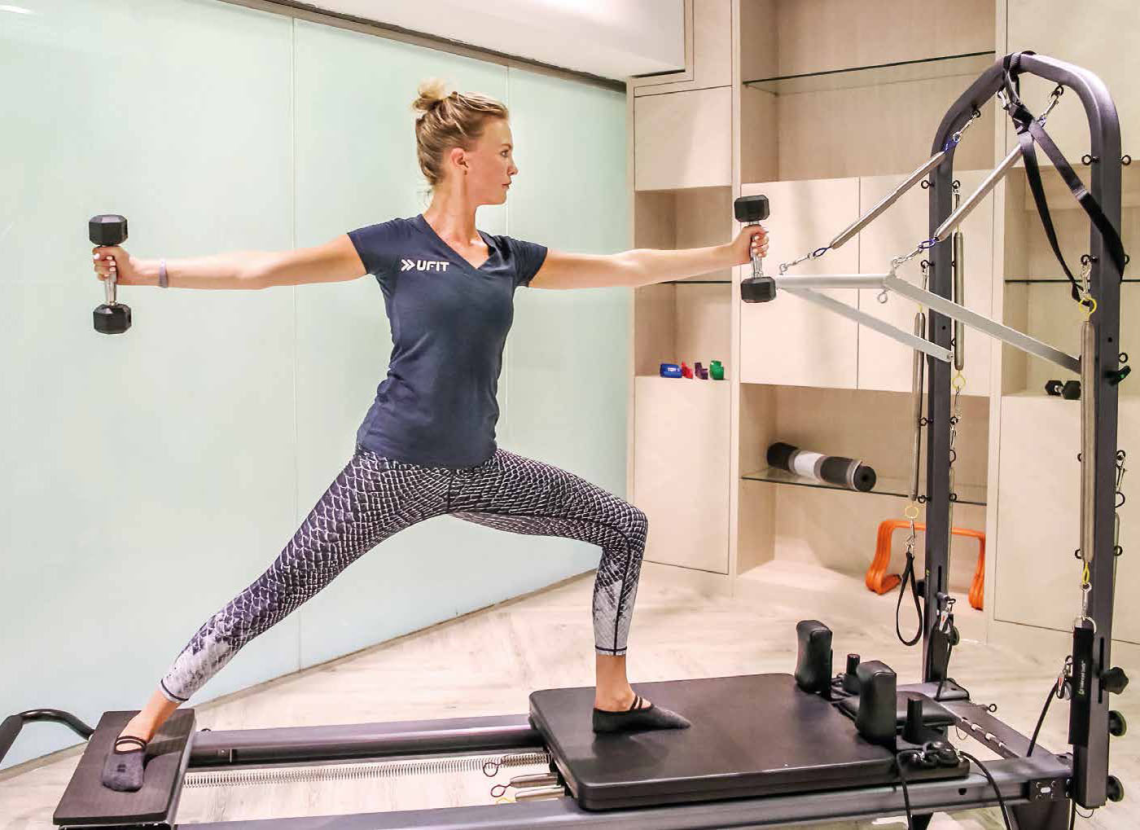 UFIT CLINIC
#06-11 Orchard Central, 181 Orchard Road, tel: 6509-0057 Their newest space in Orchard Central offers physio-led pilates reformer classes in a private or group (maximum three clients) setting from Monday to Saturday. Trainer Lucy Warren first assesses individuals before prescribing exercises specific to their needs – be it targeting the small muscles in the inner thighs for stronger pelvic stability, or working on the deep core and pelvic floor muscles for postnatal clients to reduce their risk of abdominal separation. In addition, Lucy uses an ultrasound scanner to ensure both the core and pelvic floor are being properly engaged and worked on.
BREATHE PILATES
Five locations islandwide
A dedicated pilates studio with multiple locations across Singapore, Breathe Pilates offers both private and group (maximum six clients) classes daily across a range – Pre/Post Natal, Stretch, Fat Blast, Reformer and Tower, Clinical, Gyrotonic – with the objective of correcting poor biomechanics and posture. The classes are taught by Stott Pilates-certified instructors, with many trained in rehabilitation specialising in dance conditioning, spine conditions, prenatal and postnatal, as well as sports rehabilitation. 
PHOTOS ABSOLUTE YOU, BREATHE PILATES, CORE COLLECTIVE, PURE FITNESS, UFIT CLINIC, VIRGIN ACTIVE