Karen Tee drops into Luang Prabang to practise the obscure yoga that keeps Aman's billionaire CEO Vladislav Doronin focussed.
Karen Tee drops into Luang Prabang to practise the obscure yoga that keeps Aman's billionaire CEO Vladislav Doronin focussed.
Duck Drinking Water. Wild Yak Nudging. Hawk Holding Breath. These are the names of yoga poses, but they are nothing like what I have learnt in my decade of yoga practice, which features better-known postures like Warrior and Cobra. 
For this ancient Tibetan practice called Keksel, each pose is in fact a series of calisthenic style moves that have to be executed repeatedly. For example, for Duck Drinking Water, you stand with legs akimbo and dip your torso multiple times to the ground. On top of this, you have to hold your breath until the end of the sequence. 
Even though I struggle to breathe on cue, by the time we settle into the lotus position at the end of the session, my mind feels pleasantly clear, my breathing is finally smooth and I feel delightfully loose-limbed from the repetitive motions. 
This style of yoga, practised by followers of the ancient Tibetan Bon lineage is not well known. But now, there are at least five more people – myself included – who have experienced its benefits after attending a retreat hosted by Tibetan-born monk Geshe Chaphur Rinpoche, at Amantaka in Luang Prabang, Laos. 
Based in the San Francisco Bay Area, Chaphur Rinpoche is the founder of the Gyalshen Institute, which preserves Tibetan culture and traditions. The foundation holds retreats and classes in accordance with the Bon lineage. As a young boy, Chaphur Rinpoche was recognised as the reincarnation of great master Chaphur Phuntsok Wangyal Rinpoche by other high lamas. In 2008, he received his academic Geshe degree from Menri Monastery, the principal monastery for the Bon tradition.
Even though Bon dates back 10,000 years, Chaphur Rinpoche believes this ancient practice is more relevant than ever for today's denizens. He says: "Ancient practitioners led long, healthy, happy and peaceful lives. In modern societies, the fast-paced life leads to mental stress and emotional imbalances and I believe that the Keksel teachings, which combine physical and mental techniques, are well suited to address these issues." 
MINDFULNESS STUDIES
Chaphur Rinpoche's session at Amantaka is part of Aman's line-up of mindfulness and wellness retreats rooted in traditional practices. Available at its resorts across the globe, the programmes are extensions of Aman's renowned style of pared-down luxury. Upcoming events include a getaway at Amanjena in Marrakesh focusing on Moorish therapies, and a spiritual immersion led by Tibetan master, Geshe Yong Dong, at four properties in Indochina, including Amanoi in Vietnam and Amanpuri in Phuket.
I am in Luang Prabang because Chaphur Rinpoche happens to be one of the personal gurus of Aman Resorts' billionaire chairman and chief executive officer, Vladislav Doronin. Doronin's personal assistant, who had some experience with Tibetan yoga, had contacted Chaphur Rinpoche to teach some private lessons, hence starting the Russian tycoon on his path to spirituality. These days, Doronin is a serious enough practitioner to regularly jet off to his Aman properties in Bhutan for these lessons.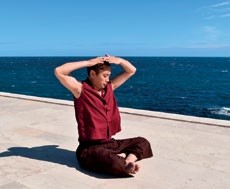 Chaphur Rinpoche teaches various Tibetan Bon yoga, meditation and breathing movements that he says are beneficial to counter the stresses of modern life.
Intrigued by the opportunity to meet the person who has influenced this enigmatic tycoon in his path to wellness, I hopped on a three-hour flight from Singapore to Luang Prabang. From the airport, it was a speedy 10-minute drive to Amantaka in the UNESCO World Heritage town. Stepping into the property's lush green courtyard surrounded by 24 colonial-style suites (many of which come with private pools) felt like stepping into a slower, more genteel time in history. I was ready for a trip into the depths of my mind.
We bend our torsos diagonally while in a wide-legged lunge to mimic the movements of, well, a yak scratching its own leg with its head.
OUT OF THE COMFORT ZONE
For three days, I attend workshops on various techniques that Chaphur Rinpoche has learnt from his masters and adapted for modern-day practitioners in search of inner peace and mental focus. Besides Keksel, these practices include Tsa Lung exercises, a blend of hand gestures with breathing methods, and Tumo meditation, which involves visualisations of colours and symbols. 
Keksel yoga currently comprises 40 postural sequences, with more along the way as Chaphur Rinpoche continues to translate them from old texts. When demonstrating one advanced posture, the monk folds his legs into the lotus pose and proceeds to leap about 30cm vertically into the air, hands-free. While he does pivot his hips to propel himself upwards, he explains this feat is mainly achieved through careful breath control. Nevertheless, it is nothing short of incredible to see the move that likely inspired accounts of ancient monks being able to levitate.
Before I can even think of defying gravity, the first hurdle to overcome is the strangeness of the techniques. They require both physical and mental coordination, unlike common Indian yoga styles like ashtanga, hatha and vinyasa, which are rooted in physical postures. More advanced practitioners may seek out practices that incorporate breathing and meditation, but I have rarely encountered instructors who teach complicated techniques that Chaphur Rinpoche does.
Sometimes, I even have to stifle my giggles at amusing sequences like Wild Yak Nudging, where we bend our torsos diagonally while in a wide-legged lunge to mimic the movements of, well, a yak scratching its own leg with its head.
A "levitating" Keksel pose is achieved by mastering breath control. 
STILLING THE MIND
Then, I strike up a conversation with a self-professed #Amanjunkie couple who came to this retreat to counter the stresses of a hectic lifestyle. They had never practised meditation or learnt about Eastern philosophies before but said they were already beginning to feel the benefits of Chaphur Rinpoche's teachings.
"It is difficult and some of the movements are challenging because they feel unfamiliar. But you just have to commit and do it," the woman acknowledges. "What I'm trying to take away are small practices that I can continue at home. Instead of rolling out of bed in the morning and rushing to start the day before I am fully awake, I'd like to incorporate some meditation and movement to first awaken my mind."
It helps that Chaphur Rinpoche has a sense of humour. He laughs along with us when calling out the names of these postures, explaining that they are direct translations from their Tibetan monikers. Soon enough, I stop worrying about how silly I might look and begin savouring small victories, like the ability to sit for a length of time without fidgeting, mentally and physically. 
Over the years, I've stuck to my yoga practice for its physical benefits in building strength and flexibility, its stress-relieving capability and its development of the mind-body connection. But what has eluded me despite my best efforts is learning to calm my mind and keep it focused. So, I am amazed that while doing the early morning Tsa Lung and Tumo practice, my thoughts are razor sharp and my mind gloriously still. In that moment, like Doronin as well as the couple on the retreat have likely discovered, I have the feeling this age-old practice might just change my life. 
PEARLS OF WISDOM
Tibetan Bon monk Geshe Chaphur Rinpoche, the personal guru to Aman Resorts' billionaire chairman and chief executive officer, Vladislav Doronin, dispenses a few bon mots.
BEFORE THAT MORNING COFFEE
"Most people wake up and rush to look externally at their phone or television, for example. Try to look inside yourself instead, with meditation. This is medicine for the mind and it makes you happy."
IF NOT NOW, THEN WHEN?
"Your mind will always tell you whatever you currently have is not enough. Instead, think of it this way - whatever you have now, just enjoy it."
I'VE GOT 99 PROBLEMS…
"There are three ways to deal with negative emotions like anger. You can reject your feelings or try to transform them into something else. The third and most effective way is to leave them as they are and to own your emotions, then they will dissipate." 
PHOTOS COURTESY OF GESHE CHAP HUR RINP OCHE