THE PEOPLE, PLACES AND THINGS THAT MAKE US…
THE RISING YOUNG STARS
1 JASMINE SOKKO (22)
Singer-producer 
She's one of the most streamed Singapore artistes on Spotify. Her edgy, futuristic image (read: she dons a face mask in performances) and shimmering vocals overlaying melodious electro-pop beats have earned her a legion of fans. And she is big in China, at fourth place in the country's electronic music competition, Rave Now. This year has been a great one for Jasmine, who released the single, Hurt – her first major-label debut with Warner Music Singapore. She performed at Belgium's Tomorrowland, one of the world's most iconic music festivals. Up next: a music collaboration with Chinese girl group Rocket Girls 101 and Hong Kong-American pop singer Coco Lee.
THE RISING YOUNG STARS 
2 MARTINA VELOSO [ 19 ]
Shooter
The star shooter has placed Singapore on top of the world of sports shooting with four gold medals since 2014. At 14, Martina became the youngest gold medallist at the 2014 International Shooting Sport Federation World Cup. Last year, the 2018 Sportswoman of the Year was the youngest Singaporean to win at the Commonwealth Games, where she clinched two gold medals – and broke records in the Women's 10m Air Rifle and Women's 50m Air Rifle Prone. She's aiming for two gold medals at the 2019 SEA Games in the Philippines in December.
3  SHOKI LIN [ 25 ]
Student and filmmaker 
Shoki is a name to watch. His 19-minute short film, Adam, about a boy's chaotic family life, was picked from among 2,000 entries for this year's 72nd Cannes Film Festival. The film – Shoki's final-year project at Nanyang Technological University's School of Art, Design and Media – was selected for screening by Cinefondation, a foundation under the Cannes Film Festival which supports emerging international filmmakers. It is the fourth Singapore-made film that Cinefondation has presented at the Cannes Film Festival in its 21-year history.
4 CONSTANCE LIEN [ 20 ]
Jiu-jitsu fighter
The 2019 Sportsgirl of the Year fought her way through the recent World International Brazilian Jiu-jitsu Championships in Long Beach, California, to become the first Singaporean to win a gold medal at the event. Last year, Constance clinched the silver medal at the Asian Games. She has been training in the sport for 3½ years, and is aiming for the gold medal at the next SEA Games. As at press time, she was preparing to compete in the qualifiers at the July 14-21 Ju-Jitsu Asian Championships in Ulaanbaatar, Mongolia.
5 AERON CHOO [ 25 ]
Founder-chef of Kappou Japanese Sushi Tapas Bar
She's a sushi chef, waitress, cashier, bartender and guest-relations officer all rolled into one, running this 12-seat sushi joint at Fortune Centre. At 18, Aeron earned her chops at the Japan Sushi Instructors Association in Tokyo. Now, at Kappou – an eatery which is big on taste – she serves delicious traditional and modern omakase sets. And behold Aeron's version of oden, a light Japanese stew cooked with a gooey soft-boiled egg marinated in sweet soya sauce – it's simply heavenly.
THE BEAUTY BRANDS THAT HAVE GONE INTERNATIONAL 
6 ALLIES OF SKIN
The brand boldly launched in 2016 with just one product, the 1A All-day Pollution Repair Mask ($145). At that time, it was the world's first leave-on day mask, which could be worn under makeup. Allies of Skin now has 10 products in its range and has expanded to 15 countries, including Britain, Russia and France. It has been available at stores such as the new Galeries Lafayette in Champs-Elysees, Paris, since March this year.
7 HANDMADE HEROES
In 2005, a 16-year-old Lynsey Lim started making DIY skincare like avocado masks. The products did so well as her sister's bridal gifts that she received orders. At 25, she launched her natural, synthetic- and preservative-free brand, Handmade Heroes. In 2016, its Drop Dead Gorgeous Dry Shampoo ($15.90) caught the attention of US website Buzzfeed, and the brand quickly became one of the most popular natural beauty brands on Amazon.
8 SKIN INC
The brand started in 2007, selling customisable serums at The Central. In 2013, it became the first Singapore beauty brand to be sold internationally at Sephora. It is now in 100 cities across Asia, Europe and North America, in standalone concept stores or via Sephora. Individualised skincare is still a big selling point (and still Skin Inc's bestseller), even as it has expanded its repertoire to facial masks and skincare gadgets.
9 STRIP: MINISTRY OF WAXING
Strip bewildered Singapore women when it opened in 2002. What it offered was Brazilian waxing. Going bare down there was completely new then, and what founder Cynthia Chua says was thought to be "only for porn stars". Today, largely due to Strip, getting a Brazilian wax is perfectly normal. The brand, which comes under the Spa Esprit Group, has 14 stores in Singapore and 35 stores in 12 cities, including London, New York and Beijing.
Esquina serves modern Spanish and Catalan food.
Nouri is a oneMichelinstarred restaurant.
10 LOH LIK PENG [ 47 ]
Founding director, Unlisted Collection
He not only helped transform Singapore's F&B and hospitality scene, but also the city's hotel industry. This year, Lik Peng's efforts were recognised at the Singapore Tourism Awards, where the dynamic hotelier and restaurateur received a Special Recognition award for his role as the chairman of the Singapore Hotel Association's Hotel Innovation Committee.
Lik Peng – whose outfit, Unlisted Collection, is behind critically acclaimed restaurants Nouri, Esquina and Burnt Ends – drove important initiatives to transform Singapore's hotel industry, such as getting hotels to crowdsource solutions for increased productivity, as well as enhancing guest experiences. He has also played a key role in developing future generations of hospitality talent in his capacity as the chairman of the Singapore Hotel and Tourism Education Centre.
The beers the world loves 
11 SINGAPORE LAGER
This year, local bespoke brewery Tuas Brewing Co. opened its offshoot, Trouble Brewing, leading to the launch of Singapore Lager in May. Crafted at its Tuas brewery, the $4-a-bottle lager was made to go with hawker food. It has a peppery taste with a grassy aroma that makes it an excellent palate cleanser. Its citrusy notes bring out the flavour of our favourite wonton mee, cut the greasiness of chicken rice, and balance the saltiness of bak chor mee.
12 TIGER
Born and brewed in Singapore since 1932, Tiger Beer is one of those early SG exports everyone here takes for granted. But it is a worldacclaimed beer and sold in more than 75 countries – you could travel to the most far-flung places and still find this taste of home. Its smooth yet slightly bitter taste makes it a must-drink with zi char, as its subtle corn biscuit maltiness and light citrus scent cut through the fattiness of meat dishes from beef hor fun to coffee pork ribs and har cheong kai. Try such beer and food pairings at Tiger Street Lab, the brand's experiential concept store at Jewel Changi Airport.
ONEMICHELINSTARRED HAWKERS WE QUEUE FOR
13 HILL STREET TAI HWA PORK NOODLES
Foodies willingly queue for up to an hour for this Teochew-style bak chor mee – and this was the case even before the stall won its first Michelin star in 2016. It has earned a star every year since then, and the queues continue. The secret? Pork liver so tender it melts in the mouth, and springy noodles that are firm and chewy, laced with just the right blend of vinegar.
[ #01-12, 466 Crawford Lane]
14 LIAO FAN HONG KONG SOYA SAUCE CHICKEN RICE & NOODLE
A one-Michelin-star winner in 2016, this stall has chewy, glossy noodles coated with a tasty sweet sauce, generously crowned with juicy, tender chicken pieces. At $2 a serving, it's a steal. But the true winner is the chilli sauce, which is pleasantly astringent and leaves your lips tingling delightfully after your meal.
[ #02-126 Chinatown Complex Market & Food, 335 Smith Street ]
THE COCKTAIL CAPITAL OF THE WORLD 
"The Old Man is one of the hip new cocktail bars in Singapore."
15
More than 50 cocktail bars in the islandcity are shaking up the local drinking scene, satisfying bar-goers' insatiable thirst. Singapore sealed its status as a cocktail city hosting large-scale events in May – the three-day Singapore Cocktail Festival at Empress Lawn, and the inaugural Asia's 50 Best Bars at Capitol Theatre, with 11 cocktail bars in Singapore making it to the list. In 2021, The World's 50 Best Bars awards, a prestigious event traditionally held in London, will be hosted in Singapore.
THE ONE-OF-A-KIND BEAUTY SALONS
"The spa houses a cafe for customers to relax in pre- and posttreatment."
16 PORCELAIN ORIGINS
Say hello to the future of spa tripping with Porcelain Origins, SG's first smart spa. Any service that doesn't require a human touch has been digitised. The journey starts with the beauty salon's self-service smartphone app – it keeps track of your scheduled facial appointments, skin profile, and product purchase history. 
Inside, a wall-mounted interactive screen at the reception's retail bar has details of every product offering. Pick up a product from the bar and info about it (benefits, how-tos and prices) is instantly displayed on the screen. Post-facial, smart mirrors in the powder room list the benefits of the treatment you've just enjoyed, and provide specific aftercare details too. 
[ #04-48 Paragon ]
THE RULERS OF THE RESTAURANT WORLD
17 CHEZ VOUS HIDEAWAY
This concept hair salon is part mystery, part delight, with a variety of themed rooms. A Hogwarts-inspired reception area, a fully millennial pink VIP space and other areas give you a total of seven Insta-worthy rooms to explore.  Exploration is only half the experience. There are also little spalike treats to be enjoyed. These include a customised scent-sorial journey (pick from four relaxing scents to be used in your hair wash and shoulder massage), and a relaxation "den" that has massage chairs and LED scalp treatment machines. Plus, the salon accepts only 15 customers a day, so it never feels crowded or gets noisy.
[ #14-04 Ngee Ann City Tower B ]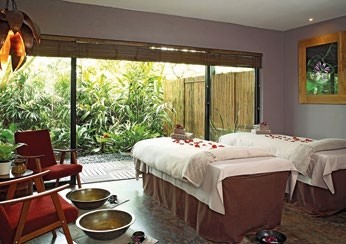 18 ARAMSA SPA
After 13 years, Aramsa Spa is still Singapore's only spa in a garden setting. Located in Bishan Park, it has 17 spa rooms, all with their own garden courtyards and outdoor showers or baths.
The spa takes advantage of its unique park locale – it doesn't play any music, allowing the natural sounds from the park to take the spotlight. So, you'll hear running water from fountains, banana leaves rustling in the wind and birds chirping in the distance (and, occasionally, giggling children).
Services include body massages, facials, yoga sessions, hair treatments and lash and brow services.
[ 1384 Ang Mo Kio Avenue 1 Bishan ] 
19 Turning plastic waste into something else
Thanks to a team of scientists from the National University of Singapore (NUS), we have found a way to recycle plastic waste – the culprit that's reducing the lifespan of Semakau Island (our only remaining landfill). The method: turning plastic items into a new kind of aerogel. Associate Professor Hai Minh Duong and Professor Nhan Phan-Thien have managed to shorten the production time of commercial aerogel from seven days to just eight to 10 hours. Their aerogel provides better insulation than fibreglass, and its high absorbency makes it an ideal material for fire-retardant coats and building insulation. While it may take up to five years before any commercial product makes it onto the market, the team is working towards converting other forms of waste into useful material in the meantime.
20 ODETTE
The French restaurant jumped 10 spots to crack top 20 on the Asia's 50 Best Restaurants list in 2018, and in 2019, shot to No. 1. The showstopper is its Heirloom Beetroot Variation (left). The medley of red, white and golden beetroot with beetroot sorbet, radish slices and buttery burrata is a contrast of cold sorbet and crunchy radish.
[ #01-04 National Gallery ]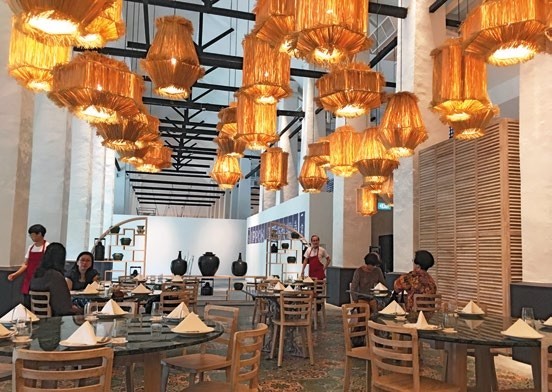 21 CANDLENUT
Chef Malcolm Lee pushes the boundaries at his world'sfirst Michelin-starred Peranakan restaurant. Take his buah keluak ice cream. It's a fascinating fusion of bitter Valrhona chocolate on a bed of salted caramel chocolate crumble and chilli specks. The rich flavours are an intriguing combo of salty, sweet, spicy and bitter.
[ 17A Dempsey Road ] 
22 RESTAURANT ZEN
Opened in November 2018, this is an off shoot of Frantzen, the only restaurant in Sweden to get three Michelin stars.
In Singapore, Restaurant Zen's cuisine is part Nordic, part French, part Japanese-inspired, and features a $450++ nine-course tasting menu; there is no a la carte menu. It's a lot to pay for a meal (plus $250 if you want wine pairing), but one look at the eatery's box of ingredients – featuring white truffles, wild trout roe and caviar – in its downstairs kitchen will reassure you.
The Raraka (pictured left), a signature dish (and import from its parent Frantzen), is a crisp bird's nest-like cylinder of fried potatoes stuffed with creme fraiche and roe from a freshwater whitefish called vendace. The dish looks like a work of art in itself and is unequivocally delicious.
[ 41 Bukit Pasoh Road ] 
THE FASHION ARTISANS 
"Playhood = denim + handpainted botanical illustrations."
23 PLAYHOOD
Denim may be a wardrobe staple for many people, but that doesn't mean it has to look uniform. At Playhood, founder Sarah Lai imbues each piece of denim clothing with its own character by hand-painting botanical illustrations onto it. A graduate of the London College of Fashion who has had experience working at brands like Mary Katrantzou and Xiao Li, she combines her love for vintage denim with her artistic skills to create wearable artwork.
Her two-year-old brand has a collection of ready-towear items; customisation services are also available using customers' own denim apparel or vintage denim sourced from Japan.
"When customising a new piece, I will research different flowers and plants and select those with meanings that I feel suit my client best, such as lilies to symbolise innocence or pansies for thoughtfulness. Getting the client involved also makes the garment more special to them as they are directly consulted in the creative and designing process of their own clothing," she says.
24 JIAKUMA
The brand was founded by Giacomo Ghelfi  and Mar Cusso, an Italian-Spanish couple who used to design statement jewellery. When they moved to Singapore in 2015, they "discovered all the amazing textiles from this region".
It was then that they designed their eco-friendly bento bag, inspired by Japanese origami azuma bukuro bags. Says Giacomo: "We want people to have a cool bag for shopping and avoid using plastic bags."
The bags are made from small pieces of textile purchased from vendors around South-east Asia, and no two are alike. All are handmade in the brand's Singapore studio.
Recently, they added dumpling bags – inspired by the local game of five stones – and will soon roll out espardenyes shoes made with jute soles and scrap textile pieces.
25 FRILL THRILL
This one-year-old label specialises in making fun, quirky acrylic earrings that are big, loud and proud. Started by Priscilla Ong a year ago as a way to raise funds for the Cat Welfare Society, the label designs and makes the earrings from scratch.
"Our designs are mainly retro-inspired, from an era when earrings were oversized and colourful," says Priscilla, a graphic designer who graduated from Lasalle College of the Arts. "Apart from being able to donate a portion of our sales to the cat community, another motivating factor behind starting the brand was to offer a more unique and limited range of accessories so that consumers would get to enjoy something exclusive and original," she explains.
26 STUDIO EMOI
The word "emoi" means feelings in French. And that is what designer Laura Tudal hopes to help people express with her line of handmade jewellery. "When I arrived in Singapore a few years ago, I was looking for meaningful jewellery made in a material that could resist day-to-day life in Asia, where there's exposure to the sun and sea. I quickly realised there weren't many such midrange products, so I decided to create Studio Emoi," explains Laura.
Craftsmen shape tarnish-resistant 14K gold-filled wire into words or symbols of your choice. "A belief, a mantra, a place that we keep in memory, a nickname or the initials of a loved one – we give life to meaningful words that we will then wear every day," she says.
THE FASHION ARTISANS 
"The delicate floral design of this bespoke ring is based on the fluid lines of nature."
"Tools used in the ringmaking process."
27 LIVLOV JEWELRY
For bespoke, natureinspired engagement or wedding rings, this is the company to look up. Started by Ang Xuemin about three years ago (though her fascination with gems and jewellery-making stretches back to her teens), the idea came about while she was searching for a wedding ring that would reflect the love of nature she shares with her spouse.
She didn't find one. Instead, she says: "I stumbled upon the art of metalsmithing and wanted to make rings in uncommon and small sizes as most local girls are unable to find them. I wanted to create pieces that are delicate but lasting, and easy as everyday wear."
Each bespoke piece is designed according to the meaning or sentiment the customer wants to convey, with inspiration coming from shapes and forms in nature. "Livlov is all about embracing imperfections and the whimsies of nature. We're big on handmade products, where every piece is a product of creativity and mindfulness," she says.
The locavore restaurants to eat at 
28 FAT PRINCE
This contemporary Middle Eastern restaurant uses veggies only from Quan Fa Organic Farm. Savour star dishes such as the Avocado and Kale Tabbouleh, a modern take on the traditional Levantine salad of lemon vinaigrette-drenched creamy avocado on a bulgur wheat base. Try the creamy homemade cashew milk noodles bathed in a mildly sweet watermelon consomme with mint, basil and tangy berries.
[ #01-01, 48 Peck Seah Street ]
29 OPEN FARM COMMUNITY
A charming eatery with an expansive garden that cultivates herbs and vegetables by Edible Garden City. The greens are used as ingredients in the restaurant. A favourite dish is the chilled avocado and ginger soup that's served with poached yabbies. The ginger's sharpness and the sweetness of the blue pea flowers add a mild flavour to the avocado soup. The creamy light-green concoction is then poured over the pink yabbies.
[ 130E Minden Road ] 
THE FARMS GIVING US LOCALLY GROWN GREENS 
"Quan Fa Organic Farm is managed by cousins Liao Jun Jie and Fabian Liao, the second-generation owners of the farm."
30 QUAN FA ORGANIC FARM
Long before eating organic was a trend, this familyrun farm was growing crops free of chemicals and using sustainable farming methods that produced little or zero waste. That was 20 years ago. Quan Fa is Singapore's oldest organic farm where local veggies like kang kong, chye sim and sunflower sprouts are sold. Check out its old-school organic farming methods on the farm tour that shows how insect-infested plants are turned into fertiliser. Good news: Quan Fa's organic greens are also sold at Fairprice supermarkets.
[ 35 Murai Farmway ] 
"At Quan Fa, crop rotation is practised to prevent pests from breeding."
"Vegetables at Citizen Farm are harvested in small batches for freshness."
31 CITIZEN FARM BY EDIBLE GARDEN CITY
The farm practises sustainable farming using black soldier flies to turn leftover food into fertiliser for its crops, and cultivates microgreens in LED-lit rooms. Run by a group of young farmers who adopt advanced cultivation methods, it sells rare produce such as Mexican tarragon, pink oyster mushrooms and mustard microgreens. For $35 a week (excluding delivery charges), you can order a box (a week's supply for four) containing speciality crops and common greens.
[ 60 Jalan Penjara ] 
The Art Outings
32 SINGAPORE NIGHT FESTIVAL
One of the most spectacular – and largest – art festivals in the city, the Singapore Night Festival has grown from seeing 60,000 festival-goers to more than 500,000 since its inception in 2008. The 12th edition from Aug 23-31 combines design, engineering and art displays with interactive light installations, transforming the Bugis-Bras Basah art district into an illuminated playground from 7.30pm. Feast your eyes on the mesmerising visuals projected on the facades of buildings, including the National Museum of Singapore, the Peranakan Museum, Singapore Art Museum and more.
33 SINGAPORE ART WEEK
This is the pinnacle of Singapore's visual art calendar. The 2019 edition of Singapore Art Week (SAW) drew nearly 600,000 attendees for its nine-day outing in January. From exhibitions, gallery openings and public art to lifestyle events and art fairs across the island, this year's SAW programmes were held at non-art venues such as shopping malls, too, to reach out to more people. SAW – a joint initiative by the National Arts Council, Singapore Tourism Board, and  Singapore Economic Development Board – also added the new boutique art fair, S.E.A. Focus, featuring more than 20 local and international galleries at Gillman Barracks.
34 SINGAPORE INTERNATIONAL FESTIVAL OF ARTS
What began as an initiative to celebrate Singapore's diverse culture through art is now the country's signature arts festival. This year, 11 shows were sold out, including the stage adaptation of George Orwell's 1984 by British playwrights Robert Icke and Duncan Macmillan, and 0600, an immersive theatrical tour of the National Gallery Singapore by local arts collective Ground Z-O. Described as "(art) curation quietly stitching its way through the fabric of the city" by The Guardian, the Singapore International Festival of Arts is a discerning curation of interesting local and global acts. Look out for its 2020 edition from May 15-30.
"Letter Writer", a mural at 336 Smith Street, on the side wall of New Bridge Centre in Chinatown.
35 YIP YEW CHONG
[ 50 ]
Mural painter
The 50-year-old has been painting since 2015. You may not realise it, but you've probably seen his murals all over Singapore – on more than 40 walls in Chinatown, Kampong Glam, Waterloo Street and more, depicting scenes from the 70s and 80s, which he paints from his personal memories and old photos. The murals chart his life story, growing up in Chinatown's Sago Lane and then Smith Street, and moving to Everton Road after he got married. Our fave mural: Kampung, which can be found on the wall of a bungalow belonging to Tan Dib Jin, grandson of late philanthropist Tan Kah Kee. The mural is a nostalgic one, depicting village life in old Singapore.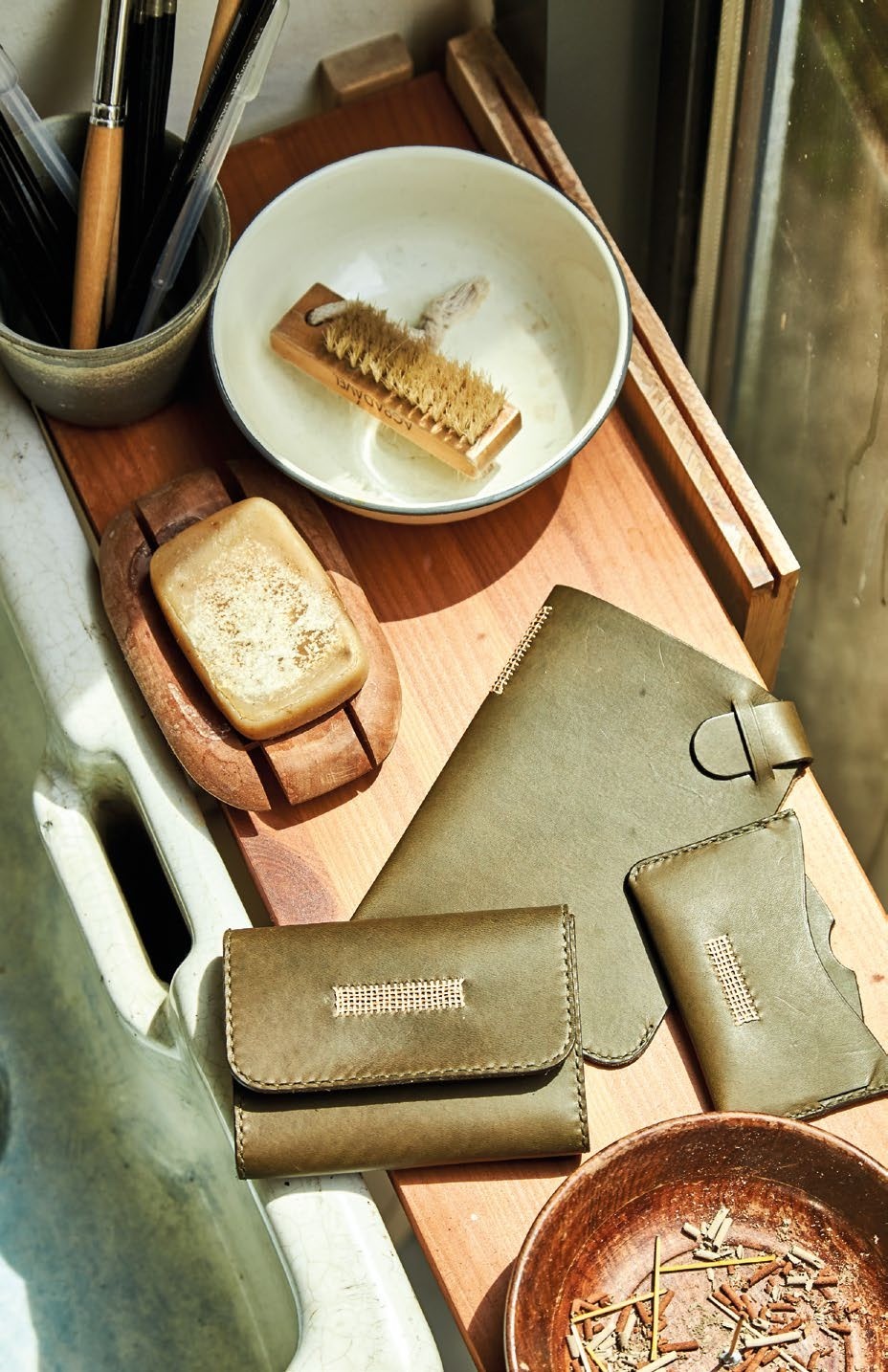 "From below left: card and note case, $149, passport holder, $99, and card holder, $89."
36 THE ECO STUFF SENKOUBOU
After watching The True Cost, a documentary about the fashion industry's human and environmental toll, 30-year-old Chin Shiying had an epiphany. "I decided to step away and rethink how I can continue designing and making without causing harm to what is around us," says the fashion design graduate of the Nanyang Academy of Fine Arts.
She spent a year as an apprentice to a leather master craftsman in Kyoto, then in February 2018, she founded Senkoubou – a leather goods studio operating on the principles of the circular economy. That means making products that last, using minimal resources and ecofriendly materials, and creating little to no waste. At the end of their life, products can be reused, remade or recycled.
Chin uses leather derived from rawhide discarded by the food industry. It is put through non-toxic traditional vegetable tanning in Tuscany, Italy, and many substances recovered from the processing are recycled. Hair, for instance, is turned into fertiliser while sludge is used to make bricks.
"Align Swim's swimsuits are made of Econyl, which in turn is made from recycled ocean waste."
37 THE ECO STUFF ALIGN SWIM
When Vera Ong started Align in 2018, it was to address a lack of highquality and affordable swimwear with classic, minimalist designs. "While researching, I discovered a highquality Italian fabric called Econyl that is made out of recycled waste from the ocean. I came to understand that the fashion industry is actually one of the largest polluters in the world, and this spurred me to create swimwear that encompasses all the right factors – fit, design, cost and sustainability. I want to spread the word on sustainable fashion and create a positive impact," she explains.
Despite being derived from recycled materials, Econyl is known to be luxuriously soft and more chlorine-resistant than regular swimwear fabric. It also provides UV protection. Align's packaging boxes are designed to be reused as storage, while the pouches containing the swimsuits are eco-friendly linen.
"The Peco Bag folds to the size of a tissue pack and can hold up to 10kg."
38 PECO BAG
Think the reusable shopping bags sold at supermarkets are too bulky and drab to carry around all the time? Enter Peco Bag, a fabric carrier that is made from recycled plastic bottles and folds down into a tiny pouch the size of a pack of tissues.
"I wanted to educate people on the harmful effects of single-use plastic on the environment and give them an alternative that is convenient enough to change their ways," says brand founder and TV host-model-actress Yumika Hoskin.
Weighing just 45g, the bag can hold up to 10kg of items, and is rip-resistant and machine-washable. For now, there are six floral and fruit prints to pick from, as well as two solid-coloured options. "They are incredibly durable and useful. I hope everyone can change one small habit at a time to help in the war against single-use plastic," Yumika says.
"Small pieces of discarded wood are turned into quality earrings and bags."
39 STUDIO MU YU
The brainchild of 27-yearold Lyn Ng, a former marketing executive, the brand makes quirky earrings and bags from discarded wood. As an apprentice at a local woodworking studio, Lyn saw how many small pieces of wood were discarded during the production process. What better use for them than for jewellery, she thought. Often, these pieces are small, hard cores from the middle of planks and are tough to work with. But because she loves odd-shaped wood and its unexpected grains and knots, she could not bear to see the pieces go to waste. So, she started Studio Mu Yu last September.
The wood is treated to ensure it is pest- and chemical-free. Almost all products are designed and handmade by Lyn, who spent six months in Taiwan learning woodworking, then a year on apprenticeship here. "It is important to keep our products in a closed loop through reuse and recycling to make sure valuable resources do not go to waste at the end of their life cycles," she explains.
[ https://muyu.co ] 
SINGA HAYLEY TAI CHELSEA TANG DAWN WONG GOH YEE HUAY