"I LOVE COOKING FOR THE PEOPLE I LOVE. IT'S MY WAY OF SHOWING CARE."
Syafiq doesn't think he's "hunky or super good-looking".
"It took me a while to find my confidence. I used to feel like I wasn't as good-looking compared to other people," says the newly-minted CLEO's Most Eligible Bachelor. "But I guess being able to put good food on the table helps?" he adds with a chuckle.
But it's exactly his aw-shucks demeanor that makes him all the more endearing. The 1.85m-tall chef exudes a relaxed vibe and has a quiet demeanor, preferring to let his credentials do the talking.   
The ITE graduate majored in Culinary Arts, and joined a cooking competition at Food & Hotel Malaysia, a trade event, while he was still in school. He walked away with a silver medal in the individual category for "Main course — Seafood Preparation", and a gold medal in the team category for "Best Apprentice Team".
"I LOVE COOKING FOR THE PEOPLE I LOVE. IT'S MY WAY OF SHOWING CARE." 
He had also worked at Terra Tokyo Italian, a one Michelin-starred restaurant. That's where he met his business partner, and they decided to start their own venture with a hawker stall. The end result? The highly raved-about BURGS by Project Warung. Their burgers are so good that they've been served to ministers and foreign delegates at big events like the National Day Rally. It's been three years since, and they're now planning top open their third outlet.
And how does an eligible bachelor who has his hands full with running a business find the time to date?
"I try to make time whenever I can," Syafiq says. So he might meet you for a couple of hours between meetings, do a quick lunch, or even have the entire date in the car as he (very helpfully) drives you to work. 
"Once, I even got my date to come down to work with me, and she ended up helping me with my errands. She even helped me to move some boxes. We did some really hard work that day!" he recounts with a laugh.
"But hey, if she can endure the hardships with me, she deserves everything that I can give her."
Nawwwww, we stan a man who knows how to treat a lady right. 
Syafiq takes home $4,000 worth of prizes, including a Swatch timepiece, Sloggi products worth $1,000, a $1,000 ZALORA gift card, a HP Pavilion 13 Notebook worth over $1,200 and $1,000 to spend at Jeric Salon. 
On Syafiq: SWATCH BBBlanco (S027M102), $140. Hooded rain jacket, $261.90, French Connection; button-up jacket, $149, Selected Homme; and windbreaker, $289, Calvin Klein Performance; all from ZALORA. 
 BOYFRIEND MATERIAL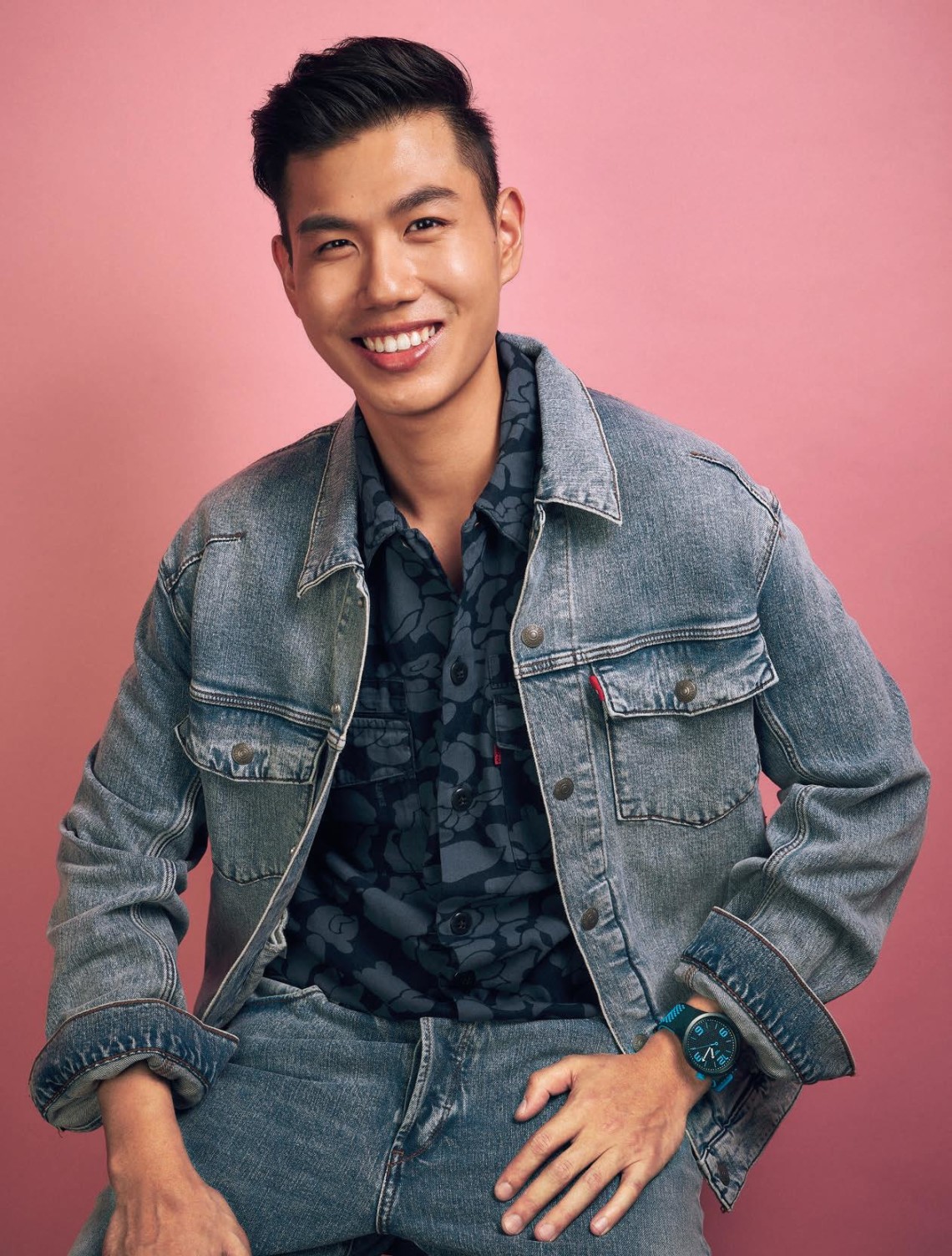 Looking for a guy your mum will surely approve of? Then you've got to get to know Janan. The technical services engineer not only gives to those in need (he has carried out volunteer work in several countries, including Palestine) but is also an absolute sweetheart (he made roses for his friends for Valentine's Day). And when it comes to being a boyfriend, he's the sort to accommodate his partner and help her achieve her goals.
"I'm very easy-going and I'm the type to be OK with whatever my girlfriend wants," he says. "That said, if she struggles with certain things, I'd be more than willing to help her improve. I like to see people grow. If she has insecurities, I'll help her deal with them at her own pace."
And when it comes to deal-breakers in a relationship, he's pretty clear about what they are.
"If my partner and I have determined that what we want in life is different, and that we won't be compromising and working towards the same direction, [then I will end things]," he says.
"I'M VERY EASY-GOING AND I'M THE TYPE TO BE OK WITH WHATEVER MY GIRLFRIEND WANTS." 
He shares that when it comes to looking for a girlfriend, he'd go for someone who is kind and quick to forgive. She should also be someone who values family and is willing to put others before herself.
But that's not to say that this boyish bachelor doesn't have a wild side, because he does and he knows it.
"I'm a very spontaneous person, and when I do something silly, people will usually be like, 'That's so Janan.' Once I'm comfortable around you, I'm a totally different person," he confesses.
"Even my brother says I'm wild! If I want to go somewhere, I'll just book a flight and jet off now."
Janan may be all sorts of dreamy, but he also has big dreams.
"I hope to do a long-term stay in the countries where people need help and provide aid. I'm also looking to start a small social enterprise on the side to help underprivileged locals here generate income," he shares. 
Janan takes home Sloggi products worth $500.
On Janan: SWATCH BBBlue (S027B101), $140. Oversized denim jacket, $139, Topman; button-up shirt, $89.90, Mango Man; mid wash denim jeans, $139, Superdry; all from ZALORA. 
 ONE TO WATCH  
Jaze has always been a class clown. And it shows in his work too. The filmmaker is most well-known for his viral videos, with the most recent one being the low-budget parody of the Avengers: Endgame trailer. He plays Iron Man, Thor, and Ant-Man in it, by the way.
And by some stroke of luck, the Russo brothers (who directed the original) saw it, retweeted it, and called it "pure genius".
"The fact that they noticed what I did, that was just… mind-blowing," says Jaze.
"I'M GOING TO KEEP DOING STUFF AND CREATING BETTER CONTENT, AND MAKING SURE THAT I AM REALLY THE ONE TO WATCH." 
"I was so shocked [when I found out]. I had just woken up and was just scrolling through Instagram, still half asleep, you know? I literally jumped out of bed. Then I texted my partner-in-crime, Douglas, who shot it with me, and we just… freaked out. Like, our texts were in all caps."
It's not every day that a young Singaporean filmmaker gets his work shared all over the world and gets noticed by Hollywood. So is it of any surprise, really, that he's named as the One to Watch among this year's batch of CLEO Bachelors?
Currently, Jaze is working on a film for the National Youth Film Awards. He aims to put out his first full-length film in his early 30s, and dreams of ultimately creating something he describes as "a real visual feast".
"I want people to watch it, come out of the cinema and say, "Wah, that was damn shook." I want them to feel like the money they spent on the ticket was worth it, and they'd come back again to watch it one more time," says Jaze. 
Jaze takes home three Swatch timepieces worth $800 in total.
On Jaze: SWATCH BBBubbles (S027M100), $140. Faux shearling jacket, $119, Only & Sons; crew neck knitted tee, $223.90, Scotch & Soda; drawstring joggers, $119.90, Topman; and high-cut sneakers, $69.90, Converse; all from ZALORA. 
 THE TRENDSETTER   

Scroll through Avinash's Instagram account and you'll see that he not only knows how to dress for the occasion, but also isn't afraid to make bold fashion choices. But he isn't just all about making a style statement.
"People have told me that they've somewhat changed their dressing because of me—that they wouldn't buy a red leather jacket off the rack if they didn't see me rocking one," he says. "It humbles me, in a way. I'm not an influencer but I hope to inspire and be inspired by the people I meet along the way."
For fashion inspiration, the banker checks out fashion icons on Instagram (including @levitatestyle and @jeremysry) and men's fashion magazines. But because he also has to dress for the climate here, he makes it a point to incorporate function when putting together his outfits.
"Some people ask me, "Why are your shorts so short?" But I'm like, 'The weather is hot and I don't want to be walking around in jeans. I just want something that makes me look good.' I work hard for my physique, so there's no harm in representing that through my clothes," he explains.
He brims with such confidence that he also isn't shy about outdressing his peers, even if it's their special day.
"I WORK HARD FOR MY PHYSIQUE, SO THERE'S NO HARM IN REPRESENTING THAT THROUGH MY CLOTHES."
"It's funny that when some of my friends invite me to their weddings, they'll be like, 'Can you not wear too much? Don't outdress me," he says. "But to me, we should dress to impress!"
And not that it's surprising, but he sure knows how to take a perfect #OOTD.
"When I go overseas, I pack outfits that will match where I'm going," he says. "This involves a lot of planning as I have to think about what the backgrounds will be and find the colours that will complement them. But I think this process is half the fun of travelling."
When asked what his five-year plan is, Avinash shares that he sees himself achieving career and fitness goals.
'There's nothing that I want to fixate on at this point aside from achieving financial success in five years' time," he says. "I also hope to still be committed to fitness." 
Avinash takes home a ZALORA gift card worth $500.
On Avinash: SWATCH BBBlack (S027B100), $140. Stonewashed denim jacket, $159, Jack & Jones; and slim-fit tank, $20.90, OVS; both from ZALORA. Gilded necklace, model's own. 
---
CLEO MOST ELIGIBLE BACHELORS 2019: HIGHLIGHTS FROM THE FINALS PARTY 
 THE PREP 
Associate Editor Sophie hanging out with the Bachelors backstage. 
Sauffi getting his abs contoured for the striptease segment (they're 100% legit, btw). 
The Shiseido team did a stellar job of making the Bachelors look their best. 
Jeric Salon ensured their hair was on point. 
Drinks were on the house, compliments of Strongbow Cider, Coco Life Coconut Water and R&B Tea. 
Guests stood a chance to win prizes from Sloggi and Swatch at the respective game booths. 
The club was packed! More than 700 came down to show their support for their fave Bachelors. 
There were even arcade games for the guests (and the Bachelors) to enjoy! 
 THE MAIN EVENT 
Associate Editor Sophie getting the party started. 
What's a Finals Party without some fun and games? 
 THE STRIP TEASE 
For the first time ever, the Striptease segment featured a lap dance (that's Senior Features Writer Adora, in case you're wondering). 
Presented by Ms Tan Ning Zhen, Senior Executive - Brand Communications, Public Relations, ZALORA 
Presented by Sloggi Representative
Presented by Ms Amber Koh, Marketing Manager, Swatch Singapore 
LEE SYAFIQ
WINNER
Hosts Preeti Nair and Joshua Simon with the CLEO Most Eligible Bachelors of 2019. 
PHOTOGRAPHY JOEL LIM/CALIBRE PICTURES & IDEAS FASHION DIRECTION JANICE PIDDUCK STYLING SIFRA VANIA YULIUS FASHION ASSISTANT FOONG KAI YU HAIR AND MAKEUP KEITH BRYANT LEE USING KEVIN MURPHY, NARS TEXT SOPHIE HONG, ADORA WONG.