Complete your chic outfit with these timeless nail polish shades.
CLASSIC RED
Red draws attention to the nails rather than the hands. Your skin tone should be the guiding colour when it comes to selecting a red. Orange-reds suit olive skin tones while blue-based reds are perfect for those who have fair skin.
TRY THESE SHADES NARS
. Nail Polish in Jungle Red, $30.
. Yves Saint Laurent Beauté La Laque Couture Nail Lacquer in 6 Rouge Dada, $40.
. Chanel Le Vernis in 636 Ultime, $40.
PRECIOUS METALS
Metallics are a trendy option and add a bit of fun to your manicure. Gold and silver are always popular but bronze, this season's go-to shade, has a naturally skin-illuminating effect.
TRY THESE SHADES
. Ciaté London Gelology Nail Polish in Goal Digger, $26.
. Dior Vernis in 618 Vibrato, $40.
. Revlon Nail Enamel 2018 Color Charge 001 Silver Base Coat, $12.90.
SHADE SELECTION
There's nothing stopping you from choosing any nail polish shade your heart desires but there are some shades that are undeniably more flattering than others.
They say the eyes are the window to the soul. As for the hands? They can be more like a magnifying glass peering into your birth certificate.
This isn't just anecdotal. A study There's no you from choosing an nail polish shade heart desir are some shades are undeniably flattering conducted by the American Society of Plastic Surgeons found that a person's age can be accurately predicted simply by viewing a photo of their hands. However, when these same images were doctored to add nail polish and correct skin tone, the owner of the hands was predicted to be far younger.
To keep people guessing, try these handy tips for – uh – top tips!
SHAPING
An oval nail shape is a classic. Keep nails shorter with a rounded shape as it is more flattering on mature hands. A rounded edge is also less likely to develop ridges or flakes, which is important if you're prone to breakages.
COLOURS TO AVOID
Blues and greens, if you have prominent veins.
Blacks and browns if you have visible age spots.
Yellows, if you have pale skin tone.
BEYOND COLOUR
For optimal hand health, try these maintenance tips:
#1 Nail Strength
Brittle, weak and uneven nails become increasingly common as we age so it's essential to go for nail treatments to build up strength. These treatments can build up the nail plate and protect it. Nail strength is also associated with what you eat, so load up on a well-balanced, calciumrich diet.
#2 Cuticle Care
The cuticle is the nail's natural protective seal and maintaining them will prevent peeling, cracking or infection. Try pushing back your cuticles with an orange stick after a warm shower. Applying cuticle oils also encourage softness.
#3 Add Moisture
Hand and nails require an intensive moisturiser because they're frequently exposed to dehydrating conditions like air-conditioning or washing. Moisture rejuvenates the appearance of both hands and nails, so keep a tube of hand cream handy on your work desk.
#4 Toning Treatments
Nail and hand-specific masks and scrubs refresh the top layer to improve skin smoothness. This helps remove the superficial damage so that you can effectively treat and moisturise the nail.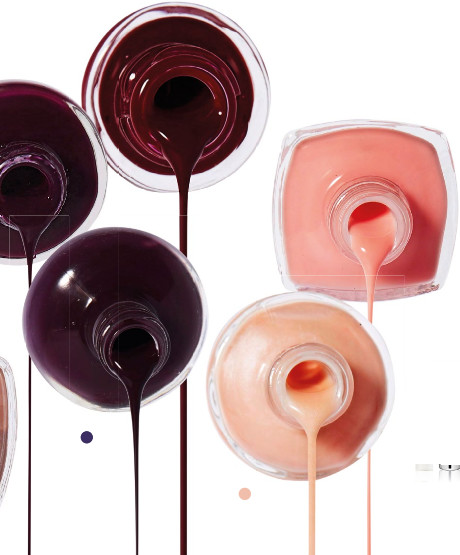 HOW TO APPLY NAIL POLISH LIKE A PRO
Step 1: After shaping the nails, apply a base coat and allow to set.
Step 2: Taking your chosen polish, place the brush at the base of the nail and swipe up the middle to the tip in one motion.
Step 3: Add a swipe on either side of the first one. You should be able to cover the entire nail with just three strokes.
Step 4: Run the brush around the tip of the nail before moving on to the next nail.
Step 5: Apply a second coat of colour, followed by a top coat, and allow to dry.
Step 6: For a seamless finish, clean up the edges using a toothpick wrapped in cotton wool and polish remover.
DEEP PURPLE
Cosy plum nails are an age appropriate nod to darker nail polish trend. Like red, darker purples draw attention to the nails but be very cautious about wearing purples if you have visible veins.
TRY THESE SHADES
. Marc Jacobs Beauty Enamored Nail Glaze in 108 Secret Love, $30.
. Sephora Collection Color Hit Nail Polish in L183 Join Me in NY, $7.
. Sally Hansen Complete Salon Manicure in 441 Pat On The Black, $13.90.
GOING NUDE
Nude shades elongate the appearance of nails and are also the easiest to maintain. When choosing a nude tone, the general rule is to match your natural skin tone. Nude colours aren't one-shade-fitsall, so a nude tone for someone fair can be completely different from someone with darker skin.
TRY THESE SHADES
. innisfree Real Nail Colour in No.48, $4.
. NCLA Nudes Nail Lacquer in Volume IV, $23.
. ETUDE HOUSE Play Nail in #36 BE103, $3.90.
NAIL AND HAND CARE KIT
From left:
Kora Organics Rose and Noni Daily Hand Cream, $43 (100 ml).
By Terry Baume de Rose Hand Cream, $60 (75 g).
Crabtree & Evelyn Gardeners Nail & Cuticle Therapy, $30 (15 g).
Supergoop! Forever Young Hand Cream SPF 40, $18 (30 ml).
Nails Inc Nailkale Superfood Base Coat, $30.
Sally Hansen Moisture Rehab Overnight Serum, $19.90.
NAIL SOS
Expert tips for common fingernail woes
My nails keep splitting….
This is a common problem for those with circulatory health issues, arthritis and diabetes. Try keeping the nails buffed and short (no longer than a millimetre). And always wear a nail strengthener, even as a base coat under polish.
There are white spots on my nails…
Despite popular belief, this has nothing to do with minerals in your diet. These are air bubbles caught between the nail plate and nail bed and occur when the nail suffers a trauma, like a knock. These will eventually grow out – but you can try massaging on a vitamin E oil to stimulate cell turnover and encourage nail growth.
My fingernails have yellow-ish tint…
This can be an unavoidable hereditary trait or it can be a result of polish staining. To prevent stains, always ensure you apple a base coat and take a break from wearing polish every so often to allow nails to rejuvenate.
TEXT & PHOTOS: BAUERSYNDICATION.COM.AU / ADDITIONAL REPORTING: ARISSA HA