Banish eye bags and restore tired peepers with Brow Art Asia's Revitalizing Eye Therapy
If you gazed into a mirror recently and saw a pair of panda eyes peering back at you, you may be mentally checking off the reasons why your eyes are so puffy – from hitting the sack too late, spending most of the day staring at a computer screen, and hours scrolling through social media feeds on your mobile phone.
Whatever the reason – whether it is a poor night's sleep or a busy urban lifestyle – physical and emotional stress on your body causes your adrenal glands to release cortisol. This changes the salt balance in your body and creates an inevitable chain reaction. When your salt balance is off, your body ends up retaining water, resulting in swelling, bloating and puffiness.
If cold tea bags and cucumbers have done little to help you combat those dark eye circles, the Revitalizing Eye Therapy at Brow Art Asia may be just what your tired eyes need. This holistic meridian tissue manipulation (MTM) physiotherapy works by targeting different meridian points around your precious peepers. By clearing the meridian blockage, your blood circulation around the eye area is improved, and the natural function of cells in the sensitive eye contour area is activated, so healing and detoxifying can take place.
Using a premium crystal healing massage tool and nourishing massage cream, this restorative therapy not only helps to reduce swelling and combat water retention, it also minimises the look of fine lines and wrinkles while evening out the skin tone around your delicate eye area. Paired with Scalp MTM Therapy, this treatment helps to improve blood circulation, and effectively relieve signs of stress, pain or fatigue around the eyes.
As your peepers rediscover their brightness with Brow Art Asia's Revitalizing Eye Therapy, you can say goodbye to puffiness and bask in a revitalised and younger-looking you – just the way it should be.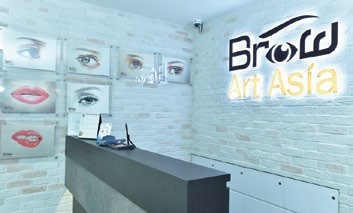 PROMOTION
Exclusively for readers of The Weekly
Enjoy the Eye Therapy at an introductory price of $68 (U.P. $188). Quote "SWW0320".
Valid until March 31, 2020. Other terms and conditions apply.
Brow Art Asia is located at:
#03-25/26 City Square Mall, Tel: 6509 1036
#02-31/32 Hillion Mall, Tel: 6265 3051
#04-09 Hougang Mall, Tel: 6385 5007
#04-07 PLQ Mall, Tel: 6970 9183
#05-15/16 Tampines One, Tel: 6481 9860
#03-113 Tiong Bahru Plaza, Tel: 6270 7863
Facebook and Instagram: @browartasia www.browartasia.com 
Q&A The Doctor's In
We ask the experts about common skin problems and how to solve them
Want to fresh as you age? Dr Ben Yim of IDS Clinic shares the non-invasive treatments that lift and firm skin.
Q: What are some minimally-invasive treatments that I could consider for sagging jowls?
A: I would recommend Thermage FLX for the face and neck area. If there is significant sagging at the cheek area, you could consider a filler to support the cheek and smoothen out the lower jawline contour. This can be done immediately after a Thermage session. Follow with a skincare routine that helps support skin firmness. Consider IDS Skincare C-Plus, Rejuvenating Complex and A-Plus to help stimulate the production of collagen and elastin. Wear sunscreen as UV rays speed up the breakdown of collagen and elastin.
Q: I'm deciding between Thermage and Ulthera for a facelift. How do I decide which to go for?
A: Ultherapy use focused ultrasound waves to heat up the deeper layers of the skin to cause contraction and skin tightening. It is particularly useful for those with a heavy jowl or double chin. Thermage FLX/ CPT is recommended when the redundant tissues are not as dense. It uses mono-polar radiofrequency to tighten the deeper layers of the skin, and can be used over the entire neck, eyelids as well as the body.
Q: How long do the effects last for Thermage and Ulthera?
A: With fillers, you can expect almost immediate results, whereas procedures like HIFU and threads take some time. Pain is minimal, and most patients find that fillers are actually the least painful. Although fillers have minimal to no downtime, you may experience slight swelling and occasional bruising after the treatment.
Q: How do I know what is "too much" when it comes to cosmetic injections?
A: In my practice, the average dose for a cheek lift is usually about 5ml. I may plan a programme where you undergo multiple botulinum toxin sessions in smaller doses to help you "get used" to the enhancement. I may use about 40 units of botulinum toxin to the entire upper face. If more is required, I will ask the patient to come back in one week's time for a top-up. My definition of too much is when the final look looks unnatural and/or the procedure causes adverse outcomes. The above dosage is a general guideline and varies from patient to patient, depending on the conditions of the face and the patient's requirements.
Q: Can fillers be done in tandem with the other treatments?
A: Depending on the degree of skin laxity, the effects should last between six to 12 months. From experience, those with saggier cheeks often come back every six months. The newly produced collagen will last for many years. Regular treatments will help to counter the continuous process of ageing. Both treatments target the SMAS (superficial musculoaponeurotic system). When plastic surgeons do surgical facelifts, this is the layer they work on to get the lift in the face.
MAINTAIN YOUTHFUL- LOOKING SKIN WITH THIS ANTI-AGEING DUO
The patented and proprietary Neulastin formulation in the IDS Skincare Rejuvenating Complex, $245 (30 ml), helps to improve collagen and elastin production for firmer and smoother skin. Pair it with the C-Plus, $150 (30 ml), a serum packed with potent antioxidants to help delay premature skin ageing.
Disclaimer: This article is not intended to be a substitute for medical advice and readers are advised to seek advice from a qualified doctor if they are considering any cosmetic procedures. SPH Magazines Pte Ltd does not accept any liability in respect of any action taken by a reader on any recommendations contained in this article.
COMPILED BY ARISSA HA