Cleansing is the first step of your skincare routine, and getting it right involves way more thought than just picking up a random facial wash off the shelf.
Cleansing is the first step of your skincare routine, and getting it right involves way more thought than just picking up a random facial wash off  the shelf.
Pick the right cleanser for your skin type or to address your most pressing skin concerns, and you're well on your way to treating your skin right. Use the wrong kind of cleanser and you could irritate or aggravate your skin unnecessarily, causing more problems before you even move on to your serums and creams – the next steps in your skincare routine. Here, we've done the legwork so you can rest easy.
ALL SKIN TYPES
A lightweight, non-comedogenic formula that removes makeup and impurities, this has a blend of natural, plant-based oils to gently cleanse and refine skin texture for a fresh, glowing complexion.
DULL SKIN
Mario Badescu Glycolic Foaming Cleanser ($27 for 177ml, Sephora)
A foaming cleanser with glycolic acid, this gently exfoliates skin to brighten the complexion. The rich herbal extracts dissolve impurities while gently sloughing away surface dead skin cells and stimulating the growth of new cells. It also reduces discoloration, and leaves skin looking radiant and smooth.
DULL SKIN
This Works Light Time Cleanse & Glow ($61 for 75ml, Sephora)
Packed with antioxidants and brightening actives, this facial wash works to restore skin's natural radiance. Recharging skin in the morning and detoxing it at night, it also has moisturising jojoba oil, water-activated vitamin C and soothing vitamin E to cleanse, nourish and lend skin a natural, healthy-looking glow.
DULL SKIN
Sephora Radiance Cleansing Foam ($19 for 150ml)
This light, airy foam not only cleanses but leaves skin more radiant. The secret ingredient? Citrus extracts that gently buffaway surface dead skin cells that cause dullness, boosting skin's clarity and luminosity.
OILY, ACNE-PRONE SKIN
Kate Somerville Eradikate Daily Foaming Cleanser ($58 for 120ml, Sephora)
A powerful, medicated cleanser with a luxuriously whipped texture, this has 3 per cent sulphur to zap acne and blemishes, draw out impurities and clear congested pores. Honey and rice bran extracts calm redness, while natural oat ingredients counter excess sebum. The promise: trouble-free skin and visibly minimised pores with continued use.
OILY, ACNE-PRONE SKIN
The hot and humid weather in Singapore does not sit well with greasy skin, but help is on the way in the form of this gel-mousse cleanser, which has zinc sulphate and copper sulphate to help regulate sebum production.
OILY, ACNE-PRONE SKIN
Three Balancing Foam ($55)
Boasting 90 per cent natural ingredients to deliver an ultra-gentle cleanse, this foam, which has a lovely botanical scent, gives skin a deep cleanse, ridding it of surface dead skin cells, excess oil and other impurities to leave it perfectly clean, soft and moisturised.
OILY, ACNE-PRONE SKIN
Dr.Jart+ Pore Medic Pore Minish Bubble Foam ($32 for 120ml, Sephora)
A mild yet effective cleanser that balances and soothes skin, this has bubble mechanisms to help unclog and tighten pores while sloughing off surface dead skin cells and regulating sebum production. The result: brighter, suppler and deeply cleansed skin.
DRY SKIN
Senka Speedy Perfect Whip ($13.90 for 150ml, leading personal care stores)
This cleanser with a foaming pump dispenser comes in the form of a rich, fluffy foam that feels super soft on skin, delicately cleaning it without stripping it of moisture. Helping skin stay hydrated is Shiseido's moisture-boosting ingredient, Aqua-in-Pool.
TEXT MELISSA CHEW & CLAUDIA TAN MAIN PHOTOS 123RF.COM
DRY SKIN
Nivea Hydration Super Mousse ($9.90 for 150ml, leading personal care stores)
This souffle-light mousse – like a soft cloud on the skin – cares for dry skin with ingredients such as hyaluronic acid, algae extract and marine salt, leaving skin plump and super soft.
DRY SKIN
Clinique Liquid Facial Soap – Extra-Mild ($35 for 200ml)
A trusted cleanser, this has a super-gentle formula that won't dry out skin. Developed with dermatologists, it offers simple, effective cleansing in the form of a soft, non-drying lather that cleanses gently and rinses off easily. It helps maintain the skin's natural moisture balance, so there's no taut or dry feeling after washing.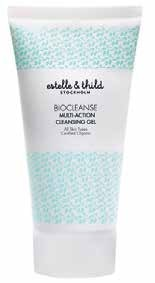 DRY SKIN
Estelle & Thild Biocleanse Multi-Action Cleansing Gel ($36 for 150ml, Sephora)
This gentle gel rids the skin of impurities without stripping it of moisture. Billed as a multi-action cleansing gel, it soothes, purifies, calms and clarifies skin. Most importantly, it helps replenish the skin's moisture levels. It also has black elderflower extracts that help detoxify skin so that it glows from within.
ANTI-AGEING
First Aid Beauty Face Cleanser ($17 for 56.7g, Sephora)
With a powerful botanical blend of antioxidants to counter free radical damage as well as the signs of ageing due to oxidative stress, this facial wash gently cleanses, removing surface oils, makeup, dirt and grime. The whipped texture transforms into a skin-pampering cream when you massage with water.
ANTI-AGEING
Peter Thomas Roth Anti-Aging Cleansing Gel ($69 for 250ml, Sephora)
A host of good-for-skin ingredients makes this pampering cleanser an ideal treat for mature skin. Its antiwrinkle technology utilises glycolic acid, salicylic acid, and extracts of peach, white oak bark, lemon, lime, linden, grapefruit and arginine to help clarify and brighten skin as well as boost cell turnover to diminish the appearance of fine lines, wrinkles and other signs of ageing.
ANTI-AGEING
Aromatherapy Associates Renewing Rose Cleanser ($66 for 200ml, Sephora)
This facial wash with jojoba oil, which has antibacterial and anti inflammatory properties, gently cleanses while keeping skin supple, radiant and healthy-looking, thanks to precious damask rose extracts. Geranium essential oil also helps tighten skin, reducing the look of wrinkles.
ANTI-AGEING
Senka Perfect Whip Collagen-In Facial Cleanser ($8.90 for 120g, leading personal care stores)
Enhanced with collagen, this helps improve skin elasticity and reduce the signs of ageing. It is also infused with the brand's signature silk cocoon essence to deliver long-lasting hydration to skin.
SENSITIVE SKIN
Innisfree Green Tea Cleansing Water ($21 for 300ml)
A mild cleanser that gently removes impurities without irritating the skin, this works on rebalancing the skin's pH levels to keep it healthylooking. It also has green tea root extract to thoroughly rid skin of grime and dirt, leaving it dewy and refreshed.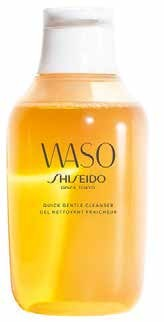 SENSITIVE SKIN
Shiseido Waso Quick Gentle Cleanser ($40 for 150ml)
An oil- and alcohol-free gel cleanser that easily removes makeup, dirt and excess oil, this has honey to help it foam without water. The gentle and natural non-foaming agent, along with moisturising royal jelly extracts, also keeps skin hydrated, and makes it smoother and suppler.
SENSITIVE SKIN
Mario Badescu Enzyme Cleansing Gel ($20 for 236ml, Sephora)
Formulated with papaya and grapefruit extracts, which has mild exfoliating properties, this gently cleanses without drying or irritating sensitive skin, sloughing off  accumulated surface dead skin cells that are the cause of blackheads and pimples. Simply massage the non-foaming gel, which also calms skin and reduces irritation, onto skin and rinse off. 
SENSITIVE SKIN
Caudalie Fleur De Vigne Instant Foaming Cleanser ($33 for 150ml, Sephora)
The foaming pump dispenses a light, airy foam with a 99 per cent natural, soap-free formula that not only cleanses and removes makeup and impurities, but also helps to soothe skin, thanks to a natural blend of grape extracts, sage and camomile.