RID SIGNS OF FATIGUE WITH THESE EFFECTIVE EYE CREAMS – REGARDLESS OF YOUR BUDGET.
RID SIGNS OF FATIGUE WITH THESE EFFECTIVE EYE CREAMS – REGARDLESS OF YOUR BUDGET.
Let's face it: there are too many things that can make us appear older or more tired than we actually are. And on the top of that list? Dark eye circles.
First of all, the skin around our eyes is about four to six times thinner than skin on the rest of our faces. Plus, there are no sebum glands naturally lubricating that area, which is subjected to hundreds of movements every day. The result? The delicate eye area becomes the first area where signs of ageing show up.
And since its thinner, when microcirculation is poor, the dark blood vessels cast a shadowy appearance around the area, resulting in the look of dark eye circles. Lifestyle factors such as lack of sleep or a high-sodium diet, which can lead to puffiness around the eyes, can also cast a shadow on the under eye area, making your dark eye circles look even more obvious.
$30 OR UNDER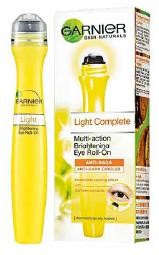 Garnier Light Complete Multi-Action Brightening Eye Roll-On
($19.90 for 15ml, www.zalora.sg)
This counts vitamin C, caffeine and vitamin B5 as key ingredients to target pigmentation, puffiness and improve skin resilience respectively. Plus, it has a cooling metal tip roller-ball applicator to help massage and decongest the area for instantly refreshed eyes.
Mario Badescu Hyaluronic Eye Cream
($30 for 14g, Sephora)
Great for soothing and depuffing the delicate eye area, this cooling eye cream contains hyaluronic acid to lock in moisture and improve skin density.
$50 OR UNDER
Caudalie VineActiv Energizing and Smoothing Eye Cream
($49 for 15ml, Sephora)
Perfect for those dealing with dark circles, puffiness and a loss of elasticity, this lightweight eye cream packs potent ingredients to soothe, depuff, firm and brighten the eye contours. 
At the same time, it is rich in polyphenols to strengthen skin against external aggressors and is also enriched with vitamins C and E to condition the fragile skin around the eyes.
PureHeals Centella 80 Eye Cream
($32 for 30ml, Watsons)
Formulated with an impressive 80 percent Centella Asiatica extract, this eye cream supports cellular rejuvenation around the eye contours. This in turn improves skin resilience and density so darkened blood vessels appear less visible.
$100 OR UNDER
La Roche-Posay Redermic C Eyes
($61.90 for 15ml, Watsons)
Suitable even for those with sensitive skin, this powerful anti-ageing eye cream combats all visible signs of ageing, including dark circles, wrinkles and puffiness. A combination of dermatological ingredients like hyaluronic acid, vitamin C and mannose work hand in hand to brighten, firm and depuff the area to take years off your face.
It Cosmetics Bye Bye Under Eye Eye Cream 
($72 for 15ml, Sephora)
Working with plastic surgeons, this quick-absorbing formula contains niacinamide, botanical oils and copper peptides to repair, brighten and condition the under eye area gently and effectively.
Eve Lom Radiance Antioxidant Eye Cream
(about $68 for 15ml, www.net-a-porter.com)
Packed with antioxidants, peptides and plant extracts, it restores skin firmness and reduces the appearance of dark circles. Thanks to a multi-pronged approach, these active ingredients improves microcirculation and reinforces skin's barrier layer so that your eye contours look smoother and more energised.
$150 OR UNDER
Valmont Moisturizing Eye-C-Gel
($129.50 for 15ml, www.lazada.sg)
Thanks to a unique anti-ageing molecule called Triple DNA, it is able to retain 10,000 times its weight in water to effectively hydrate the eye area. Meanwhile, it also contains a refreshing agent which stimulates microcirculation and energises the eye area while plumping sugars smooth out wrinkles for a youthful appearance.
Peter Thomas Roth Potent-C Power Eye Cream
($109 for 15ml, Sephora)
Thanks to a powerful vitamin C derivative, it also counts on vitamin E and ferulic acid to strengthen the delicate eye area and diminish the look of fine lines gradually over time. Caffeine works to reduce the look of eye bags while Filmexel forms a protective veil over skin to firm and tighten so makeup glides on after.
OVER $150
La Mer The Eye Concentrate
($330 for 15ml, Tangs)
Besides the brand's deeply rejuvenating properties, this potent eye treatment contains hematite, a magnetically charged mineral which triggers microcirculation to alleviate the look of dark circles. With continued use, the eye contours look brighter, smoother and firmer.
MAIN PHOTO 123RF.COM
PHOTOS GARNIER, MARIO BADESCU, PUREHEALS, CAUDALIE, LA ROCHE-POSAY, IT COSMETICS, EVE LOM, PETER THOMAS, VALMONT, LA MER