We've rounded up the best moisturisers to rescue every skin type and concern out there.
We've rounded up the best moisturisers to rescue every skin type and concern out there. 
Regardless of your skin type, one essential that everyone needs is hydration. And while some might advise against piling on an additional layer of occlusive emollients on oily or blemish-prone skin, the key lies in selecting the suitable one. If you have oily skin, stay away from oil-based moisturisers and opt for water-based ones, while those with dry skin should look for products that contain humectants like squalane and glycerin. Hyaluronic acid is another popular, tried-and-tested ingredient that works for all skin types as it attracts moisture, keeping skin plump. 
FOR FIGHTING POLLUTION
Chantecaille Anti-Pollution Mattifying Cream ($166, www.net-a-porter.com) 
Living in an urban jungle means we are surrounded by pollution. From exhaust gases to blue light that's emitted by electronic devices, our skin is frequently subjected to environmental assaults. Add an anti-pollution step to your skin, like this mattifying cream. Packed with antioxidants and metal- binding active ingredients, this forms an invisible shield, repelling heavy metals and particulate matter that can asphyxiate skin, causing dullness and accelerated ageing. In addition, plant extracts help to refine skin texture, minimise the appearance of pores and mop up excess sebum for a smooth complexion.
FOR ALL-IN-ONE ANTI-AGEING
Sulwhasoo Concentrated Ginseng Renewing Cream EX ($298, Tangs) 
The result of over 50 years of research, this power-packed age-defying cream works on improving skin resilience, suppleness and glow to restore youthfulness. This nourishing cream counts on key ingredients compound K and Ginsenoside Re, derived from ginseng root and ginseng flower, to reduce the appearance of glabellar and marionette lines, wrinkles around the eyes and across the forehead, as well as nasolabial folds. You'll love its subtle ginseng-infused scent that's soothing to the senses, as well as its sumptuous texture that melts into your skin, leaving it silky smooth.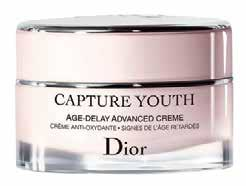 FOR EARLY SIGNS OF AGEING
Dior Capture Youth Age-Delay Advanced Crème ($152, Dior) 

As you approach your late twenties, you might start to notice that your complexion starts to become more prone to dullness and unevenness, even if you've had eight hours of sleep the night before. Developed to delay the onset of ageing, this face cream takes on a preventative approach instead of a corrective one. Infused with the powerful antixoidant iris extract, it neutralises potentially harmful free radicals from external sources of assaults like pollution, UV exposure and dehydration. The whipped texture melds into your skin, instantly forming an invisible cocoon to shield skin and improve its resilience.
FOR COMBINATION SKIN
Teoxane Advanced Filler ($220) 
Made from the same laboratory as Teosyal hyaluronic acid- based fillers, this moisturiser works by plumping up wrinkles and improving skin firmness. An exclusive cocktail of RHA, derma-restructuring complex and Matrixyl 3000 peptides boosts the production of hyaluronic acid and collagen deep within skin layers to reinforce its elasticity and density, as well as iron out fine lines and wrinkles. Formulated for normal to combination skin, it is non-greasy and keeps skin mattified.
FOR HYDRATION
Sisley Black Rose Skin Infusion Cream ($240, Isetan)
Specially made for parched skin, this intensely hydrating cream not only restores moisture levels at various skin layers, it also strengthens skin's barrier layer so it is able to hold moisture better. Combining replenishing botanical extracts and powerful antioxidants, skin is instantly plumped and smoothed, ensuring that it reflects light better. Moreover, the melty gel-cream texture is exquisitely scented with a blend of rose, magnolia and geranium essential oils, making it a delightful treat to your senses.
FOR A HEALTHY GLOW 
Fresh Vitamin Nectar Moisture Glow Face Cream ($77, Fresh) 
A tell-tale sign that your skin is not getting enough nutrients is when it starts to look dull and feel rough. And just like taking a vitamin shot when you're feeling under-the-weather, this moisturiser gives skin an instant dose of vitality. Rich in vitamins C, E and B5, it instantly energises sluggish skin as minerals and fruit-derived flavonoids improve microcirculation for a healthy radiance. Its fresh citrus scent also reawakens your senses, making it the perfect pick-me-up day moisturiser.
FOR A NON- STICKY FINISH
Hada Labo Super Hyaluronic Acid Hydrating Water Gel ($25.90, Watsons) 
Perfect for our humid climate, this refreshing gel moisturiser is a hit amongst beauty editors who prefer a lightweight and non-tacky finish. Made with hyaluronic acid of varying molecular weights, it has a gel texture that is quickly absorbed into the different layers of skin to replenish and seal in moisture sans any residue.
FOR DRY SKIN 
IDS Intensive Moisturiser ($100, Robinsons) 
While hyaluronic acid is one of the most common ingredients found in hydrating skincare products, this intensive moisturiser contains sodium hyaluronate, a more bio-compatible form of hyaluronic acid that gets absorbed more readily. In addition, this replenishing formula contains plant-based oils that are rich in antioxidants and fatty acids to strengthen skin against environmental pollution and rebuild skin's barrier function, making it perfect for those whose skin is prone to tightness and itching as a result of dehydration.
FOR OILY SKIN 
Porcelain Balance Hydraclear Gel ($128, Porcelain Origins)
This lightweight, gentle and calming moisturiser ticks all the right boxes for those with acne-prone skin. Formulated to soothe inflammation and inhibit the proliferation of propionibacterium acnes (the bacteria responsible for breakouts), it is powerful against blemishes yet mild on skin. The specially calibrated formula also packs squalane, vitamin B3 and botanical butters to keep skin hydrated and balance skin pH for a healthier, clearer complexion.
FOR SENSITIVE SKIN 
Biotherm Life Plankton Sensitive Balm ($72, Tangs)
Even though this moisturiser has a balm texture, the formula is hypoallergenic and glides over skin smoothly without any stickiness. The star of this restorative moisture? The brand's signature Life Plankton - originated from France's mineral-rich thermal waters - that reduces redness and delivers moisture. It also boasts an innovative airless dispensing mechanic to prevent contamination, further minimising any potential source of irritation.
FOR INSTANT RELIEF 
Guinot Pur Confort SPF 15 ($133) 
Stress can cause our skin to react adversely, and when it flares up, your regular skincare routine just doesn't cut it unfortunately. In times of crisis, try this SOS cream. Thanks to its rich yet fast-absorbing texture, it alleviates feelings of tightness and itching. Formulated with vitamin E, alpha bisabolol and phospholipids, it strengthens skin from inside out, rebuilding cellular components and fending off environmental aggressors. Dermaline is also used to tone down skin's reactivity to any external particles for a balanced complexion.
FOR AN ECO-FRIENDLY SOLUTION
MTM Custom- Blended Harmonious Moisturizer ($152, MTM Skincare) 
This customisable moisturiser boasts a base that is made with organically- farmed ingredients and is one of the few skincare products to be awarded Japan's Ecofit organic certification. This means ingredients are farmed according to the most stringent restrictions to ensure the highest quality of actives are extracted from them. Key elements include apple fruit water, kiwi fruit water and echinacea purpurea root extract, a synergistic blend that helps reduce allergy symptoms, speed up collagen production and replenish skin's moisture.
FOR UNPARALLELED LUXURY 
Lancôme Absolue Precious Cells Day Cream ($390, Tangs)
Indulge your senses with the cocooning texture of this protective day. Fortified with SPF 15 protection, it contains a cocktail of botanical oils and butters that hydrate the skin. More importantly, it contains pro- xylane, the brand's patented ingredient that rebuilds skin matrix, to restore volume and density to skin. Upon application, skin is visibly more radiant and supple, and with continued usage, the appearance of fine lines and wrinkles is gradually erased for a smoother, firmer mien.
FOR SHEER COVERAGE
Shiseido Waso Colour Smart Day-Moisturiser Oil- Free ($55, Tangs) 
If you'd rather hit the snooze button and get an extra 10 minutes of sleep than fuss with a complicated morning routine, this multi-benefits day cream is your new best friend. Not only does it infuse skin with antioxidants derived from loquat leaves, it also helps control shine with its oil-free formula. And that's not all: this SPF 30-equipped moisturiser also adapts to your skin tone upon application to leave a sheer and natural tint that counters any unevenness in your skin tone. 
FOR ALL SKIN TYPES 
SK-II R.N.A. Power Airy Milky Lotion ($149, Takashimaya) 
Aimed to improve skin suppleness, hydration and elasticity, this moisturising lotion intensely nourishes skin for a youthful radiance and never-before-felt smoothness. Combining the brand's signature Pitera (a proprietary blend of amino acids, vitamins and minerals) with hydrolysed soy and yeast extracts, the latest RNArchitect Complex enhances skin firmness and radiance. At the same time, a freshwater algae-derived agent replenishes lost moisture to soften the appearance of fine lines and wrinkles caused by dehydration. Now available in a lightweight lotion texture, it is perfect even for those with oily and combination skin. 
MAIN PHOTO 123RF.COM