Makeup and dirt begone! There's a facial wipe for every occasion and every skin type, so you can start on a clean slate – any time,anywhere.
Makeup and dirt begone! There's a facial wipe for every occasion and every skin type, so you can start on a clean slate – any time,anywhere.
"NIVEA Micellar Cleansing Wipes are perfect for my busy schedule. They conveniently remove waterproof makeup and hydrate my skin."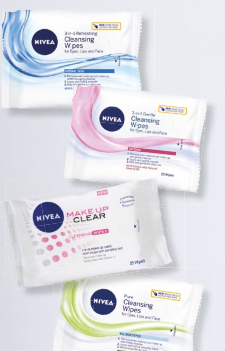 3-IN-1 REFRESHING CLEANSING WIPES
FOR: Normal and combination skin
WHEN: Weekend workout session
Listen up, gym and sports enthusiasts: If you love to work up a sweat but want to stay fresh, use these wipes. Formulated without alcohol and infused with the goodness of vitamin E, lotus extract and Hydra IQ (an exclusive NIVEA ingredient), they remove makeup and dirt thoroughly. The lotus extract aids in skin healing and renewal while rebalancing sebum production.
MAKE UP CLEAR CLEANSING WIPES
FOR: All makeup users
WHEN: Red-carpet party
So many parties, so many looks. You love channelling your inner Hollywood star with full-on makeup, but hate spending time taking it off. These wipes should be a godsend, as they effectively remove both light and heavy makeupin a flash. They are formulated with nourishing vitamin E and without harsh perfumes, alcohol, parabens, silicone and colourants. They're great for sensitive skintoo.
3-IN-1 GENTLE CLEANSING WIPES
FOR: Dry skin
WHEN: The daily grind at theoffice
All-dayair-conditioningcan be bad for skin, but you can say goodbye to dryness and flaking with Gentle Wipes. These help you stay fresh and hydrated with a blend of nourishing oils and Hydra IQ. Skin feels soft and supple, thanks to almond oil that gently moisturises, and calendula oil with soothing and anti-inflammatory properties. It's also a great pick-me-up on sleepyafternoons.
PURE CLEANSING WIPES
FOR: Sensitive skin
WHEN: Outdoor musicfestival
The music's great, but the dirt, grime and sweat, not so much. Throw a pack of Pure Wipes into your bag before setting off – they'll keep you feeling clean and reduce the risk of breakouts and skin irritation. They have vitamin E that acts as both an emollient and antioxidant to protect skin from environmental aggressors, and Provitamin B5, which is said to soothe inflammation. And they are free of oils, alcohol, colourants and fragrance.
STAR PRODUCT!
3-IN-1 CARING MICELLAR CLEANSING WIPES
FOR: All skin type
WHEN: Catch-up cocktails with colleagues on a weekday
Those after-work cocktails were fun, but now that you've had one too many and still need to show up for that 9am meeting, you just want to crawl into bed, pronto. The solution? These cleansing wipes which are infused with micellar water that gently lifts makeup and grime without stripping skin's natural protective oils. Plus, the formula is enriched with skin-loving vitamin E for an added dose of moisture.
BACKGROUND GRAPHIC STARLINE – FREEPIK