Enjoy amazing discounts and deals from these beauty, wellness and lifestyle brands, all conveniently located on Level 5, Ngee Ann City.
Enjoy amazing discounts and deals from these beauty, wellness and lifestyle brands, all conveniently located on Level 5, Ngee Ann City.
With our busy and hectic lifestyles, it can be hard for the modern woman to take time out to pamper herself. The solution? Level 5 at Ngee Ann City. Here, you'll find beauty, wellness and lifestyle brands that aim to prep and beautify you from head to toe. You can get a new hair colour, reshape your figure, shop for wellness products or just enjoy a relaxing massage – all in one place. Even better, check out some of their exclusive deals and discounts so you get more bang for your buck.
1. Scinn Medical Centre, #05-22
Discover bespoke medical solutions for your face and body here. If you want to tackle freckles, melasma, sunspots and age spots, the Tri-Beam Premium Laser treatment may help. It suits all skin types and there is little to no downtime. Enjoy your first session for $168 nett. Call 6235-8066 and quote "NACGSS" for an appointment. Terms and conditions apply.
2. LPG Endermospa, #05-22A
This spa specialises in non-invasive patented face and body treatments, and uses the full range of face and body care products from the French LPG Institute. Try the LPG Rejuvenating Facial, a powerful procedure that combines glycolic acid and mandelic acid for supple, glowing skin. Enjoy your first session for $88 nett. Call 6732-6626 and quote "NACGSS" for an appointment. Terms and conditions apply.
3. Miss Paris and Dandy House, #05-25
Treat yourself to a Sea Salt Massage for $150 (UP $260). Th is full-body treatment uses original, high-quality, mineralenriched sea salt from Seto Naikai Ocean, Japan, to help relieve stress and reduce swelling. For deeper relaxation, opt for the Acupuncture Lymphatic Gold Massage (60 minutes) for $120 (UP $200), which uses a unique gold cream to improve blood flow and lymphatic drainage.
4. Cheryl W Wellness & Weight Management, #05-18/18A
Founded by actress and entrepreneur Cheryl Wee, Cheryl W offers wellness and weight management solutions for the modern woman. Two of them are the Fat Freeze, which breaks down stubborn fat, and the Signature Flush Body Treatment, which stimulates the body to eliminate unwanted fats and toxins naturally. Enjoy two sessions of Fat Freeze and one session of Signature Flush Body Treatment for just $88.
5. Shunji Matsuo Hair Studio, #05-23
If your hair colour is fading and you're worried about dryness and frizz, try the Tsuyagami Treatment. Th is gentle hair treatment imparts a hint of colour to your hair and gives it a healthy gloss. The process takes just 30 to 45 minutes and is free from harmful chemicals like ammonia. The treatment costs $220 for short hair, $240 for medium-length hair and $260 for long hair.
6. New York Skin Solutions, #05-16/17/17A
Renew your skin in just 90 minutes with the Signature HydroCollagen + Skin Treatment, which uses a three-tier skin renewal technique to give your skin an instant and lasting hydration boost. Thanks to the hydrolysed marine collagen, hyaluronic acid and other bioactive ingredients, your skin will be soothed, soft and rejuvenated. To redeem, sms NYTK to 78989.
7. PHS HairScience®, #05-25A/B
Address hair loss, grey hair and other hair and scalp woes with PHS HAIRSCIENCE's home care trichological products that harness the power of stem cells and concentrated botanical essences. Special: Get 30 per cent off this GSS on home-care essentials and receive a free deluxe product kit with a minimum $180 spend.
8. Pixie Nail Spa, #05-16A
Give your tips and toes the pampering they deserve with a fresh manicure and pedicure. Enjoy a Gelish manicure and a Classic pedicure at Pixie Nail Spa for $88. Choose from an extensive selection of trendy and classic nail polish colours.
9. Tailored Fashions, #05-27
A custom-tailored suit helps you look more polished and put-together. So get measured at Tailored Fashions for your ideal suit now. You'll receive 10 per cent off all orders, plus an additional 5 per cent discount if you spend more than $3,000.
10. LEGO® Certifi ed Store (Bricks World), #05-15A
Accountant by day, cos player by night? Build your own personal avatars out of LEGO bricks. LEGO BrickHeadz Go Brick Me ($49.90) allows you to create any version of yourself using the specially selected LEGO bricks. Express yourself with different hairstyles, skin colours, accessories and even a sticker sheet to personalise your build even further.
11. Zell-V, #05-15B
Give your cells a boost with Zell-V Platinum Plus. These soft gels contain fresh sheep placenta, which is said to have an anti-ageing effect; grapeseed oil, an antioxidant that keeps skin firm and elastic; shark liver oil, which promotes wound healing, and other health-boosting ingredients. Just take one soft gel a day to reap the benefits.
12. London Weight Management, #05-21
London Weight Management's new Powerslim treatment incorporates cutting-edge slimming technology for a non-surgical way to reshape your figure. Enjoy three free Powerslim treatments where you can lose up to 2kg in 90min, and receive a limited edition product set worth $368. Individual results may vary. To redeem, SMS to 78989.
13. Oriental Hair Solutions, #05-19
Target hair and scalp problems with a specialised treatment by Oriental Hair Solutions. Its treatments use more than 100 natural oriental plant herbs, and are customised to suit your hair and scalp requirements. Receive two sessions of Oriental Plant Based Scalp Therapy and one hair care set for $19.90 (worth a total of $608).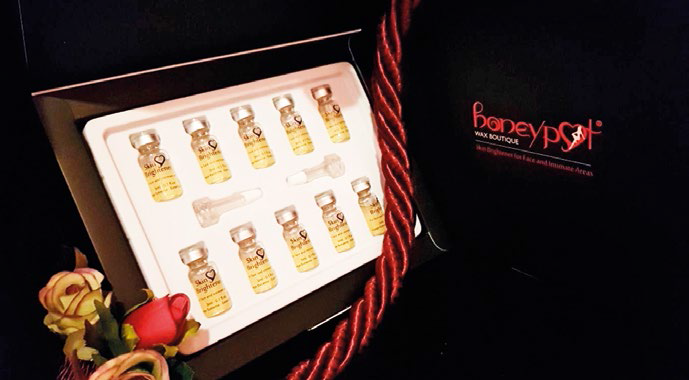 14. Honeypot, #05-15
Do you have ingrown hairs from shaving or waxing? Try the Honeypot bestseller Goodbye Forever ($46), an ingrown hair treatment spray. If you're a fan of Brazilian waxes but concerned about uneven skin tone in your intimate area, get the Skin Brightener ($109 for a box of 10 bottles). Vacuum-sealed in individual bottles, this serum contains hyaluronic acid to hydrate the skin and yuzu extract to brighten skin.