Here's the basis of Botaneco Garden's Organic Chia Seed Oil & Honey range:
Here's the basis of Botaneco Garden's Organic Chia Seed Oil & Honey range: If you eat superfoods for your health, you should use them in your haircare and body care as well. The range comprises a shampoo, conditioner, hair oil, body wash, body lotion and hand cream, giving you top-to-toe protection against free radicals.
The chia seed oil used is from Germany and is 100 per cent eco-certified organic. As food, chia seeds are a great source of oil, protein, dietary fibre, minerals, polyphenols and omega-3 fatty acids. Used in beauty products, their antioxidant effects can also benefit skin and hair.
The honey used is from France and is also 100 per cent eco-certified organic. It moisturises, soothes and purifies skin, and softens hair.
The haircare products have no parabens, colourants, soap or DEA chemical compounds; the body care is free of DEA as well as silicone, lanolin and mineral oil. The range is also dermatologically tested. It costs $4.90$11.90, and is available at Guardian.
The Eco-friendly Swedish Skincare Brand

When Monica Kylen founded L:a Bruket in 2009, she had just moved away from her fashion, branding and visua merchandising career to focus on ceramics. But making them dried out her skin. When she couldn't find skincare products that were both natural and organic – and which also looked good in her bathroom – she decided to make her own.
The made-in- Sweden products are inspired by Swedish coastal life, sustainability and minimalism, and use organic and natural ingredients. Their main aim is to give you fresh and beautiful skin while offering the nicest of scents and a sense of closeness to nature.
The brand uses recyclable PET bottles for its larger sizes. The material is lighter than glass and reduces environmental impact during transport. The plastic is foodgrade, so it won't leach into the contents. To try: two face creams ($76 each), a hand and body wash ($46), and a body lotion ($62). Available at Escentials.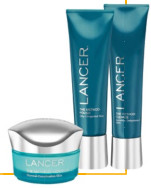 The Lancer Method
Beverly Hills-based dermatologist Dr Harold Lancer says the way to a radiant complexion is to "train" skin to regenerate as it did when it was younger – using his threestep polishing, cleansing and nourishing routine. "The skin is an organ of absorption. Keeping it meticulously clean is a very effective anti-ageing strategy," he shares.
A fellow of the American Academy of Dermatology with 35 years' experience, he has a starry clientele that includes Kim Kardashian, Victoria Beckham and Jennifer Lopez. And he's drawn rave reviews for the Lancer Method product range he created for his routine.
The products come in three variants: for normalcombination, sensitivedehydrated, and oily-congested skin. Step one is a gentle daily exfoliator ($120) to resurface skin, boost oxygen supply and kick-start renewal. Step two is a foaming cleanser ($89) to remove impurities and balance skin's pH so it's prepped for skincare. Lastly, a moisturiser ($200) feeds skin vital ingredients such as hyaluronic acid, antioxidants and peptides. Available at Escentials. – GYH 
MAIN PHOTOS SHOWBIT.COM